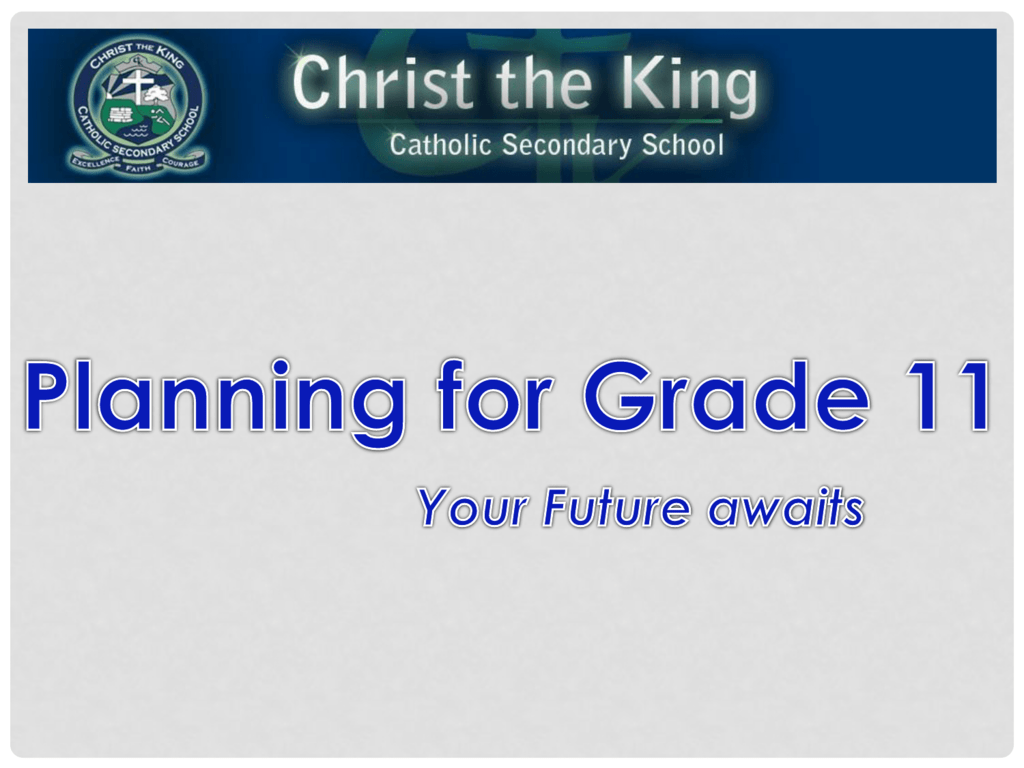 Timelines
Option Sheets Handed Out
CtK Course Fair
Option Sheet Collection
February 18th & 19th
February 22nd
Tuesday March 1st
Package due to your Homeroom teacher must include:
•
My Blueprint Course verification sheet
Parental Consent form (from my Blueprint)
•
•
School Cash Online Printed Receipt
Level Choices
Open
Workplace
College
Mixed
University
O (i.e. PPL3O1)
E (i.e. MEL3E1)
C (i.e. ENG3C1)
M (i.e. HRE3M1)
U (i.e. MCR3U1)
You must choose the following 3 subjects:
Religion (HRT 3M, HRF 3O or HRT 3MF)
English (ENG 3U or ENG 3C)
Math (MCR 3U, MCF 3M or MBF 3C)
 You will then choose 5 other courses.
Things to remember for Grade 11
Ensure that you have earned all 16 credits since Grade 9,
If Not, Then:
Summer School – If you need a New Credit or Upgrade
Upgrade Credit – 40% - 49% = 2 weeks
Upgrade Credit – Under 40% = 4 weeks
New Credit = 4 weeks
Summer school signup forms will be available the start of May
MATH PATHWAY
Grade 12
Calculus
Grade 9
Academic
Grade 10
Academic
Grade 9
Summer
School
Grade 11
University
Grade 11
Mixed
Grade 12
Functions
Grade 12
Data
Management
Grade 12 College
Technology Math
Grade 9
Applied
Grade 9
Local
Grade 10
Applied
Grade 10
Local
Grade 11
College
Grade 11
Local
Grade 12 College
Foundations Math
Grade 12
Local
ELECTIVES
Art
Business
Moderns
Dance
Accounting
Core French
Choreo.
Entrepreneur
Guitar
Marketing
Extended
French
Music
Repertoire
Vocals
Drama
Visual Art
Music
Theatre
Media
studies
Italian
Phys
Ed
Science
World
Studies
Biology
( U & C)
Geography
Traditional
Economics
Coed Leisure
US History
Weight
Training
Chemistry
Physics
Environment
Science
Law
World
History
(M&O)
Girls Fun Fit
Basketball
Hockey
Soccer
Volleyball
Social
Sciences
Tech
&
Computers
ELearning
Parenting
Programming
Phys Ed
Native
Studies
Comm. Tech
Environment
Science
Fashion
Print &
Graphics
Working with
Children
Intro to
Psychology,
Anthro. &
Sociology
( U & C)
Engineering
Design Tech
Interior Design
Construction
Hospitality &
Tourism
Auto
Auto - Female
Health Care
Cosmetology
Manufacturing
Technology
Yearbook
• Construction ( Mr. Limoges)
• Hospitality & Tourism ( Ms. Tomaro)
• Information Technology (Mr. Silvello)
• Arts & Culture (Ms. File)
•
SPECIALIST PROGRAMS
OYAP – Ontario Youth Apprenticeship Program
www.oyap.com
Explore Apprenticeships @ Halton area high schools in:
Automotive
Hairstyling
Electrical
Early Childhood Education
Carpentry
HVAC
PLAN YOUR FUTURE
Use the following websites to look at different
pathways, so that you are aware of any courses you
may need to get there:
omyblueprint.ca
oapprenticeship.com – Workplace Bound
oontariocolleges.ca - College Bound
oelectronicinfo.ca – University Bound
Option Packages
Due to homeroom Teachers on Tuesday March 1st
• 1. My Blueprint Course Verification Sheet
• 2. Parental Consent Signatures from MyBlueprint
• 3. Receipt from School Cash online for $65
FOR INFO FROM STUDENT SERVICES – PLEASE SIGN UP @
TEXT @2018CTK TO # (438) 800-2311
w w w. m y B l u e p r i n t . c a
Course Selection Instructions
Go to http://www.myblueprint.ca/ and login.
Use your email address
and password to log in.
Click on the `High School Planner`button.
Note that course
selection is now
enabled!
Click on the
``High School Planner``
button.
Once you have
completed your
course selections,
click on the
``Submit`` button
You should see a
green check mark
beside each
course that you
selected
indicating that
there are no
issues.
Joe Cool
Mrs. Cool
March 3rd 2016
Signature
Required
Mrs. Cool
March 3, 2016
Joe Cool
March 3, 2016
Joe Cool
Joe Cool
10
Joe Cool
Mrs. Cool
Mrs. Cool
Mrs. Cool
March 3rd 2016
You will require a Parental
Signature in
2
3
4
4 different areas
STUDENT SERVICES
•OPEN HOUSE
• Monday Feb. 22nd – Friday Feb. 26th
• Drop in on your Lunches !!!!!!!!!!!!!!