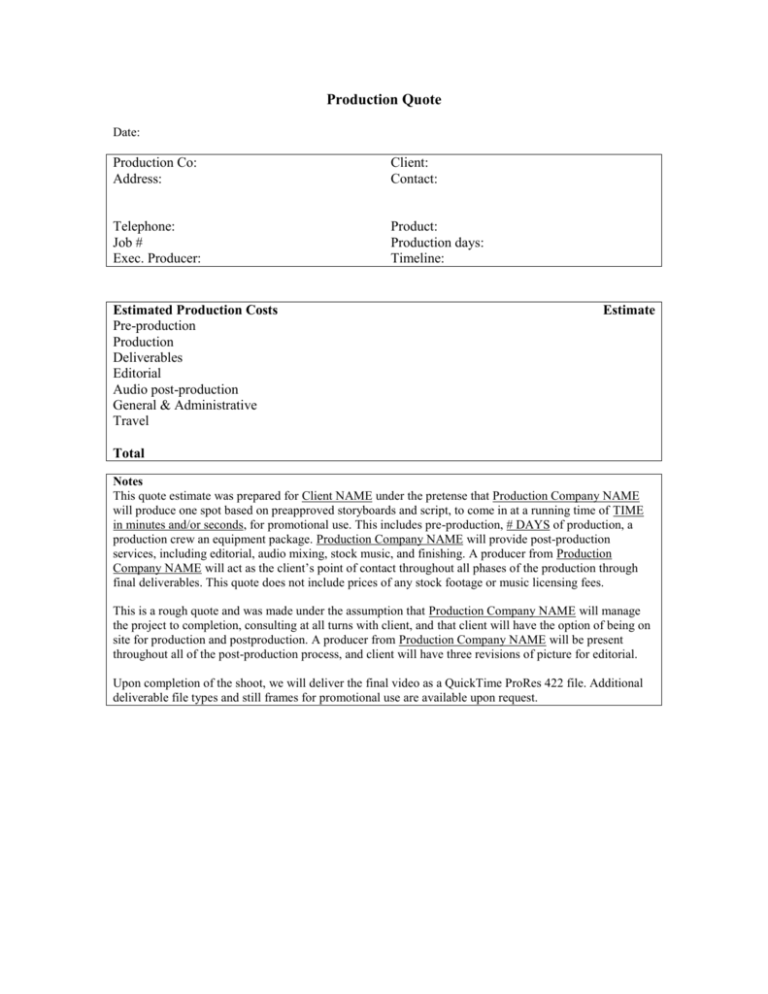 Production Quote
Date:
Production Co:
Address:
Client:
Contact:
Telephone:
Job #
Exec. Producer:
Product:
Production days:
Timeline:
Estimated Production Costs
Pre-production
Production
Deliverables
Editorial
Audio post-production
General & Administrative
Travel
Estimate
Total
Notes
This quote estimate was prepared for Client NAME under the pretense that Production Company NAME
will produce one spot based on preapproved storyboards and script, to come in at a running time of TIME
in minutes and/or seconds, for promotional use. This includes pre-production, # DAYS of production, a
production crew an equipment package. Production Company NAME will provide post-production
services, including editorial, audio mixing, stock music, and finishing. A producer from Production
Company NAME will act as the client's point of contact throughout all phases of the production through
final deliverables. This quote does not include prices of any stock footage or music licensing fees.
This is a rough quote and was made under the assumption that Production Company NAME will manage
the project to completion, consulting at all turns with client, and that client will have the option of being on
site for production and postproduction. A producer from Production Company NAME will be present
throughout all of the post-production process, and client will have three revisions of picture for editorial.
Upon completion of the shoot, we will deliver the final video as a QuickTime ProRes 422 file. Additional
deliverable file types and still frames for promotional use are available upon request.