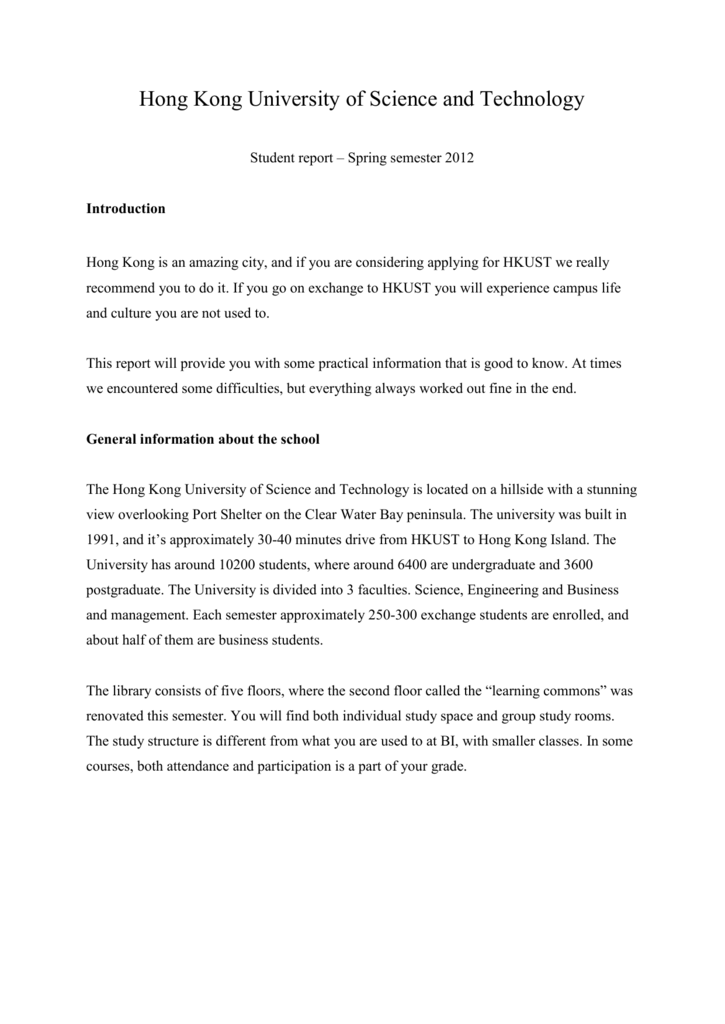 Hong Kong University of Science and Technology
Student report – Spring semester 2012
Introduction
Hong Kong is an amazing city, and if you are considering applying for HKUST we really
recommend you to do it. If you go on exchange to HKUST you will experience campus life
and culture you are not used to.
This report will provide you with some practical information that is good to know. At times
we encountered some difficulties, but everything always worked out fine in the end.
General information about the school
The Hong Kong University of Science and Technology is located on a hillside with a stunning
view overlooking Port Shelter on the Clear Water Bay peninsula. The university was built in
1991, and it's approximately 30-40 minutes drive from HKUST to Hong Kong Island. The
University has around 10200 students, where around 6400 are undergraduate and 3600
postgraduate. The University is divided into 3 faculties. Science, Engineering and Business
and management. Each semester approximately 250-300 exchange students are enrolled, and
about half of them are business students.
The library consists of five floors, where the second floor called the "learning commons" was
renovated this semester. You will find both individual study space and group study rooms.
The study structure is different from what you are used to at BI, with smaller classes. In some
courses, both attendance and participation is a part of your grade.
Sporting facilities
HKUST have very good sport facilities. This include 5 tennis courts, 2 swimming pools (one
indoor and one outdoor), football pitch, running court, 2 basketball courts, gym, 3 squash
courts, indoor hall and gym. The outdoor swimming pool opens in April/May. If you want to
use the sport facilities it is mandatory to see an introduction movie. There is also an online
booking system.
Practical information
You will receive two information packages from global student office (GSO) at HKUST. The
information packages will contain information about housing, insurance, visa application and
course registration. It's very important to keep the deadlines, and once you are accepted we
recommend you to apply for visa.
It will take you some time to fill out the forms, but the process is not difficult. If you have any
questions the international student officer at HKUST, Wendy Cheung, will help you. She will
respond to any inquiries and is extremely helpful.
Academic Calender
Arrival date 25.01
First day of semester 01.02
Last day of classes 12.05
Examination period 16.05 – 25.05
GSO will arrange orientation and buddy activities in the beginning of the semester. All the
exchange students will have their own buddy, as long as they sign up for the buddy program.
Reception
The first couple of days there are a lot of buddy activities, which are great for meeting new
people, but also to get to know the city. Getting help from locals when you apply for courses
is very helpful because the system is quite different then what you are used to at BI.
Housing
The school offers housing for exchange students, and they offer single, double or triple rooms.
We would recommend applying for a double-room, because a triple-room might get a bit
crowded. We stayed at hall 4, but hall 7 and 6 are the most hygienic.
Costs
Housing expenditure is around 5000 NOK for the entire semester; compulsory literature is
half price, compared to Norway. Living expenses in general are very hard to determine since
Hong Kong is so diversified that you can find all different kinds of prices on all products. It is
still cheap compared to Norway, hence one of the most expensive places in Asia. Prices for
alcohol in clubs are pretty similar to Norway, so a lot of exchange students stop by 7 Eleven
to buy drinks.
The International Office
Wendy Cheung is responsible for all incoming exchange students, she will send you all
relevant information and she will do it on time. Upon arrival, you can meet her in her office
and she will explain all the things that you need to do. There will also be held meetings where
course registration and administrative work will be explained.
Exchange promotion
In September we attended the exchange fair, which is very similar to the one held at BI for
outgoing students.
Social activities
There are a lot of opportunities for socializing at HKUST. Sports are one of them, and
football was a cool way for us to get to know other students. The different halls arrange their
own promotional parties as well, and they were very excited when we visited to try some food
or just look at their activities. All the exchange students we met at HKUST were very open
and easy to get in touch with, and we all got along great. The locals can be a bit harder to
socialize with, but they are never rejecting if approached! Rather they would like you to make
the first initiative.
Culture and Language
All professor are fluent in English, at least in the business department, there are however
occasions where administrative staff are struggling with English, hence there is always
someone fluent in English around.
The university offers language courses in Cantonese and Mandarin, a great experience but
very demanding. Since local students are fairly kept to themselves a great way to get to know
them more is to choose to share room with them in the Hall, hence be aware that their hours
are very different and they hardly sleep at all.
Travel
Spring break is an excellent time to travel and we went to Vietnam and the Philippines.
Vietnam was an amazing place to experience Asian culture; it is also a very cheap place to
travel, and only 2 hours away by airplane. The Philippines provide you with sunny skies and
beaches when Hong Kong can't! You can get very cheap plane tickets through Tiger Airways,
which makes it perfect for a long weekend-trip. They also speak English very well.
The Teaching situation
All courses within the business faculty are taught entirely in English, some professors have a
heavy Asian accent however it never caused any problems.
The academic level is fairly similar to BI, however the workload is heavier. Almost every
week there is some form of exam or assignment and participation is graded in almost all
subjects. Teaching methods is more of a combination of practical and theoretical compared to
BI who focuses more on theoretical means of teaching.
The professors at HKUST encourage more interaction, and we experienced a more personal
relationship with the professors since classes are in general smaller than at BI.
Required literature
All required literature is in English. A lot of the other exchange students did not buy the
required books, but the literature is good and the books are cheap. We both brought some
books back to Norway, so that we might use them later in our studies.
Exams
Most exams consist of a multiple-choice test. They also put some emphasis on midterms and
presentations when determining your grade. Your grades are decided by using a normal
distribution of the class performance. This usually means achieving a grade of B or C is
easier, but a B+ or A is even harder.
Other
There is a large library, four floors containing individual study spots as well as group rooms
and computer barns. The university uses a computer system called LMES, which is similar to
BIs Its learning and provides you with all the academic information you may need.
Course descriptions
Financial Markets
This course will give you a brief introduction to finance, and is a very interesting course. The
professor is highly ranked by the students and has worked over 30 years in the banking sector.
There is a lot of oral activity and presentations.
FINA 3104 Investment Analysis and Portfolio Management
This course provides you with general knowledge about investment models and strategies.
Securities and derivative securities, such as futures and options, are also covered. The lecturer
is a very smart man who always provides real life examples and interesting stories from the
world of finance.
ECON 4385 Globalization: Trade, Investment and Exchange Rate
This course is quite heavy, but teaches you how a central bank operates, why we trade and
how we do it. Our professor had previously worked for the Federal Reserve, so the focus was
mainly on China and America. We found this highly interesting.
ISOM 2720 Introduction to Operation Management
An introductory course which is quite interesting and it is not that hard to achieve a decent
grade. You learn a lot about supply chain management, Toyotas just-in-time principles, and
other operational models. This course is mandatory for us back home, and we are glad we
chose to take it in Hong Kong.
MGMT 3140 Negotiation
The professor is a well-known person at HKUST and has been awarded several awards at the
university for his untraditional methods of teaching and interesting speeches. Definitely a
course you should apply for, but it can be hard to get in. It is mainly an oral course, and
lectures are usually negotiations and discussions.