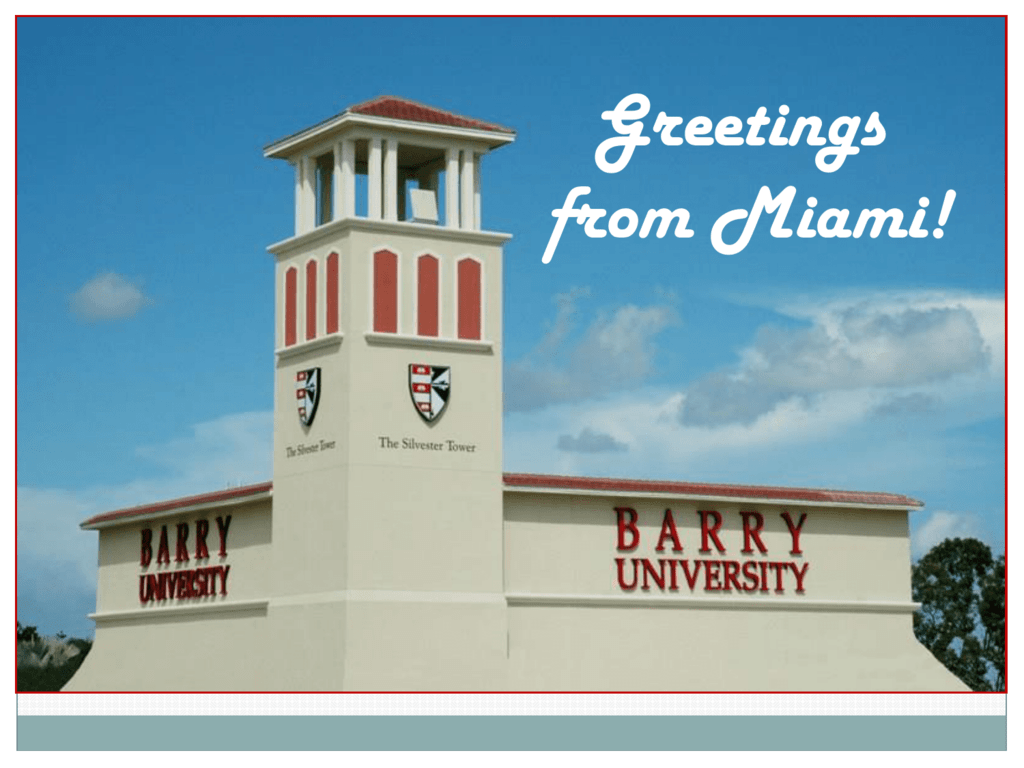 Greetings
from Miami!
Creating, Implementing and
Evaluating an Internal Grant
Competition on a PUI Campus
Patrick W. Lynch
Director, Office of Grants and Sponsored Programs
[email protected]
Overview of Today's Presentation
 Brief introduction to Barry University
 The structure of research administration at Barry
 Challenges promoting research on our campus
 Faculty Incentive Grant Program (FIGP)
Securing university support for the program
 Creating the eligibility criteria and application
guidelines
 Developing a web-based application system
 Conducting a peer review process
 Advertising and launching the FIGP
 Lessons learned during the past two years

About Barry University
 Founded in 1940 as Barry College for Women by
the Adrian Dominican sisters
 A Catholic, private, liberal arts university
About Barry University
 Predominantly undergraduate, teaching
institution (17:1 student-teacher ratio)
 Approximately 5,000 undergraduate students;
3,700 graduate students; seven schools and
two colleges
 53 undergraduate programs; 65 graduate
programs (including 10 doctoral degrees)
 350 FT faculty and 400 PT faculty
About Barry University
 Approximately 39% of the fall 2009 class self-
reported as "first-generation" students
 Fall 2011 Undergraduate Enrollment: 26%
Hispanic
 According to the 2009 U.S. News and World
Report Best Colleges Edition, Barry University
tied for 10th place among more than 250
American colleges and universities for most
racially diverse student body
Research & Sponsored Projects
Board of Trustees
President
Division of
Academic
Affairs
Provost
Division of
Student
Affairs
Division of
Business
Development
Division of
Institutional
Advancement
Division of
Business &
Finance
Preaward
Postaward
Challenges
 Barry does not offer tenure to faculty
 Full-time faculty can only work on grants while





under contract if released from a % of their duties;
release time rarely exceeds 20%
There is no incentive pay for faculty to work on
grants
Barry has limited research facilities
Few faculty members have experience writing grant
proposals
The culture is clearly one focused on teaching in
the classroom, not research in the laboratory
Our mission and identity sometime influence our
ability to pursue certain initiatives
Why an Internal Grant Program?
 To promote research on campus and to financially
support faculty projects
 To convey university support for research endeavors
 To introduce faculty members to the grant proposal
process
 To fund small projects not suitable for most external
funders
 To increase grant submissions to external funders
Securing University Support
 Conducted a preliminary analysis of faculty
members' frustrations/concerns
 Conversations with the VP for Institutional
Advancement, the Provost, the President
 Presentation to the Board of Trustees
Defining the Eligibility Criteria
 Any full-time Barry faculty member can apply. "Full-
time" is defined as having at least a 9-month
contract;
 A maximum of $5,000 may be requested;
 All applications must be submitted using the web-
based application system;
 Applicants must have the approval of their Dean prior
to submitting an application;
Defining the Eligibility Criteria
 Applicants may not request any funds to support their
salary;
 Applicants may submit only one proposal during a
single grant cycle;
 If an applicant is chosen for funding during one grant
cycle, s/he cannot compete in the next, consecutive
grant cycle;
Defining the Eligibility Criteria
 Faculty members must be returning to Barry on a full-
time contract for at least one-year after receiving an
award;
 Grant recipients must have Institutional Review Board
approval if the research project involves human
subjects or Institutional Animal Care and Use
Committee approval if the project involves animal
subjects prior to project implementation;
Defining the Eligibility Criteria
 Grant recipients will be required to provide a six-
month update on the progress of their funded
projects to the Review Committee and any additional
updates as requested by the Committee;
 Grant recipients will be required to do a public report
of activities/findings to the Barry community upon
completion of the grant cycle;
Defining the Eligibility Criteria
 Grant recipients will be expected to submit an
application for external funding within six months of
the completion of their Faculty Incentive Grant.
Funds do not need to be requested for the same
project funded under their Incentive Grant.
Recipients that do not follow these guidelines will be
prohibited from applying for an Incentive Grant for
three years;
 All projects must be completed within the two-year
award period. Any funds not expended during the
24-month period will be forfeited;
Defining the Eligibility Criteria
 The Provost and/or the Review Committee may decide
to award all or only part of your funding request;
 Your project must be new or enhance an existing
project or program. Funds cannot be used to support
current projects that are already budgeted for within
your area or funded from an external source. New
projects will take precedence over enhancements to
existing projects.
Application Guidelines: Narrative
1. Abstract (200 words or less)
2. How will your project promote Barry's mission?
(100 words or less)
3. Problem Statement: (350 words or less)
4. Research Strategy: (750 words or less)
Application Guidelines: Narrative
5. Evaluation Methods: (350 words or less)
6. Benefit to Students: (300 words or less)
7. Timeline: (100 words or less)
8. Attachment (optional- up to three pages)
Application Guidelines: Budget
 Student wages
 Supplies (under $2,500)
 Equipment ($2,500 and over)
 Travel expenses
 Consultant and/or contractual fees
 Printing and/or marketing
 Participant-related costs
 Other direct expenses that can be justified for
the project
News Bulletin
Dear members of the faculty,
I am pleased to announce the availability of internal grant funding under Barry's 2012 Faculty Incentive Grant
Program. This second year of the program is again being made possible through generous support from the Board of
Trustees. If you are a full-time faculty member on a 9, 10 or 12-month contract and would like to apply for a grant
award of up to $5,000 to support a research (or creative activity) project, you are eligible to apply.
Anyone interested must attend a mandatory workshop being conducted by the Office of Grant Programs on either
Monday, February 6th from 3 - 4:00 p.m. or Tuesday, February 7 th from 10 - 11:00 a.m. Both workshops will be held
in LaVoie 113. I will provide an introduction to the program and Patrick Lynch, Director of Grants and Sponsored
Programs, will explain the processes and procedures for preparing and submitting a grant application. You must
register for one of the workshops posted under the Training section on BUCWIS if you wish to submit a grant
application during this grant cycle.
The application period will open on Wednesday, February 8th and will close at 5 p.m. on Wednesday, March 14th.
I hope that many of you will take advantage of this new opportunity as a means to conduct innovative and exciting
research projects at Barry.
If you have any questions prior to the workshops, please contact Patrick at extension 3072 or via e-mail at
[email protected]
Best regards,
Linda M. Peterson, PhD
Provost, Barry University
Web-based Application System
Web-based Application System
Web-based Application System
Web-based Application System
The Peer Review Process
 Review Committee members appointed by the
Provost
 All members score all applications on their own
using a Score Sheet
 Scores and comments are entered into the
online application system
Peer Review Process: Score Sheet
Scoring Criteria
Abstract
Point Value Score
0
NA
This section is intended only to provide the reviewer with a concise overview of the project and is unscored.
1. Promotes the Barry Mission
10
How well does the applicant connect his or her project concept to the Barry mission?
2. Problem Statement
15
How well does the applicant clearly state the problem or issue to be addressed?
Is the issue well supported with information (e.g. statistics) that justifies the problem?
3. Research Strategy
25
How well does the applicant describe his or her project?
Are action steps concrete and specific and do they appear realistic and appropriate?
Does the proposed project adequately address the issue or problem identified?
Is there an innovative approach explained?
Are research methods appropriate and clearly outlined?
5. Evaluation Methods
20
How well does the applicant describe his or her evaluation strategies?
Is it clear how the applicant will measure his or her progress and results?
6. Benefit to Students
10
How much impact will the project have on our students?
Consider whether students will directly or indirectly benefit from the project.
7. Timeline
5
Can the project be reasonably accomplished during the proposed timeline?
8. Budget
15
Is the budget complete and accurate?
Are the proposed costs reasonable and appropriate for the proposed project?
Are expenses clearly and thoroughly justified?
Total
100
0
The Peer Review Process
 Preliminary scores are aggregated and averaged
 One committee meeting is held



Each member presents on assigned applications
Each application is discussed for a designated period of time
Following the meeting, scores/comments can be revised
 Summary of results provided to the Provost
 Final decisions made and announced
 Scores/comments sent to all applicants
News Bulletin
Faculty Incentive Grant Program Winners Announced!
The Office of the Provost and the Office of Grants and Sponsored Programs are pleased to announce the
following winners of the FY 2011 Faculty Incentive Grant Program:
(in alphabetical order)
• Stephanie Bingham (Arts & Sciences): "The Effect of Embryonic Ethanol on Zebrafish Cranial Motor Neuron
Development"
• Paula Delpech (Health Sciences): "Developing Community-Based Participatory Research Project to Address
Early Childbearing Among African American Adolescents"
• Bretton Engle (SSW): "Training Social Workers in Motivational Interviewing: On-going Individualized
Feedback Versus a Workshop Only"
• Constance Mier (HPLS): "Energy Expenditure During Long Distance Kayaking"
• Mitchell Rosenwald (SSW): "Perspectives on Success by Youth Transitioning to Adulthood Who Use
Independent Living Services in Broward County"
• Ye Sheng (Business): "A Study of Chinese Consumers' Animosity Towards Foreign Products"
During this first year of the program, a total of 21 applications were received totaling $92,514 in requested
funding. All $20,000 approved by the Board of Trustees was awarded.
This was an excellent start to an exciting new program- thank you to everyone who participated!
The Board of Trustees has allocated another $20,000 for the FY 2012 Faculty Incentive Grant Program.
Details of the program will be announced in January.
Linda M. Peterson, PhD
Provost, Barry University
Post-Award Processes




Funds deposited in College/School account
Faculty member and his/her Budget Manager will be
responsible for monitoring project expenditures
6-month Progress Report includes update on
expenditures
Unspent funds revert back to the University
Faculty Incentive Grant Program: Timeline
Tasks/Deliverables
Sept.
BOT approves $20,000 allocation for FIGP
Grants Office develops draft eligibility
criteria and application guidelines
(including narrative and budget
requirements)
Various meetings with the Provost and
Vice Provost to obtain feedback and
revise guidelines
Various meetings with the Budget Office
and Grants Finance (post-award)
FIGP Criteria/guidelines finalized
Development of web-based application
system with DoIT
Mandatory training workshops held for all
potential applicants
Review process developed
Application Period open from March 25,
2011-April 22, 2011
Final Review Committee Members
appointed
First meeting of Review Committee
Initial reviewer scores due in web-based
system
Final meeting of Review Committee
Final scores/recommendations provided
to the Provost
Funding decisions announced
Mandatory grant management workshop
for all awardees
Project period begins for all awardees
2010
Oct.
Nov.
Dec.
Jan.
Feb.
Mar.
2011
Apr.
May
June
July
Lessons Learned


Need to consider applications for "creative
activities"
Must stress to applicants that narratives should be
written in plain language and as free of disciplinespecific technical language as possible

If collaborators involved, a letter of
support/commitment should be mandatory

Make it clear to Review Committee that their
comments will be shared with applicants
`
Questions?