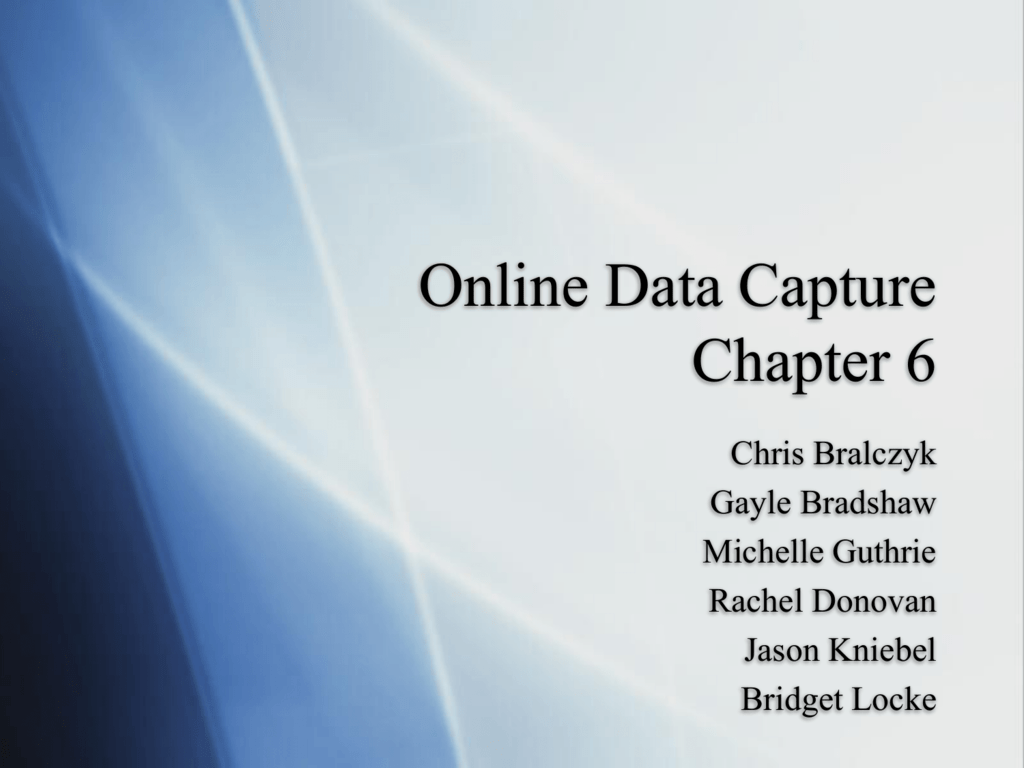 Online Data Capture
Chapter 6
Chris Bralczyk
Gayle Bradshaw
Michelle Guthrie
Rachel Donovan
Jason Kniebel
Bridget Locke
Introduction
 Chapter 6:
Understanding the Internet Consumer
 Online Data Capture
 2 types of data
 Nature of the data
 How it is acquired
Third-Party Internet Usage Data
 Variables include:






Length of time on a website
Pages visited
Destination site after leaving
Number of Internet sessions per day/week/month
Average length of each session
Average number of sites in each session
 Watch Out, Google! Amazon Gets Search
 A9.com is a powerful search engine, using web search and image
search results enhanced by Google, Search Inside the Book, results
from Amazon.com, reference results from GuruNet, movie results
from IMDb, etc.
 Provides a unique set of powerful features to find information,
organize it, and remember it all in one place
Transactional Data
 Customer account data




Customer name
Billing address
Acquisition source (catalog, banner ad, search engine)
Ship-to address
 Purchase-specific data






SKU numbers for each product
Date of purchase
Total number of items
Total value of purchase
Channel (retail, catalog, Web, etc.)
Method of payment
Who Captures the Data?
 The Enterprise itself
 Limited by enormous amount of data which
must be extracted from operating systems and
analyzed
 Very expensive
 Marketing Data services
 Specializes in click stream data capture
 Acquires site-specific statistics for only the
company website; not for competitors
How much is too much?
 Level of detail at which the data is captured
depends on the enterprise's current and future
marketing plans
 Tempting to capture the largest possible number of
variables at the finest level of detail
("granularity")
 the marketer doesn't know exactly what he will need
 possible to aggregate very detailed data but usually
impossible to break out data that was collected at a
higher level of aggregation
How much is too much? Cont.
 Collection and maintenance of data is a significant
marketing expense item; unnecessary detail is
expensive to store and cumbersome to handle
 "The IT shop usually has a kind of pack-rat mentality,
where they want to collect data by default:'If storage is
cheap, let's go ahead and collect it.' The IT unit
generally has no sense of how the line-of-business
manager needs to use that data."
 PeopleSoft aligns business strategy with operations to
help companies react quickly to unexpected changes in
business conditions.
www.iwon.com
 People register and customize a personal
home page
 iwon.com tracks people's behavior and sells
the information
 iwon.com gives away $10,000 every
weekday, $1,000 on the weekend and $1
million every tax day
The Dark Side of Online
Shopping
 Internet investigator Don Garlock's story
 Thieves held web development jobs in
Thailand
 Debit card number stolen from
Amazon.com or randomly generated
 Avoid using debit cards
 Transactional data is NEVER 100% safe
 It CAN happen to anyone!!!!
Conclusion
 Used to understand consumers better
 Provides ways to segment consumers through their
online behavior
 Next Step: implement marketing strategies based
on captured information
 Provides edge in competitive marketplace
 Imposes vulnerability on consumers' personal
information
 Beware!!!! Nothing is completely secure!!!!