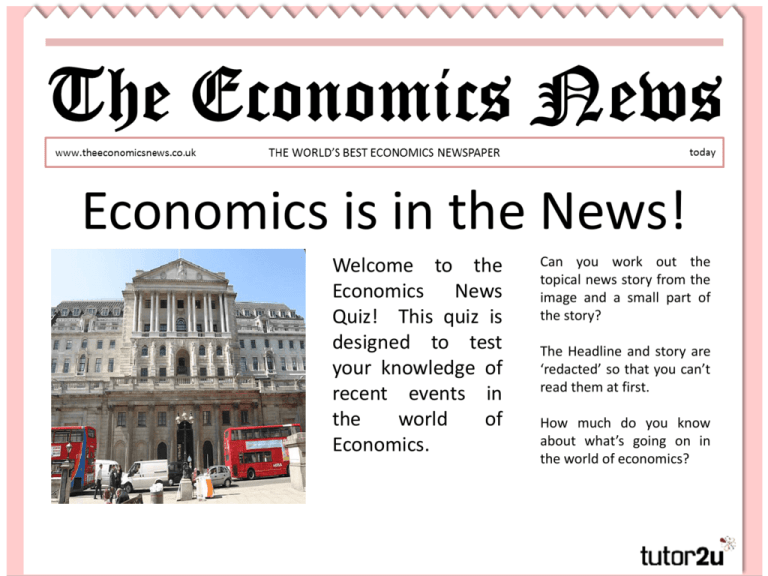 Economics is in the News!
Welcome to the
Economics News
Quiz! This quiz is
designed to test
your knowledge of
recent events in
the
world
of
Economics.
Can you work out the
topical news story from the
image and a small part of
the story?
The Headline and story are
'redacted' so that you can't
read them at first.
How much do you know
about what's going on in
the world of economics?
1
Former Chancellor to lead EU Exit group
That's a
'No'….
Former Chancellor of the
Exchequer, Nigel Lawson,
has been made the
President
of
the
'Conservatives for Britain'
group that will campaign
for a UK exit from the
European Union when the
referendum
is
held
(possibly in 2017).
Lawson thinks that David
Cameron will fail to change
EU policies as he originally
planned.
2
UK Trade Gap is improving
The UK's current account deficit
narrowed much faster then expected
in the second quarter of the year.
The current account figure from the
ONS measures the difference between
imports and exports of trade and
investment.
Mind the Gap….
The deficit narrowed from £24bn, or
5.2% of national income, in the first
quarter of 2015, to £16.8bn, or 3.6% of
GDP, in the second.
3
Labour's Shadow Chancellor rejects austerity
In his speech to the Labour Party
Conference, the Shadow Chancellor of
the Exchequer, John McDonnell rejected
the Government's austerity programme.
McDonnell claims that he can reduce
Government Debt without maintaining
the planned cut in spending on public
services.
There's an alternative
plan…..
4
5p Charge for Plastic Bags about to start
From the 5th of October,
England will join the Welsh
policy of ensuring that shops
and supermarkets charge an
extra 5p for any plastic bag
used by customers.
The idea is to reduce use of
the bags and encourage reuse of older bags.
That's a wrap…..
5
UK Productivity improving
In Productivity across the UK
economy rose at its fastest rate in
four years in the second quarter
according to the Office for
National Statistics (ONS).
Productivity is a key indicator for
the Bank of England as it considers
whether to put up interest rates.
Output on the up……
Output per hour rose
0.9% between April and June, the
biggest quarter-on-quarter rise in
four years.