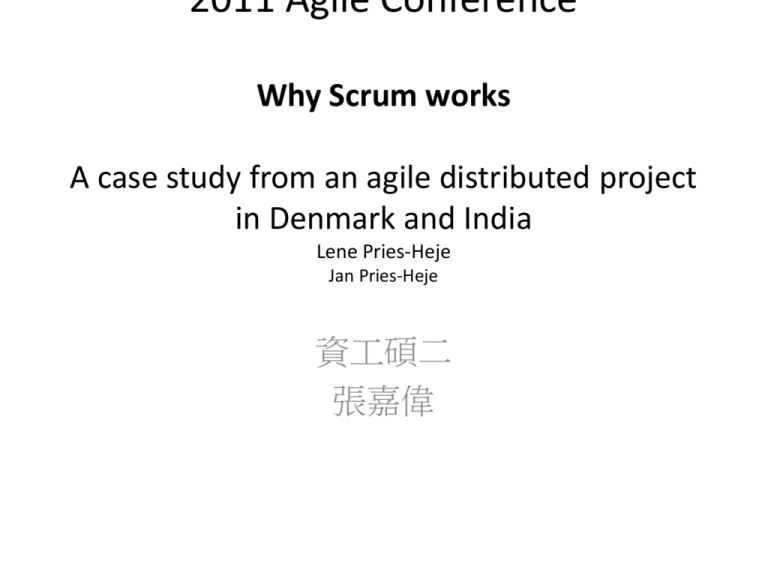 2011 Agile Conference
Why Scrum works
A case study from an agile distributed project
in Denmark and India
Lene Pries-Heje
Jan Pries-Heje
資工碩二
張嘉偉
INTRODUCTION
•
Driven by increasing time-to-market pressure as well as cost saving
incentives, more and more software projects are becoming global
[cf. 1] with project participants distributed in different places. This
means that work is being done by anyone who does it better,
cheaper, or faster. It also means that a company may have many
projects characterized by rapidly assembled project teams,
geographically dispersed, but with highly specialized professionals
who perform specific projects. Thus, distributed teams and
distributed projects will be very common in the future.
SCRUM
• Scrum was first described as The Rugby Approach in Harvard Business
Review [10], emphasizing that small cross-functional teams produce
better results. Jeff Sutherland and Ken Schwaber used the Scrum approach
in their companies in the mid-1990s, and they worked together to
formalize the Scrum approach [11]. Jeff Sutherland continued to study
distributed projects using Scrum [cf. 11, 12].
The challenges of distributed projects
• We define a distributed project as one where the
project team is separated by geography, time zones
and/or culture, but nevertheless has to work
together as a team.
• Distributed projects will typically - as traditional
projects – have a project manager. The majority of
project management work will be the same in a
traditional or a distributed project. But some things
will be different or more challenging when managing
distributed projects. The question is of course: What
will be different?
RESEARCH METHOD
• The second round of interviews and a visit to India
• Coding and categorizing
CASE ANALYSIS AND SOCIAL TEAM
CAPITAL
• The structural dimension
• Relational dimension and trust
• The Cognitive dimension
ARTICULATION THEORY FOR
COORDINATION
• Coordination was analyzed in the first team process. In order
for multiple actors within a project to pursue a common goal,
they have to perform activities, which single actors pursuing
the same goals would not have to do; these extra ordinary
activities we call coordination.
BOUNDARY OBJECTS FOR
COMMUNICATION
• Communication is the second of the "C"-categories we
analyzed. The analysis has two parts: 1) general factors
influencing the communication in the DELHI project, and 2)
the theory of boundary objects to provide a deeper and
better understanding of what is happening in relation to
communication.
CONTROL
• The last "C" – Control - was also a category in our findings.
Best practice in distributed teams takes in common
milestones, frequent delivery, quick feedback, frequent
meetings, and frequent progress reports [16].
SOCIAL INTEGRATION, QUALITY AND
MOTIVATION
• Social integration concerns the sense of belonging to a team,
identifying with the team. In the interviews with the DELHI
project manager, he expressed satisfaction with the team
members not only for their motivation, their dedication to the
project, and their willingness to help each other, but also for
helping the project to succeed and achieving their goal. The
team members interviewed expressed great satisfaction
working on this project, reporting that they were proud to be
working on this project. We could not identify specific
elements where Scrum supported social integration, but
together they had a shared vision with clear and achievable
goals. With much social capital, this provided a basis for social
integration.