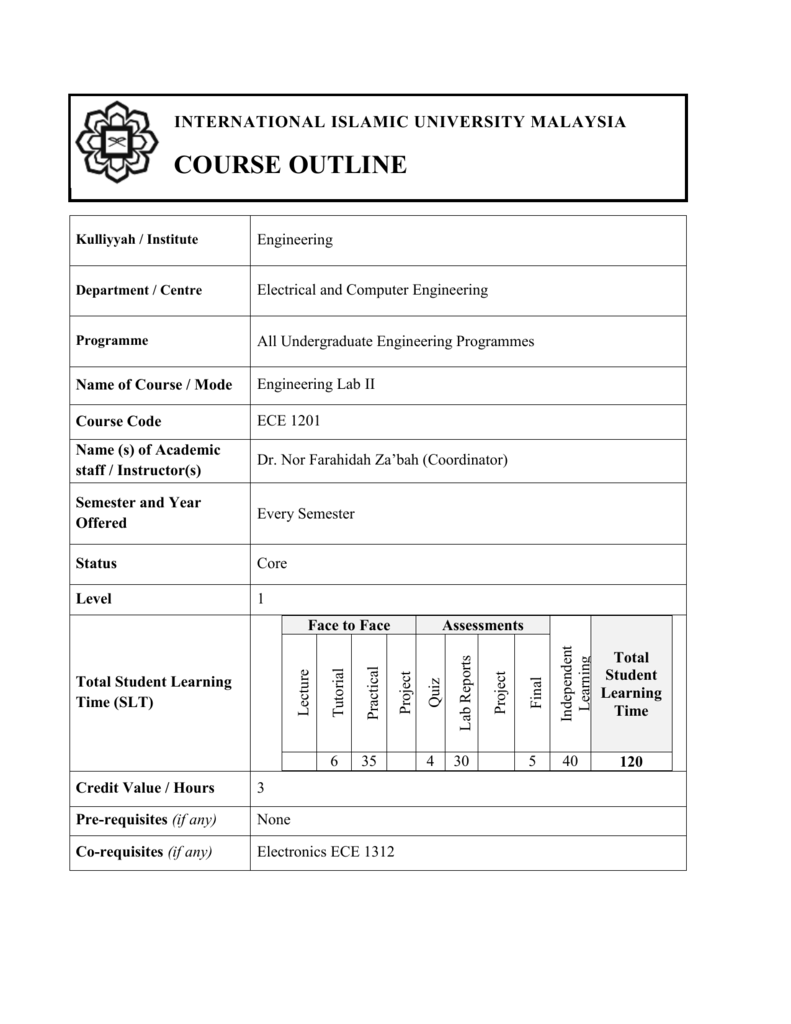 INTERNATIONAL ISLAMIC UNIVERSITY MALAYSIA
COURSE OUTLINE
Kulliyyah / Institute
Engineering
Department / Centre
Electrical and Computer Engineering
Programme
All Undergraduate Engineering Programmes
Name of Course / Mode
Engineering Lab II
Course Code
ECE 1201
Name (s) of Academic
staff / Instructor(s)
Dr. Nor Farahidah Za'bah (Coordinator)
Semester and Year
Offered
Every Semester
Status
Core
Level
1
6
35
Credit Value / Hours
3
Pre-requisites (if any)
None
Co-requisites (if any)
Electronics ECE 1312
4
30
5
Independent
Learning
Final
Project
Lab Reports
Quiz
Assessments
Project
Practical
Total Student Learning
Time (SLT)
Tutorial
Lecture
Face to Face
40
Total
Student
Learning
Time
120
Course Objectives
Learning Outcomes
Course Synopsis
The objectives of this course are to:
1. Prepare students for proper use of lab equipment and
elementary electronic components in the design and analysis of
electric systems.
2. Introduce experiments involving electronic circuits with OpAmps, diodes, transistors and MOSFETs
Upon completion of this course, students should be able to:
1. Analyze electronic circuits with experiments.
2. Analyze electronic circuits with computer simulation programs
(SPICE).
3. Describe an experimental procedure involving circuits with
active elements.
4. Interpret experimental measurements involving electronic
circuits with Op-Amps, diodes, transistors and MOSFETs
Experiments on electronic circuits, circuit design techniques,
computer assisted analysis, active devices characteristics,
rectification, biasing techniques and amplifications.
Skills and how they are developed and assessed:
Transferable Skills:
Skills
Technical, Problem
solving, Analytical
Analytical,
Scientific
knowledge
Development
Laboratory
Experiments
Experiments
Assessment
Report
Quizzes and Final
Exam
Teaching-Learning and
assessment strategy
Lab reports, Quiz, Practical Final Examinations
Mode of Delivery
Laboratory Experiments
Assessment Methods and
Type/Course Assessment
State weightage of each
type of assessment.
LO
3,4
1,3,4
1,2,3,4
1,2,3,4
Method
Pre-lab
Quiz
Final Test
Lab Report
%
10
15
30
45
Mapping of course / module to the Programme Learning Outcomes
PO1
PO2
PO3
PO4
LO1




LO2



LO3



LO4



PO5
PO6
PO7
PO8
PO9
PO10
PO11
PO12

Content outline of the course / module and the SLT per topic
Learning
Weeks
Topics
Task/Reading
Hours
Introductory class – Briefing on the organization of the
8
1
course
8
2
Introduction to PSPICE – Tutorial 1
PSPICE Manual
3
4
5&6
PSPICE - Tutorial 2
8
Experiment No. 1 & 2
(Diode Characteristics & Zener Diode Characteristics)
Experiment No. 3
(Wave Rectifier & Clipper Circuit)
7&8
Experiment No. 4
(BJT Characteristics & Common-Emitter Transistor
Amplifier)
9
Experiment No. 5
(BJT Biasing Circuits)
10
11
12-13
14
8
16
PSPICE Manual
Lab Manual
Lab Manual
Lab Manual
16
Lab Manual
8
Experiment No. 6
(MOSFET - Common Source Amplifier)
Experiment no. 7
(Inverting and Non-Inverting OP Amp)
8
8
Lab Manual
Lab Manual
Preparation for Practical Examination
16
Lab Manual
Final Examination (Practical)
8
Lab Manual
Assessment
8
Lab Manual
References
Required
1. Electronics Laboratory Manual
2. PSPICE Tutorial Manual
Recommended
1. Motakabber, S. M. A, Ibrahimy, M. I., Nordin, Anis, (2012), Fundamentals of
Microelectronic Circuits, Pearson
Prepared by:
Checked by:
Approved by:
Nor Farahidah Za'bah
Assistant Professor
Department of Electrical
and Computer Engineering
Assoc. Prof. Dr. Teddy
Surya Gunawan
Head of Department
Electrical and Computer
Engineering
Prof. Emeritus Dato' Wira Ir.
Dr. Md. Noor Bin Salleh
Dean
Kulliyyah of Engineering
The educational outcomes of the programmes conducted by the Kulliyyah are as follows:
Programme Learning Outcome (PO)
1. Engineering Knowledge (T) -Apply knowledge of mathematics, sciences, engineering fundamentals and an
engineering specialization to the solution of complex engineering problems;
2. Problem Analysis (T) – Identify, formulate, research relevant literature and analyze complex engineering
problems, and reaching substantiated conclusions using first principles of mathematics, natural sciences and
engineering sciences;
3. Design/Development of Solutions (A) –Design solutions, exhibiting innovativeness, for complex
engineering problems and design systems, components or processes that meet specified needs with appropriate
consideration for public health and safety, cultural, societal, economical, ethical, environmental and
sustainability issues.
4. Investigation (D) Conduct investigation into complex problems, displaying creativeness, using researchbased knowledge, and research methods including design of experiments, analysis and interpretation of data,
and synthesis of information to provide valid conclusions;
5. Modern Tool Usage (A & D) -Create, select and apply appropriate techniques, resources, and modern
engineering and IT tools, including prediction and modelling, to complex engineering activities, with an
understanding of the limitations;
6. The Engineer and Society (ESSE) -Apply reasoning based on contextual knowledge to assess societal,
health, safety, legal, cultural, contemporary issues, and the consequent responsibilities relevant to professional
engineering practices.
7. Environment and Sustainability (ESSE) -Understand the impact of professional engineering solutions in
societal, global, and environmental contexts and demonstrate knowledge of and need for sustainable
development;
8. Ethics (ESSE) –Apply professional ethics with Islamic values and commit to responsibilities and norms of
MQF Domain
1&6
1&6
2, 3 & 6
2&6
7
3&4
3&4
3&4
professional engineering code of practices.
9. Communication (S) -Communicate effectively on complex engineering activities with the engineering
community and with society at large, such as being able to comprehend and write effective reports and design
documentation, make effective presentations, and give and receive clear instructions;
5&7
10. Individual and Team Work (S) -Function effectively as an individual, and as a member or leader in
diverse teams and in multi-disciplinary settings.
8
11. Life Long Learning (S) -Recognize the need for, and have the preparation and ability to engage in
independent and life-long learning in the broadest context of technological change.
7
12. Project Management and Finance (S) -Demonstrate knowledge and understanding of engineering
management and financial principles and apply these to one's own work, as a member and/or leader in a team,
to manage projects in multidisciplinary settings, and identify opportunities of entrepreneurship.
8
NOTE:
1.
2.
3.
4.
5.
6.
The course outlines should reflect the course description/synopsis and Islamic mission of the university as well as to provide the room for
Islamic critique.
Latest editions of textbooks and references should be used unless otherwise necessary or if the course is classical in nature. Please check
with the library to ensure that the books are up-to-date and incorporating the latest edition.
The reference lists shall be presented in accordance with APA bibliographic practices and in alphabetical order.
The reference title shall be italicised or underlined or bold. If in doubt, please consult the Librarian.
Proposed new course outlines should be presented to the Senate Standing Committee for approval at least four months prior to the course
offering.
Any changes to the course outlines must be reported back to the Standing Senate Committee two months prior to the course offering.