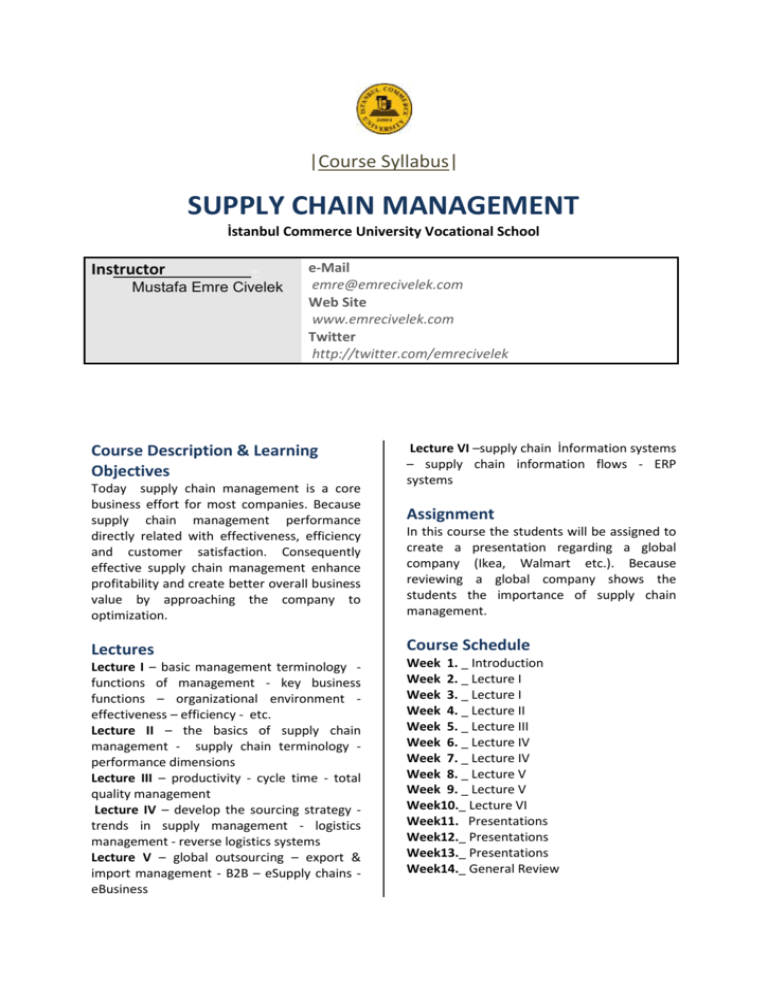 |Course Syllabus|
SUPPLY CHAIN MANAGEMENT
İstanbul Commerce University Vocational School
Instructor
m
Mustafa Emre Civelek
e-Mail
emre@emrecivelek.com
Web Site
www.emrecivelek.com
Twitter
http://twitter.com/emrecivelek
Course Description & Learning
Objectives
Today supply chain management is a core
business effort for most companies. Because
supply chain management performance
directly related with effectiveness, efficiency
and customer satisfaction. Consequently
effective supply chain management enhance
profitability and create better overall business
value by approaching the company to
optimization.
Lectures
Lecture I – basic management terminology functions of management - key business
functions – organizational environment effectiveness – efficiency - etc.
Lecture II – the basics of supply chain
management - supply chain terminology performance dimensions
Lecture III – productivity - cycle time - total
quality management
Lecture IV – develop the sourcing strategy trends in supply management - logistics
management - reverse logistics systems
Lecture V – global outsourcing – export &
import management - B2B – eSupply chains eBusiness
Lecture VI –supply chain İnformation systems
– supply chain information flows - ERP
systems
Assignment
In this course the students will be assigned to
create a presentation regarding a global
company (Ikea, Walmart etc.). Because
reviewing a global company shows the
students the importance of supply chain
management.
Course Schedule
Week 1. _ Introduction
Week 2. _ Lecture I
Week 3. _ Lecture I
Week 4. _ Lecture II
Week 5. _ Lecture III
Week 6. _ Lecture IV
Week 7. _ Lecture IV
Week 8. _ Lecture V
Week 9. _ Lecture V
Week10._ Lecture VI
Week11. Presentations
Week12._ Presentations
Week13._ Presentations
Week14._ General Review
Evaluation & Grading
1. Assignment
(Assignment + Presentation)
% 40
2. Final Exam
%60
Introduction to Operations and
Supply Chain Management | 2013;
Cecil C. Bozarth and Robert B.
Handfield
Class Participation
Attendance
Mandatory Attendance Rate % 70
Cource Materials
1. Mandatory Textbook:
Textbook | 2013; M. Emre Civelek
2. Recommended Books:
Effects of Supply Chain Management
on Company Performance | 2012;
Murat Çemberci
Because of the nature of the subject, we
should be able to learn a lot from each other
by dicussing and debating on supply chain
management. Therefore this will require
active participation in class.