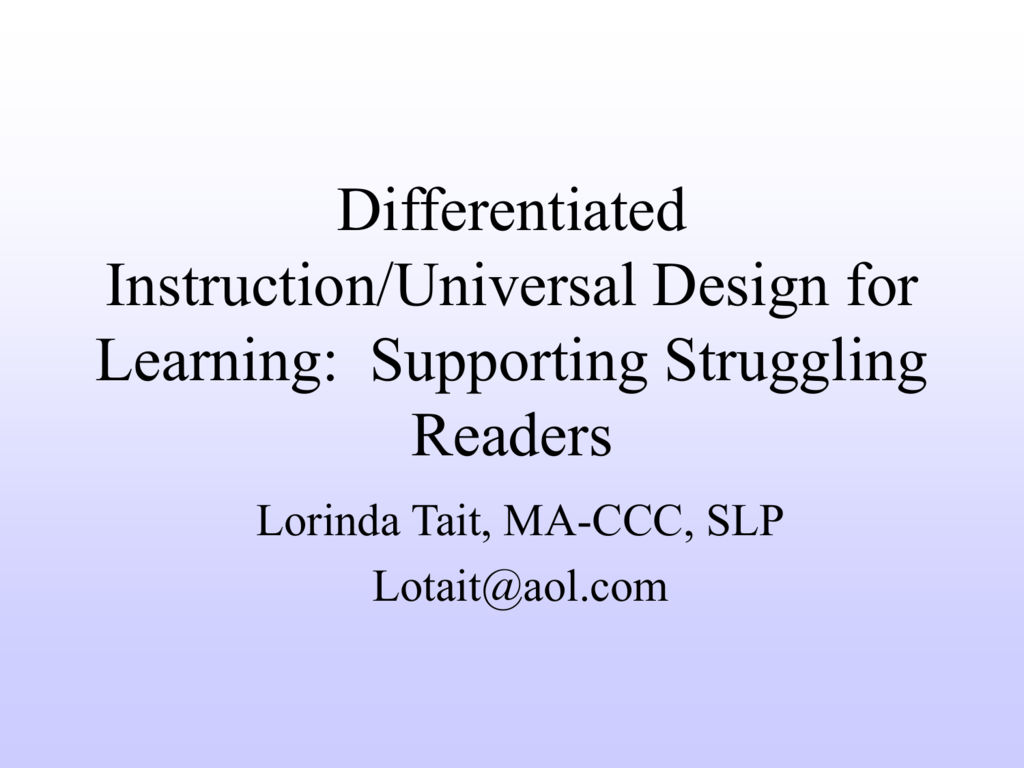 Differentiated
Instruction/Universal Design for
Learning: Supporting Struggling
Readers
Lorinda Tait, MA-CCC, SLP
[email protected]
Life is Simple!
•
What do you already know?
• What is the focus of Universal Design for
Learning?
• What resources are there to supplement
your teaching?
• What websites are available?
• What is differentiated instruction?
Curriculum Barriers
What is the focus of Universal Design
for Learning?
• To remove barriers to learning
• To provide supports where they are
needed
• To engage every student in a successful
learning experience
Universal Design
• The careful construction of curriculum
and curriculum materials to encourage
access for all students.
• It refers to the features of a curriculum that
make it compatible for a large (universal)
audience.
How does the UDL framework
help us to do these things?
• providing tools for
building flexibility into
the curriculum
• supporting improved
access to information
and--to learning itself
• providing multiple
approaches to learning
that will result in
success for diverse
learners.
What tools and strategies does the
UDL framework provide to help us
accomplish these goals?
• Multiple means of
representation to give
learners various ways
of acquiring information
and knowledge
• Multiple means of
expression to provide
learners alternatives
for demonstrating what
they know
• Multiple means of
engagement to tap
into learners'
interests, offer
appropriate
challenges, and
increase motivation
Multiple means of representation: Use
multiple formats and media
• Highlight critical
features (e.g., Use
different colors of
highlighters to
identify the title,
headings, main
ideas and
supporting details in
an expository text)
• Present multiple
examples and nonexamples of a concept
(e.g., Some examples
of conflict are
arguments and war.
Non-examples include
cooperating to solve a
problem and working
together to help
someone.)
• Support Background
Knowledge
Differentiated Instruction
• Recognizes students have varying background
knowledge, readiness, language, preferences in
learning, interests.
• A process to approach teaching and learning for
students of differing abilities in the same class.
• The intent is to maximize each student's growth
and individual success by meeting each student
where he or she is, and assisting in the learning
process.
Differentiated Instruction
• When you offer learners a choice of
materials from a combination of traditional
text, presentation and digital media, you can
realistically provide differentiated
instruction within the context of your busy,
diverse classrooms.
Use multiple formats and media to
support learner differences:
• Print
– Textbooks and Trade Books
– Newspapers and Magazines
– Considerate, age-appropriate texts (like Startto-Finish® books)
– Web content on any subject at a variety of
difficulty levels
Websites
• NASA explores site
http://www.nasaexplores.com/
• Windows to the Universe
http://www.windows.ucar.edu/
• Ben's Guide to U.S. Government for Kids
http://bensguide.gpo.gov/
Literature/Language Arts
• The Children's Literature Web Guide
www.ucalgary.ca/~dkbrown
• Online Classic Literature Library
http://www.literature.org/authors/
• SparkNotes-Classic Books Online
http://www.sparknotes.com/texts
• Project Gutenburg
http://promo.net/pg/
• American Library Association
• http://www.ala.org/parentspage/greatsites/
Videos for Download
•
•
The Prelinger Archives offer over
45,000 advertising, educational,
industrial, and amateur films. Since
its beginning in 1983, its goal has
been to collect, preserve, and
facilitate access to films of historic
significance that haven't been
collected elsewhere. The collection
is open to all for free downloading
and reuse but not sold.
Media Channel: Scroll down to the
middle of this page to find and
extensive list of links. Many, but
not all, link to video clips. Some
cannot be downloaded, but the
items that are available cover a
range of interesting current topics.
•
•
•
•
•
Exploration in Education offers
Electronic Tutorials form a NASA
supported program.
Apple Learning Interchange:
Videos as well as the ways teachers
have incorporated them into the
classroom are scattered throughout
this site. Lesson plans and study
guides can be downloaded as well.
Perseus Project contains a video
about the ancient Olympic games;
also take a look at the other
collections offered on this site.
Career Videos offers 360 captioned
videos each about a different
career.
edutopia online, the George Lucas
Foundation site - discuss topics
relevant to today?s classrooms.
Audio Books
– (free, via subscription or CD-based such as
Start-to-Finish books)
– Software programs that translate printed text
into speech (like SOLO®, Read:OutLoud,
Aspire Reader, WYNN, TestTalker) used with
text files available through the Internet and/or
directly through publishers (NIMAS)
Visual
– Graphic organizers—both print-based and
electronic programs (like SOLO, Read:OutLoud,
Draft:Builder®, Inspiration, Kidspiration, Visual
Thesaurus).http://www.ncrel.org/sdrs/areas/issues/st
udents/learning/lr1kwlh.htm
http://school.discovery.com/schrockguide/newtheme02
06.html
– Considerate, age-appropriate educational videos
intended for use as learning "anchors" (like Incite!)
and/or full-length videos or video clips (available
free or by subscription)
More Visual
– Graphics libraries that include photographs,
illustrations and animations (available free or
by subscription via the Internet, on CD)
– Multimedia—Text, sound, graphics, animation
and video software (like PowerPoint,
HyperStudio, Kid Pix)
Digital Media
• Present information in multiple modes and with
multiple levels of support to challenge as well as
scaffold learners across a wide range of needs and
abilities.
• Save, share and use from class-to-class, teacherto-teacher and year-to-year, expanding the options
you have available to individualize learning in
your classroom.
• Saves time while assuring that more learners are
successfully included in meaningful learning.
General Sources
• KidsClick was created by a group of librarians at
the Ramapo Catskill Library System, articles
listed with illustration information and readability
level.
http://www.kidsclick.org
• Pink Monkey
http://www.pinkmonkey.com
• California State University, Northridge: Current
events and electronic resources for kids.
http://www.csun.edu/~hcedu013/cevents.html
More Sources
• Internet Public Library, Youth Division
http://www.ipl.org/div/kidspace
• Internet Public Library, Teen Division
http://www.ipl.org/div/teen/
• Awesome Library
http://www.awesomelibrary.org/Classroom/
Technology/Technology.html
• Discovery School
http://school.discovery.com/students/
• Class Homework
http://www.classhomework.com/
Social Studies
• Library of Congress
http://lcweb2.loc.gov/amhome.html
• National Geographic for Kids
http://www.nationalgeographic.com/kids/
• National Park Service/Historic Places
http://www.cr.nps.gov/nr/twhp/
UDL Solutions
•
•
•
•
Look at 3 brain networks:
Recognition
Strategic
Affective
Vocabulary Instruction
• Traditionally, students define vocabulary
words prior to reading a passage or chapter.
• Students create sentences using vocabulary
from a reading passage.
Vocabulary UDL
• Read and pick out the high frequency words that
students do not know but need to acquire in order
to have a rich vocabulary.
• Write student-friendly explanations, the dictionary
definition for a word like occurrence might be
overly complicated, but a simple definition like
something that happens will have more meaning
for students.
• Create student-friendly definitions by using
everyday language to explain meaning.
UDL Way
• Introduce words before reading
• Record words in a journal
• Explore word meanings -The goal of this
activity is to encourage students to think
about how words are used and how they
fit together.
Use words
• Have students create examples of word meanings, such as
the following:
– Describe a time when you were incredulous.
– Describe how a humane person acts.
• Have students respond to questions about sentences
containing vocabulary words:
– When I told my teacher that my dog ate my homework, she was
incredulous. What do you think the teacher thought?
– A large group of people gathered outside the UN to demand that
the Chinese government treat political prisoners more humanely.
What kind of treatment do you think people are demanding for the
prisoners? Why would they demand it?
•
Give students quizzes and tests on vocabulary definitions.
Center for Applied Special
Technology www.cast.org
• Founded in 1984 CAST has earned international
recognition for its development of innovative, technologybased educational resources and strategies based on the
principles of Universal Design for Learning (UDL).
• CAST staff includes specialists in education research and
policy, neuropsychology, clinical/school psychology,
technology, engineering, curriculum development, K-12
professional development, and more.
• By defining UDL and exploring its practical applications,
CAST is pushing the boundaries of education research,
practice, and policymaking. Achievements include:
• Creation or codevelopment of innovative software such as
Thinking Reader, WiggleWorks, and Bobby
What do you know now?
• What is the focus of
Universal Design for
Learning?
• What resources are there
to supplement your
teaching?
• What websites are
available?
• What is differentiated
instruction?
• Lorinda Tait
• [email protected]
Subject: MACUL
• Thanks for coming!!!