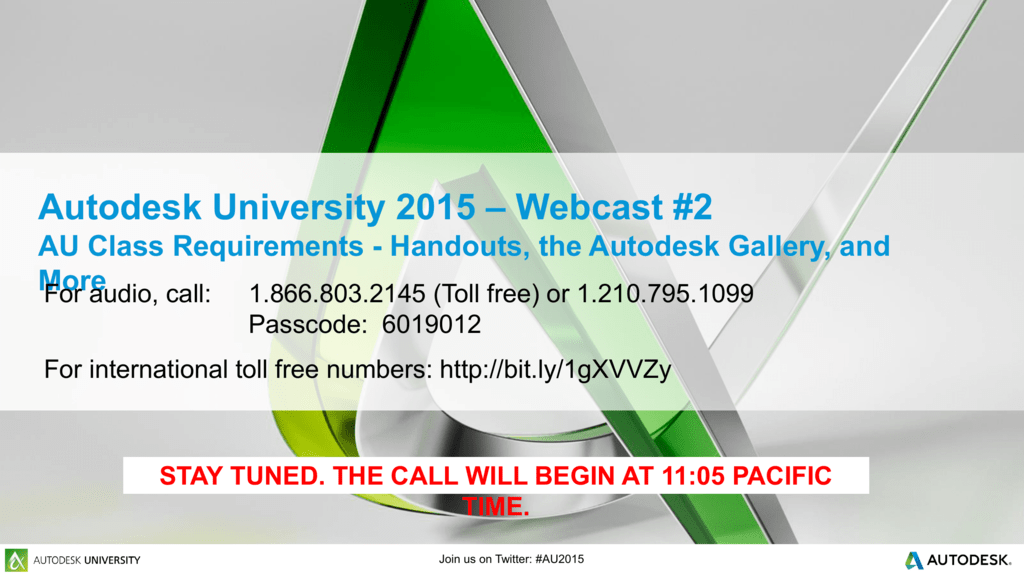 Autodesk University 2015 – Webcast #2
AU Class Requirements - Handouts, the Autodesk Gallery, and
More
For audio, call: 1.866.803.2145 (Toll free) or 1.210.795.1099
Passcode: 6019012
For international toll free numbers: http://bit.ly/1gXVVZy
STAY TUNED. THE CALL WILL BEGIN AT 11:05 PACIFIC
TIME.
Join us on Twitter: #AU2015
Agenda
 Welcome
 Class Formats
What are they good for?
 Speaker Tasks
Screencasts, the Autodesk Online Gallery,
Class Handouts, and Presentation Materials
 Helpful Resources, Tips, and Other Reminders
Autodesk University 2015
Adam Sopko
AU Content Curator
Objective
Review class requirements and tips
for preparing a great AU session
AU class formats – show vs. tell
 Industry Talks
 Thought leadership, industry insights, case studies, and more.
Attendees will expect to hear how your work represents an innovative
way forward. Your Industry Talk should not include a detailed
software training.
 Instructional Demos
 Detailed presentations of in-product workflows, processes, and tips &
tricks. Attendees will expect demonstrations that showcase your
software knowledge as it relates to your work, your role, or your
industry.
VISIT THE SPEAKER RESOURCE CENTER (SRC) AND
CONFIRM THAT YOUR CLASS FORMAT TELLS THE RIGHT STORY
A reminder of other AU formats
 Hands-on Labs
 Hands-on computer instruction facilitated by an AU speaker
and lab assistants.
 Panels
 Industry leaders in discussion on topics from BIM to design
visualization and intellectual property rights for 3D and
advanced manufacturing.
 Roundtables
 Small group discussions facilitated by AU speakers.
Speaker Resource Center (SRC)
My Classes - Home
Speaker Resource Center (SRC)
General Tasks
Speaker Resource Center (SRC)
Class Tasks
Autodesk Screencasts
Screencasts – An optional speaker resource
 Rehearse your AU presentation and
fine tune your script.
 Illustrate key product workflows and
industry-specific practices.
 Create short supplements for your
class, which can be linked to from the
Autodesk University website.
https://screencast.autodesk.com/
Tagging your AU screencasts
Category:
Autodesk University
 Don't forget to tag your screencasts "Autodesk University."
Autodesk Online Gallery
AU Online Gallery – An optional speaker resource
 Generate enthusiasm for
what you'll bring to AU.
 Showcase your personal and
professional projects.
 The Autodesk online gallery
will be accessible on the AU
website.
 Don't forget to tag your
projects "AU 2015."
https://gallery.autodesk.com/
Tagging gallery projects with AU 2015
Check box:
AU 2015
Location: Las Vegas
Speaker Resource Center (SRC)
Upload Class Files
Class handouts
 Vital for Hands-on Labs, Instructional
Demos, and Industry Talks!
 Class handouts live on…online…and
demonstrate your expertise.
 Like a trusted desk reference, it should
tell the whole tale and be indispensable.
 Write it. Then read it.
 Share it with someone who knows.
Class presentations
 Especially critical for Industry Talks,
Instructional Demos, and Panels.
 Highlight transitions.
 Introduce your Learning
Objectives
 Mark steps in a product workflow
 Note other natural transitions
 Transitions in your presentation deck
help create learning experiences that
are structured and segmented.
 Don't overwhelm your audience.
Lead them. Teach them.
Your audience is also online
 Nearly all class materials are
made available for free online.
 High quality handouts and
presentations are powerful
resources.
 Experts in the Autodesk University
community continue to gain
recognition – on the web and with
tools like Autodesk Screencast,
the Autodesk Online Gallery, and
more.
Making AU online your own
Great resources and examples
 Technically Speaking: How to Prepare and Deliver an Engaging
Technical Presentation from AU 2014 with Marcello Sgambelluri
http://bit.ly/1NEYVF4
 Architectural Visualization with Unreal Engine from Lynda.com
with Adam Crespi on Lynda.com
http://bit.ly/1Ljl0sH
 Finite Element Analysis for the Casual User in Inventor from
AU 2014 with Jeffrey Mather
http://bit.ly/1E3UFyY
Other things to remember
 Doing a Q&A? Repeat your audience's questions.
Those in your session will appreciate it as much as
those watching online.
 Nobody knows your audience better than you.
 There's no AU without you. (Really, we're humbled!)
So get the most of your experience by giving the
most. You'll remember it and be remembered for it!
Key Dates







July 10
August 7
August 14
August 14
August 21
August 26
September 25
requirements
 October 2
 October 15
 November 13
Accept the speaker agreement
Download class & presentation templates
Review & modify speaker profile
Upload speaker photo
Add co-speakers (if any)
AU Registration
Hands-on lab hardware & software
Add lab assistants
Specify AV/classroom requirements
Upload handouts & additional class materials
Speaker Resources & Communication
 Speaker Resource Center (SRC)
One stop shop to manage your participation as an AU Speaker
 AU Blog and LinkedIn Forum
Speaker news and updates
Questions? For assistance contact:
[email protected]
Thanks again for your time.
We're looking forward to a great AU!
Other questions? For assistance contact:
[email protected]
Autodesk is a registered trademark of Autodesk, Inc., and/or its subsidiaries and/or affiliates in the USA and/or other countries. All other brand names, product names, or trademarks belong to their respective holders. Autodesk reserves the right to alter product and services offerings, and specifications and pricing at any time without notice, and is not
responsible for typographical or graphical errors that may appear in this document. © 2015 Autodesk, Inc. All rights reserved.