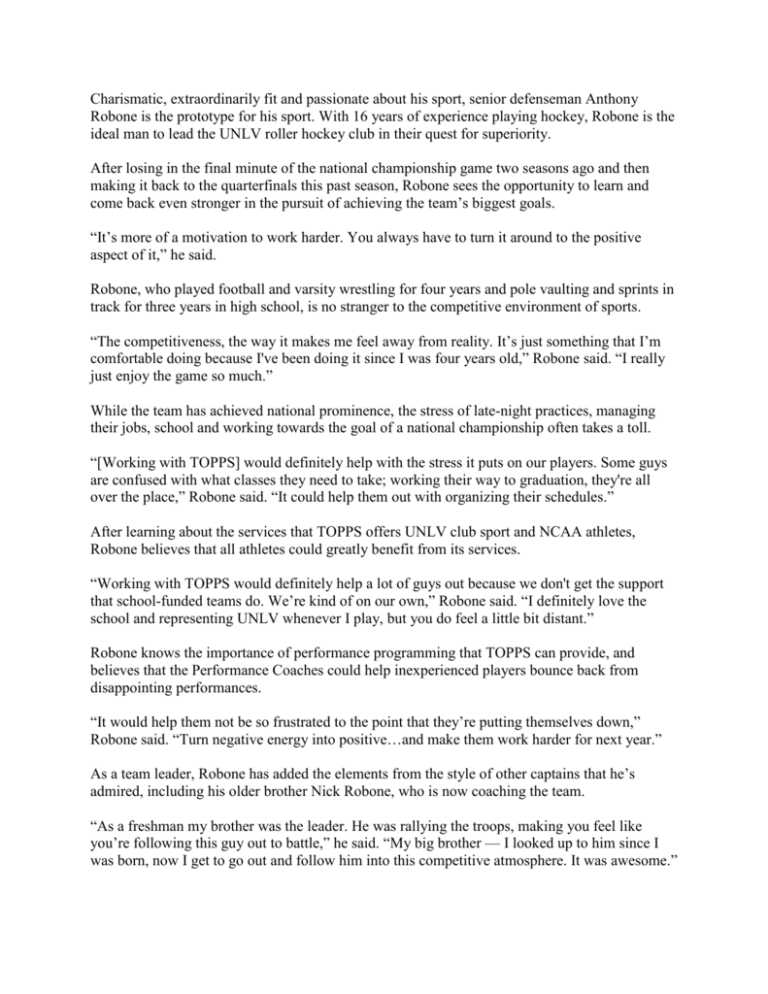 Charismatic, extraordinarily fit and passionate about his sport, senior defenseman Anthony
Robone is the prototype for his sport. With 16 years of experience playing hockey, Robone is the
ideal man to lead the UNLV roller hockey club in their quest for superiority.
After losing in the final minute of the national championship game two seasons ago and then
making it back to the quarterfinals this past season, Robone sees the opportunity to learn and
come back even stronger in the pursuit of achieving the team's biggest goals.
"It's more of a motivation to work harder. You always have to turn it around to the positive
aspect of it," he said.
Robone, who played football and varsity wrestling for four years and pole vaulting and sprints in
track for three years in high school, is no stranger to the competitive environment of sports.
"The competitiveness, the way it makes me feel away from reality. It's just something that I'm
comfortable doing because I've been doing it since I was four years old," Robone said. "I really
just enjoy the game so much."
While the team has achieved national prominence, the stress of late-night practices, managing
their jobs, school and working towards the goal of a national championship often takes a toll.
"[Working with TOPPS] would definitely help with the stress it puts on our players. Some guys
are confused with what classes they need to take; working their way to graduation, they're all
over the place," Robone said. "It could help them out with organizing their schedules."
After learning about the services that TOPPS offers UNLV club sport and NCAA athletes,
Robone believes that all athletes could greatly benefit from its services.
"Working with TOPPS would definitely help a lot of guys out because we don't get the support
that school-funded teams do. We're kind of on our own," Robone said. "I definitely love the
school and representing UNLV whenever I play, but you do feel a little bit distant."
Robone knows the importance of performance programming that TOPPS can provide, and
believes that the Performance Coaches could help inexperienced players bounce back from
disappointing performances.
"It would help them not be so frustrated to the point that they're putting themselves down,"
Robone said. "Turn negative energy into positive…and make them work harder for next year."
As a team leader, Robone has added the elements from the style of other captains that he's
admired, including his older brother Nick Robone, who is now coaching the team.
"As a freshman my brother was the leader. He was rallying the troops, making you feel like
you're following this guy out to battle," he said. "My big brother — I looked up to him since I
was born, now I get to go out and follow him into this competitive atmosphere. It was awesome."
Robone is cognizant of how his words, body language and demeanor will affect teammates.
When dealing with disputes or a player's poor performance, Robone addresses issues privately,
in a positive manner.
"As a captain, I've got these guys I would die for. I like being the leader," Robone said. "I don't
wear a 'C' on my chest or present myself as this alpha dog. I lead by my actions. Sometimes it's
hard, you get frustrated ... but you realize you can't just roll over, you have to keep going."
Robone was hard-pressed to find a comparison for the passionate, adrenaline-fueled, heartpounding feeling of camaraderie in the locker room. He did, however, reveal the team's favorite
ritual that has helped them get pumped up before each game after their warm-ups.
"I try to keep it loose — I don't want everyone to be so into it that their nerves are so rattled that
they start panicking," Robone said. "We play the same song every time: Eminem's 'Lose
Yourself.' Everyone gets quiet, then you can hear them rapping underneath their breath. I get up
by the door, everyone lines up, and we [pound fists] before they go out. It's a lot of fun."
With a positive mindset, almost two decades of hockey experience and a team on the cusp of
seeing their hard work come to fruition, Robone was concise about his goal for this season.
"We're going to win a national championship before I leave UNLV," he said with a smile.
To contact Anthony Robone with inquiries about the UNLV roller hockey club, his phone
number is 702-496-4193. He can also be emailed at: arobone@yahoo.com.
To contact TOPPS to see what services are best for you, please call 702-895-2468.