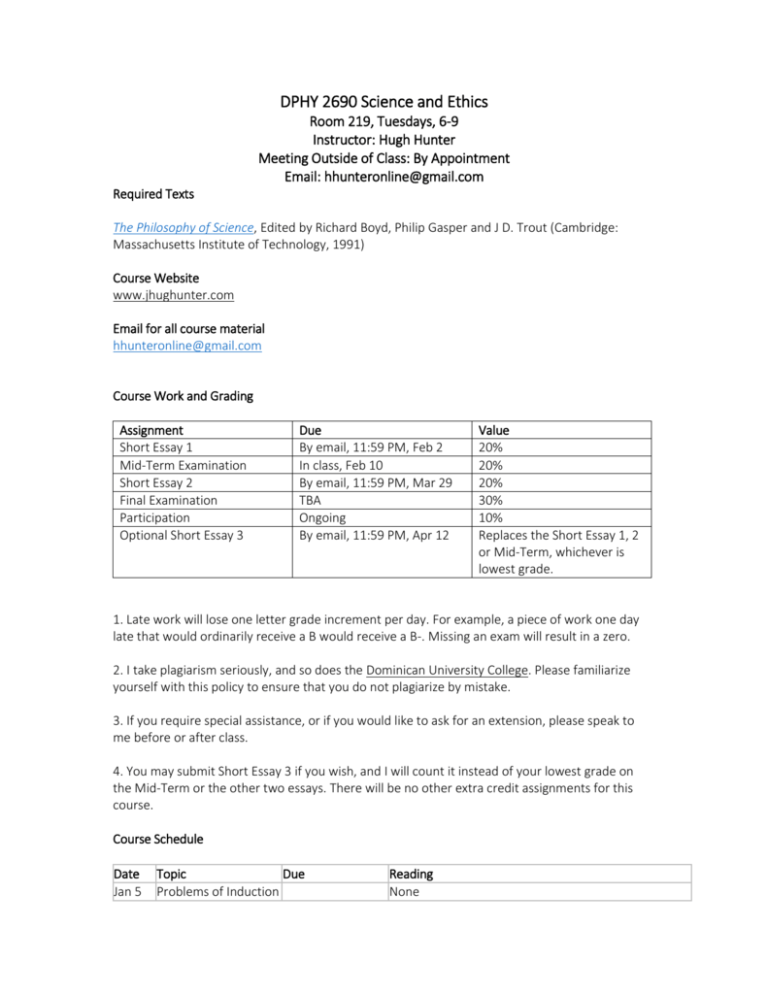 DPHY 2690 Science and Ethics
Room 219, Tuesdays, 6-9
Instructor: Hugh Hunter
Meeting Outside of Class: By Appointment
Email: hhunteronline@gmail.com
Required Texts
The Philosophy of Science, Edited by Richard Boyd, Philip Gasper and J D. Trout (Cambridge:
Massachusetts Institute of Technology, 1991)
Course Website
www.jhughunter.com
Email for all course material
hhunteronline@gmail.com
Course Work and Grading
Assignment
Short Essay 1
Mid-Term Examination
Short Essay 2
Final Examination
Participation
Optional Short Essay 3
Due
By email, 11:59 PM, Feb 2
In class, Feb 10
By email, 11:59 PM, Mar 29
TBA
Ongoing
By email, 11:59 PM, Apr 12
Value
20%
20%
20%
30%
10%
Replaces the Short Essay 1, 2
or Mid-Term, whichever is
lowest grade.
1. Late work will lose one letter grade increment per day. For example, a piece of work one day
late that would ordinarily receive a B would receive a B-. Missing an exam will result in a zero.
2. I take plagiarism seriously, and so does the Dominican University College. Please familiarize
yourself with this policy to ensure that you do not plagiarize by mistake.
3. If you require special assistance, or if you would like to ask for an extension, please speak to
me before or after class.
4. You may submit Short Essay 3 if you wish, and I will count it instead of your lowest grade on
the Mid-Term or the other two essays. There will be no other extra credit assignments for this
course.
Course Schedule
Date
Jan 5
Topic
Due
Problems of Induction
Reading
None
Jan 12
Jan 19
Jan 26
Feb 2
Falsificationism
Kinds
Paradigms
Pessimism
Review
Feb 9
Feb 16
Feb 23
Mar 1
Midterm
Reading Week
Realism
Against Realism
Chapter 5
Chapter 8
Chapter 7
Short Essay 1 due "How to Defend Society Against Science"
Paul Feyerabend
"Karl Popper and the Jazz Age", David Stove
Reading Week
Mar 8 Values and Science
Mar 15 Experiments
Reading Week
"Realisms and Antirealisms", Ian Hacking
Chapter 10
Chapter 12
Chapter 38
"Moral Philosophy Meets Social Psychology"
Gilbert Harman
Recommended Additional Reading/Viewing
Milgram Obedience Experiments
University of Toronto Ethics Research Guidelines:
Participant Observation
Mar 22 Human Dignity
University of Toronto Ethics Research Guidelines:
Deception and Debriefing
Short Essay 2 due "Ethical Issues in Human Enhancement"
Nick Bostrom & Rebecca Roache
2008, Draft Version
Plato
"The Case for Animal Rights",
Tom Regan
Mar 29 Animals
"The Case for the Use of Animals in Biomedical
Research",
Carl Cohen
Apr 5 The Environment
Optional Essay 3
due
Available in Contemporary Moral Issues: Diversity and
Consensus, edited by Lawrence M. Hinman (Upper
Saddle River: Pearson Prentice Hall, 2006) [BJ 1031
.H55 C65 2006]
Entry in the Stanford Encyclopedia of Philosophy
"Conservatism means Conservation", Roger Scruton
Apr 12 Review/Catch Up
Final Exam
I reserve the right to make minor changes to the syllabus as the course proceeds.