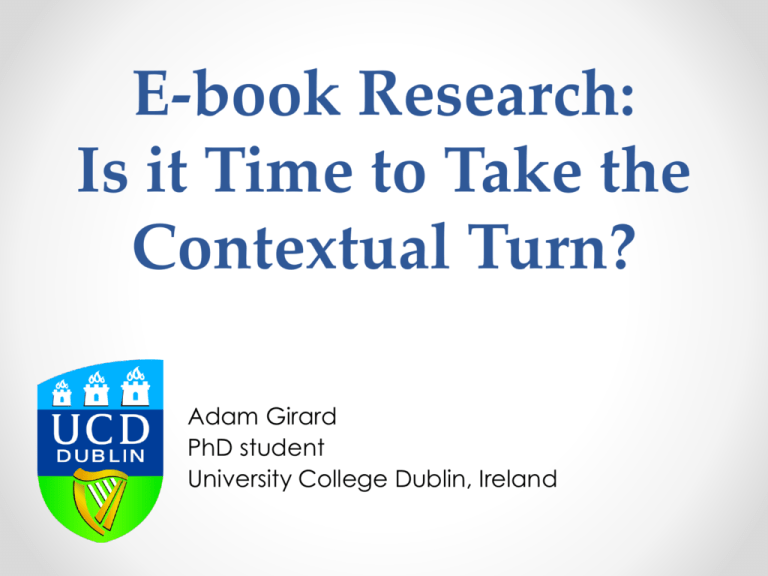 E-book Research:
Is it Time to Take the
Contextual Turn?
Adam Girard
PhD student
University College Dublin, Ireland
E-books are for everyone!
• E-books and e-readers have gone from expensive
and hard to use to a common method of reading.
E-books and e-readers are now:
• Popular
• Convenient
• Offer new possibilities (ie. full-text searching, hypertext, etc.)
• 43% of Americans age 16 and older have read an
e-book in the past year (Pew, 2012).
• Popularity in other countries is growing rapidly.
Themes in e-book research
•
Institutional setting (often libraries)
•
E-reader features
•
'Up-take' (adoption)
•
Business models, and access to content
•
Digital rights management
(Chen et al. 2008; Moyer, 2012; Vassiliou & Rowley, 2008)
(Duncan, 2010, 2011; Gold Leaf, 2003; Library Journal, 2011)
(Bonfield, 2012; JISC, 2009; Vasileiou,et al., 2009, 2012)
(Ashcroft, 2011; Bonfield, 2012; Sheehan, 2013; Trivedi, 2009)
The role of user and setting
Themes in e-book research portray:
• A passive recipient
• Systems focus
• Laboratory setting
• Intervening factors are reduced or ignored
Could these be labeled "traditional user studies"?
"Traditional User Studies"
• Objective versus Subjective Information
• Mechanistic, Passive versus Constructivist, Active Users
•
Elements of user behaviour that apply to all users and
situations
• Systems oriented
• External behaviour versus Internal cognitive affective
responses
• Qualitative versus Quantitative Research
Adapted from (Talja & Hartel, 1997)
What's Missing?
- Context • Information Science has known the importance of
situating behaviour for a long time.
(Courtright, 2007; Dervin & Nilan, 1986; Talja & Hartel, 2007)
• Fields such as HCI and Usability Engineering have
taken a similar course.
(Bødker, 2006; Dumas, 2007)
• Traditional user studies have been common in the
Social Sciences for the purpose of decision making,
and informing policy.
(Caplan, 1975; Menon & Varadarajan, 1992)
User-centered, or
contextualized?
• The shift toward the including contextual factors has
been referred to as user-centered.
• A more holistic perspective may help to avoid
problems of the human/machine dichotomy.
• Contextual factors are more important than ever for
ubiquitous mobile technologies.
• Contextualized research in IS has been recognized
as a tool for design since the beginning.
Reading Research Confirms
The Importance of Context
• Reading is interwoven into the texture of people's
lives, not separate from it." (Ross, 1999)
• "Distinctive social contexts give rise to qualitatively
different literacy activities." (Guthrie & Greaney, 1991)
• "The reader is actively engaged in constructing
meaning."
(Ross, 1999)
• "The affective dimension is a critical part of the reader's
transaction with texts."
(Ross, 1999)
Summary
• Little attention has been paid to context in e-book
research
• The approach taken to date may be aimed at decision
making.
• A better understanding of non-institutional setting, time,
place, emotional response, etc. is needed.
• Rather than researching one contextual factor at a time,
a holistic view is desirable.
• Contextualized research is well suited as an input for the
design process.
The way forward
• What strategies to incorporate context are most
appropriate for reading?
• What traditions can be drawn to influence inquiry
and methodology?
• Social
• Cognitive
• Materiality
• How can a holistic approach and pragmatic
research goals be balanced?
Discussion & Questions
Please share your thoughts.
Thank you!
Contact: Adam Girard
adam.girard@ucdconnect.ie
Sources Cited
Ashcroft, L. (2011). Ebooks in libraries: an overview of the current situation. Library Management, 32(6-7), 6–7.
Bødker, S. (2006). When second wave HCI meets third wave challenges. In Proceedings of the 4th Nordic conference on Humancomputer interaction: changing roles (pp. 1–8). New York, NY.: ACM.
Bonfield, B. (2012). The Ebook Cargo Cult. In the Library with the Lead Pipe. Retrieved from http://
www.inthelibrarywiththeleadpipe.org/tag/first-sale/
Caplan, N. (1975). The Use of Social Science Knowledge in Policy Decisions at the National Level: A Report to Respondents.
Retrieved from http://www.eric.ed.gov/ERICWebPortal/recordDetail?accno=ED111729
Chen, N., Guimbretiere, F., Dixon, M., Lewis, C., & Agrawala, M. (2008). Navigation techniques for dual-display e-book readers. In
Proceedings of the twenty-sixth annual SIGCHI conference on Human factors in computing systems (pp. 1779–1788).
Retrieved from http://dl.acm.org/citation.cfm?id=1357331
Courtright, C. (2008). Context in information behavior research. Annual review of information science and technology, 41(1), 273–
306.
Dervin, B., & Nilan, M. (1986). Information needs and uses. Annual review of information science and technology, 21, 3–33.
Dumas, J. (2007). The great leap forward: The birth of the usability profession (1988-1993). Journal of Usability Studies, 2(2), 54–60.
Duncan, R. (2010). Ebooks and beyond: The challenge for public libraries. Australasian Public Libraries and Information Services, 23
(2), 44.
Duncan, R. (2011). ebooks and beyond: Update on a survey of library users. Australasian Public Libraries and Information Services, 24
(4), 182.
Gold Leaf. (2003). Promoting the uptake of e-books in higher and further education. Gold Leaf. Available: http://www. jisc. ac. uk/
coll_ebookstudy2. html. Accessed, 10(09), 2004.
Guthrie, J. T., & Greaney, V. (1991). Literacy acts. Handbook of reading research, 2, 68–96.
JISC. (2009). JISC national e-books observatory project : key findings and recommendations : final report. London: JISC collections.
Library Journal. (2011). Ebooks, the new normal Ebook penetration & use in U.S. public libraries. New York, N.Y.: Library Journal.
Menon, A., & Varadarajan, P. R. (1992). A model of marketing knowledge use within firms. The Journal of Marketing, 53–71.
Moyer, J. E. (2012). Audiobooks and E-books. Reference & User Services Quarterly, 51(4), 340–354.
Rainie, L., Zickuhr, K., Purcell, K., Madden, M., & Brenner, J. (2012). The rise of e-reading. Retrieved August 20, 2012, from http://
libraries.pewinternet.org/2012/04/04/the-rise-of-e-reading/
Sheehan, K. (2013). The eBook Revolution. ABC-CLIO.
Ross, C. (1999). Finding without seeking: The information encounter in the context of reading for pleasure. Information
Processing
& Management, 35(6), 783–799.
Talja, S., & Hartel, J. K. (2007). Revisitng the User Centered Turn in Information Science: An Intellectual History Perspective. Information
Research, 12(4). Retrieved from http://works.bepress.com/jenna_hartel/8/
Trivedi, P. (2009). Writing the Wrong: What the E-Book Industry Can Learn from Digital Music's Mistakes with DRM. JL & Pol'y, 18, 925.
Vasileiou, M., Hartley, R., & Rowley, J. (2009). An overview of the e-book marketplace. Online information review, 33(1), 173–192.
Vasileiou, M., Hartley, R., & Rowley, J. (2012). Choosing e-books: a perspective from academic libraries. Online Information Review,
36(1), 21–39.
Vassiliou, M., & Rowley, J. (2008). Progressing the definition of "e-book." Library Hi Tech, 26(3), 355–368.