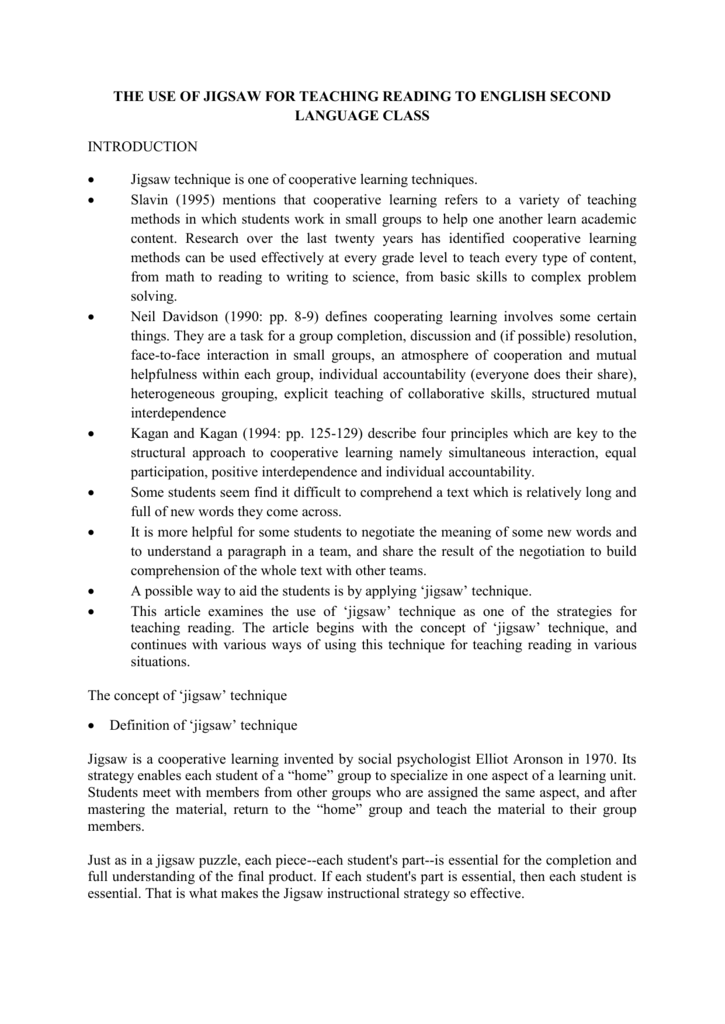 THE USE OF JIGSAW FOR TEACHING READING TO ENGLISH SECOND
LANGUAGE CLASS
INTRODUCTION








Jigsaw technique is one of cooperative learning techniques.
Slavin (1995) mentions that cooperative learning refers to a variety of teaching
methods in which students work in small groups to help one another learn academic
content. Research over the last twenty years has identified cooperative learning
methods can be used effectively at every grade level to teach every type of content,
from math to reading to writing to science, from basic skills to complex problem
solving.
Neil Davidson (1990: pp. 8-9) defines cooperating learning involves some certain
things. They are a task for a group completion, discussion and (if possible) resolution,
face-to-face interaction in small groups, an atmosphere of cooperation and mutual
helpfulness within each group, individual accountability (everyone does their share),
heterogeneous grouping, explicit teaching of collaborative skills, structured mutual
interdependence
Kagan and Kagan (1994: pp. 125-129) describe four principles which are key to the
structural approach to cooperative learning namely simultaneous interaction, equal
participation, positive interdependence and individual accountability.
Some students seem find it difficult to comprehend a text which is relatively long and
full of new words they come across.
It is more helpful for some students to negotiate the meaning of some new words and
to understand a paragraph in a team, and share the result of the negotiation to build
comprehension of the whole text with other teams.
A possible way to aid the students is by applying 'jigsaw' technique.
This article examines the use of 'jigsaw' technique as one of the strategies for
teaching reading. The article begins with the concept of 'jigsaw' technique, and
continues with various ways of using this technique for teaching reading in various
situations.
The concept of 'jigsaw' technique

Definition of 'jigsaw' technique
Jigsaw is a cooperative learning invented by social psychologist Elliot Aronson in 1970. Its
strategy enables each student of a "home" group to specialize in one aspect of a learning unit.
Students meet with members from other groups who are assigned the same aspect, and after
mastering the material, return to the "home" group and teach the material to their group
members.
Just as in a jigsaw puzzle, each piece--each student's part--is essential for the completion and
full understanding of the final product. If each student's part is essential, then each student is
essential. That is what makes the Jigsaw instructional strategy so effective.
The Jigsaw method is a cooperative learning technique in which students work in small
groups. Jigsaw can be used in a variety of ways for a variety of goals, but it is primarily
used for the acquisition and presentation of new material, review, or informed debate.

Advantages/significance of this technique
 positive interdependence

collaborative skills

processing group interaction

heterogeneous grouping

individual accountability
In addition the technique has some other benefits, namely






Teacher is not the sole provider of knowledge

Efficient way to learn

Students take ownership in the work and achievement

Students are held accountable among their peers

Learning revolves around interaction with peers

Students are active participants in the learning process

Builds interpersonal and interactive skills
Steps of conducting this technique
teacher forms home teams
each home team member gets a different piece of the reading material: e.g. piece A, B, C,
or D.
students form expert teams to become experts on their own piece
they return home and teach their piece to their home team

home teams combine the information from their experts with their other knowledge to
perform a task
The use of 'jigsaw' technique in teaching reading
Teaching reading

Preparation
Materials
To make materials for jigsaw, some steps need taking, namely:
- Select one or more chapters, stories, or other units
- Make an expert sheet for each unit
- Make a quiz, essay test, or other assessment for each unit
- Use discussion outlines (optional)
Assignment of Students to Teams
Assign students to four- or five-member heterogeneous team
Assignment of Students to Expert groups
Determination of Initial Base Scores
Assign students initial base scores. Use a quiz score sheet to record the scores.

Activities of Teaching Reading Using Jigsaw Reading
Reading
Students receive expert topics and read assigned material to locate information
Time:
Main Idea:
Materials needed:
Expert-group discussion
Time:
Main idea:
Materials needed:
Team report
Time:
Main Idea:
Test
Time:
Main Idea:
Materials needed:
Team recognition
Conclusion
REFERENCES
Chan, K.-W. (2004). Using 'jigsaw II' in teacher education programmes. Hong Kong
Teachers' Centre Journal, 3, 91-97. Retrieved Dec 1, 2012, from
http://repository.ied.edu.hk/dspace/handle/2260.2/2981.
Djiwandono, P. I. (2006). Cooperative listening as a means to promote strategic listening
comprehension. English Teaching Forum, 44(3), 32-37. Retrieved Dec 1, 2012, from
http://americanenglish.state.gov/resources/english-teaching-forum-2006-volume-44number-3#child-734.
Grabe, W. (2009). Reading in a second language. New York: Cambridge University Press.
Grabe, W., & Stoller, F.L. (2002). Teaching and researching reading. Harlow: Pearson
Education.
Hanze & Berger. (2007). Cooperative learning, motivational effects, and student
characteristics: an experimental study comparing cooperative learning and direct
instruction in 12th grade physics classes. Learning and Instruction, 17, 29-41.
Retrieved Dec 1 2012, from www.elsevier.com/locate/learninstruc.
Iwai, K. (2007). Developing ESL/EFL learners' reading comprehension of expository texts.
The Internet TESL Journal, 13(7). Retrieved Dec 1 2012, from
http://iteslj.org/Techniques/Iwai-ExpositoryTexts.html.
Jacobs, G. M., Gan, S. L., & Ball, J. (1997). Cooperative learning. Singapore: Kagan
Cooperative Learning.
Kawabata, T. (2007). Teaching second language reading strategies. The Internet TESL
Journal, 8(2). Retrieved Dec 1, 2012, from http://iteslj.org/Techniques/KawabataReadingStrategies.html.
Lacina, J. G. (2001). Cultural kickboxing in the ESL classroom: encouraging active
participation. The Internet TESL Journal, 7(10). Retrieved Dec 1, 2012, from
http://iteslj.org/Techniques/Lacina-Kickboxing.html.
Morgan, B. M., Rodriguez, A. D., & Rosenberg, G. P. (2008). Cooperative learning, jigsaw
strategies, and reflections of graduate and undergraduate education students. College
Teaching Methods & Styles Journal, 4(2), 1-6. Retrieved Dec 1 2012, from
http://journals.cluteonline.com/index.php/CTMS/article/view/5519.
Qiao, M., & Jin, X. (2010). Jigsaw strategy as a cooperative learning technique: focusing on
the language learners. Chinese Journal of Applied Linguistics, 33(4), 113-125.
Retrieved Dec 1 2012, from http://www.celea.org.cn/teic/92/10120608.pdf.
Slavin, R.E. (1995). Cooperative learning: Theory, research and practice. (2nd ed.). Boston:
Allyn & Bacon.
Sahin, A. (2010). Effects of jigsaw II technique on academic achievement and attitudes to
written expression course. Educational Research and Reviews, 5(12), 777-787.
Retrieved Dec 1, 2012, from http://www.academicjournals.org/ERR.
Tran, V. D., & Lewis, R. (2012). The effects of jigsaw learning on students' attitude in a
Vietnamese higher education classroom. International Journal of Higher Education,
1(2), 9-20. Retrieved Dec 1, 2012, from www.sciedu.ca/ijhe.
Vargas-Vargas, M., Mondejar-Jimenez, J., Santamaria, M.-L. M., Alfaro-Navarro, J.-L., &
Fernandez-Aviles, G. (2011). Cooperative learning in virtual environments: the jigsaw
method in statistical courses. Journal of International Education Research, 7(5), 1-8.
Retrieved
Dec
1,
2012,
from
http://journals.cluteonline.com/index.php/JIER/article/download/6110/6188.