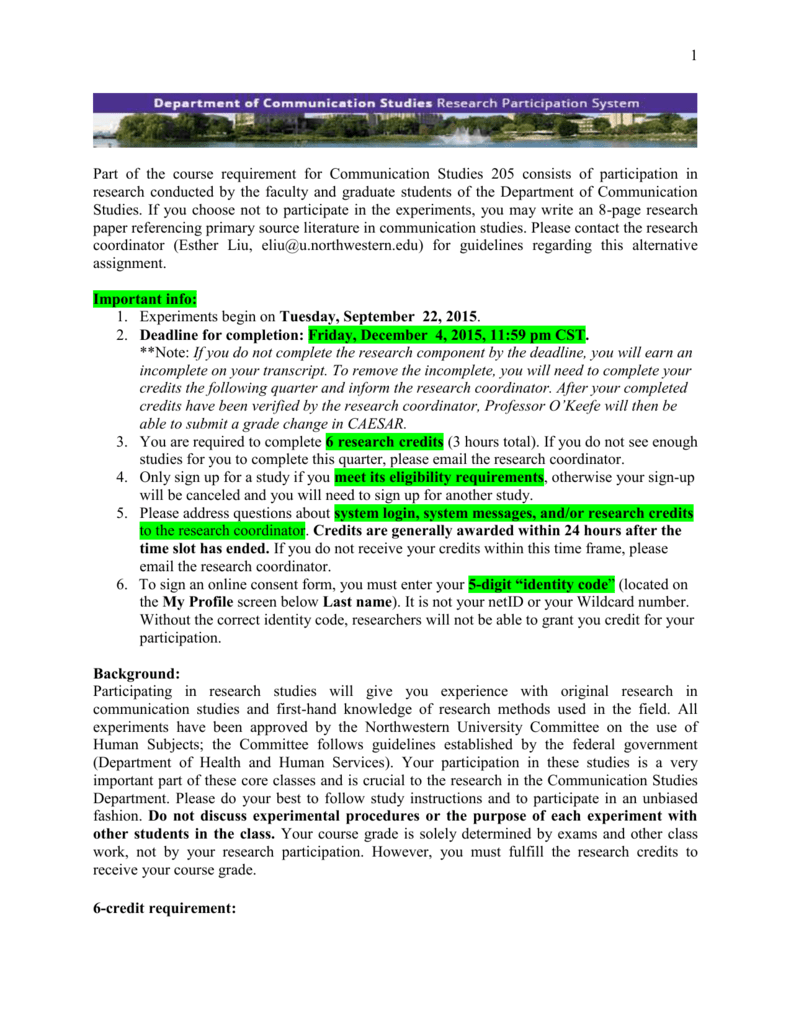 1
Part of the course requirement for Communication Studies 205 consists of participation in
research conducted by the faculty and graduate students of the Department of Communication
Studies. If you choose not to participate in the experiments, you may write an 8-page research
paper referencing primary source literature in communication studies. Please contact the research
coordinator (Esther Liu, [email protected]) for guidelines regarding this alternative
assignment.
Important info:
1. Experiments begin on Tuesday, September 22, 2015.
2. Deadline for completion: Friday, December 4, 2015, 11:59 pm CST.
**Note: If you do not complete the research component by the deadline, you will earn an
incomplete on your transcript. To remove the incomplete, you will need to complete your
credits the following quarter and inform the research coordinator. After your completed
credits have been verified by the research coordinator, Professor O'Keefe will then be
able to submit a grade change in CAESAR.
3. You are required to complete 6 research credits (3 hours total). If you do not see enough
studies for you to complete this quarter, please email the research coordinator.
4. Only sign up for a study if you meet its eligibility requirements, otherwise your sign-up
will be canceled and you will need to sign up for another study.
5. Please address questions about system login, system messages, and/or research credits
to the research coordinator. Credits are generally awarded within 24 hours after the
time slot has ended. If you do not receive your credits within this time frame, please
email the research coordinator.
6. To sign an online consent form, you must enter your 5-digit "identity code" (located on
the My Profile screen below Last name). It is not your netID or your Wildcard number.
Without the correct identity code, researchers will not be able to grant you credit for your
participation.
Background:
Participating in research studies will give you experience with original research in
communication studies and first-hand knowledge of research methods used in the field. All
experiments have been approved by the Northwestern University Committee on the use of
Human Subjects; the Committee follows guidelines established by the federal government
(Department of Health and Human Services). Your participation in these studies is a very
important part of these core classes and is crucial to the research in the Communication Studies
Department. Please do your best to follow study instructions and to participate in an unbiased
fashion. Do not discuss experimental procedures or the purpose of each experiment with
other students in the class. Your course grade is solely determined by exams and other class
work, not by your research participation. However, you must fulfill the research credits to
receive your course grade.
6-credit requirement:
2
Study length
Credits awarded
30 minutes or less
1 credit
31-60 minutes
2 credits
61-90 minutes
3 credits
Do not participate in the same study more than once, as you will not receive credit for taking a
study that you completed previously.
Account creation and login:


Even if you are registered in the research participation systems of another department
(e.g., Psychology), please register on the Communication Studies Research Participation
System.
If you are already registered in the Communication Studies Research Participation
System, you can log in to sign up for studies.
A. New users
1. Go to the homepage: http://nucommstudies.sona-systems.com/
2. Select Request Account and enter the required information as instruction.
3
B. Log in to edit profile and sign up for studies
Signing Up or Canceling Sign Up:
 Study Sign-Up: browse available studies and sign up for studies.
 My Schedule & Credits: track your credit total or cancel a study.
 For on-site studies (not online), go to the scheduled location on time. If you cannot make
an on-site study, you must cancel at least 24 hours in advance. Be sure to record the
study time, date, location, and study number. Please bring your 5-digit "Identity code"
with you to the study location so that the researcher can assign your credit.
Participating in an online study:
To take the survey, you will need to first sign up for the study. If you accidentally click on an
online survey or prefer to take it at another time, email the research coordinator so that you do
not earn an incomplete credit.
Participating in an on-site study:
When you arrive for an on-site study, the researcher will describe the study procedures to you
and you will read and sign a consent form. If for any reason you do not want to continue with the
study after it has started, you are free to withdraw without penalty at any time. If you withdraw
from the study, you will receive full credit for that study up to a maximum of 2 credits. For
studies worth more than 2 credits, you will need to sign up for a new study to earn the remaining
credits.
4
After the study, the researcher will provide a de-briefing of the study. The researcher will also
keep a record of your participation, independent and not associated with your study responses.
Please fill out any required information.
On-site study cancelled by researcher:
You will receive an email notifying you of the cancellation whenever possible, or the
cancellation will be posted on the Research Participation website. Be sure to check the website
and your email before the scheduled time for the study.
If you arrive for an on-site study and find that the session has been canceled without notification
or the researcher does not show up, you will receive full credit for the study (maximum of 2 free
credits). If the study was worth more than 2 credits, you will need to sign up for a different study
to earn the remaining credits. If the researcher cancels a study in advance, you will not receive
free credit.
o If the researcher is present, make sure he/she notes the credit on your assignment sheet to
indicate that you did show up for the study.
o If the researcher is not present, you must wait at least 15 minutes before leaving.
o Email the research coordinator explaining that you showed up for the on-site study but no
one was there. List the name of the researcher, date and time of the on-site study,
and where you went for the study. It is possible that you went to the wrong location. If
so, you will be required to schedule another time for the study.
Late arrival/absence:
On-site studies begin precisely at the scheduled time. Arriving even two minutes late may be too
late for you to participate in that session and you may need to reschedule another time to
participate. Researchers usually post a sign noting that a study is in session. Put your name on
this sign so that the researcher does not record a no-show for your late arrival.
If you miss an on-site study without giving 24-hour notice to the researcher, you will not
receive any research credit. To prevent an unexcused absence, contact the researcher within 24
hours of the scheduled study about participating during a different time slot.