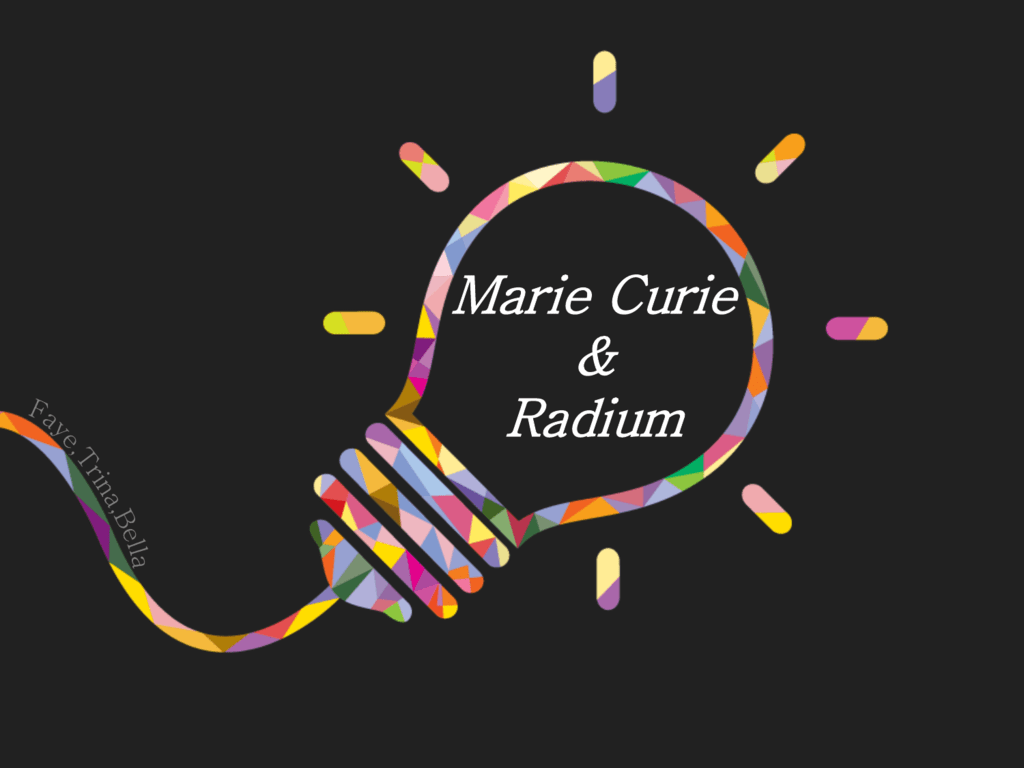 Marie Curie
&
Radium
01.
About Marie Curie
02.
About Radium
03.
Dangerous of Radium
04. About Marie Curie's death
01.
arie
urie
Marie Curie was
born November 7,
1867 in Poland and
died on July 4,1934.
As a child, Marie
Curie amazed
people with her
great memory.
01.
She learned to read when
she was only four years old.
Her father was a professor of
science and the instruments
that he kept in a glass case
fascinated Marie. She
dreamed of becoming a
scientist, but that would not
be easy. Her family became
very poor, and at the age of
18, Marie became a
governess.
01.
She helped pay for her sister
to study in Paris. Later, her
sister helped Marie with her
education. In 1891, Marie
attended the Sorbonne
University in Paris where she
met and married Pierre Curie,
a well-known physicist.
01.
She studied physics and mathematics
on a postgraduate(a student who
continues to study for an advanced
degree after earning a bachelor's
degree or other first degree)
scholarship.
Together with her husband, Pierre,
she discovered two new elements
and studied the x-rays they
emitted(to make).
She found that the harmful
properties of x-rays were able to kill
tumors.
01.
By the end of World War I, Marie
Curie was probably the most famous
woman in the world.
Her codiscovery(cooperative
development) with her
husband Pierre Curie of
the radioactive elements
radium and polonium
represents one of the
best known stories in
modern science for
which they were
recognized in 1901 with
the Nobel Prize in
Physics.
01.
In 1911, Marie
Curie was honored
with a second
Nobel prize, this
time in chemistry,
to honor her for
successfully
isolating(to
separate from
another substance)
pure radium and
determining
radium's atomic
weight.
After the sudden accidental death of
Pierre Curie, Marie Curie managed to
raise her two small daughters and
continue an active career(a job or
profession that someone does for a
long time) in experimental
radioactivity measurements.
02.
adium
What is RADIUM?
Symbol : radium, Ra
Atomic number : 88
Boiling point : 2010K (1737℃, 3159℉)
Melting point : 1233K (960℃, 1760℉)
(disputed)
Phase : solid
Appearance : silvery white metallic
Electron configuration : [Rn] 7s2
Discovered by : Pierre Curie & Marie Curie
02.
Radium is a chemical element
with symbol Ra and atomic
number 88. It is the sixth
element in group 2 of the
periodic table, also known as
the alkaline earth metals. Pure
radium is almost colorless, but
it readily combines with
nitrogen (rather than oxygen)
on exposure to air, forming a
black surface layer of radium
nitride (Ra3N2).
02.
All isotopes of radium are
highly radioactive, with the
most stable isotope being
radium-226, which has a
half-life of 1600 years and
decays into radon gas
(specifically the isotope
radon-222). When radium
decays, ionizing radiation is
a product, which can excite
fluorescent chemicals and
cause radio luminescence.
03.
angerous of
adium
03.
03.
Bone marrows : 骨髓 / 골수
Anemia : 贫血 / 빈혈
Leukemia : 白血病 / 백혈병
Radium drill holes
into the bones, they
pass through the
bone marrows, and
they suffer from
anemia and leukemia.
04.
arie
urie's
eath
Marie curie was death because of
the harmfulness of the Radium.
The high energy of the radiation
destroys living cells and causes a
burn. Lower doses can damage
internal organs, cause anemia(a
condition in which a person has
fewer red blood cells than normal
and feels very weak and tired)
and increase the risk of cancer.
Thanks!