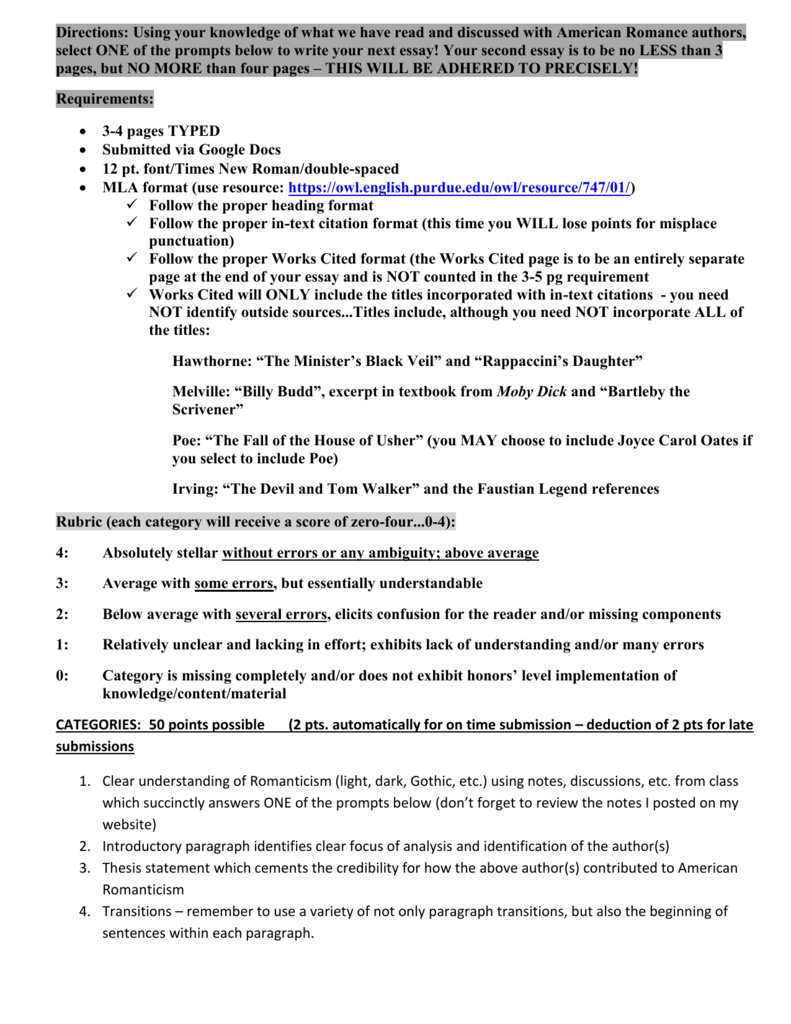 Directions: Using your knowledge of what we have read and discussed with American Romance authors,
select ONE of the prompts below to write your next essay! Your second essay is to be no LESS than 3
pages, but NO MORE than four pages – THIS WILL BE ADHERED TO PRECISELY!
Requirements:




3-4 pages TYPED
Submitted via Google Docs
12 pt. font/Times New Roman/double-spaced
MLA format (use resource: https://owl.english.purdue.edu/owl/resource/747/01/)
 Follow the proper heading format
 Follow the proper in-text citation format (this time you WILL lose points for misplace
punctuation)
 Follow the proper Works Cited format (the Works Cited page is to be an entirely separate
page at the end of your essay and is NOT counted in the 3-5 pg requirement
 Works Cited will ONLY include the titles incorporated with in-text citations - you need
NOT identify outside sources...Titles include, although you need NOT incorporate ALL of
the titles:
Hawthorne: "The Minister's Black Veil" and "Rappaccini's Daughter"
Melville: "Billy Budd", excerpt in textbook from Moby Dick and "Bartleby the
Scrivener"
Poe: "The Fall of the House of Usher" (you MAY choose to include Joyce Carol Oates if
you select to include Poe)
Irving: "The Devil and Tom Walker" and the Faustian Legend references
Rubric (each category will receive a score of zero-four...0-4):
4:
Absolutely stellar without errors or any ambiguity; above average
3:
Average with some errors, but essentially understandable
2:
Below average with several errors, elicits confusion for the reader and/or missing components
1:
Relatively unclear and lacking in effort; exhibits lack of understanding and/or many errors
0:
Category is missing completely and/or does not exhibit honors' level implementation of
knowledge/content/material
CATEGORIES: 50 points possible
submissions
(2 pts. automatically for on time submission – deduction of 2 pts for late
1. Clear understanding of Romanticism (light, dark, Gothic, etc.) using notes, discussions, etc. from class
which succinctly answers ONE of the prompts below (don't forget to review the notes I posted on my
website)
2. Introductory paragraph identifies clear focus of analysis and identification of the author(s)
3. Thesis statement which cements the credibility for how the above author(s) contributed to American
Romanticism
4. Transitions – remember to use a variety of not only paragraph transitions, but also the beginning of
sentences within each paragraph.
5. Sentence structure *Must incorporate compound, complex, compound-complex and loose sentence
structures...see 'Appendix A' from Vocabulary Lists
6. Thorough explanation/understanding of novels/short stories and grasp of themes/symbols/etc.
7. Conclusion that succinctly surmises the original thesis and offers the vitality of American Romanticism
8. Conventions (punctuation/capitalization)
9. Mechanics (spelling)---DO NOT USE CONTRACTIONS!
10. Absolutely NO 1ST OR 2ND PERSON POINT OF VIEW
11. Objective voice (NOTHING SUBJECTIVE IMPLYING OPINION); Formal – NOT INFORMAL language
(eliminate euphemisms/colloquialisms)
12. MLA formatting (see above under requirements)
American Romanticism Prompts
Select ONE of the following prompts using the text analyzed in
class:
Nathaniel Hawthorne
"The Minister's Black Veil" & "Rappaccini's Daughter"
Hermann Melville
Moby Dick (only the excerpt from the textbook); "Billy Budd"
and "Bartleby the Scrivener"
Timeline:
NOTE: it is up to the student to turn-in
a rough draft via GOGGLE DOCS..rough
drafts never guarantee a perfect score!
Assigned Prompt: Nov. 5
1st draft due:
2nd draft due (OPTIONAL):
FINAL DUE:
Edgar Allan Poe (and) Oates
"The Fall of the House of Usher" & "Where is Here?"
Washington Irving
"The Devil and Tom Walker"
PROMPTS (select ONE – do NOT compare/contrast two – use ONE
of the above author groupings to respond to ONE prompt of your
choice)
1. How do the themes and images in the selections we studied exemplify
the fascination with Death and the supernatural?
2. How did Romanticism explicate the significance of individual sin and
the search for one's uniqueness in a critical society?
3. How do Romantic authors use symbolism to reach beyond the literal
meaning of every day objects?