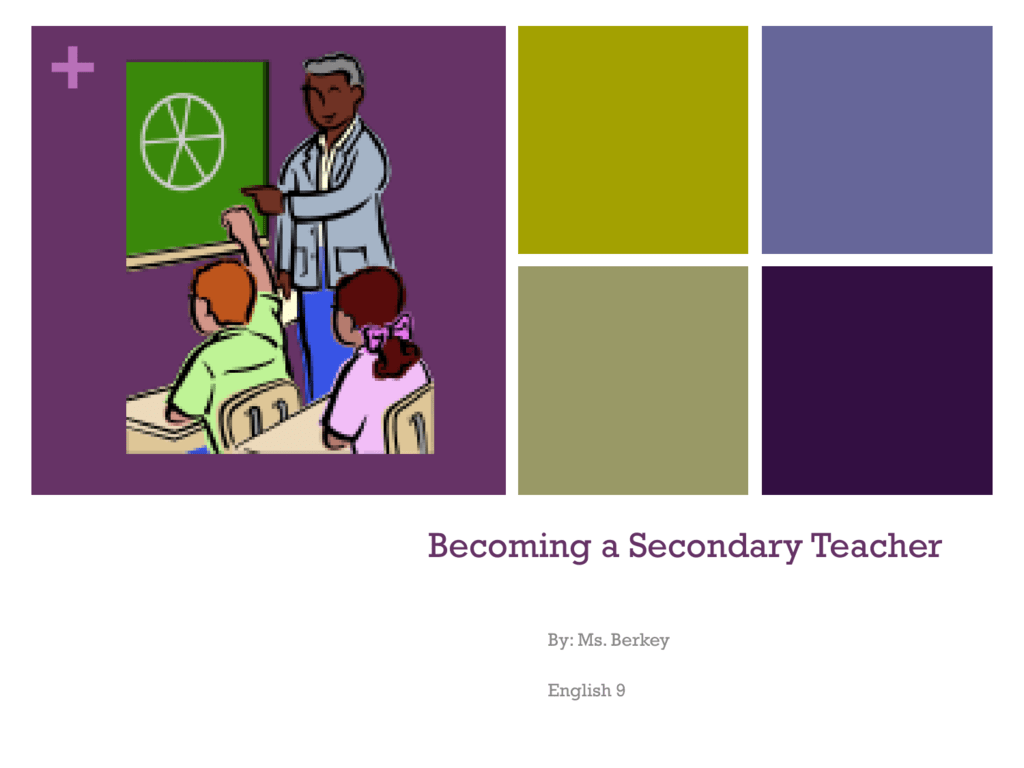 +
Becoming a Secondary Teacher
By: Ms. Berkey
English 9
+
"A teacher
affects eternity;
he can never
tell where his
influence
stops." – Henry
Adams
+
Education and Skills
 Bachelor's

Degree required
Minimum of four years
 Completion
of student-teaching internship
 Proper
documentation from State Board of
Education

Must meet all requirements
 Many

skills necessary
Being able to communicate with students, parents, community,
administration, and other teachers is key
+
Responsibilities



Educate the students in specialized subject area

Plan and implement lessons

Provide safe learning environment
Foster student's intellectual and social development

Aid in the selection of courses, college, and careers

Give student's tools to be productive members of society
Perform other school-related responsibilities

Hall monitoring of cafeteria duty

Attend faculty meetings and professional development days
+
Erin Gruwell

Taught at Woodrow Wilson High
School in Long Beach, CA

Many of her students were sucked
into the world of gangs, drugs, and
violence

Used unconventional teaching
methods, set high expectations, and
devoted countless hours to her
students

Freedom Writers- movie made about
her impact
+
Why I Would Like to be a Teacher

It has often been said that some of
the most influential people in an
adolescent's life are their teachers.
Teaching is an unbounded process
that is constantly being evaluated,
revised, and improved upon in order
to be as effective as possible for
every student that enters the
classroom. It is my hope that as a
teacher I will ultimately make a
difference in the lives of as many
students as possible. Through my
years of schooling I have come to
realize one thing: it is not the subject
being taught that makes a student
enjoy the class; it is the teacher. By
acting as a positive role model and
showing that I truly care about each
student, I hope that I become one of
these special people.
+
Resources

Occupational Outlook Handbook. 2011. 11 March 2012
<http://www.bls.gov/oco/ocos318.htm>.

Penn State College of Education. 2012. 11 March 2012
<http://www.ed.psu.edu/educ/>.

The Freedom Writers Foundation. 2006. 11 March 2012
<http://www.freedomwritersfoundation.org/site/c.kqIXL2PFJ
tH/b.2286935/k.92DC/A_Teachers_Vision.htm>.