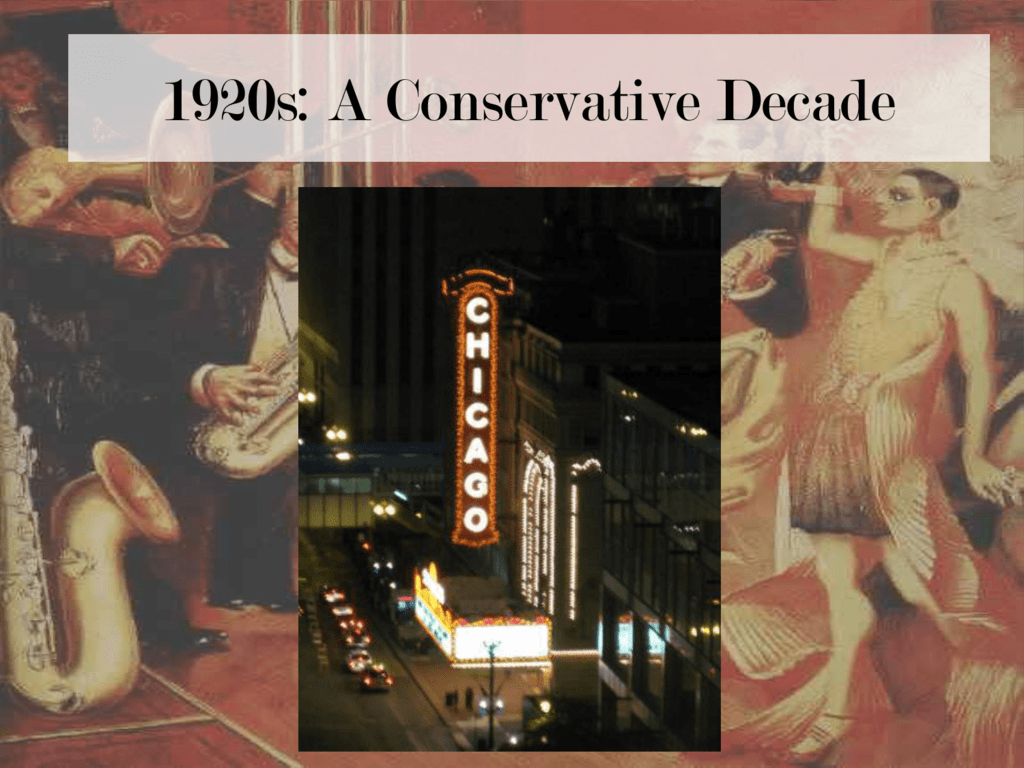 1920s: A Conservative Decade
Why Conservative?
• Starts with fear of Communism
– Workers in Russia had united, overthrown the capitalist
upper class, and instituted a communist government.
– Values of Communism
•
•
•
•
Gov't ownership of land and property
Single-party gov't
Needs of country always trumped the rights of the individual
Communism must be spread to other countries to ensure its survival.
– Why might Americans be weary of each of these communist
values?
The "First" Red Scare
• Red Scare
– Era when the USA became paranoid of the infiltration of
Communism.
• Reaction against communists or sympathizers within the USA.
– What group (within the USA) will likely be the target?
Red Scare: Palmer Raids
• Palmer Raids (1919-1920)
– Attorney General Palmer
believed there was a "conspiracy"
to overthrow the government.
• Arose after a series of bombings
throughout American cities.
– Created a task force to arrest and
deport suspected communists and
anarchists.
• Thousands of people were arrested
and held as terrorists.
– Many were deported.
Red Scare: Sacco and Vanzetti
• Sacco and Vanzetti (1920)
– Two Italian immigrants charged
with murder in Massachusetts.
• Both were admitted anarchists.
– Convicted on circumstantial
evidence, sentenced to death.
• Died in 1927 in electric chair.
• Many historians now agree they were
wrongly convicted!
Red Scare: Unions
• The American public lost sympathy
with striking workers.
– Unions were equated to communists.
– National Guard was frequently called
in to break up strikes.
• Boston Police Strike (1919)
• Steel and Coal Strikes (1919)
• As a result…
– Union membership goes down.
– Labor strikes become more infrequent
during the 1920s.
"A Return to Normalcy" – Conservatism is Born!
•
•
As a reaction to the Red Scare and
Progressivism, "Conservatism" is born!
Elect Republican Warren G. Harding
in 1920.
– "A Return to Normalcy"
•
Conservative Policies:
– Domestic Policy
• Laissez Faire Economics
• Restricted Immigration
– Emergency Quota Act limited
immigration to 3% of an ethnic group's
US population.
– Foreign Policy
• Isolationism
– Refused to join League of Nations
– Instead: Disarmament!
• Kellogg-Briand Pact
– Agreement between more than 60
nations "not to have war as an option"
when dealing with one another.
• Economics
– Tariffs!
1920s: A Conservative Decade
The RED
SCARE
Union
Membership
goes down.
People elect
conservatives
to power.
Gov't becomes
more
sympathetic
towards
business.
Lower
Business
Taxes,
-Adapts "Laissez
Faire" Approach.
Isolationism
Tariffs,
Economy
Booms!