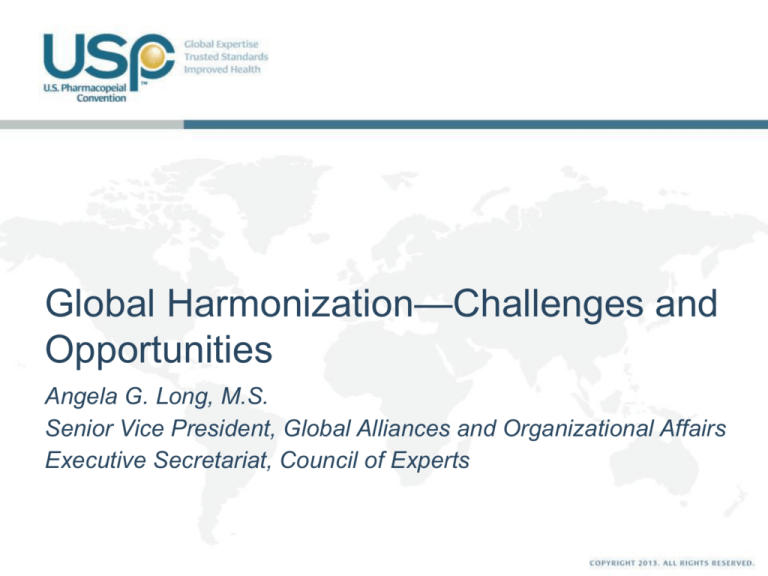 Global Harmonization—Challenges and
Opportunities
Angela G. Long, M.S.
Senior Vice President, Global Alliances and Organizational Affairs
Executive Secretariat, Council of Experts
Topics

About USP

Pharmacopoeias Overview

Current Harmonization Efforts and Challenges

Opportunities
USP is a Global Organization
Greetings from Ron Piervincenzi, USP CEO

Tenure started February 1, 2014

Formerly with Biogen Idec and a
partner in McKinsey & Company's
Global Pharmaceutical and Medical
Products Practice

Earned his M.S. and Ph.D. from
Duke University in Biomedical
Engineering with research focused
on protein engineering

Also Executive Vice President, USP
Convention; Ex-officio member of
the Board; Chair, Council of Experts
USP – An Overview
 Since
1820, not-for-profit, private, independent, and
self-funded
 Headquartered
in Rockville, Maryland; over 800
employees worldwide
 Facilities
in India, China, Brazil, Switzerland, Ghana,
and Ethiopia (and soon Indonesia and Nigeria)
 Over
1,000 expert volunteers; the Council of Experts
and its Expert Committees are USP's scientific
decision-makers
 Internationally recognized and globally focused
USP Governing and Advisory Bodies
Convention
Membership
Board of
Trustees &
Board
Committees
USP Staff
Advisory
Bodies
Council of the
Convention
Council
of Experts &
Expert
Committees
Stakeholder
Forums &
Project
Teams
Expert Panels
USP Convention Membership
 Up
to 600 Organizations Representing Six Categories
•
•
•
•
•
Academic Institutions and Associations
Health Practitioner Professional and Scientific Associations
Manufacturer, Trade, and Affiliated Associations
Governmental Bodies, Divisions and Associations
Consumer and Other Organizations Representing the
Public Interest
• Non-governmental Standards-setting and Conformity
Assessment Bodies
 Meets
•
•
•
•
Every Five Years (next meeting: April 2015):
Elect Officers and Trustees
Elect the Council of Experts (Expert Committee Chairs)
Adopt resolutions
Adopt changes to Bylaws
USP Board of Trustees 2010–2015
President
Timothy R. Franson,
B.S. Pharm., M.D.
Treasurer
John E. Courtney, Ph.D.
Past President
René H. Bravo, M.D.,
F.A.A.P.
Public Trustee
Carolyn H. Asbury,
Ph.D., Sc.M.P.H.
At-Large Trustee
Robert L. Buchanan, Ph.D.
Pharmaceutical
Sciences Trustee
Duane M. Kirking,
Pharm.D., Ph.D.
Medical Sciences Trustee
Stephen P. Spielberg,
M.D., Ph.D.
At-Large Trustee
Kiran Mazumdar Shaw
At-Large Trustee
Thomas E. Menighan,
B.S., Pharm., M.B.A,
Sc.D., F.A.Ph.A
Medical Sciences Trustee
Robert M. Russell, M.D.
At-Large Trustee
Jeffrey L. Sturchio, Ph.D.
At-Large Trustee
Thomas R. Temple,
R.Ph., M.S.
Pharmaceutical
Sciences Trustee
Marilyn K. Speedie, Ph.D.
At-Large Trustee
Gail Wilensky, Ph.D.
Ronald T. Piervincenzi, Ph. D
Elements of the Board's Strategic Plan
2010-2015 Council of Experts - Demographics
• 1010 experts serving on 26 Expert Committees, 72 Expert Panels
and 1 Advisory Group
• 412 Expert Committee members
* Does not include Expert Committee
members also serving on Expert Panels
• 440 Expert Panel members*
or Advisory Groups
• 28 Advisory Group members*
• 130 Government Liaisons
–
–
–
–
–
–
–
–
–
–
116 FDA Liaisons
– CDER: 75
– CFSAN: 15
– CBER: 10
– CVM:
8
–
–
–
ORA:
OC/ONDQA:
CDRH:
4
2
2
3 Brazil (ANVISA, Brazilian Pharmacopoeia, INCQS)
1 CCAYAC/COFEPRIS (Mexico)
2 Centers for Disease Control and Prevention
1 Centers for Medicare and Medicaid Services
2 Chinese Pharmacopoeial Commission Representatives
2 Health Canada Representatives
1 NIST Representative
1 Saudi Food and Drug Authority
1 U.S. Public Health Service
2010–2015 Council of Experts - Demographics
• 880 Expert Committee, Expert Panel and Advisory Group members
– 272 (31%) international experts from 48 countries:
1.
2.
3.
4.
5.
6.
7.
8.
9.
10.
11.
12.
13.
14.
15.
16.
17.
18.
19.
20.
21.
22.
23.
24.
Argentina
Australia
Austria
Azerbaijan
Bangladesh
Belgium
Brazil
Canada
Chile
China
Colombia
Costa Rica
Denmark
England
France
Georgia
Germany
India
Ireland
Israel
Italy
Japan
Jordan
Korea
4
4
2
1
2
6
10
33
2
37
2
1
6
1
10
1
21
42
2
2
4
1
2
4
25.
26.
27.
28.
29.
30.
31.
32.
33.
34.
35.
36.
37.
38.
39.
40.
41.
42.
43.
44.
45.
46.
47.
48.
Mexico
Netherlands
New Zealand
Pakistan
Peru
Portugal
Republic of Armenia
Republic of Belarus
Republic of Kazakhstan
Russia
Saudi Arabia
Scotland
Singapore
South Africa
Spain
Sweden
Switzerland
Taiwan
Ukraine
United Kingdom
Uruguay
Uzbekistan
Venezuela
West Malaysia
3
5
1
2
2
1
1
2
1
7
2
1
1
1
2
2
9
1
4
20
1
1
1
1
2015–2020 Council of Experts Recruiting
www.usp.org
USP Compendia
1.
The United States Pharmacopeia
2.
National Formulary (USP–NF)
3.
Food Chemicals Codex (FCC)
4.
USP Dietary Supplements
Compendium (DSC)
5.
USP Medicines Compendium (MC)
6.
USP on Compounding
7.
Herbal Medicines Compendium
(HMC)

Other Resources
–
–
–
–
Pharmacopeial Forum (PF)
FCC Forum (FCCF)
USP Dictionary
Chromatographic Columns
Translations
Spanish Translation
Russian Translation
Also…Chinese Translation of the FCC
Chinese Translation
USP Reference Standards
 Trusted
for pharmaceutical quality control worldwide
 Over 3,200 Reference Standards now available
 Support FDA-enforceable standards and tests in the USP–NF
 Highly pure, with purity values provided for quantitative standards
 Available through USP's iStore
http://store.usp.org
USP Works Globally—Sites
EXEC293G_2013-07
USP Works Globally—Worldwide Regions
USP Brazil Facility
FDA-USP Interactions
 FDA enforces
USP standards, under the 1938 Federal Food,
Drug, and Cosmetic Act
 FDA reviews proposed standards in Pharmacopeial Forum and
provides comments
 Convention Participation: Delegates, Resolutions, Council of
the Convention, Convention Committees
 Provides FDA Liaisons to USP's Expert Committees
 Participates in workshops and stakeholder forums
 Cooperative Research and Development Agreements
 Office
of the Commissioner: Substance Registry System
 ORA: Collaborative Testing, Monograph Modernization, Rapid
Screening Methods
 Informal
Collaborations: Quarterly Meeting; Pharmacopoeial
Discussion Group; OTC Monograph Modernization;
Compounding
 Detail of Senior staff member
22
Topics

About USP

Pharmacopoeias Overview

Current Harmonization Efforts and Challenges

Opportunities
Pharmacopoeias in the World (According to WHO/2012)
29 of the 49 are part of the European Pharmacopoeia
Argentina
Czech
Republic
Hungary
Japan
Pakistan
Slovakia
Ukraine
Austria
Denmark
Iceland
Kazakhstan
Philippines
Slovenia
United
Kingdom
Belarus
Egypt
India
Korea
Poland
Spain
United
States
Belgium
Finland
Indonesia
Lithuania
Portugal
Sweden
Viet Nam
Brazil
France
Iran
Mexico
Romania
Switzerland
Chile
China
Germany
Ireland
Montenegro
Russian
Federation
Thailand
Europe
Croatia
Greece
Italy
Norway
Serbia
Turkey
WHO
24
Global Market of Medicines
 RxNorm:
the US??
11,000 approved drug products and their ingredients in
Pharmacopoeial Monographs
Pharmacopoeia
Total
Argentina Pharmacopoeia
~800
Brazilian Pharmacopoeia
~600
British Pharmacopoeia
~3,300
Chinese Pharmacopoeia
4,569
European Pharmacopoeia
2,224*
Indian Pharmacopoeia
~2,500
Japanese Pharmacopoeia
1,764
Mexican Pharmacopoeia
~1,300
United States Pharmacopeia
4,700
* Drug substance monographs only
** 2014 Edition
Topics

About USP

Pharmacopoeias Overview

Current Harmonization Efforts and Challenges

Opportunities
USP Convention Resolution 5
 USP
resolves to strengthen and expand its efforts to
work with pharmacopeias, industry, academia,
regulators, international organizations and other
stakeholders around the world to develop harmonized
global standards.
Current Harmonization Efforts
 Pharmacopoeial Discussion Group
 Prospective Harmonization
 Informal Harmonization (e.g., Bilateral Agreements,
MOUs, etc.)
 Regional Harmonization Efforts
Global Harmonization Challenges

A global industry wants harmonized standards

Regulators need standards

Pharmacopoeias are downstream from regulatory
authorities

National pharmacopoeias reflect their markets

Other approaches are emerging, e.g., "convergence"

Harmonization is hard, especially retrospective
Pharmacopoeial Discussion Group (PDG)

Founded in 1989

Includes the European Pharmacopoeia, Japanese
Pharmacopoeia, United States Pharmacopeia, and WHO (an
observer since 2001)

PDG delinked from ICH in 2011 when Q6A chapters
harmonization accomplished

PDG activities have focused on harmonizing certain
general chapters and excipient monographs

Steady but limited progress

Currently assessing its processes
PDG Definition of Harmonization
 Harmonized:
A pharmacopeial general chapter or other
pharmacopeial document is harmonized when a pharmaceutical
substance or product tested by the document's harmonized
procedure as published in European Pharmacopoeia, Japanese
Pharmacopoeia and USP-NF yields the same results, and the
same accept/reject decision is reached.
 Text
does NOT have to be identical.
 Each Pharmacopeia can adapt the text to local style, and take into
consideration local reference standards and reagents.
PDG: Challenges

General Chapters: 29 of 36 Harmonized

Excipients: 46 of 62 Harmonized

Three pharmacopoeias + WHO's International
Pharmacopoeia

Experts meet separately

Retrospective harmonization is hard
PDG Challenges, continued
 Time required to bring harmonized monographs and
general chapters to public is very long and process is
burdensome.
 Pharmacopeias operate on different publishing
schedules.
 Comments are often received too late in the PDG
process.
 Differences in legal and/or regulatory requirements in the
different regions can be barriers to harmonization.
• PDG uses "harmonization by attribute" to be able to move
forward items within a monograph or general chapter that
are not in dispute
Prospective Harmonization
• Initiated in July 2008 in response to proposals from
manufacturers
• Initial Pilot study between the European Pharmacopoeia
and USP to develop early harmonized monographs and
reference standards for four drug substances
• Monographs
–
–
–
–
Celecoxib
Montelukast Sodium
Rizatriptan Benzoate
Sildenafil Citrate
• Reference Standards
– Eleven materials to support the four monographs
• See Stimuli articles in PF 36(6)
Prospective Harmonization
• All four monographs now official in both Ph Eur and USP
• All eleven reference materials available for use
• Some corresponding drug product monographs are
being developed by the British Pharmacopoeia
(BP)/USP
• Additional projects are underway with one company; one
additional pharmacopoeia may participate
• Pilot phase extended to assess revision process to
maintain harmonized status
Prospective Harmonization: Challenges

Two manufacturers then one

Three pharmacopoeias but others interested

Difficult to bring together pharmacopeial processes

Coordination is resource-demanding

Timing of publication in different pharmacopoeias

Revisions and maintaining harmonized texts

Reference Standards logistics

Terminology of "Harmonization" can be limiting
Informal/Bilateral Harmonization
Harmonization through Bilateral Agreements

Adopt/Adapt Agreements
 Translations
 Visiting Scientist Program/International Training Program
 Science and Standards Symposia
 Study Tours
 Education Programs
 Capacity Building Support (e.g., Technical Assistance)
 USP Standards-setting Activities
–
–
–
–
Chemical Medicines
Biological Medicines
Excipients
Herbal Medicines/Dietary Supplements
Informal/Bilateral Harmonization—Challenges

Limited resources—USP

Limited resources—other pharmacopoeias
Regional Pharmacopoeias

European Pharmacopoeia



36 Member States
29 pharmacopoeias harmonized (drug substance monographs and
general chapters)
Mercosur Pharmacopoeia


Activities beginning
ASEAN Pharmacopoeia

Discussions beginning
Regional Pharmacopoeias—Challenges




European model is good but it has a long history (50 years)
and governance structure
Compromise is key
Sovereignty is important to national pharmacopoeias
It's difficult to start a new pharmacopoeia
Topics

About USP

Pharmacopoeias Overview

Current Harmonization Efforts and Challenges

Opportunities
Pharmacopoeial Meetings

ICDRA
– Singapore 2002 , Madrid 2004, October 2012

WHO International Meeting of World Pharmacopoeias
– Geneva February-March 2012 (#1),
– India April 2013 (#2)
– London April 2014 (#3)

Chinese Pharmacopoeia and USP (Global Summit of the
Pharmacopoeias)
– Beijing November 2011 (#1)
– Xi'an September 2012 (#2)
– Baltimore September 2013 (#3)
WHO Good Pharmacopoeial Practices
– Introduction
– Purpose and Scope of Good Pharmacopoeial Practices
– Monograph Development
• General Considerations
• Technical Guidance
– Monographs for starting materials, including active pharmaceutical
ingredients and excipients
– Monographs for finished pharmaceutical products
– Monographs for compounded pharmaceutical preparations
– Monographs for biologicals
– Monographs for herbals
– Monographs for other products
– Reference Substances
– Analytical Test Procedures and Methodologies
– Principles of Collaboration and Exchanges Among
Pharmacopoeias
– Collaboration with Stakeholders
Global Summit of the Pharmacopoeias

Sponsored by the Chinese Pharmacopoeia and USP and
includes all pharmacopoeias
 Pharmacopoeias signed a statement that… "envisions a
day when all medicines moving in national and international
commerce will have optimal public standards….working in a
science-based, transparent and collaborative way, seeking
input from all interested parties."
 Three meetings; the first two in China, the third in Baltimore
 Focus areas:
– Optimal Drug Substance and Product Monographs
– Global Pharmacopoeial Database/Index (ChP)
– Spectral Libraries (USP)
WHO and GSP Meetings Combined April 2014
Opportunities

PDG: June 2014 Press Release:
"PDG members agreed on concrete actions to
improve its working procedures and improve
transparency to stakeholders."
"In light of the anticipated sign-off of the ICH Q3D
guideline for elemental impurities, PDG members
agreed to harmonize their general chapters on
methods related to elemental impurities, with USP
serving as the coordinating pharmacopoeia."

In addition to excipients, globally harmonize drug
substance and drug product monographs by evolving
Prospective Harmonization to include collaboration with
other pharmacopoeias and other companies
Opportunities

"Formalize" Informal Harmonization (Adopt/Adapt)

Utilize WHO's Good Pharmacopoeial Practices as a
common framework for standards development

Continue to bring global pharmacopoeias together with a
goal to harmonize priority drug substances and products:
Europe October 2014; US April 2015; China Fall 2015

Leverage other resources—work collaboratively with
regulatory authorities/universities/industry on standards
development

Future new approaches?
Muito Obrigado!