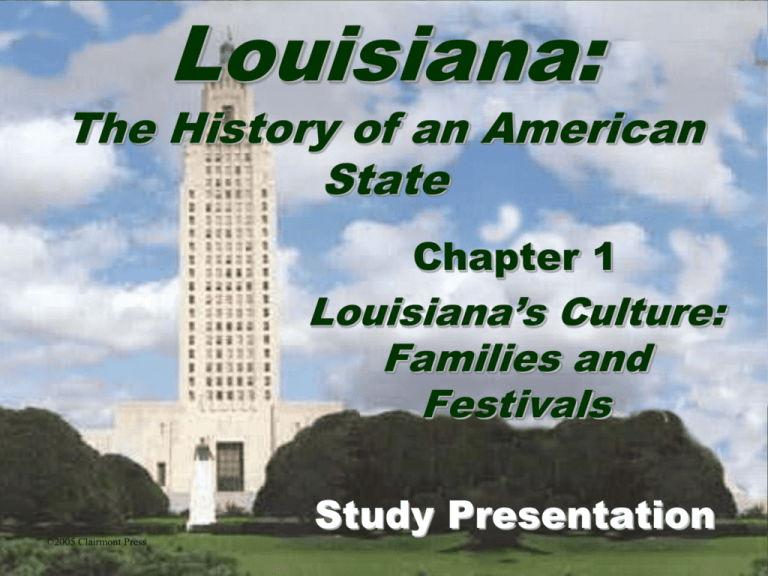 Louisiana:
The History of an American
State
Chapter 1
Louisiana's Culture:
Families and
Festivals
Study Presentation
©2005 Clairmont Press
Chapter 1
Louisiana's Culture: Families
and Festivals
Section
Section
Section
Section
1:
2:
3:
4:
What is Culture?
Louisiana's Festivals
Louisiana's Cultural Regions
Louisiana's People
A Look at the Book
• Each chapter contains:
–
–
–
–
–
–
–
–
–
Chapter Preview (terms, people, places)
Focus on Skills (social studies skills lesson)
Section Overview
Lagniappes
Photographs with captions
Check for Understanding
Spotlight (interesting information about Louisiana)
Chapter Summary (good study guide)
Activities for Learning (Review, Connect, Extend,
Photo Question)
• Appendixes
– Vital Statistics, State Symbols, Governors, Parishes,
Colleges & Universities, Atlas, Glossary, Index
Parishes & Lagniappes
• Click here to see a map of Louisiana's
parishes.
• Click here for a definition of "parish".
• Each chapter contains some great
lagniappes. Click here for the
definition!
Section 1:
What is Culture?
ESSENTIAL QUESTION:
–What are the elements of culture?
Section 1:
What is Culture?
What words do I need to know?
1. cultural diffusion
2. culture
3. jazz
4. blues
5. fais-do-do
6. zydeco
7. gospel music
8. spiritual
Section 1:
What is Culture?
PREVIEW
• Check out the headings and
subheadings
• Examine the pictures and read the
captions
• Left- what stood out the most in
your mind after previewing Chapter
1?
What is Culture?
Culture: the way of life of a group of people.
Includes:
– religion
– music
– food
– clothing
– language
– architecture
– art
– literature
– games
– sports
Religion
• 1st European religion in Louisiana was
Roman Catholic
• France and Spain were Catholic countries
• After Louisiana Purchase in 1803,
members of Protestant religions moved
into the area
• Methodists, Baptists, and Presbyterians
later joined by others such as Lutherans
• More recently - Jews, Buddhists, and
Muslims
Music
• New Orleans is the birthplace of Jazz
• Jazz has spread all over the globe as an
ambassador for Louisiana culture
Food
• Louisiana has a world-class
seafood industry – crawfish, crab,
and shrimp
• Cajun and Creole foods are
associated with South Louisiana
• Louisiana foods and recipes have
spread across the world
Click here to return to Main Menu.
Section 2: Louisiana's
Festivals
ESSENTIAL QUESTION:
–What are the festivals of Louisiana?
Section 2: Louisiana's
Festivals
What words do I need to know?
1. gumbo
2. jambalaya
3. Mardi Gras
Section 2: Louisiana's
Festivals
PREVIEW
• Check out the headings and
subheadings
• Examine the pictures and read the
captions
August and September
• Shrimp Festival began more than
60 years ago (now the Shrimp
and Petroleum Festival)
• Frog Festival in Acadia Parish
Frog
Festival
• Zydeco Music Festival in St.
Landry Parish
• Festival Acadians for dancing &
music
October and November
• Shreveport & Hammond – the Arts in the
Fall
• Acadia Parish – traditional German
OktoberFest
• Zwolle (Sabine Parish) – the Tamale
Festival
• Crowley – the International Rice Festival
• Opelousas – the Yambilee Festival
• Abbeville – the Giant Omelette Festival
• Colfax – the Louisiana Pecan Festival
December
• Natchitoches – the Christmas
Festival of Lights
• St. James Parish – celebrates
with the burning of the willow logs
on Christmas Eve
January and February
• Since 1993, the French and African
American heritage celebrate
Creole Heritage Day - traditional
skills demonstrated
• Gumbo: traditional hearty Creole
soup made of seafood, chicken,
okra, other vegetables
March and April
• Baton Rouge and New Orleans
celebrate St. Patrick's Day with parades
• "The wearing of the green" honors the
Irish heritage of Louisiana
• The Strawberry Festival at Ponchatoula
• The New Orleans Jazz and Heritage
Festival is the 2nd largest celebration
(Mardi Gras is largest)
May
• Crawfish Festival in Breaux Bridge
(St. Martin Parish) – more than
100,000 visitors
• Chank-a-chank is the music of the
Cajun bands who sing in French –
began 1959
• Legislature proclaimed Breaux Bridge
as the "Crawfish Capital of the World"
June and July
• Ruston Peach Festival in Lincoln
Parish
• Mansfield Blueberry Festival in
DeSoto Parish
• Folklife Festival preserves
information about Louisiana's
cultural elements –watch the
Islenos mend a fishing net
Mardi Gras "Fat Tuesday"
• Louisiana's BIGGEST Celebration!
• Festive time before Lent
• Begins on January 6 – also known as
Twelfth Night
• Associated with the culture of
Lafayette, Morgan City, New Roads,
and Thibodaux
• Traditional country version in Basile,
Church Point, Eunice, and Mamou
Mardi Gras (Continued)
• Described as "running the Mardi Gras" or
le courir de Mardi Gras
• Masked riders on horseback go from house to
house collecting food
• Riders entertain with singing and dancing
• Tradition requires the participants to catch live
chickens on the farms they visit to be used as
part of the gumbo later
• Official colors are purple, green, and gold
– Purple represents justice
– Green stands for faith
– Gold stands for power
Click here to return to Main Menu.
Section 3: Louisiana's
Cultural Regions
ESSENTIAL QUESTION:
–What are the similarities and
differences between the cultural
regions of Louisiana?
Section 3: Louisiana's
Cultural Regions
What words do I need to know?
1. region
2. upland South
3. urban
4. rural
Section 3: Louisiana's
Cultural Regions
PREVIEW
• Check out the headings and
subheadings
• Examine the pictures and read
the captions
Louisiana's
Cultural Regions
• Region: area with similar features
• Physical features include common
climate and landforms
• Elements of culture: ethnic heritage,
language, religion, food, music, or
recreation
• Louisiana has five distinct cultural
regions
Sportsman's
Paradise Region
Northern Louisiana
– Many lakes, rolling hills, & forests
– Abundant outdoor recreation for residents &
visitors
– Fishing and hunting a part of life for generations:
– Bass fishing tournaments are big business on the
lakes
– Newer sports like water-skiing & power-boat now
popular
– Region has much in common with Mississippi,
Alabama, & Georgia
Crossroads Region
• Covers the center of the state
• Merges the cultures of North & South
LA
• Urban center is Alexandria-Pineville
on the banks of the Red River
• Found in Rapides Parish
• Cheneyville & Winnfield feature Main
Street stores and churches
Cajun Country Region
• Bordelonville filled with Cajun French
Catholics
• Acme settled by Anglo-Protestants
• Culture divided into prairie Cajun and
wetlands Cajun
• Prairie Cajun – Agriculture &
Livestock
• Wetlands Cajun – Fishers & Trappers
• Oil industry has changed traditional
occupations of their forefathers
Plantation Country
Region
• Common symbols of this region:
old plantation homes, live oak
trees, and Spanish moss
• Baton Rouge is the urban center
of this region & the capital city
• Here is a mix of people &
lifestyles with every ethnic group
being represented
Greater New Orleans
Region
• Often described as an American city more
European than others
• Busy port on the Mississippi River
• French Quarter reminds one of Louisiana's
past
• Largest city in the state
• Seems to have much in common with the
Caribbean & South America
• Relaxed atmosphere
Other Regional Labels
• Cultural regions not mandatory
boundaries
• Many backgrounds live in each area
of the state
• Some divide state into three regions –
North Louisiana, South Louisiana, &
New Orleans
• State cultures have been very
different but not as great at present
Click here to return to Main Menu.
Section 4: Louisiana's
People
ESSENTIAL QUESTION:
–What are the ethnic groups of
Louisiana?
Section 4: Louisiana's
People
What words do I need to know?
1.
2.
3.
4.
5.
6.
7.
ethnic group
Acadians
free people of color
Creoles
Anglos
Lowland South
Isleños
Section 4: Louisiana's
People
PREVIEW
• Check out the headings and
subheadings
• Examine the pictures and read the
captions
Louisiana's People
• Ethnic Groups
–Ethnic group: people who share
common traditions, beliefs, &
patterns of living
–These patterns include language,
religion, customs, & food.
–People of Louisiana more diverse
than some tourists expect
Acadians
• French Canadians migrated from
present day Nova Scotia to
Louisiana in the 18th century
• The word Cajun came from the
French word Acadianne or
"people of Acadia"
• 22 parishes form this triangle of
Cajun culture
African Americans
• Came first as slaves to colonial Louisiana
from West Africa
• Others came from the French colonies of
the West Indies
• Gumbo is a gift from these Wolof &
Bambara people
• Creoles were gnes de couleur libre or free
people of color
• St. Landry Parish home to several large
Creole communities
• Speak French and are known for Zydeco
music
American Indians
• Descendants of the earliest
residents
• Have land and tribal headquarters
in several parts of the state
• Chitimacha, Choctaw, Coushatta,
Tunica-Biloxi, & Houma are the
primary tribes remaining in LA
Anglos
• Anglo culture developed in the
British colonies on the eastern
coast of the United States
• Includes English-speaking
heritage of the Scots-Irish
• Religion is Protestant
• Culture is described as lowland
South
Germans
• Immigrated to Louisiana during early
colonial years
• German language soon blended with
the dominant French culture
• Creation of Robert's Cove
• Elements of German heritage remain
• December 6th religious feast of St.
Nicholas goes from house to house
Hispanics
• Isleños (LAY nyos) means "islanders"
• Descended from Canary Islanders
while Louisiana was a Spanish colony
• Reside in St. Bernard Parish
• Speak the Spanish dialect & sing
those songs called decimas
• Most recent Hispanics come from
Mexico
Italians
• Large group of immigrants arrived in
the 19th century
• Largest group lives in Independence
in Tangipahoa Parish
• Contributed a custom known as St.
Joseph's Altar
– Brought from Sicily & includes a feast
for friends & families
– Visitors are given a dried fava bean for
good luck
Other Ethnic Groups
•
Croatians from the coast of the Adriatic
Sea
–
–
•
•
•
•
Descendants live in Plaquemines Parish
Share region with Filipino immigrants.
Vietnamese have come to the wetlands
Chinese came during the 19th century
Czechs in Rapides Parish & Hungarian
in Livingston Parish
Arabs, Greeks, & natives of India
Families
• Tradition of family reunions
continues & grows
• Traditions of the past combine
with the customs of today
• Music, food, clothing, language,
games, & sports blend into the
cultural picture of Louisiana
Click here to return to Main Menu.
Click here to return to Main Menu.