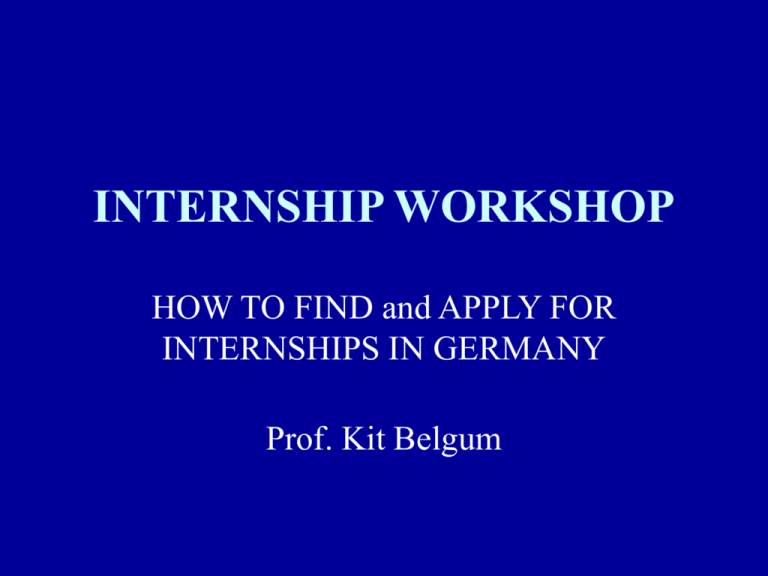 INTERNSHIP WORKSHOP
HOW TO FIND and APPLY FOR
INTERNSHIPS IN GERMANY
Prof. Kit Belgum
Internships in Germany - Topics:
• Contacting internship providers (Type 1)
• Creating your own internship (Type 2)
1. Defining your interests & researching
2. Drafting your cv, resumé, Lebenslauf
3. Composing cover/application letter
• Applying for Germanic Studies scholarship
Type 1: Internship providers
•
•
•
•
•
•
•
International Cooperative Education (ICE)
Carl-Duisberg-Society (CDS)
German-American Chamber (GACC)
AIESEC (through UT)
Bosch Foundation
Congress-Bundestag Internship
Steuben-Schurz-Society
Type 2: Create an internship
1) Define your interests and begin search
• identify at least 20-30 potential
firms/agencies/offices
• refer to contacts when possible
2) Develop Lebenslauf
3) Write application letter(s)
4) Send out a lot of inquiries (e-mail)
Step 1: Define your interests
• Prior experience
• Language/computer skills
• Other professional skills/expertise/major(s)
• Avocations and hobbies
• Future career interests
five-minute activity:
Brainstorm about your "ideal" internship
Step 1: Internet Search
• Ideas: www.praktika.de/praktikumsliste.html
www.studserv.de/praktika
• Examples:
www.bmw-welt.com/
www.worldcoffee.de/html/jobs.html
www.strandhotel-ruegen.de/
www.kallinich-media.de/113.html
Step 2: Der Lebenslauf
kurz (1-2 Seiten), faktisch, übersichtlich
• Persönliche Daten
• Schulausbilding/Studium
• Arbeitserfahrung/Berufspraxis
• Nebenberufliche Tätigkeiten
• Sonstiges
Step 2: Recommendations
• Steuben-Schurz-Society:
www.usa-interns.org/Resume
Recommendations for US Applicants
2006.pdf
• iAgora - iWork:
www.iagora.com/iwork/resumes/cv_germany.
html
Step 2: Draft your Lebenslauf
ten-minute activity:
1) create template
2) begin inserting your information
Step 3: Application letter
•
•
•
•
•
Introduce yourself and your qualifications
State interest in internship
Explain your interest in company/agency
Mention dates you are available
Describe how you can be reached
Step 3: Recommendations
• Suggestions and sample letter (Deutsch)
www.iagora.com/iwork/resumes/letter_germa
ny.html
www.iagora.com/iwork/resumes/letter_model
_germany.html
• Sample job letters (English)
www.jobinterview.net/coverlettersamples.htm
Step 3: Draft a letter
ten-minute activity:
1) create format: salutations/closings
2) draft your introduction
3) begin inserting specific information
Van Dusen Scholarship
Supports "participation in departmental
activities and organizations, research
projects, internships, study abroad"
Application form:
www.utexas.edu/depts/german/main.html
Include confirmation of internship with your
application!