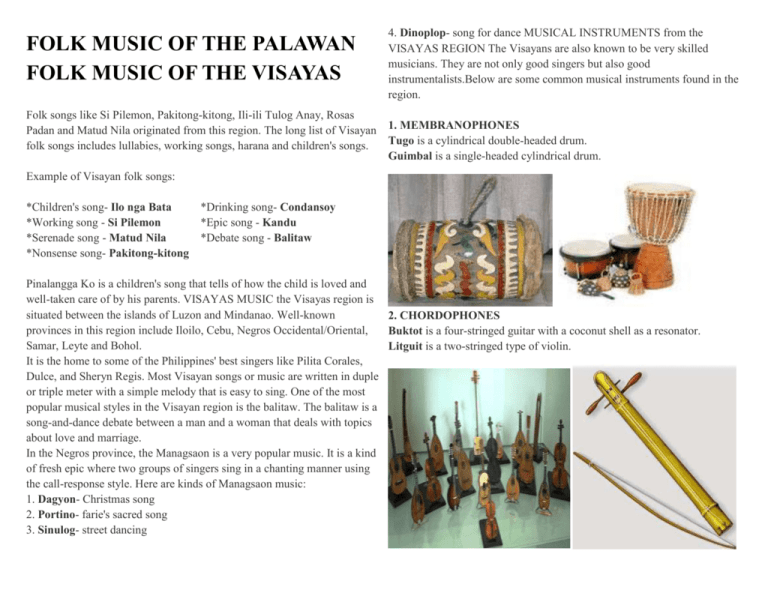 FOLK MUSIC OF THE PALAWAN
FOLK MUSIC OF THE VISAYAS
Folk songs like Si Pilemon, Pakitong-kitong, Ili-ili Tulog Anay, Rosas
Padan and Matud Nila originated from this region. The long list of Visayan
folk songs includes lullabies, working songs, harana and children's songs.
4. Dinoplop- song for dance MUSICAL INSTRUMENTS from the
VISAYAS REGION The Visayans are also known to be very skilled
musicians. They are not only good singers but also good
instrumentalists.Below are some common musical instruments found in the
region.
1. MEMBRANOPHONES
Tugo is a cylindrical double-headed drum.
Guimbal is a single-headed cylindrical drum.
Example of Visayan folk songs:
*Children's song- Ilo nga Bata
*Drinking song- Condansoy
*Working song - Si Pilemon
*Epic song - Kandu
*Serenade song - Matud Nila
*Debate song - Balitaw
*Nonsense song- Pakitong-kitong
Pinalangga Ko is a children's song that tells of how the child is loved and
well-taken care of by his parents. VISAYAS MUSIC the Visayas region is
situated between the islands of Luzon and Mindanao. Well-known
2. CHORDOPHONES
provinces in this region include Iloilo, Cebu, Negros Occidental/Oriental,
Buktot is a four-stringed guitar with a coconut shell as a resonator.
Samar, Leyte and Bohol.
Litguit is a two-stringed type of violin.
It is the home to some of the Philippines' best singers like Pilita Corales,
Dulce, and Sheryn Regis. Most Visayan songs or music are written in duple
or triple meter with a simple melody that is easy to sing. One of the most
popular musical styles in the Visayan region is the balitaw. The balitaw is a
song-and-dance debate between a man and a woman that deals with topics
about love and marriage.
In the Negros province, the Managsaon is a very popular music. It is a kind
of fresh epic where two groups of singers sing in a chanting manner using
the call-response style. Here are kinds of Managsaon music:
1. Dagyon- Christmas song
2. Portino- farie's sacred song
3. Sinulog- street dancing
3. AEROPHONES
Lantoy is a Visayan clarinet with 4-6 holes
Pasiyak is a water whistle that looks like a piper.
Pasiyok is made from a section of rice stalk.
Tulali is a vertical flute with six-finger holes.
Vocal music typically features sung words called lyrics, although there are
notable examples of vocal music that are performed using non-linguistic
syllables, sounds, or noises, sometimes as musical onomatopoeia. A short
piece of vocal music with lyrics is broadly termed a song.
Vocal music is probably the oldest form of music, since it does not require
any instrument besides the human voice. All musical cultures have some
form of vocal music.
Instrumental music
-serving as a means; helpful (in bringing something about)
-performed with an instrument or tool
- performed on, or written for a musical instrument or instruments
- In keeping with instrumentalism
4. IDIOPHONE
Koratong is a hollow-split log of a bamboo with nodes on both ends.
Vocal music
Vocal music is a genre of music performed by one or more singers, with or
without instrumental accompaniment (a cappella), in which singing (i.e.
vocal performance) provides the main focus of the piece. Music which
employs singing but does not feature it prominently is generally
considered instrumental music (e.g. the wordless women's choir in the
final movement of Holst's The Planets) as is music without singing. Music
without any non-vocal instrumental accompaniment is referred to as a
cappella.