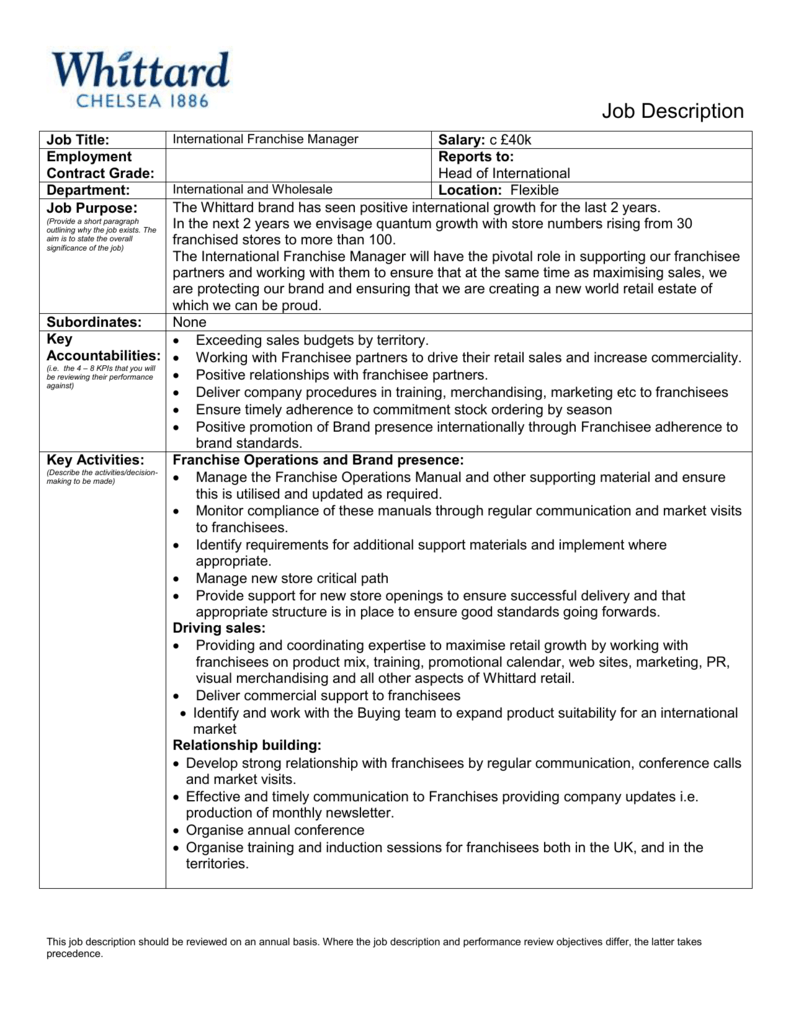 Job Description
Job Title:
Employment
Contract Grade:
Department:
Job Purpose:
International Franchise Manager
Salary: c £40k
Reports to:
Head of International
International and Wholesale
Location: Flexible
The Whittard brand has seen positive international growth for the last 2 years.
(Provide a short paragraph
In the next 2 years we envisage quantum growth with store numbers rising from 30
outlining why the job exists. The
aim is to state the overall
franchised stores to more than 100.
significance of the job)
The International Franchise Manager will have the pivotal role in supporting our franchisee
partners and working with them to ensure that at the same time as maximising sales, we
are protecting our brand and ensuring that we are creating a new world retail estate of
which we can be proud.
Subordinates:
None
Key
 Exceeding sales budgets by territory.
Accountabilities:  Working with Franchisee partners to drive their retail sales and increase commerciality.
(i.e. the 4 – 8 KPIs that you will
be reviewing their performance
 Positive relationships with franchisee partners.
against)
 Deliver company procedures in training, merchandising, marketing etc to franchisees
 Ensure timely adherence to commitment stock ordering by season
 Positive promotion of Brand presence internationally through Franchisee adherence to
brand standards.
Key Activities:
Franchise Operations and Brand presence:
(Describe the activities/decision Manage the Franchise Operations Manual and other supporting material and ensure
making to be made)
this is utilised and updated as required.
 Monitor compliance of these manuals through regular communication and market visits
to franchisees.
 Identify requirements for additional support materials and implement where
appropriate.
 Manage new store critical path
 Provide support for new store openings to ensure successful delivery and that
appropriate structure is in place to ensure good standards going forwards.
Driving sales:
 Providing and coordinating expertise to maximise retail growth by working with
franchisees on product mix, training, promotional calendar, web sites, marketing, PR,
visual merchandising and all other aspects of Whittard retail.
 Deliver commercial support to franchisees
 Identify and work with the Buying team to expand product suitability for an international
market
Relationship building:
 Develop strong relationship with franchisees by regular communication, conference calls
and market visits.
 Effective and timely communication to Franchises providing company updates i.e.
production of monthly newsletter.
 Organise annual conference
 Organise training and induction sessions for franchisees both in the UK, and in the
territories.
This job description should be reviewed on an annual basis. Where the job description and performance review objectives differ, the latter takes
precedence.
Job Description
Key
Relationships:
Qualifications/
Experience: (List
the minimum requirements for
any new incumbent)
Competencies
Internal:
 International team
 Head of Retail
 Marketing team
 Web team
External:
 International Franchisees
 B2B retail experience
 Blue Chip experience in managing international franchising and franchisees
 Proven sales record
 International market knowledge (ideally both wet & dry) – economic trends,
government policies and currency fluctuations.
 Willingness to travel
 Graduate with a business (finance, marketing) related degree 2.2 or above desirable
 Constant self-motivation, drive and proactive approach
 Commercial & financially literate
 Excellent communication skills including - an ability to listen and comprehend the
clients' needs; confident presentation skills; articulate in verbal and written
communication
 Interpersonal skills to build new and profitable relationships i.e. enjoy networking and
meeting new people
 Strong negotiation skills and persuasiveness
 Good organisational skills
 Professional and courteous manner
Positive, can-do attitude
This job description should be reviewed on an annual basis. Where the job description and performance review objectives differ, the latter takes
precedence.