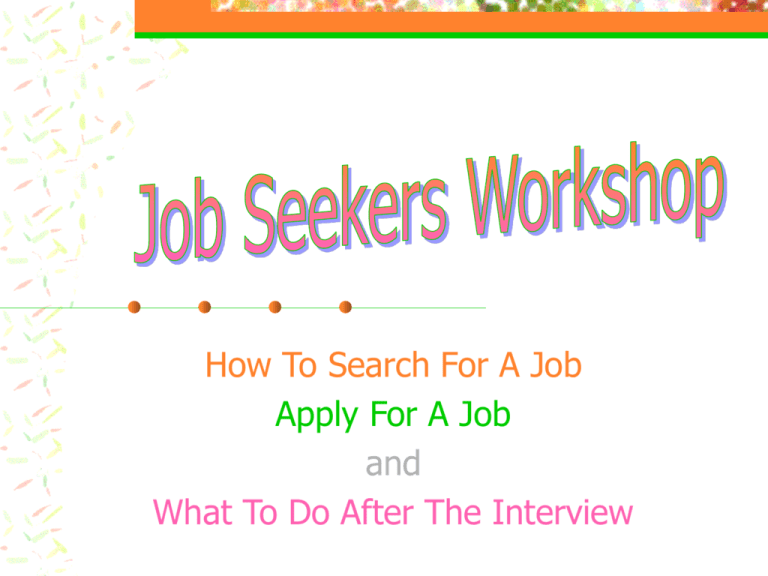 How To Search For A Job
Apply For A Job
and
What To Do After The Interview
What We'll Cover

How to find job openings

Writing a cover letter

Creating a resume using Microsoft Word

Interviewing tips

Etiquette for after the interview
Where are the jobs?

Print resources




Newspaper classifieds
Company bulletin boards
Industry Journals
Books



The Houston Job Bank
Your 24/7 Online Job Search Guide
Job Searching Online for Dummies
Searching On The Web

Local




Houston Chronicle
 http://www.chron.com/class/jobs/index.html
JOBS: Houston Employment Magazine and Website
 http://www.jobshouston.com/
Houston Jobs, A division of Online Job Source, Inc.
 http://www.houstonjobs.com/
National




Monster.com
 http://www.monster.com
Career Builder
 http://www.careerbuilder.com
America's Job Bank
 http://www.ajb.dni.us/
Federal Government Jobs
 http://www.usajobs.opm.gov
Don't Forget To Check Out Our
Find it Guide for Job Seekers at:
http://www.hcpl.net/ref/fijobs.htm
I Found One…Now What?
Read the requirements on the posting
thoroughly
 Note what is being asked for



application, cover letter, resume,
curriculum vitae, KSA's, etc…
Write cover letter and resume
How To Write A Cover Letter

Should be brief





Name
Position applying for
Name of company
Short description of some unique quality you can bring to
the company RELATED TO THE JOB
When in doubt look at some examples in the
following books



Cover Letters That Knock 'Em Dead
101 Best Cover Letters
How to Write Attention-Grabbing Query & Cover Letters
Resumes

Two types



Chronological
Skill-Based
Which should I choose?

General guideline: The standard chronological format
works well if you're staying in the same field and
moving up in your career--especially if your work
history shows continuous progression, or if you've
worked for prestigious companies. A skill-based
("functional") resume may work better if you're making
a career change--especially to a different field or to a
much higher level of responsibility.

From The Damn Good Resume,
http://www.damngood.com/catalog/problems.html#anchor274858
How Do I Create A Resume?

Pre-formatted Resumes - just plug in your information
 1) Select Microsoft Word from the pull-down menu after
you log in
 2) Once MS Word opens, if you see a box on the screen
asking you to type your initials in, just click "ok"
 3) Now, click on File, then New
 4) Then click on "Other Documents" in the window that
opens
 5) Then, choose a template, such as Professional
Resume or Contemporary Resume
 6) Replace the sample resume information with yours …
….Or

Use the Resume Wizard



Follow Steps 1-4 on the following page
Then the Resume Wizard will prompt you
for your personal information and formats
and displays your resume when done
…or type your own from scratch

Open a Blank Document in Microsoft Word
and Begin Typing
Don't Forget A Resume
Should Not Exceed 2 Pages
Resources on Resumes

Check out the following books for more ideas





Resumes! Resumes! Resumes!
How to Write a Winning Resume
101 Quick Tips for a Dynamite Resume
Resumes for Mid-Career Job Changes
And check out these web sites

10 Minute Resume


http://www.10minuteresume.com/
JobStar Central

http://jobsmart.org/tools/resume/index.cfm (also
includes sample cover letters)
I Got An Interview!…Now What?





Dress Appropriately
Avoid Heavy Scents
Make Eye Contact
Smile
Be Prepared




Research the company to know the basics, (CEO's,
mission/vision of company)
Keep up with industry trends
Bring extra copies of resumes, recommendations,
and anything specific asked for
Relax
Sample Interview Questions

Check out these sites for sample questions
for interviews

Interview Network


Interview Question Database


http://www.pse-net.com/interview/Bank/QuestionBankIndex.htm
http://www.quintcareers.com/interview_question_database/
25 Most Difficult Questions You'll Be Asked

http://www.datsi.fi.upm.es/~frosal/docs/25mdq.html
After the Interview

Follow up with a Thank You

For tips on writing business thank you
notes, check out these books…
The Random House Book of Contemporary
Business Letters
 Sincerely Yours: How to Write Great Letters
 Writing Business Letters for Dummies


Complete any additional requirements
in a timely fashion
Good Luck and Happy Hunting!
I Got The
Job!