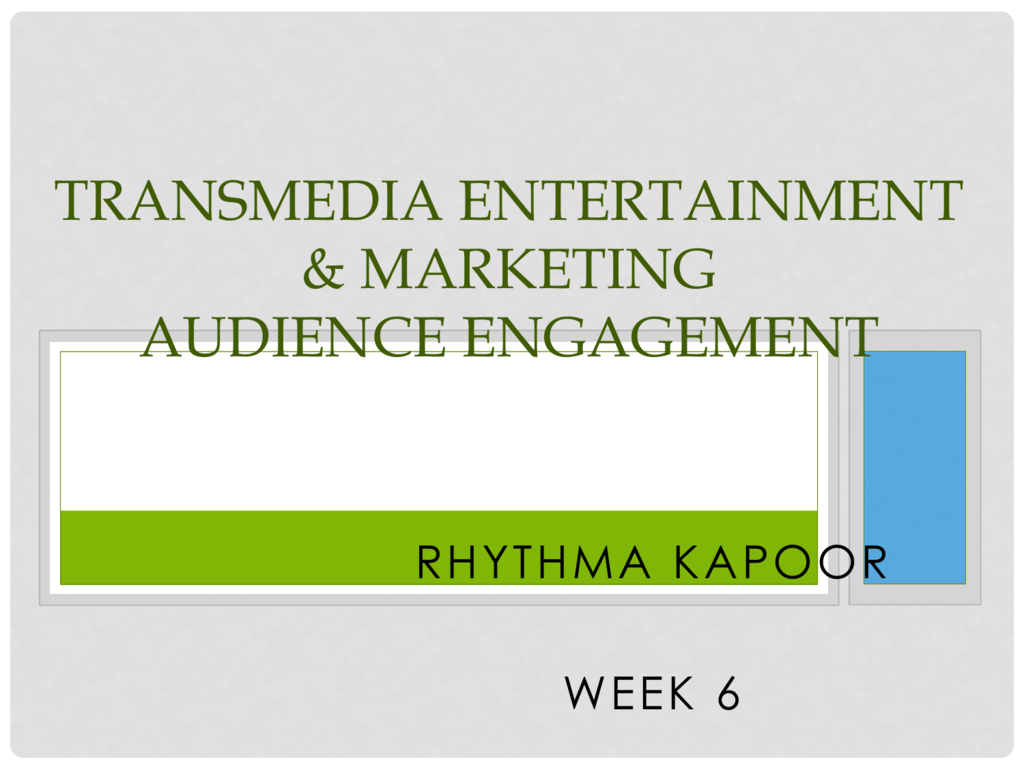 TRANSMEDIA ENTERTAINMENT
& MARKETING
AUDIENCE ENGAGEMENT
RHYTHMA KAPOOR
WEEK 6
CONTENT
•
•
•
•
Participatory culture
Fan Production
Audience Engagement
Speed Pitches
THREE LAYERS OF TRANSMEDIA
EXPERIENCE
 Interactive Narratives (Storytelling, world building, ARG,
Interactive progression, audience implication,
geocaching, resonant storytelling, …)
 Engaging Mechanics: Combination of rules producing
an engaging experience & encouraging media
exploration
(Hypertextality & Hypermedia Gamification
Game)
 Distribution: (Aggregation, distribution, billing, Word-ofmouth, Brand loyalty, recognition
TRANSMEDIA CONTENT
PRODUCTION
Franchise Productions
Alternated Reality
Publishing
Major productions +
Legacy of cross-media
(including official
website)
Short-story Media
Constellation
Use daily-used
publishing asset
to mimic reality
Use snackingmedia channels
Informative
Informative
Participative
Participative
Federate & value
the community
Personalization
Tuning medias +
individual story paths
Interactive services
Community extensions
Call2Act & gain the
right to access
stories
PARTICIPATORY CULTURE
The ways in which new technologies have allowed
audiences to "participate" in mainstream media
content.
'Prosumer'- The third tier of creativity halfway
between producers and consumers
The dichotomy between media "consumers" and
media "producers".
It refers to the blurring of the boundaries between
consumers and producers.
5
A Participatory Culture has
• Low barriers to expression
• High civic engagement
• Support for creating & sharing content
•Informal mentorship where veterans pass on
knowledge & experiences to novices
The concept of networked individualism
reconfigures users' access to information,
people and other resources allows them to
move across, undermine and go beyond the
boundaries of existing institutions
6
FANDOM
• Refers to specific subcultures that constitute social worlds,
communities of practice, interpretive communities, etc.
through which cultural products circulate.
– Star Trek fandom, the American Idol fandom, Grey's Anatomy
fandom, etc.
• Early studies of fandom
– Fans are slavish adherents to mainstream cultural messages
– Similar to "magic bullet" theory of audiences
– Comes out of the Frankfurt school, hence the distaste for popular
culture
– Very similar to early audience studies / media effects paradigm
• The cultural studies turn
– Along with Reading the Romance, fandom scholars writing in the
80's and early 90's saw fandom as a resistive practice
– Making active meaning of texts, often subverting or rewriting
– Slash fiction: queering the text
7
BASIC ELEMENTS OF FANDOMS
o Narrative voluntarism
o Strict internal rules (narrative ones, but also
referring to the imagery of the brand of the group)
o Testing (in two ways: anonymously and explicitly);
o Opposition to external aggregation (for example,
the aggregation that exists among the different
groups who favor the same brand)
o Fandoms are most often textual fanfictions and
audiovisual fanmovies related to internationallyknown transmedia brands.
Some examples?
8
FAN PRODUCTION
• Fans not only interpret, they also produce. Fan cultures
are communities in which intense cultural production is
not only possible, but typical.
• "Textual productivity" (John Fiske)
– What do they produce? Derivative works: borrow
characters, settings, situations from cultural products.
– X-Files fiction, Star Wars films, Harry Potter
newspapers, etc.
– Studies of Star Trek fiction, Lara Croft fan art, X-Files
web pages, Harry Potter fan fiction
Content creators are a subset of fandom, fandom is a
sub-set of fans, and fans are a subset of watchers
9
FANDOM & PARTICIPATORY CULTURE
Both fandom and participatory culture:
– Are generally based around advertising-driven,
corporate entertainment products (Star Wars, Harry
Potter, LOTR)
– Exist in an uneasy relationship to Big Media
• Copyright / intellectual property
• Filesharing
• Examples: shutting down fan sites, suing creators
of derivative works, sending cease-and-desist
orders
• But also: sponsoring "official" fan contests,
creators of works resisting against Big Media (OK
Go, Joss Whedon), hiring of fans, responding
10
positively to fan production
Commercial Extensions
Comic, website, game, mobisode, amusement park attraction,
etc.
11
Fan-Made/Grassroots Extensions:
User contributed content –YouTube, Flickr, del.icio.us, etc.
User Generated Content- Machinima, mashups, video game mods,
fan fiction, fan art, fan films, etc.
Hunt for Gollum
HP Alliance
TYPES OF ENGAGEMENT
• Emotional engagement
• Core story with universal metaphors
• Opportunities for empathy & narrative transportation
• Clear protagonist and conflict
• Defined world values and rules
• Cognitive engagement
• Coherent meta-narrative
• Media pieces additive and consistent to story
• Designed gaps, mysteries, and narrative spaces
• Social engagement
• Design for participation and sharing
• Enable social validation and identity
AUDIENCE ENGAGEMENT
• The medium is the message (M) means that the
medium embeds itself in the message by symbiotic
relationship in which the medium influennce how
the message is perceived.
WHY AUDIENCE ENGAGEMENT?
passive
engagement
Provoke
thought
Online articles
active
engagement
Video games
learning
Action figures
imagination
Fan fiction
Ads
creates
conversation
Social media
Engagement Driven Narrative
Three stages of audience engagement
Audience engagement drives everything.
To transmedia activists, the audience is an engaged,
participatory, and demanding collaborator.
Brands must invite audiences to "co-create," not just as fodder
for marketing or promotion.
17
Content by Audience Type
18
Goals for Audience Interest
19
Audience Engagement
THE HUNGER GAMES TM CAMPAIGN
1. FB Active March 2011: 1. casting revealed on FB
2. FB Fan contest to visit 2. 24 June 2011
set:
3. reveals #whatsmydistrict, use
3. Teaser Trailer: August
triggers tweet back from
2011:
@CapitolPN
4. 29 August 2011, register for your
district
4. Thecapitol.pn site:
5. 13 pages launched on 5. 12 Districts & Capitol PN
FB:
6. January 2012, style guides, pics,
contests
6. Capitolcouture.pn
tumbler:
7. 31 January 2012, sign up for tour
7. Capitol.pn tour site:
8. 21 February 2012, fan & official
designs for sale
8. Cafepress
merchandizing:
CASE STUDY- HEROES
 2008's Emmy Award winner for Outstanding Interactive Media
Programming
 Websites, MySpace pages, novels, an elaborate text messagebased game, online competitions to create a new hero and an
online graphic novel. Heroes 360 Evolution prime time Emmy
 Hana Gitelman an exclusive online character - she contacted
users via text and email daily
 Encouraged them to hack into a website Primatech Paper to
find clues
 Two months from Jan 2007
Heroes 360 experience had
more than 48 million page
views and 27 million video
downloads
http://www.youtube.com/watch?v=_My6prvbQgA
Conspiracy for Good
Half a million CFG games and apps downloaded from Nokia
Collaboration with Nokia, Pearson Education & Room to Read
Over 4,000 dedicated players joining the global movement.
Real charities woven into
the main narrative
• "Social Benefit Storytelling"
• Result in 50 scholarships
being provided for young
women in Africa
• Five libraries will be stocked
with more than 10,000
donated books
http://www.youtube.com/watch?v=aFPjBqpP-0Q
http://www.conspiracyforgood.com/
•
•
•
•
SPEED PITCHES
• Engage in three-minute speed pitch of your TM project.
• Planning
• Designing
• Marketing& Promoting
(Theme, Log Line, Synopsis, User Experience, Audience
Gathering Strategies, Marketing Plan and Business Model)
Stick to the story, the hooks and the grand finale.
SPEED PITCHES
1) Start with story - theme, logline, synopsis, characters
2) A walkthrough of the experience (or part of it - the
beginning & perhaps end) from the perspective of the
audience
3) Aspects of innovation - the design principles, audience
strategies etc. that set this project apart as being well
conceived
4) The team - who are the awesome people involved
5) Timeline - what stage are we at, how much longer to
go, what the milestones are, when marketing will happen,
when revenue intends to happen
6) Business strategy - including measurement
Stick to the story, the hooks and the grand finale.