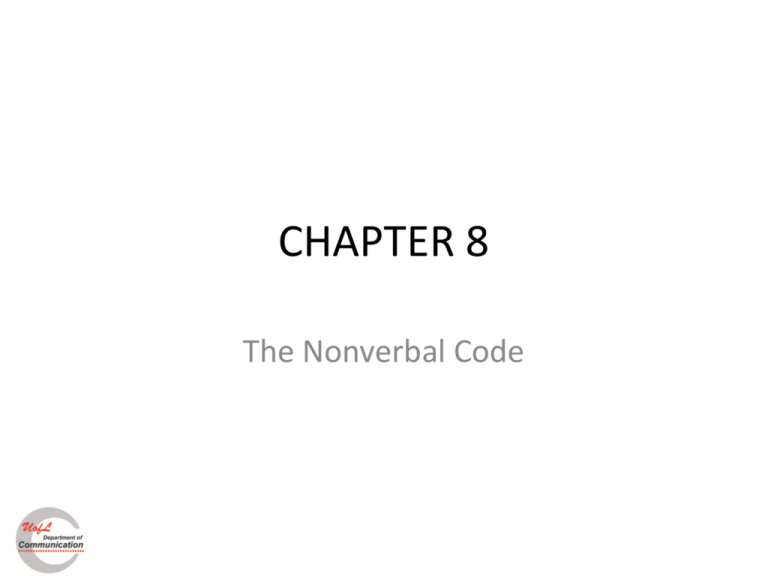 CHAPTER 8
The Nonverbal Code
Defining Nonverbal Communication
• The messages people send to each other that do not
contain words
–
–
–
–
–
–
–
kinesics
occulesics
paralanguage
haptics
chronemics
proxemics
olfactics
Nonverbal code often…
complements
substitutes
accents
contradicts
repeats
… the verbal message.
Nonverbal vs. Verbal
Communication
Nonverbal
Verbal
Analogic
Digital
Signal-based
Symbol based
Informal
Formal
gestures
stance/post
ure
hand/arm
movement
Kinesics
leg
movement
eye gaze
facial
expressions
Categories of Kinesics
• Emblems—direct literal verbal translation.
• Illustrators—accent/complement what is being said.
– Metacommunicative
• Affect displays—facial expressions of emotion.
– Considered universal
• Regulators—behaviors/actions that govern, direct, or
manage conversation.
• Adaptors—actions that satisfy physiological or
psychological needs.
Occulesics
The study of eye contact
• an essential biological skill
• likely innate in humans and in animals as well
• culture influences eye behavior across social
contexts
Paralanguage
Vocal qualities that typically accompany speech.
Silence is considered paralanguage.
Two categories:
• Voice qualities
• Examples: pitch, rhythm, tempo, articulation.
• Vocalizations
• Laughing, crying, sighing, snoring
• Intensity
• Nonfluencies
Proxemics
Perception and use
of space.
Territoriality—
physical geographical
space.
Personal space—
perceptual or
psychological space.
Population size and
socioeconomic
factors affect
perception of space.
Haptics
Tactile communication; the use of
touch.
Contact, moderate-contact and
noncontact cultures
Opposite sex touch in cultures.
Touch avoidance.
Prohibited touch.
Olfactics
Sense of smell.
Humans detect up to
10,000 different
compounds by smell.
Scent can function as:
Scent comes from two
glands: sebaceous and
apocrine.
• A sex attractant
• A marker for social class
distinctions.
Physical Appearance and Dress
• Can communicate age, sex, and status
within culture.
–Masai
–India
–Japan
Chronemics
Nonverbal channel of time.
M-time.
P-time.
Individualism vs. Collectivism
Individualism
Collectivism
More distant
proximally
Smile more
More distant
psychologically
Suppress affect
displays
More synchronized
body movements
More nonverbally
affiliative
Power Distance and Nonverbal
Communication
Low power distance
cultures are less
aware of vocalic.
High power distance
cultures avert eye
contact more to show
respect.
Context and Nonverbal
Communication
Low-context
cultures are more
direct and talkative.
High-context
cultures pay more
attention to
nonverbal behavior
in interactions.
Nonverbal Expectancy Violations
Theory
Premise—people hold expectancies about the appropriateness of nonverbal
behaviors in others.
When violations are committed, arousal is triggered,
and an evaluation is made.
These expectancies are
Evaluation is dependent
learned and culturally
upon:
driven.
The communicator.
Implicit messages
associated with violation.
Evaluations of the act.