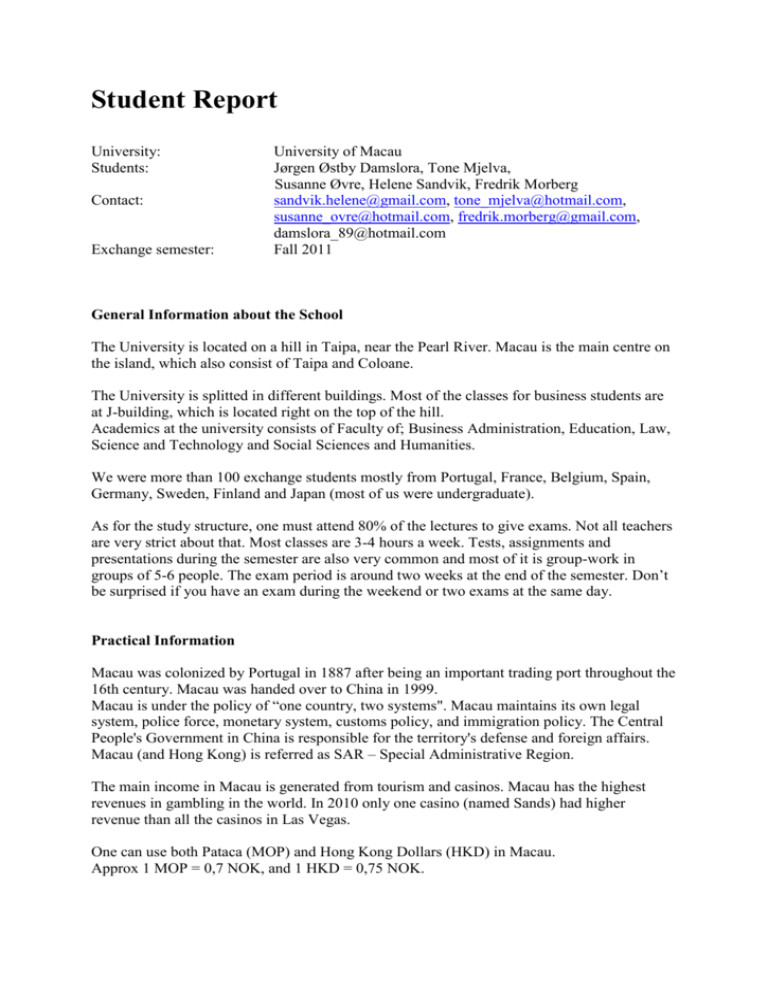 Student Report
University:
Students:
Contact:
Exchange semester:
University of Macau
Jørgen Østby Damslora, Tone Mjelva,
Susanne Øvre, Helene Sandvik, Fredrik Morberg
sandvik.helene@gmail.com, tone_mjelva@hotmail.com,
susanne_ovre@hotmail.com, fredrik.morberg@gmail.com,
damslora_89@hotmail.com
Fall 2011
General Information about the School
The University is located on a hill in Taipa, near the Pearl River. Macau is the main centre on
the island, which also consist of Taipa and Coloane.
The University is splitted in different buildings. Most of the classes for business students are
at J-building, which is located right on the top of the hill.
Academics at the university consists of Faculty of; Business Administration, Education, Law,
Science and Technology and Social Sciences and Humanities.
We were more than 100 exchange students mostly from Portugal, France, Belgium, Spain,
Germany, Sweden, Finland and Japan (most of us were undergraduate).
As for the study structure, one must attend 80% of the lectures to give exams. Not all teachers
are very strict about that. Most classes are 3-4 hours a week. Tests, assignments and
presentations during the semester are also very common and most of it is group-work in
groups of 5-6 people. The exam period is around two weeks at the end of the semester. Don't
be surprised if you have an exam during the weekend or two exams at the same day.
Practical Information
Macau was colonized by Portugal in 1887 after being an important trading port throughout the
16th century. Macau was handed over to China in 1999.
Macau is under the policy of "one country, two systems". Macau maintains its own legal
system, police force, monetary system, customs policy, and immigration policy. The Central
People's Government in China is responsible for the territory's defense and foreign affairs.
Macau (and Hong Kong) is referred as SAR – Special Administrative Region.
The main income in Macau is generated from tourism and casinos. Macau has the highest
revenues in gambling in the world. In 2010 only one casino (named Sands) had higher
revenue than all the casinos in Las Vegas.
One can use both Pataca (MOP) and Hong Kong Dollars (HKD) in Macau.
Approx 1 MOP = 0,7 NOK, and 1 HKD = 0,75 NOK.
Information before we left
Before departing, we received a lot of practical information from the exchange contacts in
Macau, Gary and Grace. They provide you with information about orientation week (the first
week during the semester), the school address and how to get there. They also sent the contact
details of the other exchange students.
The course selection was the only problem we faced in the beginning of the semester. We had
to fill out the learning agreement from BI and we used a lot of time to find courses that we
wanted to attend in Macau. We don't recommend using a lot of time on course selection
before you leave, because nearly all of our first choices had been changed or removed when
we came. There is an add-drop period in the beginning of the semester and all the changes can
be done during this time.
Visa Procedure and travel experiences
The easiest way from Oslo is to book the tickets to Hong Kong international Airport. From
Hong Kong airport you can get to Macau by jet-ferries. One-way price for the ferry is around
150HKD. And it takes around one hour from Hong Kong to Macau.
We took the ferry directly to Taipa Island, and taxi to Campus. The taxi driver might take you
on an alternative route in the city to make some extra money. The drive is around 10 minutes
and the price is approximately 25-30 MOP. From Macau harbor to Taipa, the taxi drive is
around 15 minutes and the price is around 40-50MOP. Do not take a taxi that is not registered
as Taxi. They are much more expensive.
Norwegian citizens don't need visa before arriving either to Hong Kong or Macau. You will
be granted 3 months of tourist visa for free at the border. When we left from Oslo, we had
some trouble during the check-in, because we did not have the Visa. So it can be smart to
arrive with the visa, but it should not be required.
Later in the semester you will get student visa with help of your contacts at UMAC (Grace
and Gary).
Like mentioned, Hong Kong is not far away from Macau. And Hong Kong is a more
westernized city than Macau. This makes it a hot destination for partying and shopping in the
weekends. Ferries departures frequently and the price is very reasonable (150 MOP/HKD) as
well.
It is easy to get around in Asia from Macau. There are flights to most of the big cities in the
region. The most popular airline companies are Air Asia, Philippine Airline and Air Macau.
The prices on the tickets are quite reasonable. A return ticket to almost any destination in
South-East Asia lies around 1000-2000 NOK, sometimes less. You may want to check the
prices of flight tickets in Mainland China (Shenzhen and Zhuhai), as they can be cheaper.
Reception:
The reception at UMAC was good. We arrived at East Asia Hall the first day, and got our
rooms there, without any problems. It was only the dorms that were open, while the rest of
campus was closed.
The introduction week was very well organized. We were introduced to a lot of different food
and restaurants. We didn't participate in all the activities because we were moving around a
little at that time, but the restaurants we visited were very good, and we went back many times
to some of them during the semester. Other things we did that week were sightseeing around
in Macau, visiting casinos and karaoke. Most of the exchange students got to know each other
during this week.
We had some problems with selecting the courses. Even though we had used a lot of time on
choosing the courses before our arrival, we had to do this all over again because most of the
courses were no longer available. Also we had to have the time schedule in mind, and get the
new courses approved, again, by BI in the learning agreement. This was a very time
consuming process.
The Chinese/Macanese students were very friendly throughout the semester. Some of the
students were a little skeptical about working with the exchange students in some courses, but
in the end it worked out, and they were including while working with the different projects
and presentations.
Housing:
UMAC provides dorm at "East Asia Hall", but we didn't live there because of the housing
standards, which are very low compared to Norway. After some intense searching and visiting
a lot of different real estate agencies, we found an apartment. It wasn't too easy to find, like
we thought it would be. We wanted to have an apartment that was big enough for all five of
us. The biggest issue was the contract. Most of the owners were unwilling to sign a contract
for only four months, so we had to sign for six, as a minimum, but even this made it hard.
We were very lucky with our agent, Ricky, who took a little white lie to the owner and said
we were probably going to stay for a whole year, but that we couldn't say it for sure. This
made it a lot easier and we were very happy with our apartment. The apartment was at 9th
floor in a building called Kingsville, of 26 floors and had four bedrooms, two bathrooms,
drawing room and kitchen. Also, there were many other exchange students in the same
building.
Monthly rental for the apartment was 17000 MOP, 3400 MOP each. The price did not include
electricity, internet or gas.
Costs:
Food – We used approximately 3000 - 4000 MOP on food each month as we didn't cook
much at home.
Rent – 3400 MOP each month.
Electricity – 1500 MOP month
Internet and Gas – 700 - 800 MOP each month
Water – 250 MOP each month
Taxi – Starts from 13 MOP, regardless of how far we traveled (in Macau) the bill didn't get
higher than 60 MOP.
Books – 1500 - 2000 MOP
Buscard – 2,50 MOP each trip
The International Office:
The international office is very near East Asia Hall. Grace and Gary are the contact persons
for exchange students at UMAC, and they are almost always available if there is any kind of
problems.
They both did a great job informing and helping us. We received a lot of relevant information
from them, both before the arrival and during the semester.
Exchange promotion:
There was an international day at UMAC in February. Most of the exchange students
participated in an international food festival, which was a competition between all the
different countries. As Norwegian exchange students we were supposed to make Lapskaus,
but we had some problems so it was more of a soup, that we served with flatbrød. Everyone
really liked our food, and especially the flatbrød was very popular. We didn't win the contest,
but we still got a few points. This was a very social and fun event.
Social Activities:
The relationship between all of the exchange students was great. Most of us didn't know each
other before arriving, and were introduced to each other when we got there.
The introduction week helped the students getting closer and there were arranged many
parties where most of the exchange students showed up.
Culture and Language:
Since Macau used to be a Portuguese colony, English is not fluently spoken there. And the
majority of international students are from Portugal, Brazil.
The Faculty of Business and Administration taught most of their courses in English.
Therefore, it will not be difficult to communicate with the local students at UMAC.
But the most inconvenient part is that the taxi drivers can't speak English. Some of them don't
understand a single word of English.
Cultural and Social Effects from the Exchange Experience:
The exchange program has been a great experience for us. We learned a lot about the Chinese
and Macanese culture both positively and negatively. We also had a great time making new
friends from all over the world.
The Teaching situation:
The teaching system can be compared to the one in Norwegian high school. Each class has
20-30 students, minimum 80% attendance is required (or else you will fail the course),
discussions and tasks are given in class, some teachers give assignments, mid-terms and final
exams.
The workload in the courses is bigger than at BI. You will be busy with studies throughout the
semester as there are many assignments and/or projects several times per month.
Some of the courses only focused on theory, while some were very practical and close to the
real life. There were also a lot of group projects, often with two exchange students per group
and the rest Chinese.
Required Literature:
Literature is in English, like the lectures. For most of the courses we had, the professors
handed out the required literature in class, or it was accessible on their website. Therefore, we
would recommend you to wait to buy books until after the first lecture.
Exams:
The final grade usually consists of midterm, a couple of assignments or a group project with
presentation and a final exam in the end of the semester. It varied from counting 25- 50% of
the total grade. The exams usually exist of multiple choice questions, sometimes along with a
couple essay questions.
Attendance and class participation can also make the grade better in some courses.
Other:
There are many computer rooms in the campus, while the library has also got some computers
which are available for students. IT is in most courses used in the same way as BI, where
notes from classes and announcements are available. Some teachers have their own website
and others give all information in the classes.
Courses:
MGMT330 - Strategic Management:
This course introduces students to the process of strategy formation, formulation, and
implementation. Students learn to integrate functional knowledge in business and to apply
strategic management tools in case studies.
Pre-requisite: MKTG220 Principles of Marketing & FINC210 Financial Management &
ACCT100 Principles of Financial Accounting
BECO306 - Money and Banking:
This course introduces to students the nature and functions of money and the principal
institutions involved in the money or financial side of our macro economy. After this course,
students would be able to gain skill and practice in the analysis of economic situations,
events, and policies, particularly those directly involve in money, banking and financial
market.
Pre-requisite: BECO101 Principles of Macroeconomics
CHIN113 - Chinese for Non-Native Speakers I:
In this course, we learn Mandarin Chinese at a beginning level. It aims at students who have
had no prior knowledge of the Chinese language. In the class, students work on massive oral
exercises in order to build up and improve their Chinese pronunciation skills. The course
helps students better understand Chinese by introducing them to fundamentals of Chinese
syntax and morphology. The course also introduces various aspects of Chinese culture in
order to reduce the cultural obstacles to Chinese language learning.
ECIF361 – Contemporary Global Economic Issues:
This course is a combination of economics and real world. It examines the relation between
economics knowledge and the goal of mankind: achieving prosperity. It will help to use
economics as a tool to better understand various contemporary global economic issues. The
lecture topics include Economic Growth, Poverty, Financial Crisis, Resources, Environment,
Climate Change, Trade and the emerging of China. Students are expected to actively
participate in this learning process.
ECIF412 – The Economy of The Asia- Pacific Region:
This course aims to enable students to understand the economic development and growth
process of the Asia-Pacific region. It entails to develop students' interest and knowledge on
regional economic issues. Applying fundamental economic theories, it focuses on comparing
economies in the region, particularly those in East Asia. Various topics will be scrutinized,
including growth dynamics, industrialization, trade and investment patterns, financial system
development, financial crisis and economic cooperation initiatives.
Pre-requisite: Basic knowledge in microeconomics, macroeconomics, economic development
and international economics.
MKTG476/MKTG430 - Customer Relationship Management:
This course aims to introduce to students the fundamental CRM concepts and the CRM tools
available for marketer's use. Upon completion of this course, students are expected to
understand the conceptual background and techniques of CRM, and also be able to critically
evaluate the tactical effectiveness of various CRM tools.
MGMT465 - Cross-Cultural Management:
This course intends to examine how cultural factors influence individual behaviors and
management practices involving intercultural interactions. You will understand your own
cultural influences on your behaviors through studying other cultures and become more
"mindful" to interact with people from different cultures. This course was not that bad. There
were a lot of exchange students taking it, which made it better. The workload was ok too. I
recommend this course.
MGMT332 - Human Resources Management:
Human resources are valuable assets of companies and they are one of those factors which
enable a firm to enjoy competitive advantages over its competitors domestically and
internationally. This course intends to help students develop a fundamental knowledge in
HRM through theoretical and practical basis. This course could have been interesting, but the
lectures were somewhat boring. The workload was ok, a few presentations and also a final
group project, mid-term and final exam. I do not recommend this course.
INTL401 - Communicating and Negotiating in a Multicultural World:
The aims of this course are to discuss the important issues related to intercultural
communication and to develop students' ability in managing effective communication and
negotiation in a global setting. This was a very good course. The teacher, Raymond, was very
nice and accommodating. The workload is not too much either. Just one group project with
one presentation in the end of the semester, and one hand in the middle of the semester. Other
than that there was a mid-term exam and also a final exam. In class we had some discussions
and the teacher was very good at making us engaged. I recommend this course.
MGMT408 - International Business:
This course examines business and management principles in international dimension. After
this course, students will be able to:
1. Understand the different challenges business face when they operate in an international
environment;
2. Examine the various cultural, political and legal issues that impact international business
activity;
3. Identify the forms and activities of international business;
4. Understand the major managerial decisions and challenges for international business
enterprises, for instances, location selection, business strategies development and entry
modes selection;
5. Develop insight into the management implications of international business strategy
and operations;
6. Apply the concepts and principles to relevant situations; 7. Develop research, writing and
communications skills in ways that require thinking
critically about how similar issues must be addressed differently in other countries.