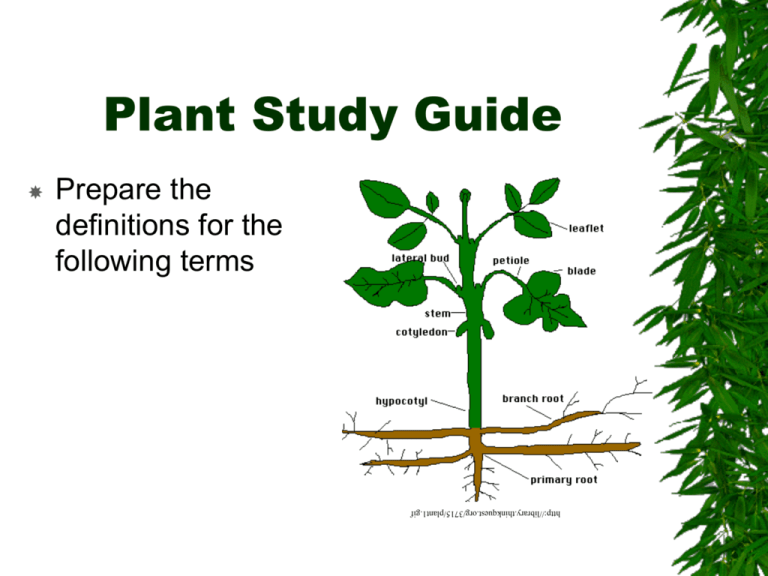 Plant Study Guide
Prepare the
definitions for the
following terms
http://library.thinkquest.org/3715/plant1.gif

Anther

the part of the
stamen that
produces pollen.
http://diagnostics.montana.edu/Graphics/FlowerStigmaAnther.gif
Corolla

the bell-shaped
portion of the
flower.
http://msuplants.com/SaylorPlants/Ref_Info/Flower_001k_color_.JPG
Cotyledon

the portion of the
seed used as food
for the young plant.
http://www.kidsgardening.com/onlinecourse/Diagrams/c1/c1-1seed.gif
Egg

a seed before
genetic information
arrives from the
pollen.
http://www.growhydroponicgarden.com/content_images/1/grow-hydroponic-garden-51_1.jpg
Filament

this part of the
stamen holds up
the anther towards
the open part of the
flower.
Geotropism

a response to
gravity.
Iodine

the chemical used
for the starch test,
turning starch
black.
Ovary

the place in the
pistil where eggs
are formed
Phototropism

a response to light.
Pistil

the part of the plant
that contains the
ovary.
Seed

an egg that has
received genetic
information from
pollen. Therefore,
genetic information
is transferred from
one plant to
another.
Seed coat

the protective outer
covering of the
seed.
Sepal

the protective outer
petal of the flower.
Stamen

the part of the plant
where pollen is
formed.
Tropism

a response.