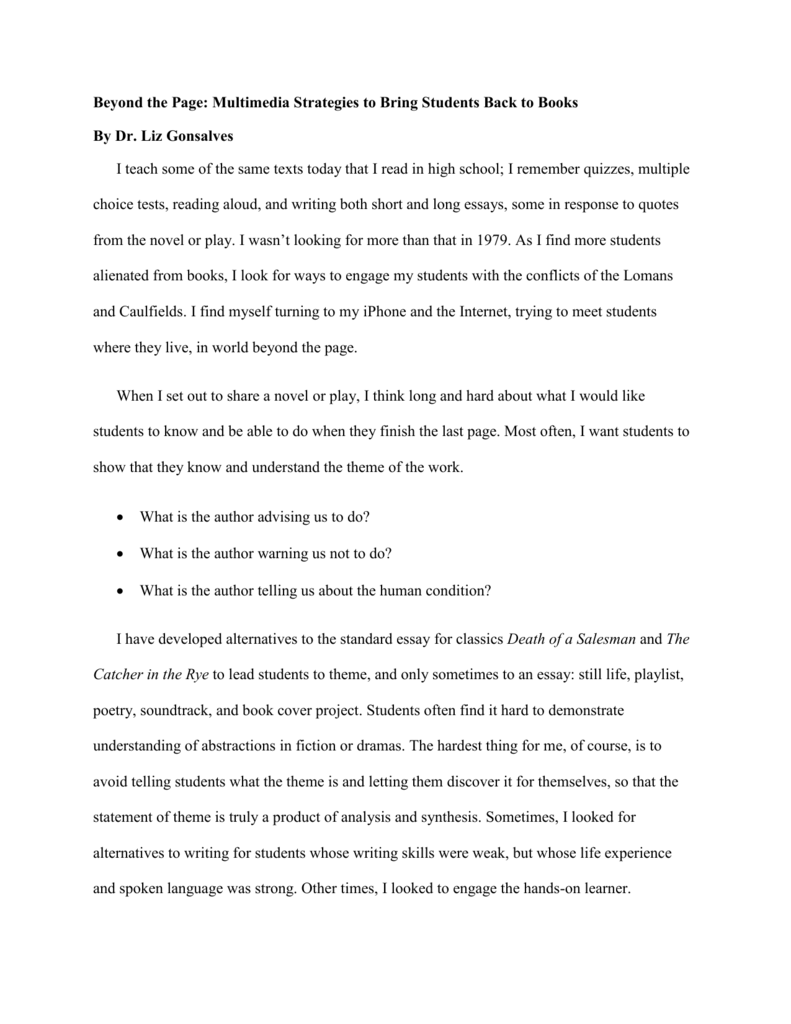 Beyond the Page: Multimedia Strategies to Bring Students Back to Books
By Dr. Liz Gonsalves
I teach some of the same texts today that I read in high school; I remember quizzes, multiple
choice tests, reading aloud, and writing both short and long essays, some in response to quotes
from the novel or play. I wasn't looking for more than that in 1979. As I find more students
alienated from books, I look for ways to engage my students with the conflicts of the Lomans
and Caulfields. I find myself turning to my iPhone and the Internet, trying to meet students
where they live, in world beyond the page.
When I set out to share a novel or play, I think long and hard about what I would like
students to know and be able to do when they finish the last page. Most often, I want students to
show that they know and understand the theme of the work.

What is the author advising us to do?

What is the author warning us not to do?

What is the author telling us about the human condition?
I have developed alternatives to the standard essay for classics Death of a Salesman and The
Catcher in the Rye to lead students to theme, and only sometimes to an essay: still life, playlist,
poetry, soundtrack, and book cover project. Students often find it hard to demonstrate
understanding of abstractions in fiction or dramas. The hardest thing for me, of course, is to
avoid telling students what the theme is and letting them discover it for themselves, so that the
statement of theme is truly a product of analysis and synthesis. Sometimes, I looked for
alternatives to writing for students whose writing skills were weak, but whose life experience
and spoken language was strong. Other times, I looked to engage the hands-on learner.
Sometimes good writers were too concrete to identify abstractions. Occasionally, a talented artist
or musician would come up empty in words. Now, I find myself looking for ways to integrate
technology in both instruction and assessments beyond the now deadly PowerPoint. "How many
slides?" has replaced "How many pages?" and the presentations are often superficial (and easily
plagiarized in word and image.). The projects I offer to you can be adapted to almost any
narrative, at any grade level.
The agenda for the first 47 minute class period after we finish Death of a Salesman is
creative writing. Students can free-write or compose a bio-poem based on the characters' unsaid
words. Students take notes and draft in class; they revise and turn in their work over the next few
days. This is how I framed the assignment:
Reminder: Today is for Creative Writing.






You may write in any form you wish—fiction, any kind of poetry, song lyrics, stream of
consciousness, fan fiction.
Try to say something about the play or its characters that perhaps an essay doesn't permit.
Experiment with lines from the play that mean something special . . . this can be found
poetry.
Sometimes creative writing focuses on feelings, emotions, or sympathies that are usually
repressed in ordinary conversation.
This assignment can be a way to think about what Miller doesn't tell us or doesn't let his
characters say—the story behind the story…
Bio Poem directions are around the room . . .feel free to experiment with this form
http://www.readwritethink.org/files/resources/lesson_images/lesson398/biopoem.pdf]
or rearrange it.
So that students know that the goal of the day is to experience and experiment, I include a rubric
and grading system.
Creative Writing
Experimenting with a
creative, non-essay form to
convey a message
Using ideas, images or lines
from the play or still life
Creating a text that invites
the reader to understand a
character or situation for the
play in a new way
Check-plus
90 and above
Text is a form that
fits the message and
is not an essay.
Ideas, images or
lines from the play
are evident and
carefully selected.
Creates an
understanding of the
play that is new,
thoughtful and
subtle.
Check
80-89
Text is not an
essay and
communicates a
message.
Ideas, images or
lines are selected
from the play.
Creates an
understanding of
the play or a
character that is
thoughtful.
Check-minus
79 and below
Text is either an
essay or does not
communicate a
message.
There are no
obvious lines,
images or ideas
from the play.
Does not create an
understanding of the
play that is or
thoughtful.
When we are finished reading Death of a Salesman, I set up a still life of objects
mentioned in the play for inspiration. On the coat rack hangs a white dress shirt and a navy
blazer, a jaunty tie knotted, an American flag pin on the lapel, a fedora I borrow from the chorus
teacher at the top. Lower on the rack is a football jersey covered by a work shirt. On the table in
front of the rack, on a variety of levels, are: a football, a framed Florida sunset, stockings, needle
and thread, math book, briefcase with maps and cards, plastic flowers, an old pair of Converse
high tops, the logo covered with a sticker marked "University of Virginia"—you get the picture.
"What's that for?" they ask as they enter the room. And then they start making sense of the
symbols.
Although I no longer have the original source of this idea, a Google search showed me
that other teachers are assembling props from texts they teach in order to make characters and
symbols more concrete. Arranged in a still life, these objects that students can see and hold help
them to think about the ideas they represent. I have also asked students to bring in the objects
themselves and place them on the table, each student rearranging the objects until the still life is
finished. Other teachers have adapted this idea for Fallen Angels (Myers) and The Odyssey.
I take out my iPod and share a playlist songs that remind me of the characters and conflicts
we have just witnessed. I might be the only person with a Death of a Salesman playlist, I know.
(I will admit that the first time I did this project, I brought in LPs.) Although I can shuffle them,
this is the usual order of songs:
















The Beatles. "Yesterday." 1, 1965. MP3.
Simon and Garfunkel. "American Tune." The Concert in Central Park, 2005. MP3
Croce, Jim. "New York's Not My Home." Greatest Hits, 1988. MP3.
Jack D'Johns. "Simple Song." New Horizons, 1989. MP3.
Miles, Lizzie." Can't Help Lovin' that Man of Mine." Moans and Blues, 1956. MP3.
Stevens, Cat. "Father and Son." Tea for the Tillerman, 2000.MP3.
The Beatles. "We Can Work It Out." 1, 1965. MP3.
Stevens, Cat. "If You Want to Sing Out, Sing Out." Footsteps in the Dark, 2003. MP3.
Simon and Garfunkel. "Slip Slidin' Away." The Concert in Central Park, 2005. MP3.
Starland Vocal Band. "Baby, You Look Good To Me Tonight." Starland Vocal Band
Thompson, Richard. "Oops! I Did It Again." 1000 Years of Popular Music, 2006. MP3.
Simon and Garfunkel. "The Boxer." The Concert in Central Park, 2005. MP3.
Rubenstein, John. "Corner of the Sky." Pippin (The 1972 Original Broadway Cast
Recording), 2000. MP3.
Denver, John. "Thank God I'm a Country Boy." The Essential John Denver, 2007. MP3.
Croce, Jim. "I Got a Name." Greatest Hits, 1988. MP3.
Clayburgh, Jill. "I Guess I'll Miss the Man." Pippin (The 1972 Original Broadway Cast
Recording), 2000. MP3.
While we are listening and looking, students are free to walk over to the still life and pick up
any of the objects. It isn't long before everyone is writing. Certainly, these songs are evidence
that I grew up in the 1970's and have a taste in music that trends toward folk and show tunes;
this year students told me they have heard their parents play music like this. Each Loman has a
song, and most of the conflicts they experience are expressed. Richard Thompson's live acoustic
cover of "Oops! I Did It Again," a song they associate with Britney Spears, catches them by
surprise as the lyrics take on the voice of Happy—or Willy. I provide the songlist; students can
look up the lyrics themselves later, if they'd like. I downloaded everything through iTunes.
Student writing varies. Some have written a series of haiku, letters, traditional rhyming verse,
a picture book, and internal monologues in free verse. Sometimes it is clear which song or object
has inspired them; sometimes it isn't. Although the bio-poem can be a simple, formulaic poem,
when students write them for more than one character, they can reveal complex relationships and
sources of deep conflict. At the end of the week, when all the work is word processed and
revised, I post all the poems around the room and play the music again. We read everything and
then have a discussion about how the objects, images, and poems bring us to the Miller's
message in new ways. Depending on the course and what else we have written, we can use this
as a springboard into an essay or leave it as a creative writing project.
This year, I added a layer of technology in order to preserve the still life. With my iPhone, I
took pictures from different angles, emailed them to myself, and uploaded the images to a video
slideshow program, Animoto [http://animoto.com] which is described on its website as a
program that "automatically produces beautifully orchestrated, completely unique video pieces
from your photos, video clips, and music." A free version of Animoto is available to teachers and
students; for additional fees, plus, pro, and resellers versions offer more templates, music,
effects, and longer videos. (Animoto is also available as a free iPhone app.) One can combine
text and uploaded images in the first stage and select or upload music in the next; the program
"finishes" the video. I added a few text slides with lines from the play, selected Scott Joplin's
"The Entertainer" and minutes later, I had a video of my still life to post on my teacher website,
[http://www.abingtonps.org/dotnetnuke_2/OurSchools/SchoolsOverview/HighSchool/Departmen
ts/English/ElizabethGonsalves/tabid/270/Default.aspx]. Links to presentations can be sent in
emails, so students can also create a still life, photograph it at home and send it to teachers or
post it on a class blog. Now, I can present the still life anywhere, anytime—even on my phone!
I write with my students, and, last year, spent a period thinking about the character I like
least: Happy Loman. Although he "never told the truth for ten minutes in that house," I decided
to give voice to what truths might be bottled up inside of the man who could say, "That's not my
father, he's just some guy," and walk out of that restaurant.
Happy Tells the Truth
So, we never told the truth for ten minutes in this house?
What truth did I have to tell any of you?
I hated being Biff Loman's little brother.
I missed you, too.
I followed your trips on a map that I kept on the inside of my closet door.
I didn't want to carry Biff's helmet or shoulder guards or be in the clubhouse
But I did just to get next to you.
I never lost any weight.
I played first base and hit for power.
No one came to my games.
I took the subway home after riding for hours alone, imagining what it was like
to be on the road.
I waited for the phone to ring
I wanted to talk to you after Mom and Biff
But you had already hung up.
I never had to cheat to get by
But I did.
I wanted to get caught so you would notice that I was trying.
I went through your pockets when you got home
Looking for souvenirs of where you'd been
Matchbooks, coaster, bar napkins
With lipstick.
I kept your secrets in my dresser drawer
Wondering if you would say something.
You never did.
I bought ties like yours with my allowance.
Learned to tie them behind you in the hall mirror
Watching from the top of the stairs,
tying that knot just so.
I moved out after Biff went West.
No one noticed I was here anyway.
When no one's in the elevator,
I whistle.
I'm looking for someone with character, with resistance.
I won't ever find anyone.
There was no necessity for it.
I would have helped you—if you had just asked me.
I have never been Happy.
How's that for Truth?
I have never done a still life or playlist for The Catcher in the Rye, but I can imagine what would
be there. Can't you? Instead of playing my playlist, I ask students to imagine the sound track that
would accompany the movie adaptation:
Compile 10 songs for ten moments in The Catcher in the Rye movie. Provide the following
information in an appropriate format:
 Ten moments in the book that should be in the movie
 List of 10 songs, title, artist, lyrics (unless instrumental)
 How each song enhances the moment in the novel/movie
 Explain any change that you would make to the original song to make it fit better
 Suggested formats: charts, letter, liner notes, essay, soundtrack poster
 Bonus: Burn the CD (I can provide CDs) and turn in with the project
I have at least 20 soundtracks now, and no one has failed to burn me a CD, complete with liner
notes. Students love their music and with iTunes, making a CD is within everyone's reach.
Imagine the cover to The Catcher in the Rye. What do you see? For years, the edition I
used had a plain white cover. Since so many students in my classes take digital art as an elective,
I started to offer them the opportunity to design a book cover. Students were asked to complete a
RAFT assignment. Imagine their role to be a graphic designer for a publisher, their audience the
book's editor. The form of the project included one or more book covers and an accompanying
memo on the topic of engaging a readers by selecting or creating a new book cover. In order to
do this effectively, students have to consider the characters, locations, and themes of the novel as
well as the style of Holden's language. In addition:
If you decide to select a cover from already
If you decide to create the cover:
existing work:
Describe your search; where did you look?
Describe the selection of medium.
Choose 3 finalists; why are they worthy?
Describe the selection of subject matter.
Select the cover and defend your choice.
Defend your artwork as the cover.
Finally, explain how the cover might encourage someone to read the book
Each of these assignments—still life, playlist, poetry, Animoto, soundtrack, book cover—can be
adapted to almost any work of literature. Students can use technology to produce work that can
be displayed and shared, work that is meant to be heard and seen by authentic audiences. Right
now, I am exploring Google Lit Trips [http://googlelittrips.org], a combination of Google Earth,
photographs and texts that allow readers to explore literary journeys of characters from The
Odyssey to The Grapes of Wrath—check it out! My favorite is for Cormac McCarthy's The
Road. Late last year, I built my first class blog with Blogger and had students post their thesis
statements for comment and revision. As teachers who realize their passion for fine literature is
part of passing on what we treasure to the next generations, we are always seeking to engage
students by creating activities and assessments to bring them back to the page for good. Renew
your connection to literature and your students by trying these projects—and bring them back to
books!
Dr. Liz Gonsalves is beginning her 16th year department head of English at Abington High
School in Abington, MA. She joined the Executive board as a member of the Nominating
Committee after presenting a session at the 2010 NEATE Conference. On Tech Tuesdays, Liz
and the AHS librarian, Susan Crowley, provide non-threatening technology instruction for
teachers. Throughout the school year, Liz hosts Very Open Mic Night events, PoetryOutloud,
massmouth, and advises SAM, the AHS Student Arts Magazine.