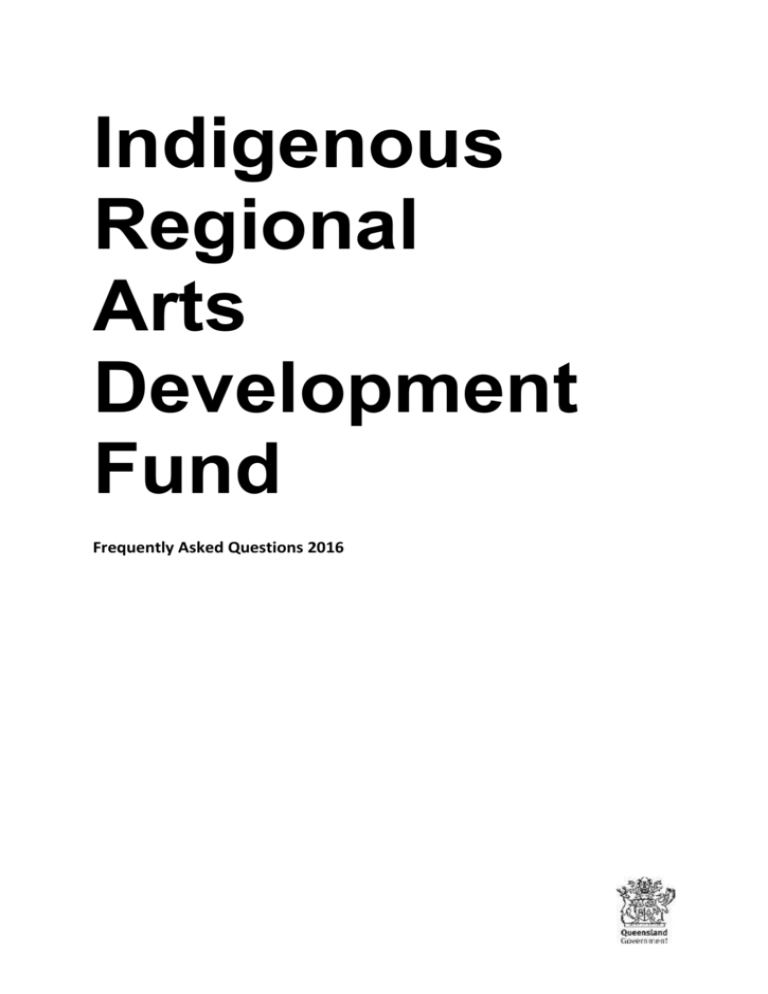 Indigenous
Regional
Arts
Development
Fund
Frequently Asked Questions 2016
What is the aim of the Indigenous Regional Arts Development Fund?
The Indigenous Regional Arts Development Fund (IRADF) is a partnership between the
Queensland Government, through Arts Queensland, the Torres Strait Regional Authority
and sixteen Aboriginal Councils and host organisations throughout Queensland.
The program provides funding for the development of arts and cultural activities that
support economic growth, keep culture strong and create jobs for Indigenous artists and
project managers.
How much can I apply for?
The average request for funding is between $5,000 and $15,000.
Arts Queensland encourages applicants to evidence diverse income streams in their
budgets. Assessors will analyse your budget to determine if you have demonstrated
strong financial partnerships and committed a significant amount towards the cost of
your project. Other sources may include: financial or in-kind support from government
and non-government entities; earned income; or income from fundraising, sponsors or
philanthropic entities. For details on other funding sources, please refer to the Arts
Queensland website.
When should I apply?
The closing date for applications is 30 March 2016.
It is recommended that you prepare your application as far in advance as possible. It is
also recommended that all applicants make contact with the Arts Queensland IRADF
Officer to determine the suitability of the application prior to submission.
Who can apply to the Indigenous Regional Arts Development Fund?
Indigenous Councils and/or host organisations are invited to apply to IRADF annually.
The participating Councils and host organisations are:
 Aurukun Shire Council
 Cherbourg Historical Precinct Group
 Doomadgee Aboriginal Shire Council
 HopeVale Art and Cultural Centre
 Kowanyama Aboriginal Shire Council
 Lockhart River Arts Indigenous Corporation
 Mapoon Aboriginal Shire Council
 Mirndiyan Gununa Aboriginal Corporation
 Napranum Aboriginal Shire Council
 Northern Peninsula Area Regional Council
 Palm Island Aboriginal Shire Council
 Pormpuraaw Art and Cultural Centre
 Torres Strait Regional Authority



Woorabinda Aboriginal Shire Council
Wujal Wujal Aboriginal Shire Council
Yarrabah Aboriginal Shire Council
IRADF funding is distributed by the Council, or host organisation, to a variety of
individuals and groups within each local community. For example:
 local artists, cultural workers or community members can act as Project Managers
and develop or recommend projects to be included in the application by the Council
or host organisation.
Organisations and individuals operating or living outside of the community or local
government area can get funding if their project plan:
 meets local needs and aspirations;
 addresses the objectives of the local arts and cultural development policy of the
region or host community; and
 demonstrates direct community support and involvement.
Regionally based government departments or educational institutions can access IRADF
funding in partnership with the IRADF Council or host organisation. Projects should be
guided by the Councils Community Development and/or Organisational Plan and
relevant Arts Queensland priorities.
How do I apply to the Indigenous Regional Arts Development Fund?
Step 1
It is recommended that the Council or host organisation make contact with Arts
Queensland's IRADF Officer to determine the suitability of the application prior to
submission.
Step 2
Submit your application by close of business 30 March 2015. Arts Queensland checks for
eligibility. Late or incomplete applications will be deemed ineligible and will not be
assessed. If your application is deemed ineligible, Arts Queensland will provide guidance
on how to develop a more competitive application.
NOTE: To be eligible all applicants must have satisfied the reporting requirements of any
previous Arts Queensland funding
Step 3
Your application will be assessed by an external Arts Assessment Panel. The Panel will:
 assess your application against the Program criteria and moderate with
consideration of: available funding; balance across art forms; geographic spread,
target groups and government priorities; and
 make recommendations to the Premier of Queensland as Minister for the Arts.
Step 4
The Minister for the Arts will consider the recommendations and make a final decision
on the funding offer.
Late or incomplete applications will not be assessed.
How are assessors chosen?
Applications to IRADF are peer assessed by members selected to reflect the diversity of
the arts and cultural sector. Assessors are members of the community with specific art
form interest, knowledge and experience as well as broad industry knowledge.
Assessors need to adhere to strict conflict-of-interest and confidentiality guidelines and
are selected depending on the skills mix required for each application. Given this, you
should make sure that your application is succinct and clearly demonstrates how your
proposed activity will deliver under the funding criteria.
How will Arts Queensland ensure the Indigenous Regional Arts Development
Fund will be equitably distributed?
Recommendations will be moderated within the available budget to ensure balance
across areas such as geographic regions, art forms and target audiences. Arts
Queensland is committed to realising the ambitions of the Queensland Aboriginal and
Torres Strait Islander Economic Participation Framework, the Queensland Cultural
Diversity Policy, the Queensland Youth Strategy and the National Arts and Disability
Strategy. Applications that include the following target groups, as creators, participants
or audiences will strengthen the implementation of Queensland Government's
commitments:
 older people (over 55 years old)
 Aboriginal and Torres Strait Islanders
 people from a culturally and linguistically diverse background, including Australian
South Sea Islanders
 young people (0 – 21 years old)
 people with a disability*
*Note that funding recipients are expected to meet legal obligations in relation to
accessibility including access to web content.
Applicants are encouraged to explore how they might direct their activities to these
specific target groups as well as to regional Queenslanders where appropriate.
How do you demonstrate the audience demand or community need for your
project and the broader public benefit?
Providing objective evidence that there is public demand or benefit for what you are
proposing is critical to success. The track record of the applicant and/or project or
program should be demonstrated, or if it is a new project or program, provide evidence
of the applicant's success with prior work.
Demand can take the form of history of attendance/participation, confirmed interest
from project or program partners, letters of support, and financial investment at a local
level.
It is essential that projects adhere to the appropriate cultural protocols and have the
evidenced support of Traditional Owners and Elders from the region participating.
A clear and concise demonstration of how you will achieve project or program outcomes,
how these will be measured and the proposed impact to the Queensland arts and
cultural sector and local community is critical. For helpful tips on preparing your
funding application, please refer to Arts Queensland's Arts Acumen Funding toolkit
online at www.arts.qld.gov.au/publications/resources/arts-acumen
What is community engagement?
Community engagement refers to the interaction between your project and the local arts
sector within the region through information sharing, consultation, collaboration and/or
active participation. This connection enables the transfer of skills and knowledge for the
benefit of participants involved.
What is cultural retention?
Cultural retention is the act of retaining the culture of a specific group of people,
especially when there is reason to believe that the culture, through inaction, may be lost.
Activities under the heading 'cultural retention' will include the transfer of traditional
skills and knowledge for the benefit of participants involved.
Where can I find help to complete my application?
Arts Queensland has developed a suite of resources to assist you in completing funding
applications, including tips for applying, budget samples and helpful checklists. You can
find these on the Arts Queensland's Arts Acumen webpage:
www.arts.qld.gov.au/publications/resources/arts-acumen.html.
It is recommended you contact the Arts Queensland IRADF Officer prior to submission of
your application.
What is the Backing Indigenous Arts initiative?
Backing Indigenous Arts (BIA) aims to build a sustainable and ethical Indigenous arts
industry in Queensland. The initiative creates pathways for arts and cultural workers
and artists to develop sustainable career options while strengthening and building
awareness and appreciation of the uniqueness of Queensland Indigenous culture. BIA's
priorities include strong coordinated action from all levels of government and the
delivery of projects built on partnerships across arts, economic development, cultural
retention, environment, cultural tourism, health, education and training sectors.
What happens if funding is approved?
You will be required to enter into a funding agreement that will include Key
Performance Outcomes based on the information in your application and the objectives
of the fund.
The information provided in the application will be used as the basis for funds granted
however alternative funding uses and/or funding amounts may be stipulated by Arts
Queensland. Any amendments must be mutually agreed to.
Arts Queensland will send you an agreement including schedules that apply to the
funding. You must sign and return a copy of the agreement and any required documents
within 30 days or the offer of funding shall be void. You can return the documents by
post or scanning and emailing them to Arts Queensland.
If my application is unsuccessful, can I reapply for the same project or
program in the future?
Yes, however it is advisable that you seek feedback on your application before
resubmitting an application for the same or similar project or program.
Acknowledgments
IRADF Council and/or host organisations are required to acknowledge Arts
Queensland's support in all published material associated with funded projects.
The Arts Queensland website www.arts.qld.gov.au details the requirements regarding
use of the Arts Queensland logo and standard acknowledgment text.