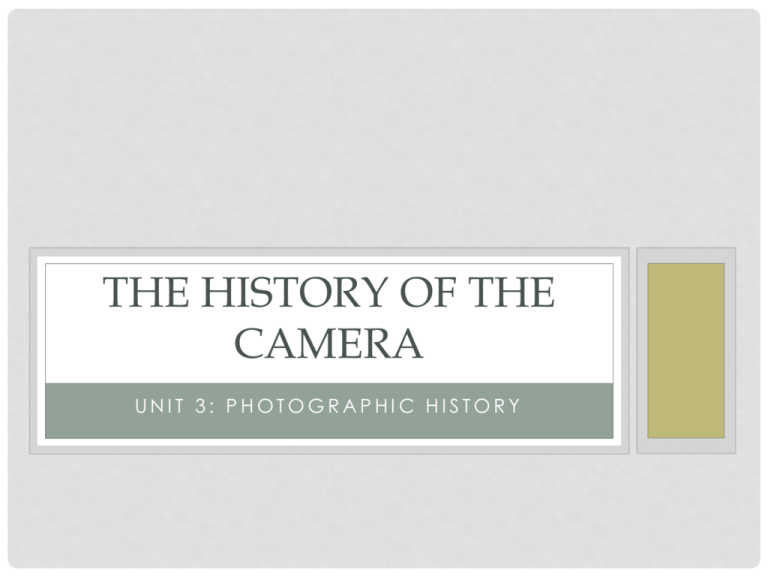 THE HISTORY OF THE
CAMERA
UNIT 3: PHOTOGRAPHIC HISTORY
WILT:
• Understand the development of the camera
• Create a timeline for the development of the
camera
• Explore the history of the photographic process
KWL Chart – Unit 3 Photographic History
What do I know?
What do I want to know?
Fill Me in
Fill me In
What did I learn?
CAMERA OBSCURAS
• In the ancient times,
camera obscuras were
used to form images on
walls in darkened rooms –
like a projector!
• Known to the Chinese and
Ancient Greeks (Aristotle)
more than 2,000 year ago
• Although designs existed
earlier, it wasn't until the
1800s that practical
cameras were created
DAGUERRETYPE CAMERA
• In 1837, he created
images on silver-plated
copper, coated with silver
iodide and developed
with warmed mercury
• He was given a state
pension from the French
government in exchange
for publicising this method
and for others to be able
to use the "Daguerreotype
Process"
• One of the world's most
expensive cameras
ALEXANDER WOLCOTT
• In 1840, first American patent issued in photography
for his camera
PANORAMIC CAMERA
• Patented by Thomas Sutton in 1859
STEREOCOPE VIEWER
• In 1861, Oliver Wendell Holmes invents the
stereoscope viewer (3D imagery)
KODAK CAMERA
• Created by George
Eastman and first
went on sale in 1888
• This pioneered the
use of photographic
film
• It had a single shutter
speed and fixed
focus lens
THE BROWNIE
• First mass marketed
camera by George
Eastman
• It was on sale until
the 1960s
THE RAISECAMERA (TRAVEL CAMERA)
• Invented in 1900
• Extreme light weight
and small when it was
folded
• Landscape
photographers loved
this!
35MM CAMERA
• Created between 1913
to 1914
• Also called candid
camera
• Developed by Oskar
Barnack from the
German Leica Camera
• The standard for all film
cameras
POLAROID CAMERA
• Edwin Land invented
the Polaroid camera
• First "instant" camera –
less than one minute to
take and print
POINT AND SHOOT
• Konica introduces the first point and shoot,
autofocus camera
• It was called Jasupin
SONY MAVICA
• 1981 - First digital
electronic still camera
• Digital photography and
television images are
related to the same
technology, so this
camera recorded images
into a mini disk and then
put them into a video
reader
• Images could be
displayed to a television
monitor or colour printer
• In 1991, Kodak released their first professional digital
camera system (DCS) which was highly used by
photojournalists
CONSUMER DIGITAL CAMERAS
• Between 1994-96, the
first digital cameras
became on market for
consumers
• It worked with home
computers via serial
cables
• Apple QuickTake 100
camera (February 1994)
• Kodak DC40 Camera
(March 1995)
• Casio QV-11 (Late 1995)
• Sony's Cybershot Digital
Still Camera (1996)
2000S
• The world's first camera
phone – J- SH04
• Also known as the "J
Phone"
CANON EOS 5D
• Launched in 2005
• First consumer-priced
full framed digital SLR
with 24 x 36mm CMOS
sensor
PHOTOGRAPHIC PROCESSES
• The evolution of the photographic process was driven by the relationship
between artistic, technical and scientific attention during this time period
• There were many different processes that were introduced during
photography's first half-century
1.
2.
3.
4.
5.
6.
7.
8.
9.
10.
11.
12.
Daguerreotype
Cyanotype
Salt Prints
Callotype
Carbon Print
Collodion Negative
Albumen Print
Ambrotype
Tintype
Dry Plate
Autochrome
Digital Images
ROLE REVERSAL:
In pairs and one group of 3, pick 4
photographic processes to research
and present to the class. Make sure
to include the following:
- People who contributed
- Dates
- Description of process
- Photo Examples (if possible)
- USE your notes from pre-departure
activity!!!