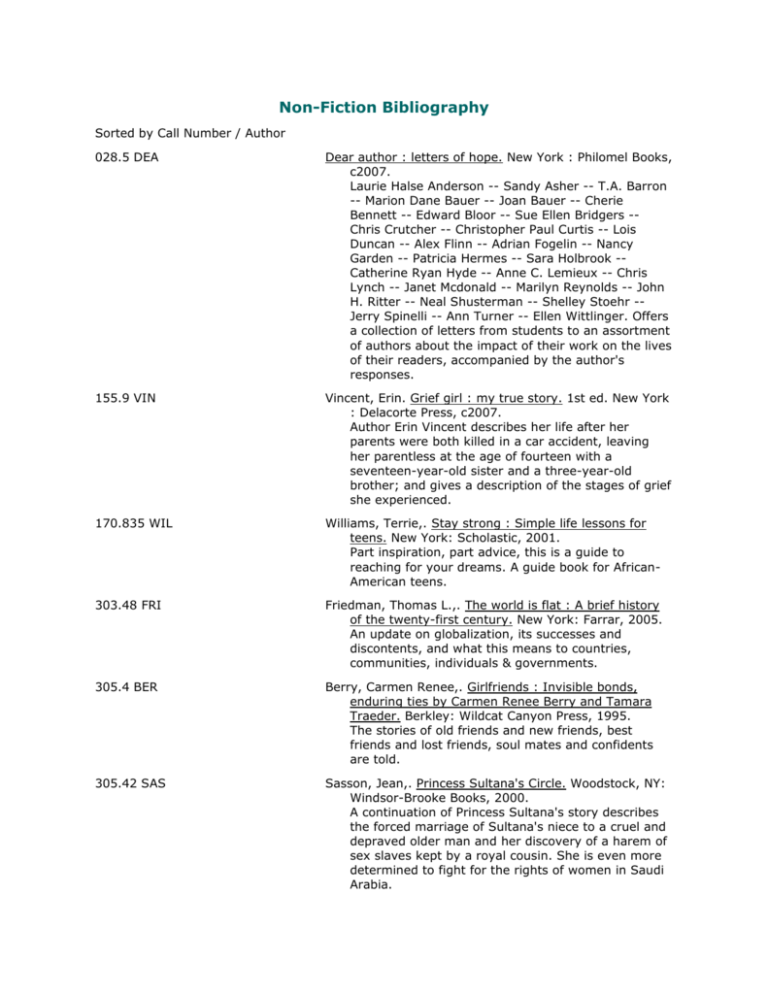 Non-Fiction Bibliography
Sorted by Call Number / Author
028.5 DEA
Dear author : letters of hope. New York : Philomel Books,
c2007.
Laurie Halse Anderson -- Sandy Asher -- T.A. Barron
-- Marion Dane Bauer -- Joan Bauer -- Cherie
Bennett -- Edward Bloor -- Sue Ellen Bridgers -Chris Crutcher -- Christopher Paul Curtis -- Lois
Duncan -- Alex Flinn -- Adrian Fogelin -- Nancy
Garden -- Patricia Hermes -- Sara Holbrook -Catherine Ryan Hyde -- Anne C. Lemieux -- Chris
Lynch -- Janet Mcdonald -- Marilyn Reynolds -- John
H. Ritter -- Neal Shusterman -- Shelley Stoehr -Jerry Spinelli -- Ann Turner -- Ellen Wittlinger. Offers
a collection of letters from students to an assortment
of authors about the impact of their work on the lives
of their readers, accompanied by the author's
responses.
155.9 VIN
Vincent, Erin. Grief girl : my true story. 1st ed. New York
: Delacorte Press, c2007.
Author Erin Vincent describes her life after her
parents were both killed in a car accident, leaving
her parentless at the age of fourteen with a
seventeen-year-old sister and a three-year-old
brother; and gives a description of the stages of grief
she experienced.
170.835 WIL
Williams, Terrie,. Stay strong : Simple life lessons for
teens. New York: Scholastic, 2001.
Part inspiration, part advice, this is a guide to
reaching for your dreams. A guide book for AfricanAmerican teens.
303.48 FRI
Friedman, Thomas L.,. The world is flat : A brief history
of the twenty-first century. New York: Farrar, 2005.
An update on globalization, its successes and
discontents, and what this means to countries,
communities, individuals & governments.
305.4 BER
Berry, Carmen Renee,. Girlfriends : Invisible bonds,
enduring ties by Carmen Renee Berry and Tamara
Traeder. Berkley: Wildcat Canyon Press, 1995.
The stories of old friends and new friends, best
friends and lost friends, soul mates and confidents
are told.
305.42 SAS
Sasson, Jean,. Princess Sultana's Circle. Woodstock, NY:
Windsor-Brooke Books, 2000.
A continuation of Princess Sultana's story describes
the forced marriage of Sultana's niece to a cruel and
depraved older man and her discovery of a harem of
sex slaves kept by a royal cousin. She is even more
determined to fight for the rights of women in Saudi
Arabia.
305.42 SAS
Sasson, Jean,. Princess Sultana's daughters. Van Nuys,
CA: Windsor-Brooke Books, 2001.
Sequel to "Princess: The True Story of Life Behind
the Veil in Saudi Arabia." Depicts the life of Princess
Sultana from early childhood to the Gulf War of
1991. It is the continuing story of the Princess, her
daughters, and other Saudi Arabian women they
personally know.
305.569 EHR
Ehrenreich, Barbara. Nickel and dimed : On (not) getting
by in America. New York: Holt, 2001.
Ehrenreich moves from Florida to Maine to Minnesota
to reveal what it is like to lead a minimum wage life
in the U.S. today.
361.7 CLI
Clinton, Bill, 1946-. Giving : how each of us can change
the world. 1st large print ed. New York : Random
House Large Print, c2007.
Former president of the United States Bill Clinton
shares stories of men and women who have taken
action to solve problems and save lives through
generosity, including Dr. Paul Farmer who provides
medical care to the poor, Andre Agassi who created a
college preparatory academy, and others; and
discusses the importance of giving and how one can
help change, improve, or protect a government
policy.
362.28 GRI
Griffith, Gail, 1950-. Will's choice : a suicidal teen, a
desperate mother, and a chronicle of recovery. New
York : Harper, 2006, c2005.
Gail Griffith chronicles her efforts to save her
teenage son from the throes of teen depression,
sharing how her son's suicide attempt impacted their
family and her own feelings of self-worth.
362.76 PEL
Pelzer, Dave,. A child called "it" : One child's courage to
survive. Deerfield Beach, FL: Health
Communications, 1995.
Unforgettable account of one of the most severe child
abuse cases in California history. It is the story of
Dave Pelzer, who was brutally beaten and starved by
his emotionally unstable, alcoholic mother.
362.76 PEL
Pelzer, Dave,. The lost boy : A foster child's search for
the love of a family. Deerfield Beach, Florida: Health
Communications, 1997.
This is Dave Pelzer's sequel to A Child Called "It".
Answers will be exposed and new adventures
revealed in this compelling story of his life as an
adolescent. Now considered an F-child--a foster
child--young David experiences the instability of
moving in and out of five different homes.
362.76 PEL
Pelzer, David J. A man named Dave : a story of triumph
and forgiveness. New York : Plume, [2000], c1999.
The final entry in a trilogy of memoirs in which Dave
Pelzer, brutally abused as a child, discusses the
struggles he faced as an adult, and his determination
to have a meaningful life.
364.1 MIL
Milner, E. R.,. The lives and times of Bonnie and Clyde.
Carbondale, IL: Southern Illinois University Press,
1996.
Relying on primary sources--oral history, interviews,
personal memoirs, newspaper articles, official
records, diaries, and letters--E. R. Milner cuts
through myth andlegend to create this startling
portrait of the real Bonnie and Clyde.
365.45 OUF
Oufkir, Malika,. Stolen lives : Twenty years in a desert
jail. New York: Hyperion, 2001.
Malika, her five siblings, and her mother were
imprisoned in a penal colony after her father was
arrested and executed after an attempt to
assassinate the king in 1972. This is the story of
their imprisonment and eventual freedom.
371.822 MOR
Mortenson, Greg. Three cups of tea : one man's mission
to promote peace--one school at a time. New York :
Penguin Books, 2007, c2006.
Greg Mortenson recounts the experiences he had
while trying to help impoverished villages in
Pakistan's Karakoram Himalaya build schools for
their children.
551.6 LEE
Lee, Laura, 1969-. Blame it on the rain : how the
weather has changed history. 1st ed. New York :
Harper, c2006.
Presents a collection of essays that explores the
various ways in which weather conditions contributed
to major events in history.
551.64 SHE
Sheets, Bob. Hurricane watch : forecasting the deadliest
storms on earth. 1st ed. New York : Vintage, c2001.
A study of hurricanes and efforts to predict them
traces the history of weather forecasting and
describes the exploits of the Hurricane Hunters who
fly through storms, and the impact of satellite
imaging and computer modeling on forecasts.
616.8 SCH
Schreiber, Flora Rheta. Sybil. New York : Warner, 1973.
A true account of a woman possessed by sixteen
different personalities.
616.85 RAP
Rapoport, Judith L. The boy who couldn't stop washing :
The experience and treatment of obsessivecompulsive disorder. New York: Signet, 1989.
OCD is an emotionally crippling sickness that afflicts
six million Americans. Cleaning, counting, washing,
avoiding, checking are some of the pointless rituals
that sufferers are powerless to stop. Rapoport
describes breakthroughs in diagnosis, successful
behaviors therapies and drug treatment.
636.1 ROB
Roberts, Monty,. Shy Boy : The horse that came in from
the wild. New York: Harper Collins, 1999.
This is the story of a wild mustang captured by
Roberts and domesticated using his renowned
nonviolent training techniques.
782.42166 GOU
Gould, Jonathan, 1951-. Can't buy me love : the Beatles,
Britain, and America. 1st ed. New York : Harmony
Books, c2007.
A comprehensive biography and history of the
Beatles that describes their childhood in Liverpool
and influence by such popular artists including Elvis
Presley and Chuck Berry, and chronicles their growth
as singers, song writers, and instrumentalists.
796.334 WAN
Wangerin, David. Soccer in a football world : the story of
America's forgotten game. Temple University Press
ed. Philadelphia : Temple University Press, 2008,
c2006.
The author attempts to explain why European soccer
has not been fully accepted in the United States,
tracing its history and endurance alongside the more
popular American football.
796.357 ASI
Asinof, Eliot, 1919-. Eight men out : the Black Sox and
the 1919 world series. New York : Holt, Rinehart and
Winston, [1977] c1963.
796.357 BAR
Barra, Allen,. Clearing the bases : The greatest baseball
debates of the last century. New York: St. Martin's
Press, 2002.
Provides considerable insight into many of the most
hotly debated topics of baseball's last 100 years.
796.357 ERS
Erskine, Carl. What I learned from Jackie Robinson : A
teammate's reflections on and off the field. New York
: McGraw-Hill, c2005.
Foreword / Duke Snider -- The Robinson way -- My
first day at school -- How Robinson rejuvenated
baseball -- The story of Rachel -- Bedlam in
Manhattan, doom in Brooklyn, 1951 -- Back to the
big show, 1952 -- Wait till next year -- Our year had
come -- Mr. Intensity, 1956 -- The future is not what
it used to be -- My pal, Campy -- Saying good-bye to
baseball as I knew it -- Autumn men -- Jackie and
Jimmy: the parallel -- Epilogue: the legacy of
number 42. The former Brooklyn Dodger recalls
lessons learned from Jackie Robinson, sharing
memories from Robinson's widow and his own
recollections of Yogi Berra, Sandy Koufax, Pee Wee
Reese, Whitey Ford, Billy Martin, and others.
796.357 JEN
Jenkinson, Bill, 1962-. The year Babe Ruth hit 104 home
runs : recrowning baseball's greatest slugger. 1st
Carroll & Graf ed. New York : Carroll & Graf
Publishers ;, 2007.
Presents a comprehensive analysis of the batting
record of legendary ballplayer, Babe Ruth, that
includes spray charts of Ruth's home runs and fly
balls, a comparison of Babe Ruth to other home run
hitters, and an official distance estimate for all seven
hundred fourteen of his home runs.
796.522 HAL
Hall, Lincoln, 1955-. Dead lucky : life after death on
Mount Everest. New York : Jeremy P.
Tarcher/Penguin, c2007.
Lincoln Hall describes his experiences after deciding
to pursue a long-delayed dream to climb Mt. Everest
in the spring of 2006, telling how he was declared
dead and left behind after he collapsed from altitude
sickness and Sherpas were unable to revive him, and
discussing his miraculous rescue by an American
guide the following day who discovered him sitting
on the summit ridge, frostbitten, confused, but still
alive.
796.6 COY
Coyle, Daniel. Lance Armstrong's war : one man's battle
against fate, fame, love, death, scandal, and a few
other rivals on the road to the Tour de France. New
York : Harper, 2006, c2005.
Follows champion bicyclist Lance Armstrong
throughout the 2004 racing season, chronicling his
quest to win his sixth Tour de France, and examines
his response to charges of doping, his strategies for
coping with aging, his complex relationships with
teammates and rivals, and his methods for keeping a
psychological edge over his competitors.
796.72 CLA
Clarke, Liz, 1960-. One helluva ride : how NASCAR swept
the nation. 1st ed. New York : Villard, c2008.
Traces the history of NASCAR, discussing how the
sport grew from a Southern pastime on a dirt course
into the hugely profitable money-making sport it is
today, profiling key events and figures in the sport's
development.
796.72 THO
Thompson, Neal. Driving with the devil : southern
moonshine, Detroit wheels, and the birth of NASCAR.
1st ed. New York : Crown Publishers, c2006.
Examines the beginnings of NASCAR, tracing stockcar racing's evolution from moonshine running,
describing its development into an organized sport
between the 1930s and 1950s, and discussing
several of the principal players.
796.962 BRU
Brunt, Stephen. The new ice age : a year in the life of
the NHL. Toronto : McClelland & Stewart, c1999.
Traces one season in the National Hockey League
from draft day to the final game of the Stanley Cup,
and discusses expansion teams, rule changes, and
economic factors for the six Canadian teams.
798.8 COO
Cook, Ann Mariah 1955-. Running north : A Yukon
adventure. Chapel Hill: Algonquin, 1999.
Ann Cook's spirited account of how she, her
husband, George, and their young daughter moved
to Alaska to run the Yukon Quest, the toughest sled
dog race in the world.
883 HUL
Huler, Scott. No-man's lands : one man's odyssey
through The Odyssey. 1st ed. New York : Crown
Publishers, c2008.
"No greater claim to our credence" : on the isle of
the nymph Calypso -- Something to say for yourself,
or, Among the oar-loving Phaeacians -- Troy,
backstory capital of the world -- Losing to the twelfth
seed : surprised by the Cicones -- Acropolis now :
Athens and other places actually on the map -- A
drink with an umbrella in it : the honeyed fruit of the
lotus -- Where no-man has gone before : in the
cyclops' cave -- "Help! I need somebody!" : the
hospitality of the Wind King -- Run away! run away! :
catastrophe in the land of the Laestrygonians -Bewitched, bothered, and bewildered : in the
neighborhood of Circe -- Regarding the journey to
hell, and how upon arriving there I found it closed -Hold me back! : the island of the Sirens -- The truth
about consequences : the choice between Scylla and
Charybdis -- Everyone loves a hero : the cattle of the
sun -- Among the Phaeacians, II : Corfu and the
journey by night -- What these Ithakas mean -Home at last : Penelope and Odysseus. Scott Huler
describes his six-month adventure retracing the
journey of Odysseus and discusses the lessons he
has learned from "The Odyssey" and why the ancient
Greek epic still resonates with so many people.
921 ADAMSON
Neimark, Anne E.,. Wild heart : The story of Joy
Adamson. San Diego: Harcourt, 1999.
Discusses the life and work of the woman best known
for her relationship with a lion cub, described in her
book, Born Free.
921 AHMADINEJAD
Broyles, Matthew. Mahmoud Ahmadinejad : President of
Iran. New York : Rosen, 2008.
Presents a biography of Mahmoud Ahmadinejad, the
president of Iran, and discusses the Iranian
revolution, the Iran-Iraq war, Ahmadinejad's rise to
power and Iran's nuclear program.
921 ALI
Myers, Walter Dean, 1937-. The greatest : Muhammad
Ali. New York : Scholastic, c2001.
An illustrated biography of boxing great Muhammad
Ali that addresses his politics, his fight against
Parkinson's disease, and boxing's dangers.
921 ANGELOU
Gillespie, Marcia. Maya Angelou : a glorious celebration.
1st ed. New York : Doubleday, c2008.
An illustrated biography, complete with family
photographs and letters, of poet, playwright, and
humanitarian Maya Angelou, displaying her life and
work as an author, actress, director, and civil-rights
activist.
921 ARMSTRONG Autobiography
Armstrong, Lance. Every second counts. 1st ed. New
York : Broadway Books, 2003.
Continuing where "It's Not About the Bike" left off,
recounts Armstrong's life after cancer, his
relationship with the French, disproved accusations
of doping, and his work restoring a chapel in Spain.
921 ARMSTRONG Autobiography
Armstrong, Lance. It's not about the bike : my journey
back to life. New York : G.P. Putnam's Sons, c2000.
The world-champion cyclist recounts his diagnosis
with cancer, the grueling treatments during which he
was given a less than twenty percent chance for
survival, his surprising victory in the 1999 Tour de
France, and the birth of his son.
921 BLADY SZWAJGER
Blady Szwajger, Adina. I remember nothing more : the
Warsaw Children's Hospital and the Jewish
resistance. New York : Pantheon, c1990.
First-person accounts of life during the dark years of
Nazi genocide.
921 BROKAW
Brokaw, Tom. A long way from home : growing up in the
American heartland. 1st trade ed. New York :
Random House, c2002.
The television journalist describes life growing up in
the heart of the American Midwest and his early
journalism career in the 1960s, reflecting on the
people, places, culture, and values that shaped him
and continue to shape him today.
921 CHAN Autobiography
Ch'eng, Lung, 1954-. I am Jackie Chan : my life in
action. 1st ed. New York : Ballantine Books, c1998.
921 CHANG
Chang, Pang-Mei Natasha,. Bound feet and western
dress. New York: Anchor, 1996.
Saga of a woman born at the turn of the century to a
well-to-do, highly respected Chinese family, a
woman who continually defied the expectations of
her family and the traditions of her culture. She
refused to have her feet bound, she had a
scandalous divorce and rose to be a vice president of
China's first women's bank. The story is told in
alternating voices of two generations by her ChineseAmerican niece.
921 CLEMENTE
Maraniss, David. Clemente : the passion and grace of
baseball's last hero. New York : Simon & Schuster,
c2006.
A biography of major league baseball player Roberto
Clemente, chronicling his childhood in Nicaragua, his
eighteen distinguished season, his charity work, and
his tragic death.
921 COBAIN
Burlingame, Jeff. Kurt Cobain : "Oh well, whatever,
nevermind" Berkeley Heights, NJ : Enslow, 2006.
Presents the life, accomplishments, and musical
legacy of Kurt Cobain, lead singer of the rock group
Nirvana.
921 DANG Autobiography
Last night I dreamed of peace : the diary of Dang Thuy
Tram. 1st American ed. New York : Harmony Books,
c2007.
An English translation of the diary of Dang Thuy
Tram, a doctor who volunteered to serve in a Viet
Cong battlefield hospital in the Quang Ngai Province
during the Vietnam War from 1968 to 1970, when
she was killed by American forces. Includes notes,
photographs, and an introduction by Frances
FitzGerald.
921 DARROW Autobiography
Darrow, Siobhan,. Flirting with danger : Confessions of a
reluctant war reporter. New York: Anchor Books,
2002.
A former CNN correspondent describes her
experiences as a reporter on the front lines of war
zones around the world, in a candid memoir of
bullets, refugees, stormy love affairs, and television
journalism.
921 DAU Autobiography
Dau, John Bul,. God grew tired of us : A memoir.
Washington, D.C.: National Geographic, 2007.
The memoir is a tale of suffering, tragedy and sorrow
redeemed by indomitable resolve and stubborn
refusal to despair. John Bul Dau was 12 years old
when civil war ravaged his village and shattered its
age-old society based on Dinka tribal traditions.
921 DEPP
Blitz, Michael,. Johnny Depp : A biography. Westport:
Greenwood Press, 2008.
Traces the life and career of actor Johnny Depp from
early childhood through his success as Jack Sparrow
in the Pirates of the Caribbean film franchise.
921 GREGORY Autobiography
Gregory, Julie. Sickened : the memoir of a Munchausen
by proxy childhood. New York : Bantam Books, 2003.
The author describes growing up as the victim of
Munchausen by proxy, a form of child abuse in which
her mother invented or caused a series of illnesses
and ailments, and her struggle to escape her
mother's problems to rebuild her life.
921 HAKAKIAN Autobiography
Hakakian, Roya,. Journey from the land of no : A
girlhood caught in revolutionary Iran. 1st ed. New
York : Crown Publishers, c2004.
An Iranian American poet recounts her life as a
daughter of Jewish parents growing up in Tehran,
during which she witnessed the impact of the
Ayatollah Khomeini's return to the nation and
contemplated political asylum.
921 HERRIOT
Herriot, James. All creatures great and small. New York,
: St. Martin's Press, [1972].
921 HERRIOT
Herriot, James. All things wise and wonderful. New York :
St. Martin's Press, 1977.
921 HERRIOT Autobiography
Herriot, James. All things bright and beautiful. New York
: St. Martin's Press, c1974.
921 HERRIOT Autobiography
Herriot, James. Every living thing. St Martins, [c1992].
The author offers readers a new collection of
memoirs, describing the family and friends who
share his life on the Yorkshire dales.
921 HICKAM Autobiography
Hickam, Homer H., 1943. Sky of stone : A memoir. New
York: Delacorte, 2001.
This is volume 3 of Hickam's memories of his life in
Coalwood, West Virginia.
921 HICKAM Autobiography
Hickam, Homer H., Jr. 1943-. The Coalwood way. New
York: Delacorte, 2000.
The is volume 2 of Hickam's memories of growing up
in Coalwood, West Virginia.
921 HICKAM Autobiography
Hickam, Homer H., Jr. 1943-. Rocket boys : A memoir.
New York: Delta, 1998.
Hickam grew up in the small West Virginia town of
Coalwood. This memoir tells the story of his journey
from launching rockets at home to a stellar career at
NASA.
921 JAMES
Morgan, David Lee. LeBron James. Cleveland, OH : Gray
& Co., 2003.
921 KNIEVEL
Collins, Ace. Evel Knievel : an American hero. 1st ed.
New York : St. Martin's Press, 1999.
Traces the life of the renowned daredevil from his
days as a high-school dropout and petty thief
through his rise to fame and superstardom to his
later years as liver-transplant survivor.
921 KWAN
Koestler-Grack, Rachel A.,. Michelle Kwan. New York :
Chelsea, 2007.
Explores the life and career of champion figure skater
Michelle Kwan.
921 LATIFAH
Galens, Judy,. Queen Latifah. Detroit, MI : Lucent, 2007.
Details the life and success of rap musician and
actress Queen Latifah.
921 LEE
Thomas, Bruce. Bruce Lee : fighting spirit : a biography.
Berkeley, Calif. : Frog, Ltd. :, c1994.
921 LEMIEUX
O'Shei, Tim. Mario Lemieux. Philadelphia, PA : Chelsea,
2002.
Describes the life and hockey career of Mario
Lemieux, Pittsburgh Penguins star.
921 LENNON
Conord, Bruce W. John Lennon. New York : Chelsea,
1994.
A biography of the famous singer, songwriter, and
member of the Beatles.
921 LOBEL Autobiography
Lobel, Anita. No pretty pictures : a child of war. 1st ed.
New York : Greenwillow Books, c1998.
The author, known as an illustrator of children's
books, describes her experiences as a Polish Jew
during World War II and for years in Sweden
afterwards.
921 LOPEZ
Dougherty, Terri,. Jennifer Lopez : Entertainer. Detroit :
Lucent Books, c2008.
921 MAH Autobiography
Mah, Adeline Yen, 1937-. Falling leaves : The true story
of an unwanted Chinese daughter. New York: Wiley,
1998.
Adeline's mother died giving birth to her and she was
deemed bad luck, considered inferior and
insignificant. When her father remarried, she was at
the mercy of a cruel stepmother. Despite her
unhappiness, Adeline triumphed and excelled as a
student and adult.
921 MAR (Autobiography)
Mar, M. Elaine,. Paper daughter : A memoir. New York:
HarperCollins, 1999.
Mar grew up in two different worlds--that of her strict
Chinese parents and the strange American culture at
school. This is an account of her path from the
tenements of Hong Kong to the halls of Harvard.
921 MCAULIFFE
Hohler, Robert T., 1951-. I touch the future ... : the story
of Christa McAuliffe. 1st ed. New York : Random
House, c1987.
921 MCBRIDE
McBride, James, 1957-. The color of water : a Black
man's tribute to his white mother. New York :
Riverhead Books, 1996.
921 McCOURT Autobiography
McCourt, Frank,. Angela's Ashes : a memoir. New York:
Scribner, 1996.
g. Frank McCourt was born during the Depression in
Brooklyn. He grew up in the slums of Limerick,
Ireland, with a drunken father and a mother who had
to beg for their daily existence.
921 MCCOURT Autobiography
McCourt, Frank. Teacher man : a memoir. New York :
Scribner, c2005.
Celebrated American author Frank McCourt recounts
his thirty-year teaching career, and describes some
of his unconventional teaching methods that have
left an impact of his students.
921 MCGOUGH Autobiography
McGough, Matthew. Bat boy : My true life adventures
coming of age with the New York Yankees. 1st ed.
New York : Doubleday :, c2005.
The author describes how he got a job as a bat boy
for the New York Yankees at the age of sixteen, his
encounters with his heroes including Don Mattingly,
and his adventures and misadventures during his two
years in the position.
921 MOAVENI
Moaveni, Azadeh, 1976-. Lipstick jihad : a memoir of
growing up Iranian in America and American in Iran.
1st ed. New York : Public Affairs, c2005.
The story of the Iranian-American author's search for
identity between two cultures torn apart by a violent
history paints a portrait of Iran's next generation.
921 MONROE
Lefkowitz, Frances. Marilyn Monroe. New York : Chelsea
House Publishers, 1995.
Traces the childhood, movie career, personal life,
popularity, and tragic death of the legendary star.
921 MORRIS Autobiography
Morris, Willie,. My dog Skip. New York: Vintage, 1995.
My Dog Skip is a classic story of a boy, a dog, and
small-town America.
921 MYERS Autobiography
Myers, Walter Dean, 1937-. Bad boy : a memoir. New
York, N.Y. : HarperCollins Publishers, 2001.
The author relates his experiences growing up in
Harlem, the home of Sugar Ray Robinson and
Langston Hughes, in the 1940s and 1950s.
921 SANTANA
Leng, Simon,. Soul sacrifice : The Santana story.
Willowdale, ON: Firefly, 2000.
A biography of Carlos Santana--the most famous
Latin American musician in the world. Story traces
his life from a childhood playing Mariachi music on
the streets of Tijuana, through to worldwide
superstardom.
921 SANTIAGO
Santiago, Esmeralda. Almost a woman. Reading, Mass. :
Perseus Books, 1998.
921 SANTIAGO Autobiography
Santiago, Esmeralda. When I was Puerto Rican. New
York: Vintage, 1993.
Esmeralda moved to New York City and overcame
adversity & won acceptance to New York City's High
School of Performing Arts & then went to Harvard,
where she graduated with highest honors.
921 SATRAPI Autobiography
Satrapi, Marjane,. Persepolis : The story of a childhood.
New York: Pantheon, 2003.
Graphic novel. This is the memoir of Marjane Satrapi
who was born in Rasht, Iran. It is done as a graphic
book that describes her childhood and the fall of the
Shah of Iran. The revolution in her country
eventually forced her to flee.
921 SCDORIS Autobiography
Scdoris, Rachael. No end in sight : my life as a blind
Iditarod racer. 1st rev. ed., Rev. and fully updated
[ed.]. New York : St. Martin's, 2006.
Rachael Scdoris recounts her experiences running
the Iditarod Race as the only legally blind
competitor, and reflects on how she has faced the
challenges of blindness and excelled when no one
else believed in her.
921 SHABAZZ Autobiography
Shabazz, Ilyasah. Growing up X. 1st ed. New York : One
World/Ballantine Pub. Group, 2002.
The daughter of Malcolm X describes growing up
fatherless after her father's assassination, her
mother's determination to protect her children from
the barrage of media, her discovery of her father's
contributions, and life in the Shabazz household. .
921 SHAKIRA
Day, Holly,. Shakira. Farmington Hills, MI. : Lucent
Books, c2007.
The lioness of the stage -- An early start -- Finding
her voice -- A star is born -- Living in America -What is a mongoose? -- Taking chances and making
a difference.
921 SIMON
Simon, Rachel, 1959-. Riding the bus with my sister : a
true life journey. Boston : Houghton Mifflin Co.,
2002.
The author describes the year she spent riding the
buses of her Pennsylvania city with her sister, and
how taking part in those journeys allowed her to slow
down her life and develop stronger interpersonal
connections.
921 SMITH
Stauffer, Stacey, 1973-. Will Smith. Philadelphia, Pa. :
Chelsea House Publishers, 1999.
Explores the life and career of this rap musician
turned actor and his rise to stardom in such films as
"Independence Day" and "Men in Black.".
921 TAMMET Autobiography
Tammet, Daniel, 1979-. Born on a blue day : inside the
extraordinary mind of an autistic savant. 1st Free
Press ed. New York : Free Press, 2007, c2006.
Daniel Tammet, an autistic savant, offers an inside
look at his life, describing how his rare condition,
which gives him incredible mental powers and a
compulsive need for order and routine, has
influenced every aspect of his life and what
challenges he has faced while trying to be
independent.
921 TAYLOR Autobiography
Taylor,Alice, 1938-. To school through the fields : An
Irish childhood. New York: St.Martin's, 1988.
Tales of a childhood in rural Ireland are remembered
by the author.
921 TILLMAN
Tillman, Mary. Boots on the ground by dusk : my tribute
to Pat Tillman. New York : Modern Times, c2008.
Presents a biographical tribute to Pat Tillman, a U.S.
soldier who was killed in Afghanistan, describing his
childhood and upbringing, the lies told by the U.S.
Army about the nature of his sacrifice, and the
inquiries, investigations, and congressional hearings
undertaken by his family to discover the truth about
the cover-up.
921 TURNER
Edelstein, Robert, 1960-. Full throttle : the life and fast
times of NASCAR legend Curtis Turner. Woodstock :
Overlook Press, 2005.
A portrait of the late NASCAR racer documents his
life from his days as a teenage moonshine runner in
Virginia and his million-dollar finance deals to his
four-year ban from the NASCAR circuit and his
mysterious death at the age of forty-six.
921 WINFREY
Cooper, Ilene. Oprah Winfrey : a twentieth-century life.
New York : Viking, 2007.
Examines the life and career of television personality
and media magnate, Oprah Winfrey.
921 YOUNG
Shellum, Brian. Black cadet in a White bastion : Charles
Young at West Point. Lincoln : University of Nebraska
Press, c2006.
Enslaved in Kentucky -- Freedom in Ohio -- Beast
barracks and plebe year -- Plebe year again -Yearling upperclassman -- Cow year alone -- Firstie
year and graduation. Chronicles the life of Charles
Young, focusing on the years he spent at West Point,
discussing the challenges he faced as an AfricanAmerican at West Point in the 1880s.
921 ZINDEL Autobiography
Zindel, Paul. The pigman & me. HarperCollins, [1992
c1991].
An account of Paul Zindel's teenage years on Staten
Island, when his life was enriched by finding his own
personal pigman, or mentor.
940.54 BRO
Brokaw, Tom. The greatest generation. New York:
Random House, 1998.
Tom Brokaw goes out into America, to tell through
the stories of individual men and women, the story of
a generation, America's citizen heroes and heroines
who came of age during the Great Depression and
the Second World War and went on to build modern
America.
940.54 BRO
Brokaw, Tom,. The greatest generation speaks : Letters
and reflections. New York: Random, 1999.
Anecdotal stories from Americans who survived and
overcame the Depression and World War II.
956.704 ENG
Engel, Richard. War journal : my five years in Iraq. 1st
Simon & Schuster hardcover ed. New York : Simon &
Schuster, 2008.
Television reporter Richard Engle discusses his
experiences following American soldiers in Iraq and
discusses the successes and failures of the War on
Terrorism.
956.7044 RIV
Riverbend. Baghdad burning : girl blog from Iraq. 1st
Feminist Press ed. New York : The Feminist Press at
the City University of New York, c2005.
August through december 2003 -- January through
March 2004 -- April through September 2004.
956.7044 SEI
Seierstad, Åsne, 1970-. A hundred and one days : a
Baghdad journal. New York : Basic Books, 2005,
c2004.
Provides a narrative of life in Iraq just before, during,
and after the American invasion of March 2003,
presenting the opinions and experiences of ordinary
Iraquis attempting to carry on some semblance of
normal life.
962.404 DEN
Deng, Benson. They poured fire on us from the sky : The
true story of three lost boys from Sudan. New York :
Public Affairs, 2005.
962.704 MAR
Marlowe, Jen. Darfur diaries : stories of survival. New
York : Nation Books, c2006.
A collection of true stories recounting the history,
hopes, fears, and resilience of dozens of Darfurians
who survived the violence of the 2003 rebellion
against the Sudanese government.
973.931 SEP
September 11, 2001. 1st ed. New York : Collins, c2007.
Contains one hundred alphabetized articles about the
events of September 11, 2001, providing background
information, discussing the effects and consequences
of the day, and addressing topics such as
contamination, jihad, and memorials.