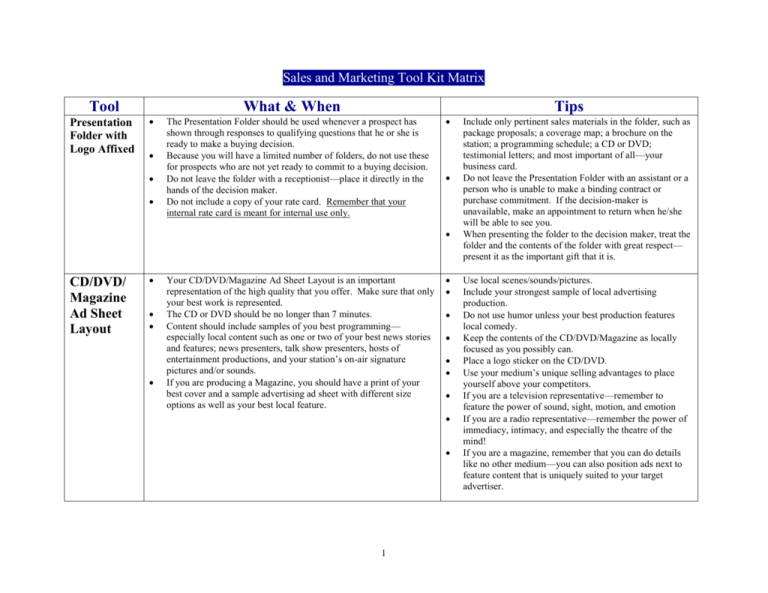 Sales and Marketing Tool Kit Matrix
Tool
Presentation
Folder with
Logo Affixed
What & When




Tips
The Presentation Folder should be used whenever a prospect has
shown through responses to qualifying questions that he or she is
ready to make a buying decision.
Because you will have a limited number of folders, do not use these
for prospects who are not yet ready to commit to a buying decision.
Do not leave the folder with a receptionist—place it directly in the
hands of the decision maker.
Do not include a copy of your rate card. Remember that your
internal rate card is meant for internal use only.



CD/DVD/
Magazine
Ad Sheet
Layout




Your CD/DVD/Magazine Ad Sheet Layout is an important
representation of the high quality that you offer. Make sure that only
your best work is represented.
The CD or DVD should be no longer than 7 minutes.
Content should include samples of you best programming—
especially local content such as one or two of your best news stories
and features; news presenters, talk show presenters, hosts of
entertainment productions, and your station's on-air signature
pictures and/or sounds.
If you are producing a Magazine, you should have a print of your
best cover and a sample advertising ad sheet with different size
options as well as your best local feature.









1
Include only pertinent sales materials in the folder, such as
package proposals; a coverage map; a brochure on the
station; a programming schedule; a CD or DVD;
testimonial letters; and most important of all—your
business card.
Do not leave the Presentation Folder with an assistant or a
person who is unable to make a binding contract or
purchase commitment. If the decision-maker is
unavailable, make an appointment to return when he/she
will be able to see you.
When presenting the folder to the decision maker, treat the
folder and the contents of the folder with great respect—
present it as the important gift that it is.
Use local scenes/sounds/pictures.
Include your strongest sample of local advertising
production.
Do not use humor unless your best production features
local comedy.
Keep the contents of the CD/DVD/Magazine as locally
focused as you possibly can.
Place a logo sticker on the CD/DVD.
Use your medium's unique selling advantages to place
yourself above your competitors.
If you are a television representative—remember to
feature the power of sound, sight, motion, and emotion
If you are a radio representative—remember the power of
immediacy, intimacy, and especially the theatre of the
mind!
If you are a magazine, remember that you can do details
like no other medium—you can also position ads next to
feature content that is uniquely suited to your target
advertiser.
Tool
Brochure
about your
media
property
What & When







Testimonial
Letters






Internal Rate
Card




Tips
Carefully select your five strongest positioning points.
Describe mission, vision, and values of media property
Describe the types of viewers or listeners that watch or listen to
the media property; give examples with viewer/listener
testimonials
Include pictures of at least two families who are fans/listeners of
the channel
Avoid political statements or polarizing references to ethnicities
or allegiances; it is OK to be patriotic and support the Afghan
constitution; it is not OK to state support for specific politicians
or factional constituencies
If station carries call to prayer, do mention that you support the
cultural values of Afghanistan as an Islamic nation
This is not your programming grid, but do name your top three
programs with proof of popularity


Testimonial letters are an effective means of overcoming buyer
objections
They can be distributed via internal mail or email.
Try to get at least one new testimonial letter every month
Send testimonial letters to clients as an example of how to use
your media property most effectively
Include a picture of person who provided testimonial
Include at least two strong statements confirming media company
effectiveness in each testimonial.
Internal rate card should contain minimum cost per second in
AFs and Dollars
First page will list :60 Second Costs; Second Page will list :01
second cost
Include advertorial rate on a per minute and per second basis with
applicable discounts depending on perceived negativity of
message-giver—if you think listeners will like the message and
not tune-out, give a larger discount—up to 50%; if you think the
message will cause some listeners to tune-out, give little or no
discount.
Internal rate card is for internal purposes only—should not be
released to clients or to people outside of the media company.

2











Select several strong pictures about your media organization
Pictures should include key members of staff, including both
men and women
Written descriptions should feature the strengths of your
media company, including audience profiles, programming
details, mission and vision of media organization, message
acceptance policies
Copyright media property brochure
Any references to religion should be inclusive of all
followers of truth and should not treat Shiites, Sunnis, or
others disrespectfully
Make firm impression that station is able to help businesses
and organizations achieve their communication objectives
through its strong programming and substantial audience
reach.
Use highlighter marker to emphasize strengths of your media
company as demonstrated through testimonial letter
Be sure to get "use" permission from company that has
provided their testimonial.
Ask for testimonial statements as soon as your new clients
begin to see results from their advertising campaigns
As a "thank you" for testimonial statements, give "bonus"
advertising weight to testimonial clients
Rate structure should provide for break-even when media
property is 40% sold out at minimum rate.
If operating expenses are $10,000, 40% of inventory sold at
base rate must yield $10,000.
Establish maximum sell-out levels both for commercial
loads (10 minutes per hour is maximum recommended) and
for advertorials (15 minutes per hour is maximum
recommended.)
Using rate card as guide-mechanism, create at least 3 sales
packages for prospective customers.
Tool
What & When
External Rate
Card
Proposal
Template
Purchase
Confirmation
Coverage
Map




Tips

External rate card should only contain highest unit rate by
program or time period, with statement to "call representative"
for negotiated rates.
 Rates should not seem completely unrealistic—though they
should reflect what station expects to receive if client advertises
only one day or on a single occasion
 External rate card should state payment policies; if client is firsttime advertiser, cash-in-advance should be required
 State that discounts will be applicable for multiple-day purchases
 Encourage clients to contact station representative for
promotional opportunities or package offers.
 Beginning of proposal should summarize the needs of the
advertiser—what are the problems that will be solved by
accepting the proposal
 Summarize using credible estimates the anticipated audience
reach for the airing of each commercial
 Summarize the audience to be reached each week of the schedule
 Summarize the total audience to be reach during a full month
 Summarize the total audience to be reached during entire ad
campaign.
 List all parameters of purchase, including total number of spots
purchased; time periods and programs purchased with number of
spots airing by date and time period and program; length of
commercial or advertorial insertion (such as :30's, :60's, 15
minutes, etc.)
 Purchase confirmation should be signed by station representative
and chief financial officer or station manager
 Purchase confirmation should have signature line for written
acceptance by client
 Signed purchase confirmation becomes a binding contract
Define geographical and population coverage; include demographics
Include hours of daily broadcasting
Include channel frequency and effective radiated power
If station carried on satellite, give satellite coordinates and pertinent
satellite information, including total number of potential viewers
3






No two clients are identical; reflect flexibility based on
buying parameters
External rate card should contain at least two package or
combo alternatives, such as buy two spots in prime news and
two spots in off-prime, and receive 20% discount off of
published rate
The proposal should summarize the marketing objectives of
the client as related to the sales executive
The proposal should reflect the accomplishment of the
communication objectives of the client—how will the
problems of the client be solved by agreeing to the proposal
The proposal should clearly state how many
viewers/listeners/readers will see/hear/read the client's
message on a daily, weekly, monthly, and total basis

Purchase confirmation should list all parameters of
agreement, including airing times, dates, length of spots,
policy on early termination including penalties for same
Client should be advised in advance about policy of
requiring signed confirmation agreements and that once
signed, the purchase confirmation becomes a binding
contract under the laws of Afghanistan



Coverage map should convey station's true reach
Include logo of station
Make map graphically appealing
Tool
Leather
Porfolio
What & When



Invoice
Template

Program
Schedule




Cross
Functional
Work
Teams

Research
Methods
Focus
Groups









Tips
Carry embossed leather Portfolio to carry all proposals and materials
to see the client
Do not leave the portfolio with any prospect—the portfolio remains
company property
Be sure to carry a complete kit in the portfolio when visiting future
clients—include written proposal, coverage map, programming grid,
and prospective schedule, or purchase confirmation, ready to be
signed for acceptance by the client.
An invoice should provide a statement of services rendered
including times and dates of broadcasts and amounts charged for
each airing; name of client with phone number and address;
reference to contract number; total amount due and payable; due date
of payment if advance payment not already received; media property
bank account information for payment transfer
Present programming schedule in weekly calendar format
Include all day-parts and all programs
List start-times, end-times, and program names
In day-parts where programming is not fixed, give "various" as the
program name but be sure to include three examples of the strong
programming that has been presented in the past within the
framework of "various".

Be sure to have all key functions of channel backed up through
cross-training
Every person should know how to do their job as well as one other
person's job
Have each cross-trained function act in the secondary role on
monthly basis to keep skills current
External Focus groups will provide useful audience feedback
Use Altai's Focus Group Guide to have actionable focus groups
Use external focus groups to test new programming ideas.
Good for tapping into new and innovative ideas
Conduct male and female focus groups separately whenever possible
Internal focus groups keep entire team involved
Internal focus groups are good for tapping into informal networks of
communication

4
















The leather portfolio is designed to give credibility to you
and the media property you represent
Dress according to the prospect you are planning to see
Be sure to bath properly and wear under-arm deodorant
before going to see your prospect
Confirm the meeting via mobile
Review your sales plan and benefits you are offering to
client before your meeting
Present invoices in person for new clients; follow-up with
email invoice so client has a "soft" copy
Ask for commitment on date money owed will be paid
Follow-up five days prior to payment due date
Use Weekly programming grids; Monthly programming grid
is not recommended
Weekly programming grid should provide complete picture
of all programming
Break programming up into segments so that no program is
longer than 2 hours in duration in order to give clients more
purchasing options
Cross-training will help maintain enthusiasm of working in
the media organization
Everyone shares in the common mission when people share
information and knowledge that comes via cross-training
Conduct a minimum of one focus group monthly
Target specific audience information for every focus group
Be sure to get balanced gender and ethnic mix from
separately held focus groups
Don't be afraid to use same people in future focus groups if
you have found their input to be helpful
Thank focus group participants with good refreshments and
stickers
Tool
Research
Methods
Random
Surveys
What & When






Station
Premium
Bulletin
(CEO
Newsletter)




Information

Sessions
& Briefings

Staff
Meetings
Systematic
Documentation






Tips
Determine key questions that you want answered
There should be no more than 40 questions in the survey
Using Altai's random survey device and following their instructions
to ensure credibility, secure responses from 100 different potential
listeners/viewers
Keep track of geographic location of every survey respondent
Do not give selling advantage to competitors by listing them by
name
Do give credibility to medium—i.e., radio, television, print by
providing credible estimate of total listeners/viewers/readers within
market survey area
Station premiums should be given key decision makers, including
advertising clients, people in positions of high visibility, or service
providers who help you succeed in your daily broadcast mission
Targeted at Board Members and Managers
Not distributed to all staff
Not interesting to all staff

Good for conveying important & complex information critical to
integrated media property operations
The use of multi-media facilities can add an extra impact and clarity
to your presentation.
Carefully target your audience.
Team meetings are one of the most successful ways for important
information to be distributed quickly to staff members.
Attending meetings is a great way to achieve quality face to face
communication, but be sure to have an agenda.
Stick to the items on the agenda to avoid wasting time.
Documenting business procedures & information ensures important
organisational knowledge is not lost when people leave the
organisation or change positions.
Common ways to document knowledge are through policies and
procedures manuals, Quality Assurance Management systems,
Business Planning documents, etc.
5




At conclusion of each interview, secure testimonial if
viewer/listener is a "fan" of the station
Treat all respondents as valued audience members, whether
or not they are currently watching/viewing channel
Use survey responses to provide actionable sales data for
sales team members
At a minimum, survey should be projectable and provide
audience viewing behaviour, including ratings and share
Include questions to elicit audience acceptance of advertising
messages

Avoid giving premiums to people who may feel that they are
receiving a bribe or who are not allies of the media property.

This is the best way to get information across to Board
Members and Executive Management Team (except for
briefing sessions)

Use multi-media technology to support your face to face
communication.
Do not over-utilize power-point slides.
Do use positive examples of recent programs created by your
team that have been well-received
Provide backup information in bullet-points to act as a
reinforcement measure for information conveyed during staff
meeting.




Try and ensure some version control system is incorporated
in your documentation so that out of date documents can be
easily identified and updated, and so that source of
knowledge is also traceable.
Communications Blockers – Things to avoid!
Things that impede good communication
Tool
Adhoc
Communic
ations
What not to & When not to



Competing
Strategies


Information

Overload


Information
Overload
Cont.
Lack of



Consistency
Poor
Quality


Tips
Adhoc Communications refers to is random or unplanned
communications
Lack of planning communications leads to unintended misinformation and causes harm as people lack discipline and then
spread "what they have heard", which often feeds rumours
No one person responsible for communications can also result in
competing messages being circulated around the organisation.
Too many competing projects & strategies running simultaneously
can cause information overload and staff may shut down to too much
new information and curtail success of all projects.
Carefully pick your most important projects, and then devote
necessary resources to allow those projects to succeed.

Too many electronic and paper documents distributed organisation
wide will cause people to lose track of priorities and will cause
people to lose time and effectiveness.
Information relevant to a few distributed to all – ie. not targeted to a
relevant audience only.
Avoid copying everyone in the organization—and avoid copying
anyone who does not need to see the information

Too much detail in communication puts the onus of editing on the
receiver, which can result in simple rejection of information.
Jargon, technical & complex language requiring specialised
knowledge will alienate most receivers.
Inconsistent communications about business practices and
procedures in different departments slows down our ability to work
efficiently and effectively.
Not enough thought or cleverness put into communications content
or selection of audience results causes people to feel that their time
has been wasted.
Media company credibility is damaged

Acknowledge other staff already have work to do and need
to understand quickly how your project impacts on them.

When business practices and procedures are changing, make
sure communications are thoroughly planned so that the right
people across the company get the same information.
Take time, and be thoughtful, in preparing simple and
concise communication.
Target your audience carefully. If clients will see the
content, be sure it is of high enough quality that you are
comfortable having them see it
6









Build a communication plan into any work or project that
impacts on how staff do things at your media property
Identify key messages & target audiences carefully.
Pick tools and methods that meet your needs and
acknowledge your available resources.
Keep project planning matrix in visible location for all
managers to review
Discuss project progress and next steps during weekly staff
meeting
Try to plan your project communication at quiet times, when
there are fewer competing projects.
Identify your audience and distribute information only to
those affected by your work.
Be succinct in communication, summarise where possible
Don't distribute lengthy documents that people will be too
overwhelmed to read.
Tool
What not to & When not to
One-way
Communic
ation

Culture of
Conflict

Too much reliance on email, and internal mail, does not allow for 2way communication.
Tips



"Staff versus Management" culture perpetuates oppositional
relationships
Avoid culture of conflict by employing a bottom-up management
style





Power
Plays
Gossip



Information hoarding and trading, and individual ownership of
information, perpetuates a culture where information is not shared
and difficult to access.
Informal communication systems are used for miss-information as
often as they are for constructive information sharing.
Remind members of team that Gossip is against Islam and must not
occur
7



Where possible, use communications tools that provide the
opportunity for feedback. (e.g. Face to face, surveys,
feedback forms, etc.)
Use email, memos and newsletters to back up face to face
communication where possible.
Maximise multi-directional, non-hierarchical,
communications in teams and informal networking
opportunities.
Plan non-hierarchical communications strategies.
Cater for difference in culture, gender, thinking preferences,
abilities, in all communications.
Aim for "organisational connectedness" in all
communications.
Utilise cross hierarchical Focus Groups, Work Groups,
Information Sessions, etc.
Practice and reward information sharing in your work area
and projects.
Acknowledge the value of information sharing through
informal networks.
Actively utilise informal systems of communication.