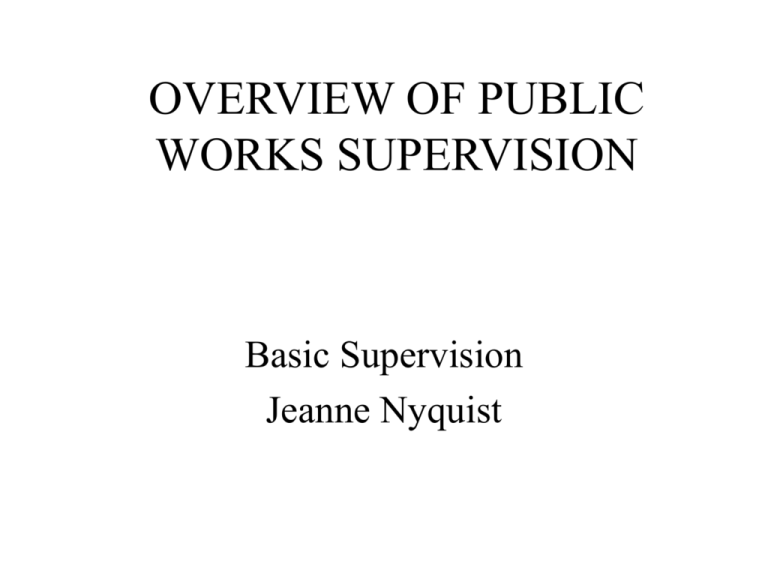 OVERVIEW OF PUBLIC
WORKS SUPERVISION
Basic Supervision
Jeanne Nyquist
Session Learning Objectives
Overview of PW Supervision
• Identify the supervisor's role
• Analyze key aspects of supervisor's job
• Compare the different types of plans
used/prepared by a supervisor
• Identify the resources available to supervisors
• Understand the five-step decision making process
• Prepare for questions must be answered in a good
directive
What is "Public Works"?
•
•
•
•
•
•
•
•
Streets/Transportation
Solid Waste
Emergency Management
Facilities and Grounds
Water
Wastewater
Storm Water
Engineering and
Technology
• Other
GOVERNANCE MODEL
Policy
CUSTOMERS
Plan
Action
Governing Body
Management
Employees
ROLE OF SUPERVISOR
•
•
•
•
•
•
Translate organizational goals
Facilitate two-way communication
Get work done through others
Solve problems
Remove roadblocks
Maintain accountability
SKILLS CONTINUUM
Technical Skills
Conceptual Skills
Interpersonal Skills
U.W.
Crew
Leader
Supervisor
Manager
Director
CROSSING THE
THRESHHOLD
•AUTHORITY
•RESPONSIBILITY
•RELATIONSHIPS
•HOURS
•STRESS
TEAM COMPOSITION
Manager
Supervisor/
Leader
Supervisor/
Leader
Big Picture
Skills
Supervisory
Skills
Worker Worker Worker Worker Technical
Skills
TEAM
Supervisor's Job:
GET THE WORK DONE . . .
THROUGH OTHERS!
How does a supervisor do it?
•
•
•
•
•
•
Plans work
Allocates resources
Makes decisions
Provides direction to the team
Solves problems
Measures and reports results
PLANS WORK
•
•
•
•
What needs to be done?
What are the priorities?
Who will do the work?
When will it be done?
Types of Plans
•
•
•
•
•
•
Daily
Weekly
Monthly
Quarterly
Fiscal Year (Budget)
Strategic (Long-Range)
Other Plans
• Special Projects or Events
• Emergency Operational Plans
• Staffing Plans
Ready . . . Aim . . . Fire!
Planning vs. Reacting
Who controls your life?
ALLOCATES RESOURCES
Match Resources to the Job
Equipment
People
Materials & Supplies
MAKES DECISIONS
1. Gather info
2. Confer with your team(s)
3. Decide
4. Inform
5. Implement
5a. Adjust???
DECISION-MAKING
Consider . . .
• What is the parameter of the decision?
• Who has the authority to decide?
• Who is impacted by the decision?
• When does the decision need to be made?
• How should the decision be made?
MAKING DECISIONS:
Organizational Paradigms
DECISION MAKING STYLES
•
•
•
•
•
Make decision alone – tell others
Ask for input – then decide
Ask for recommendation – then decide
Discuss – get consensus
Delegate completely
The Indecisive Boss
•
•
•
•
•
•
Recommend
Allow time to ponder
Follow-up (nag)
What's your tolerance for risk?
Permission vs. forgiveness
No decision is a decision
PROVIDES DIRECTION
•
•
•
•
Set Goals
Make Your Plan
Work Your Plan
COMMUNICATE!!!!!!!!!! (15 ways into
Sunday)
– Who, What, When, Where, WHY, How
• Debrief – Solicit Feedback
• Follow-up
SOLVES PROBLEMS
SITUATION
• What's the problem?
• What's the environment?
TARGET
• What are we trying to accomplish?
• What's the goal?
PROPOSAL
• What are the alternatives?
• What's the best solution?
Be Creative
The significant problems we
face today cannot be
solved at the same level of
thinking we were at when
we created them.
Albert Einstein
MEASURE RESULTS
•
•
•
•
How well are you doing?
How do you know?
Not just for "bean counters"
Perception IS reality
TELL YOUR STORY!!!
Report Results
• To Boss
• To Team
• To World
TELL YOUR STORY!!!
Attitude
• Handling success
• Handling failure
• Handling the ridiculous
How can I do better?
•
•
•
•
•
Simplify
Rearrange
Combine
Eliminate
Get Help
CREATE A CONSPIRACY
Q&A
QUESTIONS OR ISSUES FOR
GROUP DISCUSSION?