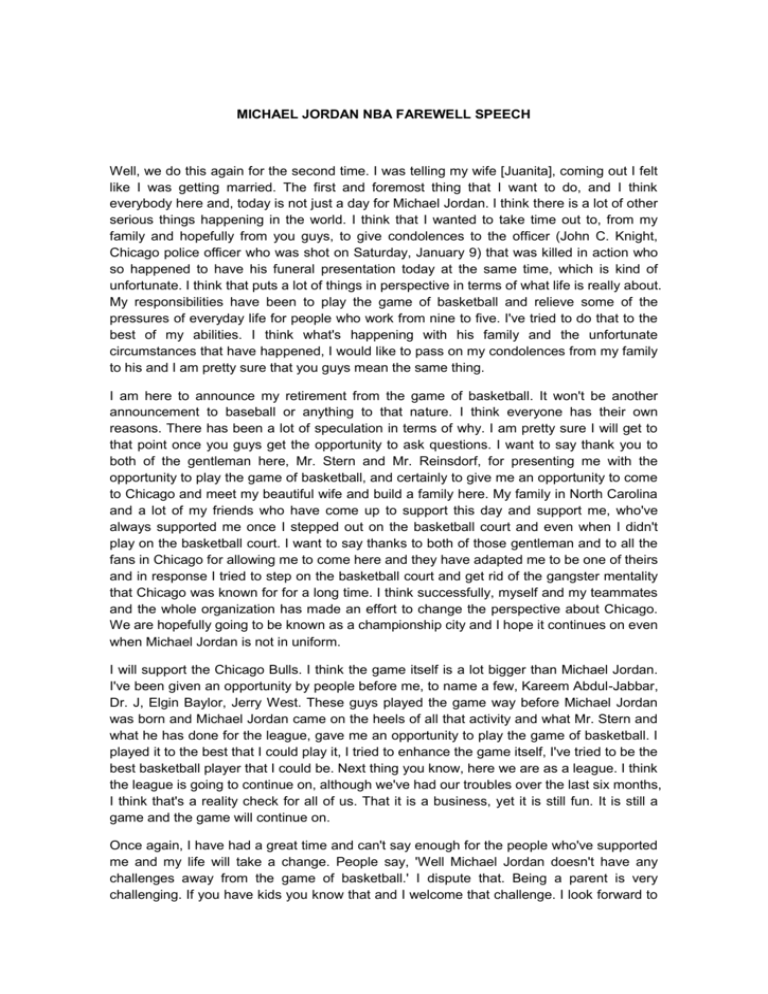 MICHAEL JORDAN NBA FAREWELL SPEECH
Well, we do this again for the second time. I was telling my wife [Juanita], coming out I felt
like I was getting married. The first and foremost thing that I want to do, and I think
everybody here and, today is not just a day for Michael Jordan. I think there is a lot of other
serious things happening in the world. I think that I wanted to take time out to, from my
family and hopefully from you guys, to give condolences to the officer (John C. Knight,
Chicago police officer who was shot on Saturday, January 9) that was killed in action who
so happened to have his funeral presentation today at the same time, which is kind of
unfortunate. I think that puts a lot of things in perspective in terms of what life is really about.
My responsibilities have been to play the game of basketball and relieve some of the
pressures of everyday life for people who work from nine to five. I've tried to do that to the
best of my abilities. I think what's happening with his family and the unfortunate
circumstances that have happened, I would like to pass on my condolences from my family
to his and I am pretty sure that you guys mean the same thing.
I am here to announce my retirement from the game of basketball. It won't be another
announcement to baseball or anything to that nature. I think everyone has their own
reasons. There has been a lot of speculation in terms of why. I am pretty sure I will get to
that point once you guys get the opportunity to ask questions. I want to say thank you to
both of the gentleman here, Mr. Stern and Mr. Reinsdorf, for presenting me with the
opportunity to play the game of basketball, and certainly to give me an opportunity to come
to Chicago and meet my beautiful wife and build a family here. My family in North Carolina
and a lot of my friends who have come up to support this day and support me, who've
always supported me once I stepped out on the basketball court and even when I didn't
play on the basketball court. I want to say thanks to both of those gentleman and to all the
fans in Chicago for allowing me to come here and they have adapted me to be one of theirs
and in response I tried to step on the basketball court and get rid of the gangster mentality
that Chicago was known for for a long time. I think successfully, myself and my teammates
and the whole organization has made an effort to change the perspective about Chicago.
We are hopefully going to be known as a championship city and I hope it continues on even
when Michael Jordan is not in uniform.
I will support the Chicago Bulls. I think the game itself is a lot bigger than Michael Jordan.
I've been given an opportunity by people before me, to name a few, Kareem Abdul-Jabbar,
Dr. J, Elgin Baylor, Jerry West. These guys played the game way before Michael Jordan
was born and Michael Jordan came on the heels of all that activity and what Mr. Stern and
what he has done for the league, gave me an opportunity to play the game of basketball. I
played it to the best that I could play it, I tried to enhance the game itself, I've tried to be the
best basketball player that I could be. Next thing you know, here we are as a league. I think
the league is going to continue on, although we've had our troubles over the last six months,
I think that's a reality check for all of us. That it is a business, yet it is still fun. It is still a
game and the game will continue on.
Once again, I have had a great time and can't say enough for the people who've supported
me and my life will take a change. People say, 'Well Michael Jordan doesn't have any
challenges away from the game of basketball.' I dispute that. Being a parent is very
challenging. If you have kids you know that and I welcome that challenge. I look forward to
it. I will live vicariously through my kids if they play the game of basketball or if they don't. I
will support that and my wife and I will do the same. We will do what we can as parents to
make sure that happens and that's the challenge that I have in front of me. I look forward to
that.
Unfortunately, my mother and my family, my brothers and sisters could not be here, but as
you see me you see them -- my father, my mother and certainly my brothers and sisters.
They are here through me and they want to, along with myself, want to say thank you for
taking me in and showing me the respect and certainly the gratitude that you've shown me
over the years that I've been here. I will be in Chicago for my career and hopefully for the
rest of my life -- my wife won't allow me to move nowhere else. So I will be in Chicago and I
will support Chicago teams.
That's all I really, truly had to say. I thought about saying just two words, 'I'm gone', but I
figured I owe the fans and certainly the media a little bit more than that. So that's one of my
reasons for being here.
I guess Jerry wants to speak first before David and I pass it over to Jerry.