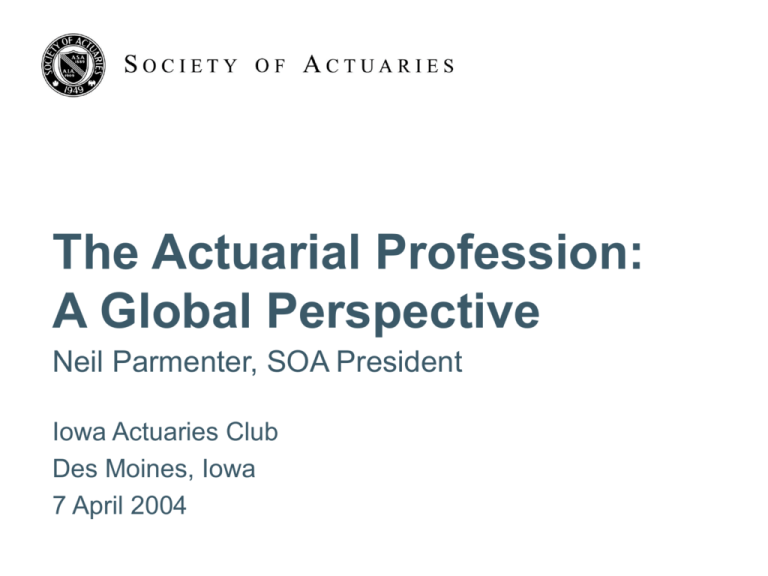 The Actuarial Profession:
A Global Perspective
Neil Parmenter, SOA President
Iowa Actuaries Club
Des Moines, Iowa
7 April 2004
Canada and USA




Society of Actuaries
Casualty Actuarial Society
American Society of Pension Actuaries
Conference of Consulting Actuaries
 American Academy of Actuaries
 Canadian Institute of Actuaries
 Joint Board (grants EA designation)
Number of SOA Members
12,000
10,000
8,000
ASA
6,000
FSA
4,000
2,000
0
1991 1992 1993 1994 1995 1996 1997 1998 1999 2000 2001 2002 2003
Source: Society of Actuaries
Number of Active SOA Candidates
50,000
45,947
42,707
45,000
38,923
40,000
36,184
33,260 32,493
31,896 30,669 31,743
35,000
30,000
23,014 24,097
25,000
25,630
20,313
20,000
15,000
10,000
5,000
0
1991
1992
1993
1994
1995
1996
1997
1998
1999 2000 * 2001
2002
2003
Source: SOA CSGI Department Note: * Exam system converted in 2000 . Active Candidates are those who have taken exams
with in the last two years. 2003 data contains November 2003 estimates as final numbers were not available at the press time.
Course 1 Candidates
12,000
11,045
10,669
10,000
9,567
9,600
7,993
8,000
6,963
7,022
7,605
6,287 6,251 6,241
5,923
6,000
5,193
4,000
2,000
Source: SOA CSGI Department
Note: Course 1 is equivalent to only course 100 prior to year 2000
20
03
20
02
20
01
20
00
19
99
19
98
19
97
19
96
19
95
19
94
19
93
19
92
19
91
0
Course 1 Candidates
Nov 2003
May 2000
International
22.8%
International
10%
US & Canada
90%
Total = 2,674 Students
US & Canada
77.2%
Total = 5,647 Students
SOA Membership by Region
14,000
12,000
10,000
8,000
6,000
13,005
4,000
2,951
2,000
3109
0
USA
Canada
Source: SOA Membership Database
Source: SOA Membership Database
887
826
423
131
Asia Pacific
Europe
Africa/Middle
East
124
415
105
Latin America
105
SOA Key Projects
Education Redesign
 Process
• Summer 2002 Report to the Membership
• Working and Advisory Group Discussions
(September—June 2003) Involved over 100
member volunteers from all disciplines, employer
types & practice areas
• BOG Discussion and Approval (June 2003)
• Summer 2003 Report to the Membership
• Member and Candidate Responses to Summer
2003 Report Education objectives
Education Redesign – Why
Change So Soon?
 Several flaws in 2000 system identified
by BOG.
 SOA market and member research
indicated changes needed, particularly
regarding relevance.
 Changes are not as big as may be
assumed.
Key Changes
 Preliminary exams more efficient, more relevant.
Emphasis on core actuarial topics and on new
reference material
 Course 5 and parts of Courses 6 and 7 replaced by
more efficient and relevant ASA Course and FSA
modules
 Nation and practice specific material reintroduced to
FSA Courses
 Overview provided on next slide but visit the
Education and Jobs page of www.soa.org for full
details or contact eq2005@soa.org with your
questions.
Education Redesign At a Glance
 Preliminary Education (PE)
Prerequisites—5 topics
Validation by Educational Experience—3 courses
Examination—4 exams
 Fundamentals of Actuarial Practice
Interactive Modules—8 modules
Exercises—1-6 per module
Examinations—2 exams
APC to continue
 FSA Education
Interactive Modules—4 or more
Examinations—2 per each of 5 practice areas
Capstone seminar
FAC
PE Prerequisites, (Not Directly
Validated)





Calculus (tested indirectly in exams)
Linear Algebra
Introductory Accounting
Elements of Business Law
Mathematical Statistics (tested indirectly
in exams, with a few topics directly
tested)
Validation by Educational
Experience (VEE)
 Three subjects
• Economics (micro and macro)
• Corporate Finance (intermediate level)
• Applied Statistical Methods
 Subjects which are best learned in a
classroom or are somewhat peripheral to
actuarial science
 Course minimum B- or equivalent alternatives
VEE
 CAS will be offering optional exams for
candidates who do not have the necessary
college credit. The SOA will accept a passing
score as a means of satisfying VEE.
 CLEP and AP exam credit for economics will
be accepted.
 Other alternatives such as distance learning
courses will be identified later this year.
 Application procedures will also be published
later this year.
VEE
 If you have already passed Course 2, you will
satisfy VEE for economics and corporate
finance as well as get credit for the new exam
MF.
 If you have already passed Course 4, you will
satisfy VEE for applied statistics as well as
get credit for the new exam C.
 Thus, candidates with credit for Courses 2
and 4 need do nothing further for this new
requirement.
PE Examinations
 Exam P Probability
• Probability and supporting calculus
• 3-hour examination
 Exam MF Mathematics of Finance
• Theory of interest and introduction to
financial economics
• 2-hour examination
PE Examinations
 Exam M Actuarial Models
• Similar to current Course 3
• Validated by a 4-hour examination
 Exam C Construction and Evaluation of
Risk Models
• Similar to current Course 4
• Validated by a 4-hour examination
Recent Board Actions—E&E
 Allowed for flexibility in the route to ASA
 Approved plan to expand opportunities for
Fellows of other organizations to become
FSAs
 Created Enterprise Risk Management Track
for Course 8; to be offered as one of two
options within the Course 8 Finance exam
starting in November 2004.
Recent Board Actions—Other
 Publications analysis completed
 Governance audit recommendations
approved
 Strategic plan updated based on results of
member and market research
 Outcome measures discussed
 Risk Management and Taxation Sections
approved
Ongoing Board Activity
 Discussions on international strategy
 Implementation of governance audit
recommendations
 Evolution of strategic plan, including
measurements of success
 Identification and discussion of mega issues
(i.e. barriers to success for the SOA and the
professions
Emerging Issues for the Entire
Profession




Professional Liability
Crisis of Confidence (financial professionals)
Volatile Environment/Markets
"Business Savvy" of the Profession
• Communication
• Attitude toward change
• Relevance
Emerging Issues—Profession
wide
Professional Liability
• Rise in malpractice claims against actuaries
and the very litigious environment has the
potential to create real problems for actuarial
professionals.
• Joint U.S. profession-wide TF is addressing
this issue.
Emerging Issues – Profession
wide
Crisis of Confidence (in financial
professionals)
• Insurance company share price declines
• Pensions underfunding due to share price
declines
• Peer review and independence of the
actuary providing opinions is a major topic
everywhere.
• Are other professions better equipped?
More or Less Competition from
Related Professions?
35
40
35
30
Percent of
respondents
16
20
10
0
7
0.4
1
Much less
competition
5
2
2
3
4
5
6
7
Much more
competition
Credentials Members Pursue
Today
40
30
Percent of
those
seeking
additional
credentials
20
23
10
14
0
CFA
MBA
5
CFP
4
3
Fin
Eng
FRM
Emerging Issues – Profession
wide
Actuaries in Today's Volatile Environment
 Understanding the impact of the risk of:
• Terrorism
• Stock Market Declines
• Low Interest Rates
• SARS-like outbreaks ....etc.
 Are actuaries equipped to analyze and communicate
the impact of these risks?
Skills Findings:
Current Performance of Actuaries
Employers' rating of Actuaries Skills
 Ethical
Highest
Performance
Rating
 Quantitative (Modeling)
 Solving Complex Problems
 Financial Assessment and Reporting
 Bold, Takes Informed Risks
Lowest
Performance
Rating
 Business Communications Skills
 Proactive
 Can Focus on Big Picture
 Business Acumen
Emerging Issues – Profession
wide
Communication
• Market has identified need for improved
communication from actuaries
• Effectiveness—of our entire profession—is
dependent on our addressing this issue
• We must, as a profession, communicate
our knowledge clearly in a way that our customers
(employers, govt., etc.) understand.
Emerging Issues – Profession
wide
Attitude toward change
• Finding the right blend between change
and the status quo. Some don't want
changes because "we do it best" and
others want to encourage change because
"what we are doing today can be
improved."
• Apathy amongst actuaries who are
personally comfortable.
Traditional Employer Ratings of Performance:
Actuaries vs. Competing Professionals
0
Proactive
Bold, takes informed risks
Business communication skills
Can focus on the big picture
Team player
Business acumen
Knowledge of financial institutions, markets
Innovative thinker
Leadership
Advisor
Reliably gets the right solution
Intellectual agility
Ethical
Risk management skills (Global or Enterprise)
Financial assessment and reporting
Industry knowledge
Solves complex problems
Quantitative modeling skills
20
57
40
60
80
100
49
72
60
56
66
60
70
68
60
73
65
59
62
65
67
65
66
62
61
74
72
75
70
88
81
63
53
77
63
75
61
81
65
63
84
Actuaries
Competing
professionals
Emerging Issues—Profession
wide
Relevance
• Our traditional areas of expertise are
diminishing in importance.
• We have not expanded sufficiently into new
areas and new applications.
• Unless we adapt rapidly and effectively, our
relevance is gravely threatened.
Employers Who Consider an SOA
Credential When Hiring
100
75
Percent of
employers 50
95
86
87
25
23
0
Insurance
Reinsurance
Consulting
Broader
Financial
Services
Key Decisions made by Board

Do we enter Broader Financial Services? YES

Should we expand in traditional markets? YES

How should the current value of the actuarial skill set
and the actuary be enhanced?
• Image
• Skills

BOTH
What, if any, other credential and/or education
should SOA seek to offer? To Be Explored
Overall Message—Entire
Profession
 Profession needs to be vigilant about both
threats and opportunities.
 The volatile world needs the skills that we
provide. And we have strengths to leverage.
 We must communicate well or we won't
influence.
 We must adapt to remain relevant!
Issues in our Environments
 We operate as a profession in several
different environments today:
 Pension Consulting
 Health Insurance and Consulting
 Life Insurance and Reinsurance
 Financial and Risk Management
Emerging Issues—Environmental
Pensions
 The future of the DB plan.
 Aging populations and their effect on pension
plans and their sponsors.
 Continued uncertainty from regulators (US)
about funding of DB plans.
Issues for the Actuarial Profession
—Pension Practice
 Financial economics impact on actuarial
practice—growing debate
 Shrinking opportunities for pension actuaries
in light of decline of DB plan
Emerging Issues—Environmental
Health
 Healthcare affordability
• implications on related issues such as healthcare
reform, the number of uninsured, product
development innovations, etc.
 The new Medicare legislation
• including coverage for prescription drugs for
seniors, changes in provider payment rates,
implications for medical savings accounts, etc.
 Healthcare variability—extent of and reasons
for differences in costs, treatments, etc.
Issues for the Actuarial Profession
—Health Practice
 Increasing actuarial input into the public knowledge
base on health care issues
• additionally promote actuarial involvement in public policy
debates.
 In U.S., SOA and AAA are working jointly with other
groups that have influence on Capitol Hill.
 In Canada, CIA is lobbying actively to get a
government health actuary
Emerging Issues—Environmental
Life Insurance
 Attractiveness of some major life insurance
product types.
 Threat to tax advantage of life/annuity products.
• Potential elimination of capital gains tax on competing asset
accumulation products.
 Variations in accounting, tax and regulatory
requirements among jurisdictions.
• Ensuing impediments to doing business internationally.
 Recovering from impact of low interest rates and
equity market decline.
Issues for the Actuarial Profession
– Life Practice
 Taking a leadership role in Risk Management.
• So that low interest rates and market crashes don't have
such a severe impact.
• Life companies produce optimum returns while limiting risk
to reasonable levels.
 Maintaining expertise in modeling and data that are
relevant to insurance products.
 Continuing to be excellent stewards of the liability
side of the balance sheet.
Issues for the Profession
Risk Management
• Growing separate profession (GARP & PRMIA).
• SOA and CAS are working to develop skills.
 Joint Seminar in July 2003, again in April 2004.
 Working on Exam Track for ERM, available fall 2004.
• SOA has a TF with 9 subgroups working on many
topics—RMTF.
• SOA has a NEW Risk Management Section.
 Open to all members and non-members.
 Working on overall SOA strategy for RM.
Overall Message—Areas of
Practice
 Pension—We must educate members on the
evolution of DB funding and financial
economics
 Health—The industry is in crisis and actuaries
can help shape the solution
 Life—The role of the actuary needs to evolve
and develop…thought leadership is needed.
 Risk Management—"The world is our oyster."
Governance Audit
 Why? The SOA has not been responding as
effectively as needed to issues of concern to
the membership.
 Who? Conducted by an outside consulting
firm who interviewed a cross-section of
stakeholders by phone or in focus groups.
 What? Three overarching issues strategic
concern emerged (see next slide).
Governance Audit (con't.)
 The Board of Governors is not focused strategically
on responding appropriately to the changing
environment facing the profession.
 There is inefficient use of both volunteer and staff
resources in an overly-complex organization, and this
situation is aggravated by a culture that rewards
activity over outcome.
 The focus of the jobs and the amount of time required
to undertake the senior volunteer positions in the
SOA hierarchy are too onerous to attract leaders who
are currently engaged in the industry.
2003 Organizational Results
 Presented preliminary results to the Board at
the January 2004 meeting
 Financials included after audit is conducted
 SOA in an extremely strong position from a
program standpoint and progressing well
toward strategic initiatives
 Plan to publish final results in April issue of
The Actuary
Additional Information
 SOA Website: www.soa.org
 Contact me at: Nparmenter@soa.org
 SOA Headquarters: 847.706.3500
Thank you!