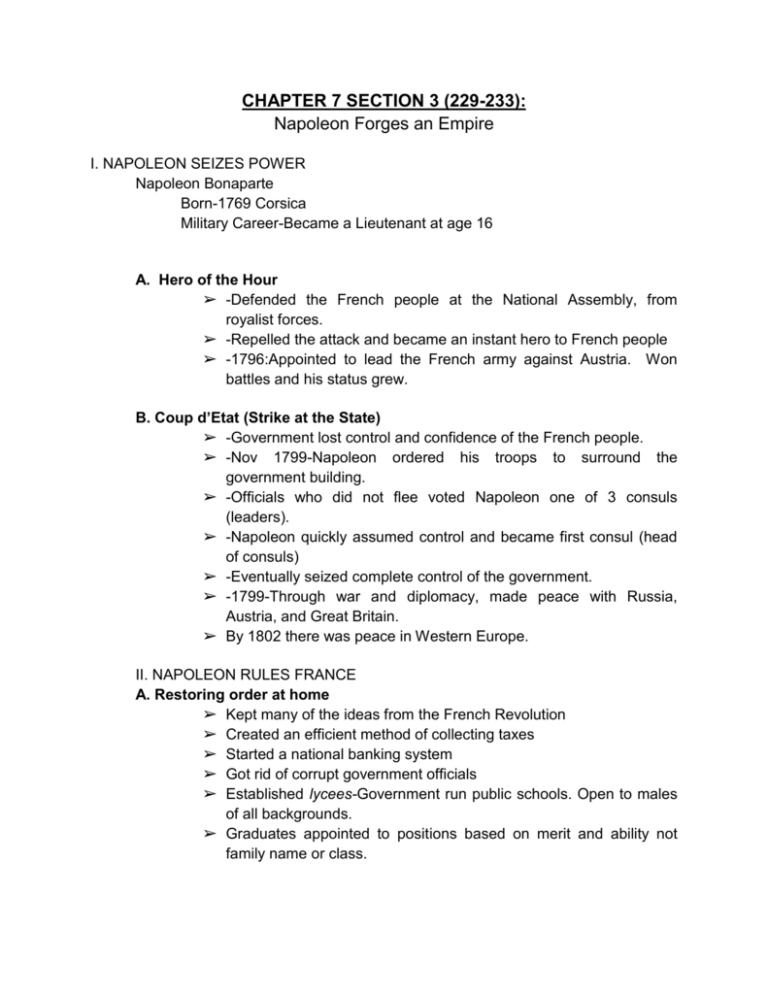 CHAPTER 7 SECTION 3 (229-233):
Napoleon Forges an Empire
I. NAPOLEON SEIZES POWER
Napoleon Bonaparte
Born-1769 Corsica
Military Career-Became a Lieutenant at age 16
A. Hero of the Hour
➢ -Defended the French people at the National Assembly, from
royalist forces.
➢ -Repelled the attack and became an instant hero to French people
➢ -1796:Appointed to lead the French army against Austria. Won
battles and his status grew.
B. Coup d'Etat (Strike at the State)
➢ -Government lost control and confidence of the French people.
➢ -Nov 1799-Napoleon ordered his troops to surround the
government building.
➢ -Officials who did not flee voted Napoleon one of 3 consuls
(leaders).
➢ -Napoleon quickly assumed control and became first consul (head
of consuls)
➢ -Eventually seized complete control of the government.
➢ -1799-Through war and diplomacy, made peace with Russia,
Austria, and Great Britain.
➢ By 1802 there was peace in Western Europe.
II. NAPOLEON RULES FRANCE
A. Restoring order at home
➢ Kept many of the ideas from the French Revolution
➢ Created an efficient method of collecting taxes
➢ Started a national banking system
➢ Got rid of corrupt government officials
➢ Established lycees-Government run public schools. Open to males
of all backgrounds.
➢ Graduates appointed to positions based on merit and ability not
family name or class.
➢ Signed an agreement with the Catholic Church; Recognized the
influence of the church in France-Church would stay out of national
political affairs.
Napoleonic code
➢ System of uniform laws enforced justly all over France. Eliminated
the Estate system. Brought protection under the law to all people in
France.
➢ Took away individual rights-freedom speech, freedom of press.
➢ Restored slavery in France's colonies in the Caribbean.
B. Napoleon Crowned Emperor
➢ 1804 Napoleon crowns himself emperor of France.
➢ Pope presented him with the crown and he put the crown on
himself.
➢ Napoleon now had all the power.
III. NAPOLEON CREATES AN EMPIRE
-Napoleon wanted to control all of Europe and the Americas.
A. Loss of American Colonies
➢ Citizens of Saint Domingue (French colony) wanted same rights as
French citizens.
➢ When denied the rights they revolted, led by Toussaint L'Ouverture
➢ Rebels defeated the French army
➢ Loss led to the sale of French territories to the U.S.(Louisiana
purchase)
B. Conquering Europe
➢ After defeat in St. Domingue he turned his attention to Europe.
➢ Began taking land in Europe
➢ Britain, Russia, and Austria formed an alliance against France.