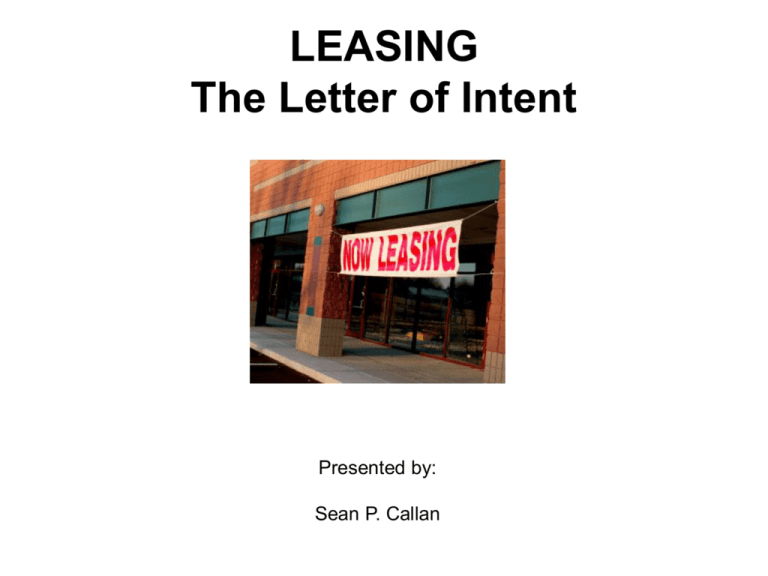 LEASING
The Letter of Intent
Presented by:
Sean P. Callan
The Letter of Intent
• Non-binding outline of fundamental
economic terms of lease
• Varying degrees of detail for varying
business reasons
• Important to us because they are the basis
for drafting the lease.
The Letter of Intent
• Rent, term, space, renewals …..
• Some items not discussed – may be
intentional or unintentional
• Thoughts ….. Not directions but things to
think about when drafting LOI
AGENDA
1.
Continuous Use/Operating Covenant
2.
Passthroughs
3.
Early Termination
4.
Use, Exclusives and Radius
5.
Assignment and Subletting
6.
Construction and Commencement
7.
Co-tenancy
Continuous Use/Operating
Covenant
How critical is it?
Retail
Office
Industrial
Continuous Use/Operating
Covenant
If not mentioned in the LOI, is the Tenant
required to continuously operate?
Landlord – of course – part of standard
lease form!!!
Tenant – of course not – its not in the LOI!!!
Continuous Use/Operating
Covenant
• The "one day" compromise
• Exceptions – legal holidays, remodeling,
closures due to casualty/condemnation
and inventory
• Remedies
• With covenant – standard lease remedies
• With no covenant – must be negotiated –
recapture in shortest time possible
• On recapture – tenant may demand unamortized
improvements and expenses
PASSTHROUGHS
CAM, real estate taxes and insurance
and sometimes utilities
PASSTHROUGHS
Common Issues
• GLA/GLOA
• Audit
• Cap
– Cumulative – add 5% every year
– Non-cumulative – 5% over actual
•
•
•
•
Carve-outs
Anchors – cannot be included in denominator
Outlots
Base year/gross up
Early Termination
When the lease ends prior to natural
expiration of term …
Huge issue for Landlord
- changes pro-forma cash flow
Huge issue for Landlord lenders
- lenders limit early termination rights
Early Termination
Typical early termination scenarios
1. Gross sales kickout (repay unamortized
TI)
2. Negotiated buy-out
3. No operating covenant
4. Landlord breach of special covenant
1. Exclusive
2. Co-tenancy
USE - Permitted
Landlord
• Specific
• Narrow – at least
restrict to national
operations
• Trade name
• No change without
consent
Tenant
• Broad
• Any lawful use
• No specific trade
name
• Free to change use or
trade name
• Free right to change
within corp. umbrella
USE – Exclusives
Landlord Concerns
1. Narrowly defined – more focused than
permitted use
2. Restricted to tenant's core business
3. Permit incidental sale of restricted items
4. Geographically limited – to building or
center at most; bookstores/groceries
USE - Exclusives
Tenant Concerns
1. Wants broadest definition possible,
including ancillary goods
2. Largest geographic reach possible – 2
miles?
3. Real remedy for violation
USE - Exclusives
Carve-outs
1. Anchors
2. Existing tenants – but may bind LL where
LL has consent rights over change in use
3. Incidental uses
4. Anticipated tenants – problematic, and
can be remedied with later waiver
USE – Exclusives
Termination of Right
Protection intended for tenant's core
business; need for protection may go
away
•
•
•
•
Assignment/Sublease
Change in use
Failure to continuously operate
Default
USE – Exclusives
Remedies
Cure period
After some period of time, substitute rent – 5%
gross; ½ minimum rent
After further period - termination
USE – Exclusives
Landlord Concerns – Remedies
• Longest cure period possible
• Longest alternative rent period possible
• tie remedies to demonstrated harm; i.e.,
decrease in sales
• No remedy if another tenant violates its
lease
• Restraint of trade/antitrust – ask for tenant
indemnification
USE - Radius
Landlord protection
Flip side of exclusive
Prohibits tenant from competing with
landlord's center
5 miles – negotiate down – have seen 10
miles
Remedy – add in Gross Sales
Assignment and Subletting
Assignment of Lease
An assignment (i.e., the transfer of rights or
property) in which a lessee transfers the
entire unexpired remainder of the lease
term
or
All of the space for the rest of the term
Assignment and Subletting
Sublease
Where a lessee transfers a part of its premises for
the whole remaining term, or the whole premises
for a part of the remaining term
or
Some of the space for the whole term, or all of the
space for less than term
Assignment and Subletting
• Assignment – new tenant primarily liable
to LL; old tenant a guarantor
• Sublease – LL has no relationship to
subtenant – original tenant wholly liable to
LL
• Each are permitted unless lease says
otherwise
• "not to be unreasonable withheld" vs. LL's
"sole discretion"
Assignment and Subletting
Common scenarios
• In connection with sale or merger
– Involves x number of stores
– X$ net worth, or exceeds T's net worth at time
of lease and time of assignment
Construction and
Commencement
Work Letter
• Allocates responsibility for build-out – should be as clear
as possible; should be reviewed/approved by
construction manager
– Pad delivery – outlots – Landlord provides buildable pad and
utility stubs to lease line of pad
– Cold dark shell – Landlord provides structure, utility stubs and
pad; all other work is tenant's including strorefront and slab
– White box – space is drywall taped, sanded and ready to paint;
tenant finish
– Turnkey – Landlord does all work
Construction and
Commencement
Tenant Finish
Installed in a good and workmanlike manner
In accordance with applicable law
Design should reflect tenant's prototypical store
In accordance with plans and specs reviewed and approved by
Landlord
Design, plans and specs need to be finalized as soon as possible in the
build-out process – Critical point! Cost & timing implications
Construction and
Commencement
Commencement
• Tied to delivery – give tenant time to
complete finish
•
•
•
•
Pad delivery – 180 – 240 days
Cold dark shell – 90 – 150 days
White Box – 30 – 60 days
Turnkey – no more than 30 days
Construction and
Commencement
Commencement – When does the clock
start?
• Landlord plan approval
• Tenant failure to draw good plans
–
–
–
–
Do not comply with law
Not proto-typical store/office
Special needs
Do not comply with preliminary plans
• Permits
– Tenant should apply by date certain and diligently pursue
– Same with liquor and business licenses
Construction and
Commencement
Commencement – late delivery
– Potentially huge issue for tenant
– Penalties
– Termination if not delivered by outside date
– Force majeure
– Tenant delays
Co-tenancy
Tenant's obligations under lease are conditioned
upon the continued presence and operation of
another entity at a certain location
• Retail – other tenants in shopping center
– Named tenants – reasonable replacements
– Percentage of center – what about anchors and
premises?
– Shadow anchors
• Office/industrial – tied to presence of
client or customer
Co-tenancy
Remedies for violation
– Cure period
– Alternative rent for some period of time
– Termination
– Repayment of out-of-pockets?