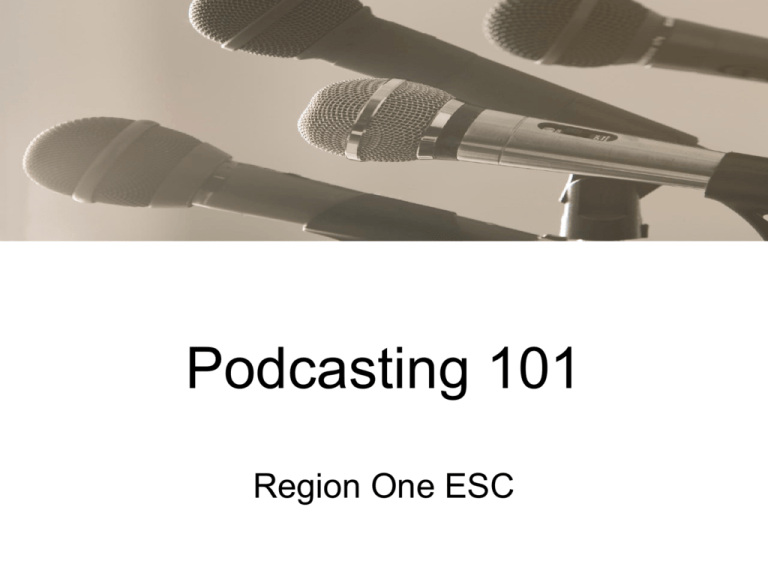 Podcasting 101
Region One ESC
Agenda
I.
II.
III.
IV.
Podcasting Basics
Subscribe to podcasts
Audacity basics
Create audio podcast
with Audacity
What is podcasting?
"Podcast" is derived from the terms "iPod" and
"broadcast." (You don't need an iPod).
Podcasts are media files (usually mp3 or video
files) that are published to web sites, and then
syndicated. Users subscribe to the feeds and the
podcasts are downloaded automatically. Users
may also download some podcasts manually.
Example:
http://www.npr.org/rss/podcast/podcast_detail.php?siteId=89697159
Terminology
• RSS – Really Simple Syndication - is a family of Web
feed formats used to publish frequently updated works
such as blog entries, news headlines, and podcasts in a
standardized format.
• Aggregator – "In computing, a feed aggregator, also
known as a feed reader, news reader or simply
aggregator, is client software or a Web application which
aggregates syndicated web content such as news
headlines, blogs, podcasts, and vlogs in a single location
for easy viewing."
(from http://en.wikipedia.org/wiki/RSS_aggregator)
Terminology
A podcast can be downloaded and
delivered online via RSS feed (webfeed)
subscriptions.
Podcatchers are special RSS aggregators
that transfer the files to your computer
iTunes and Juice are aggregators or
podcatchers (podcast receivers).
History of Podcasting
Rooted in web radio
2003
Adam Curry, Tristan Louis and Dave Winer collaborated in
using RSS technology and media content for podcast
prototypes
Stephen Downes (EdRadio) used RSS to demonstrate
audio file aggregation
Christopher Lydon (NPR) started linking MP3 files on his
blog
2005
Apple Computers, Inc. integrated podcasts into iTunes
Many podcast aggregator sites and directories appear
From: http://www.podcastblaster.com/history-of-podcasting.html
Subscribing to Podcasts
Subscribing to Podcasts
Download podcast aggregators or
podcast receivers (iTunes, Juice) to
your computer
Search for podcasts in the podcatcher
directory or in websites with icons
indicating podcasts are available
Copy and post URL or RSS feed into
aggregator to subscribe to and
download podcasts
Subscribing to Podcasts
Once you subscribe to podcasts, the
feeds are downloaded to your
computer
After the podcasts are downloaded,
you can play them on any media
player….
…or transfer the podcast to an mp3
player, such as an iPod, Zune or
other mp3 compatible device.
Creating Audio Podcasts
Creating Audio Podcasts
Plan the podcast
"(script, content, multimedia
graphics, rubric)
Export to
mp3 compatible
player
Import to
podcatcher
(iTunes, Juice)
Record "produce"
with Audacity
Syndicate on the
web
Credits
Links:
iTunes: http://www.apple/com/itunes
Juice: http://juicereceiver.sourceforge.net/
Audacity: http://audacity.sourceforge.net/
Wiki: http://esc1library.pbwiki.com
ccmixter (Creative Commons Music): ccmixter.org
Contact: Maria Elena Ovalle
movalle@esc1.net
(956) 984-6055
Adapted from: Connie Swiderski, ESC XI and Sonia Garza, Edcouch-Elsa ISD.