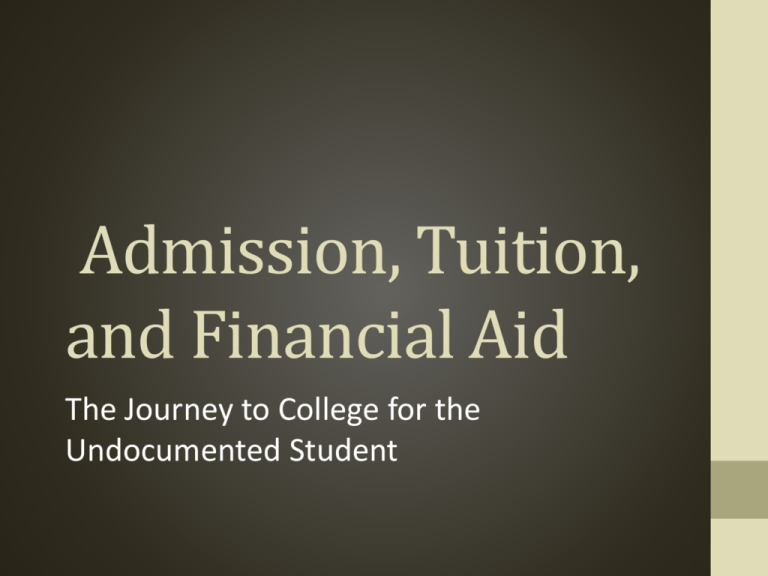 Admission, Tuition,
and Financial Aid
The Journey to College for the
Undocumented Student
Key Questions Asked by
Undocumented Students
1.Will colleges admit me?
2.How much will my tuition be?
3.Where is there financial help
for me to go to college?
Video
http://www.youtube.com/watch?v=1htaw6aYdnA
Admission to College
• There is no federal or state law that prohibits
the admission of undocumented immigrants to
U.S. colleges, public or private.
• Federal and/or state laws do not require
students to prove citizenship in order to enter
U.S. institutions of higher education.
• Institutional policies on admitting
undocumented students vary.
Researching Colleges
• How does the school
work with
undocumented
students?
• What is the school's
success rate with
undocumented
students?
• Who can I talk to for
emotion and
financial support?
Tuition in Washington State
Washington State House
Bill 1079 allows
undocumented students
to pay in-state tuition at
state colleges and
universities.
You must have:
• Been a resident of WA
for at least 3 years
• Attained high school
diploma or GED
• Continuously resided
in Washington since
graduating from high
School
• Signed an affidavit .
Tuition Process for
Undocumented Students
Once you are
identified as
in-state tuition
Sign and submit eligible, the
the affidavit with affidavit is stored
your application or destroyed
Research colleges
and complete
application paper
work
Evaluation of Your
Application:
Colleges will evaluate your
application the same way as
non-1079 students!
Resident Status
Resident status
for in-state
college tuition
does not change
your citizenship
or immigration
status.
Financial Aid Realities
Federal Support
• Undocumented
students cannot
legally receive any
federally funded
student financial aid
including loans,
grants, scholarships
or work study money.
State Support
• Students in
Washington are not
eligible for state
financial aid.
Financial Aid Strategies
1. People and Organizations that can help
2. Earning College Credit in High School
3. Earning community college credit and uses
the Washington State Automatic transfer to
four-year colleges
4. Scholarships
5. Work
Strategy 1: People and
Organizations that can help
• High School Counselors
• Members of your
community
• Financial Aid Office at
the college
• Washington Dream Act
Coalition
http://www.wdac.info/
• Washington State
Educational Access
Coalition for HB 1079
Students
• LEAP – Latino/a
Educational
Achievement Project
http://www.leapwa.org/
Strategy 2: College Credit in
High School
• Career and Technical
Courses that allow
for dual high school
and college credit
• AP courses
Strategy 3: Community
Colleges
Washington
State's
Running Start
community and
technical college
system provides
educational course
work and degree
programs which
"transfer" to upperdivision institutions,
both public and
private.
Strategy 4 : Scholarships
• Make looking for
scholarships your
"job" while in high
school
• Finaid.wsu.edu/1079.
html provides
information about
financial aid for
undocumented
students
Start here scholarship
sites:
• theWashboarg.org
• Campanaquetzal.org
Strategy 5: Work
• It is very clear that
college students who
work often have
higher grades than
those who do not.
• Financial aid offices
have long lists of jobs
on campus and the
community that do
not require
citizenship proof.
What's the Message?
• You may have to be
more creative than
most students to find
the money for
college!
• "There is hope. It is
hard but other
undocumented
students have made
it to college and you
can too!