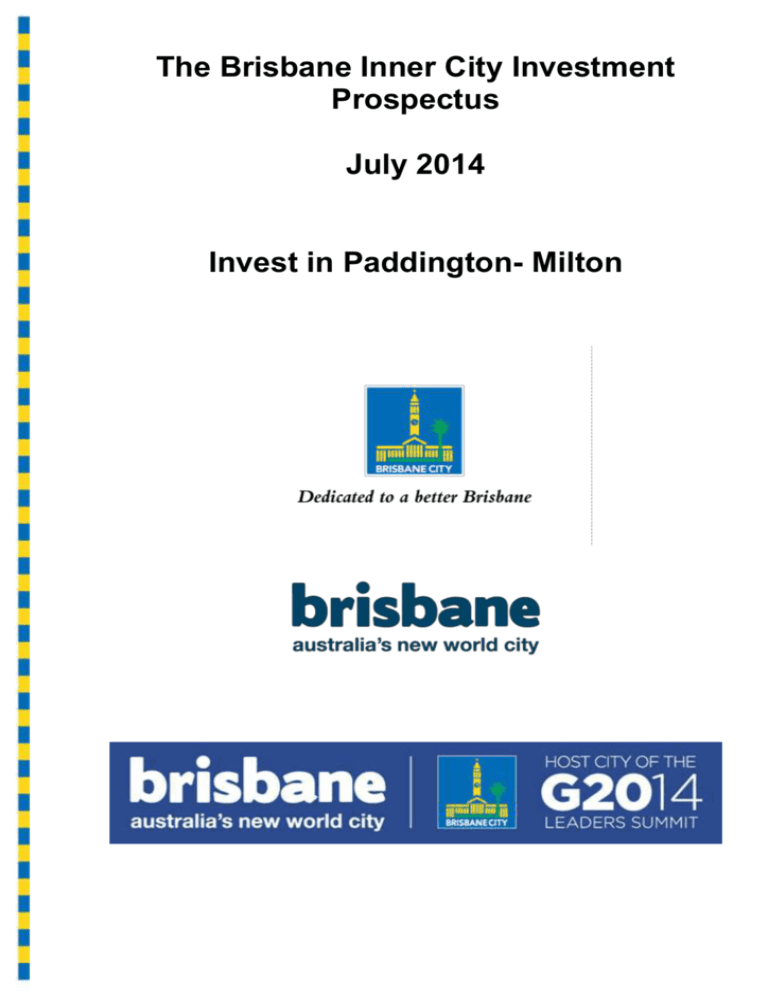 The Brisbane Inner City Investment
Prospectus
July 2014
Invest in Paddington- Milton
Welcome
Paddington-Milton statistical area level 2 (SA2) has been identified as a key investment location
within Brisbane Inner City. This supplement provides a snapshot of key economic and investment
indicators for Paddington-Milton and has been produced as part of the Brisbane Inner City
Investment Prospectus.
Paddington-Milton is located adjacent to the Brisbane Central Business District (CBD).
Paddington and Milton are significantly different locations. Paddington is known as a residential
area with strong retail and entertainment precincts. Milton is a higher-density, transit-oriented
area where people can live, work and play in close proximity to public transport and in a
pedestrian and cyclist-friendly environment.
Milton is home to prominent landmarks such as Suncorp Stadium and the XXXX (pronounced
fourex) Brewery. Suncorp Stadium is a state-of-the-art, world-class stadium that hosts many of
Brisbane's premier sporting and music events and has a seating capacity of 52,500. The stadium
is also home to the Lang Park Police Citizens Youth Club. The XXXX Brewery has been in
operation since 1878. The heritage significance of the brewery has been recognised and its
operations have been protected by the Queensland Government.
The former Milton Tennis Centre site is being rejuvenated to provide a 3.5 hectare inner-city
parkland named Frew Park. This parkland will provide significant open space and improved
amenity to the local area and is scheduled for completion in late 2014.
There are 2548 registered businesses in Paddington-Milton according to 2013 Australian Bureau
of Statistics (ABS) data.
The local population of Paddington-Milton can be characterised as well-educated, high-income
earners, mainly consisting of couple families with no children that reside in a variety of dwelling
types.
Future growth and development is evident, with a number of residential and non-residential
development and building approvals being granted for the area.
Location
Paddington-Milton is covered by three neighbourhood plans – Milton Station Neighbourhood
Plan, Milton Neighbourhood Plan and Latrobe and Given Terraces Neighbourhood Plan.
The Milton Station Neighbourhood Plan came into effect on 1 January 2011. The plan is now a
legal document and forms part of Brisbane City Plan 2014.
Neighbourhood plans can help facilitate economic prosperity, protect character development,
provide for open space, include standards for new development and reflect improved
infrastructure such as new transport routes. The Milton Station Neighbourhood Plan sets out how
land can be used and developed over time and seeks to:
• promote the integration of land use and transport
• facilitate increased housing and business opportunities
• provide new public space
• increase densities and building heights
• ensure a mix of land uses
• retain the open cafe nature of Park Road
• promote subtropical and sustainable design
• deliver streetscape improvements.
The following objectives underpin the Latrobe and Given Terraces Neighbourhood Plan:
• Respect and enhance the local 'timber and tin' hillside character.
• Ensure Latrobe and Given terraces will continue to perform a multi-purpose transport role.
• Ensure development does not increase the use of residential side streets for car parking and
minimise the intrusion of non-residential traffic into these streets.
The Milton Neighbourhood Plan outlines its key objectives as seeking to:
• ensure a high-standard, urban, mixed-use environment
• enable new developments to capitalise on the area's excellent locational benefits
• encourage development to have a focus on and use of the Brisbane River.
Paddington-Milton can be divided into a number of key precincts including Paddington shopping
and entertainment precinct, Rosalie Village precinct, Park Road cafe and restaurant precinct and
Milton commercial precinct.
The Paddington shopping and entertainment precinct has a distinct 'village feel' and is located
along Caxton Street, Given Terrace and Latrobe Terrace.
Park Road is Brisbane's original outdoor dining and cafe strip. The area is located in the heart of
Milton's mixed-use centre precinct.
The Milton commercial precinct is bounded by Milton Road, Coronation Drive and Cribb Street.
Future development in the precinct is expected to mostly accommodate office development that
is highly accessible to a range of public transport options, the CBD and other residential and
entertainment activities.
Population and growth projections
Paddington- Milton will see steady population growth over the next 25 years. The Population in
2011 was 10,663 people and is forecast to increase to 14,377 people by 2036 (see Figure 1).
The median age for residents of Paddington- Milton in 2012 was 31.7 years, significantly below
the Greater Brisbane (greater capital city statistical area) median age of 35.1 years. The age
profile of the area is illustrated in Figure 2.
The population of Paddington- Milton is characterised as mainly couple families with no children
(see Figure 3) and almost all reside in apartments. Almost 30% of the private dwellings recorded
on Census night 2011 were apartments, which was significantly higher than the 12% across
Greater Brisbane.
Residents of Paddington- Milton are well-educated, with 72% per cent of the population aged 15
years and over holding post-school qualifications, almost two-thirds of which hold a bachelor
degree or higher.
In the 2011 Census, 2338 residents (23.4%) of Paddington- Milton indicated they were born
overseas, which was very similar to the average across Greater Brisbane. Almost two-thirds of
those born overseas indicated they spoke English only, which was a much higher proportion than
across Greater Brisbane.
The residents of Paddington- Milton are employed across a wide variety of occupations. The topthree occupations identified in the 2011 Census were Professionals, Managers and Clerical and
administrative workers. The occupation profile of Paddington- Milton is illustrated in Figure 4.
Business information
In 2013, 2548 businesses were registered in Paddington- Milton. When classified by employment
size, seven businesses were large and 126 medium. In comparison to the average across
Greater Brisbane, the area has a higher concentration of medium businesses.
The business count for Paddington- Milton by turnover range notes that 17% of the businesses
have a turnover greater than $500,000 and less than $2 million, compared with 14% for Greater
Brisbane, and 11% of businesses have a turnover of $2 million or more, compared to almost 6%
for Greater Brisbane. The business counts for Paddington- Milton by employment size and
turnover range are illustrated below in Figure 5 and Figure 6.
The top-ten industries by business count for employing businesses in Paddington- Milton are
illustrated below (see Figure 7).
Employment forecasts
Employment in Paddington- Milton is forecast to reach 24,457 people by 2031, a growth of 6665
people (37.5%) from 2011.
The top-five employing industries in Paddington- Milton (see Figure 8) will contribute the majority
of employment growth for the area. Significant employment growth is also expected in the
Cultural and recreational and Personal services industries.
Availability of skilled workers is important for the area. Workers in Paddington- Milton commute
from various locations. The top-three locations that workers commute from are The Gap,
Toowong and Bardon. The journey to work profile for Paddington- Milton is illustrated in Figure 9.
Building and development activity
In the 12 months ending 31 March 2014, there were 394 dwelling units in new residential
buildings approved in Paddington-Milton, with a total value of $141.7 million.
The total value of non-residential buildings approved in the region in the 12 months ending 31
March 2014 was $13.8 million.
Gambaro Hotel on Caxton Street opened in early 2014 adding 63 hotel rooms to the market.
Paddington-Milton is far from seeing the end of a suburb renewal. A number of key projects have
been lined up for completion across 2015 and into the future.
Westmark Milton is a 20-storey luxury development by Walker Corporation due for completion in
2015, which will include 171 designer apartments. Siena is a boutique apartment project
containing 49 apartments over 10 levels. With an expected completion date in 2015, Siena had
already sold all apartments by settlement in mid-2014.
Other key developments in Milton include CDOP7 Milton and The Milton. CDOP7 Milton,
otherwise known as Coronation Drive Office Park 7, is a 12-storey commercial tower project by
AMP Capital due for completion in 2015. This project will provide 27,718 square metres of Agrade office space, eight ground-level retail tenancies and an urban common resulting in
30,885 square metres of net lettable area.
Construction commenced in 2013 on The Milton, a transit-oriented development. Integrating with
the Milton railway station, the $210 million project is a 30-floor mixed-use tower which includes
298 luxury apartments, 1200 square metres of premium office suites, and 1200 square metres of
street-level niche retail space. Completion is expected in 2015.
Growth in Floor space
Available floor space in Paddington- Milton in 2011 was estimated to be more than 790,000
square metres and is expected to increase by one-third by 2031 (see Table 1).
Table 1 - Floor space forecasts Brisbane City, 2011-2031
2011 Floor
space
estimate
(m2)
2016 Floor
space
forecast
(m2)
2021 Floor
space
forecast
(m2)
2026 Floor
space
forecast
(m2)
2031 Floor
space
forecast
(m2)
Retail
231,792
254,595
264,481
274,161
278,002
Commercial
153,683
173,129
183,230
194,227
201,618
Industrial
186,963
192,493
191,070
191,762
194,703
Community purpose
207,703
257,351
294,404
332,915
374,487
Other
10,267
9,332
8,405
8,067
7,870
Total
790,409
886,900
941,589
1,001,132
1,056,681
Paddington- Milton
Source: Queensland Government, Department of Transport and Main Roads, Employment
Projections converted to floor space by Brisbane City Council.
Publication information
To receive up-to-date information to help grow your business subscribe to Economic
Development updates by emailing economic_development@brisbane.qld.gov.au
To have this information translated, call 131 450 and ask to speak to Brisbane City Council on 07
3403 8888.
Published by Brisbane City Council, GPO Box 1434, Brisbane QLD 4001
For more information:




visit www.brisbane.qld.gov.au/citycentremasterplan
visit www.Facebook.com/BrisbaneCityCouncil
call 07 3403 8888
Tweet Council @brisbanecityqld
Publication number CA14-627046-03-401 © Brisbane City Council 2014.