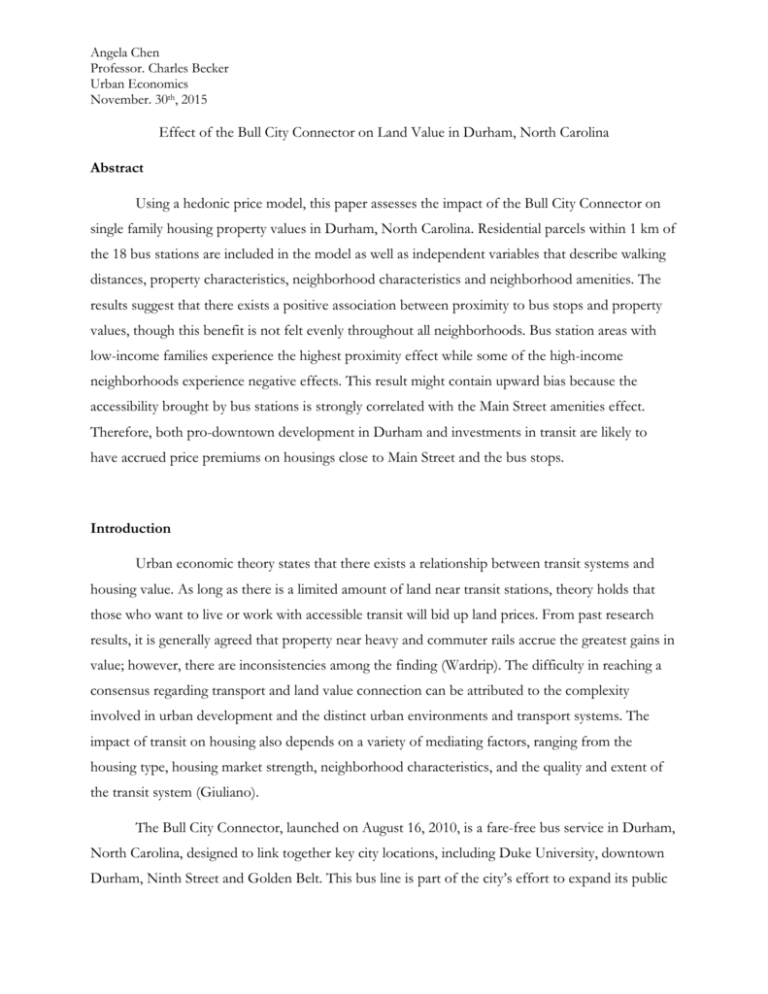 Angela Chen
Professor. Charles Becker
Urban Economics
November. 30th, 2015
Effect of the Bull City Connector on Land Value in Durham, North Carolina
Abstract
Using a hedonic price model, this paper assesses the impact of the Bull City Connector on
single family housing property values in Durham, North Carolina. Residential parcels within 1 km of
the 18 bus stations are included in the model as well as independent variables that describe walking
distances, property characteristics, neighborhood characteristics and neighborhood amenities. The
results suggest that there exists a positive association between proximity to bus stops and property
values, though this benefit is not felt evenly throughout all neighborhoods. Bus station areas with
low-income families experience the highest proximity effect while some of the high-income
neighborhoods experience negative effects. This result might contain upward bias because the
accessibility brought by bus stations is strongly correlated with the Main Street amenities effect.
Therefore, both pro-downtown development in Durham and investments in transit are likely to
have accrued price premiums on housings close to Main Street and the bus stops.
Introduction
Urban economic theory states that there exists a relationship between transit systems and
housing value. As long as there is a limited amount of land near transit stations, theory holds that
those who want to live or work with accessible transit will bid up land prices. From past research
results, it is generally agreed that property near heavy and commuter rails accrue the greatest gains in
value; however, there are inconsistencies among the finding (Wardrip). The difficulty in reaching a
consensus regarding transport and land value connection can be attributed to the complexity
involved in urban development and the distinct urban environments and transport systems. The
impact of transit on housing also depends on a variety of mediating factors, ranging from the
housing type, housing market strength, neighborhood characteristics, and the quality and extent of
the transit system (Giuliano).
The Bull City Connector, launched on August 16, 2010, is a fare-free bus service in Durham,
North Carolina, designed to link together key city locations, including Duke University, downtown
Durham, Ninth Street and Golden Belt. This bus line is part of the city's effort to expand its public
Angela Chen
Professor. Charles Becker
Urban Economics
November. 30th, 2015
transit service to increase community mobility, access, and connectivity to further contribute to the
revitalization and economic development of downtown Durham. The service is jointly funded by a
federal grant, a state grant, Duke University and the City of Durham, with an additional agreement
in which Duke University agreed to contribute toward Bull City Connector's annual operating costs
("The Bull City Connector").
This paper explores whether proximity to the Bull City Connector has an impact on singlefamily property values in Durham. Although research has been done on the effect of light and
commuter rail on the real estate market, similar research is almost nonexistent for bus services. It
has been suggested that "proximity to bus stations only have modest gains, if any at all, because
most bus routes lack the permanence of fixed infrastructure" (Hess and Almeida 2007). The Bull
City Connector, however, is distinct from conventional bus services in that it is a fare-free line and is
one of the most frequent and predictable bus services offered in the Durham area that connects key
destinations in Durham. It is an example of the city's transit oriented development that aims to assist
in the effort of revitalization and development of downtown Durham. Thus, documenting the
impact of transit provision on Durham's economic development, jobs, housing, and land markets
allows lessons to be learned and applied as more transit systems are planned for the future. Real
estate prices can be used as one indicator of the degree to which transit investments confer benefits.
Starting with a brief review of the past work on land value impact of transit, this paper then
discusses the methodology and data sources used in this research. Next, descriptive statistics and
research results are presented. Lastly, findings and their implications are summarized.
Literature Review
Traditional urban economic theory supports the hypothesis that a property near public
transit should command a higher price than one that is located far away. This is because public
transit should facilitate commuting; thus, households with easy access spend less money and time on
transportation and more on housing (Lewis-Workman and Brod). However, there are also negative
externalities associated with living too close to transit, such as noise or pollution (Chen, Rufolo, and
Dueker). Most, though not all, studies on the impact of transit on single-family housing value have
found property premiums for units closer to stations. The "hedonic pricing model" is often used to
Angela Chen
Professor. Charles Becker
Urban Economics
November. 30th, 2015
isolate the effect of location from other property characteristics that might affect property values. In
addition, although there is a consensus that locating closer to transit adds premium to a property's
value, the magnitude of the added premium is more difficult to agree on.
The largest premiums appear to come from heavy rail lines and commuter rails in big
metropolitan areas where public transit brings significant accessibility benefits (Landis et al.; LewisWorkman and Brod). A transit system that has geographic coverage through an area with important
destinations (job centers, commercial hubs, restaurants) commands a greater increase on housing
value than one running through an area with fewer amenities. Frequency, speed, and scope of
service also influence the magnitude of impact. Previous studies have also indicated that impact of
transit systems varies across different station areas. The most significant distinction is made between
downtown areas and all others (Cervero and Landis).
For example, in San Diego, using hedonic price models, r, t 10 percent to 17 percent
premiums from being within a half-mile distance ring of the stations of San Diego Trolley Line
(Cervero). The Hiawatha LTR line in Pittsburgh has generated $18,374,284 worth of housing
premium for single-family homes, and $6,900,598 for multifamily homes (Goetz et al.). In Buffalo, a
typical home located within one quarter of a mile of a transit station can earn a premium of $1300 –
3000, which is 2 to 5 percent of the city's medium home value (Hess and Almeida).
There are also a few studies that find no effect or even a negative effect of the proximity to
transit. This is attributed to nuisance effects caused by locating too close to certain types of transit
stations, as well as the lack of significant accessibility improvement brought by the additional transit
service. People might also drive to stations, further reducing the benefits of proximity to transit
nodes. For example, light rail system in San Jose and Sacramento, the CalTrain is shown to have no
impact on housing prices (Landis et al.). Similar studies on bus services is much rarer. Barker, in his
"Bus Service and Real Estate Values", suggests that while the exact relationship between distance to
bus stops and property values are not clear, there usually exists a positive correlation between the
two (Barker).
Accessibility to transit is generally measured in terms of distance to the nearest transit
stations. This can be either as a measurement of straight-line distance (also known as the perceived
distance) or the network distance that a pedestrian has to travel in order to get from a property to
Angela Chen
Professor. Charles Becker
Urban Economics
November. 30th, 2015
the closest station. A common research method is to set up a buffer area from ¼ miles to 1 mile
around stations, the acceptable walking range to transit stations, as a proxy for time spent traveling.
Hypothesis
The Bull City Connector is distinct from other bus services in that it is intended to offer "a
different kind of transit experience – one which attracts 'riders of choice'". The targeted population
is not only those forced into public transit by necessity, but also includes those who voluntarily
choose bus over private cars because of its convenience. The Connector has a high frequency of
service, running every 17 minutes between the hours of 6:30 am and 9 pm weekdays and 10 am and
9 pm Saturdays. Its route links key destinations in Durham, and its fare-free service adds to its
advantage over traditional buses. Therefore, even though previous literature indicate an insignificant
relationship between proximity to bus stop and property value, my hypothesis is that there exists a
positive and significant correlation between the two.
Methodology
Study Area
Debuting on Aug. 16, 2010, the Bull City Connector is a bus service that runs from Duke
University campus, across Durham Downtown through Ninth Street, to Golden Belt. It operates six
days a week, makes 18 stops on each way. However, the bus route has changed since Aug. 15, 2015
due to central Durham expansion. Detours off Main Street to Durham Station and Durham Center
are cancelled to straighten out the route, cutting travel time between West and East Durham. The
route also has been extended, continuing West on Erwin Road to a terminus on Research Drive on
Duke University's West Campus (see Map 1 and Map 2). Because digital data on the location of
previous bus stops can no longer be accessed, the bus stops analyzed in this paper are from the new
bus route. This change in route should not have a significant impact on the results because only two
short detours have been removed.
Angela Chen
Professor. Charles Becker
Urban Economics
November. 30th, 2015
Past literature has indicated that 400 meters to 800 meters are acceptable walking distance to
transportation facilities (Untermann 1984). This paper chooses a slightly wider radius around the
stations at 1000m to capture the variation in values not necessarily observed in the 800m zone.
Single-family housings within this radius are included in the analysis.
The typology of station areas for the Bull City Connector ranges from downtown urban
nodes to residential stations. Given that surrounding land uses and neighborhood characteristics
may have impacts on the economic development around the stations, Table 1 shows a summary for
land uses around each station according to parcel data collected in 2010. Stations are arranged
beginning from the western terminus at the Duke Research Lab and ending at the eastern terminus
of Durham Hosiery Mills (Golden Belt with the westbound bus). Because westbound and eastbound
bus stops are in close proximity to each other, the analysis is based on the eastbound bus stops. As
shown in Table 1, only seven out of the 15 bus stops have a relatively significant percentage of
single-family housing parcels. Therefore, an individual regression is developed for the seven stations
with the highest percentage of residence housings and one aggregate regression model is developed
to encompass all of the stations.
Map 1: The Bull City Connector Old Bus Route (Before August 2015)
Angela Chen
Professor. Charles Becker
Urban Economics
November. 30th, 2015
Map 2: The Bull City Connector New Bus Route (After August, 2015)
Angela Chen
Professor. Charles Becker
Urban Economics
November. 30th, 2015
Table 1. Land Use Statistics by Bull City Connector Station Area
Station Area
# of Total
# of Single Family
% of Single Family
Parcels
Residential Housing
Residential Housing
Duke Research Labs
195
87
0.446
North Pavilion
502
259
0.516
Duke West Campus
717
454
0.633
Erwin Square/ Duke
1073
620
0.578
Ninth St. District
1211
724
0.598
Duke East Campus
1304
719
0.551
Buchanan
1269
636
0.501
1332
573
0.430
Amtrak/West Village
1270
431
0.339
Five Points
1161
325
0.280
City Center/CCB
1157
333
0.288
Mangum St
1216
372
0.306
Durham County
1396
524
0.375
Health Department
1512
607
0.401
Durham Hosiery
1611
805
0.500
Central Campus
Blvd/Brightleaf
(West)
Brightleaf Square
(Main)
Plaza
Government
Mills
Data Sources
Datasets used in this research include the parcel data provided by Land Record/GIS
Department from the Durham County and the census data from SimplyMap. A property tax map
Angela Chen
Professor. Charles Becker
Urban Economics
November. 30th, 2015
with attributes, the parcel data are maintained by Durham County Tax Administration in order to
perform equitable tax assessment and collection in Durham County, North Carolina. The map
provides appraised values of all parcels located in the county, as well as information on the parcel's
area, structure size, structure age and property ownership changes. The Tax Administration data are
joined with the geographic information systems and the census data obtained from SimplyMap.
SimplyMap is a web-based mapping and data analysis application that enables users to develop
thematic maps and reports. Its database contains nation-wide demographic, business and marketing
variables on census block-groups, census tracts, ZIP codes, cities, counties, states, and the United
States. Data on the site are provided by Easy Analytic Software Inc., Applied Geographic Solutions,
Inc., Mediamark Research, Inc., and D&B. This paper obtains from Simply Map its data on median
household income and percentage of renter occupied housing, both on a block group geographical
level.
Variables related to distance, such as proximity to bus stops and local amenities were
calculated using Geographic Information System (GIS) tools.
Hedonic Price Modeling
A hedonic pricing model is used in this paper to separate out the effects of housing
attributes and local amenities to determine the marginal impact of distance to a bus stop on property
value. This model assumes that the price of a property is comprised of a bundle of attributes and
amenities. To estimate the influence of the land's location on its price, the following hedonic
regression model is used:
P = f (D, C, N, L)
P equals the assessed value of the parcel, which is a function of four vectors of independent
variables; D is a vector of one variable that measures walking distances from parcels to the closest
bus station; vector C is comprised of property characteristics; N is a vector of neighborhood
characteristics; and L describes the location amenities. Table 1 lists the nine independent variables
taken into account in this hedonic price model, along with the units that they are measured in and
the source that the data comes from.
Angela Chen
Professor. Charles Becker
Urban Economics
November. 30th, 2015
The challenge in measuring the influence of proximity on property value is to parcel out this
effect vis-à-vis all of the other factors that influence prices. Apart from structural characteristics
such as the age and area of a parcel, its neighborhood characteristics and regional amenities are also
taken into consideration. American Tobacco campus serves as a proxy for downtown Durham in
this paper because of its central location and the cultural and commercial activities regularly hosted
there. Because the Bull City Connector operates along Main Street, a major commercial street that
runs through the heart of downtown, it is also important to control for the Main Street amenities
effect.
Table 2. Vectors, Variables, Units and Data Sources
Vector
Variable(s)
Units
Data Sources
Price
Assessed Property Value
$/m2
Parcel Data
Distance
Walking Distance Along
Meter
Computed with GIS
Street Network to
Closest Bus Stop
Property Characteristics
Area of Parcel
Square Meter Parcel Data
Age of structure
Years
Parcel Data
Neighborhood
Medium Household
$
SimplyMap
Characteristics
Income
%
SimplyMap
% Housing, renter
occupied
Locational Amenities
Straight Line Distance to Meter
Computed with GIS
American Tobacco
Straight Line Distance to Meter
Computed with GIS
Durham Freeway
Straight Line Distance to Meter
Main Street
Computed with GIS
Angela Chen
Professor. Charles Becker
Urban Economics
November. 30th, 2015
Use of GIS
A Durham county street map provided by Durham GIS services served as the base layer in
geographic information systems (GIS). Parcel data and census data were then introduced as two
separate layers and were spatially joined. Geographic analysis was performed to assign each parcel
the corresponding block level census data if the centroid of the parcel lies within the block group
boundary. The Bull City Connector bus stops were coded into GIS using coordinates identified
through Google Maps, as shown in Figure 1.
Using the Durham map layer, locational amenities were identified, which include Durham
Freeway, American Tobacco Campus and Main Street, and for each amenity, separate layers were
created to facilitate distance calculation performed later. The "Near" command is used for
measuring the distance between each parcel and the highway, American Tobacco and Main Street.
Walking distances from each parcel to the nearest bus stop is computed by first creating a network
dataset from the Durham GIS street map. Bus stops are loaded as closest facilities and parcels are
imported as incidents. Closest facility analysis solved the distance from each parcel to the nearest
bus stop along the street network. Out of the 2876 parcels within one-kilometer buffer zone, the
distance from 2607 parcels to bus stop were successfully solved. The other 269 incidents yielded
errors because of defects in the road network. The streets on which the unresolved parcels are
located are not properly joined to the road network, and thus, no continuous route can be found by
GIS. They were discarded because 269 is only a small portion of the entire dataset.
Angela Chen
Professor. Charles Becker
Urban Economics
November. 30th, 2015
Figure 1: GIS Interface of the Bull City Connector Bus Route. Parcels that are highlighted blue are single-family homes within
one-kilometer buffer zone of bus stations. The red bolded line indicates the Durham Freeway.
Analysis
This paper looks at the approximate walking distance from parcels to bus stops to
investigate transit's impact on real estate market. All predictor variables are first visually examined
with scatter grams in Stata. Data points that significantly diverge from the median values by visual
examination are dropped as outliers and functions are transformed to better fit the normal
distribution. There are 2403 parcels included in the final regression model. Two interaction variables
are added, one between distance to bus stops and distance to Main Street in an effort to isolate the
Main Street effect on housing prices, and the other between age of housing and the walking distance
to bus stops to investigate whether there are any relationships between these variables.
The all-stations model gives a summation of relationships between proximity to transit
nodes and property values along the bus route. Individual regressions done on particular residential
station areas indicates whether the same effect is distributed equally throughout the system or if it is
more accentuated in certain residential nodes.
Angela Chen
Professor. Charles Becker
Urban Economics
November. 30th, 2015
Descriptive Statistics
Table 3 provides the descriptive statistics for the independent variables in this hedonic
regression model, including their mean, maximum, minimum and standard deviation. There are 2876
single-family residential parcels within one kilometer of the bus stops, but only 2403 parcels are
analyzed. The rest of the parcels are either located on city streets that are not properly joined to the
road network (no walking distance can be found), or the parcel information contains outliers and are
dropped during visual examination.
Table 3. Descriptive Statistics of Variables Used in Hedonic Price Model
Angela Chen
Professor. Charles Becker
Urban Economics
November. 30th, 2015
Variable Name
Description
Minimum
Maximum
Mean
Standard
Deviation
AREAM2V
Assessed value of the
24.63944
799.7922
162.3723
103.5814
157.3937
3315.202
987.0028
312.1783
98.18669
3683.932
721.9454
298.5382
32
76
56.15148
12.5783
17740
100000
46762.49
20864.19
66.08
99.11
78.37209
7.470084
19.64345
1602.015
714.7034
411.4413
162.0689
4386.611
1773.929
803.1914
15.07722
1835.321
603.8939
279.6836
single-family residence
(land + structure) per
square meter
DIST
Walking distance (in
meter) of parcel to the
nearest bus station
AREA
Size of parcel in square
meter
AGE
Block level data for the
median age of structures
MHINCOME
Median household
income for block group
within which the parcel is
located
PRENT
% renter occupied
housing for block group
within which the parcel is
located
DHIGHWAY
Linear distance in meter
from parcel to the
Durham freeway
DAMERTOB
Linear distance in meter
from parcel to American
Tobacco
DMAIN
Linear distance in meter
from parcel to Main
Street
Findings
Angela Chen
Professor. Charles Becker
Urban Economics
November. 30th, 2015
All Stations Model
Variables are included in this hedonic model if past research indicates that they are
important components of housing values. Table 4 shows a summation of price-distance
relationships observed at all of the stations along the Bull City Connector. The R squared value
indicates that this model explains close to 42 percent of the variation in residential property price.
This R squared value, although lower than those of previous literature, is expected because of many
key variables usually included in hedonic models are unavailable for the housing stock in Durham,
such as individual structural age or the structure area as opposed to land area. All of the predictor
variables are significant at the 1% probability level.
Model results suggest that the distance of a parcel to a station and its property value are
inversely related – housing prices decreases as distance increases. Decreasing marginal effects are
also found. For example, for houses that are 56 years of age (the median age for parcels analyzed in
this paper) and 100m in linear distance from the Main Street, the per meter squared property value
of a single-family home decreases by approximately 18 percent when the walking distance increases
from 200 to 300 meters away from a bus stop. Houses located at a distance of 500 meters from
Main Street, also aged at 56 years, the per meter squared property value decreases only
approximately 3.4 percent when the walking distance increases from 900 to 1000m. Figure 2 shows
the relationship between walking distances and the percentage change in housing values for houses
at the median age of the dataset. This result is relatively large when compared to findings of past
literature on the impact of proximity to transit stations. This upward bias in result is likely due to the
difficulty in differentiating benefits accrued from amenities near the stations and the actual station
effect. Although two interaction variables are introduced to the model in an effort to correct for this
spatial autocorrelation, there might still be some unobserved relationships between the variables that
are assumed to be independent, skewing the result. This result, however, does clearly suggest a high
centrality to Durham – Durham residents value living close to Main Street and the Bull City
Connector because of the accessibility benefits that the location brings.
Relationships between other attributes and property value can also be drawn from Table 4.
Consistent with previous findings (Gamble et al.), houses closer to highways depreciate in value
likely due to disamenities such as noise and air pollution created by proximity to highways. In this
Angela Chen
Professor. Charles Becker
Urban Economics
November. 30th, 2015
case, parcels near the Durham Freeway has lower property value than those far away. This negative
relationship might also be attributed to historical reasons because the neighborhood surrounding the
highway has always been an area notorious for crime and poverty until recent development.
Interestingly, proximity to American Tobacco Campus seems to have negative impact on housing
value. This result is unexpected because American Tobacco Campus encompasses restaurants,
Durham Performing Arts Center, Durham Bulls Athletic Parks and other venues for entertainment
events and commercial activities in Durham. These amenities should bring higher values to homes
located nearby. One plausible explanation for this home value discount is that American Tobacco
Campus is situated in a mainly commercial neighborhood with few residential housings. The
residential neighborhood directly east of this district, however, has been a historically low-income
neighborhood. Therefore, in this case, the neighborhood effect dominates over the accessibility
benefits.
For variables associated with neighborhood characteristics, the results show that the value of
single-family housings increases with neighborhood median family income, which is congruent with
expectation. In assessing the effect of property age on property values, according to the model
results, there is a positive correlation between the two until a house reaches 50 to 60 years of age.
Then, the positive effect begins to trail off and becomes slightly negative. The independent variable
of percentage of renter occupied housing in a neighborhood is affected by a combination of its
linear, square, and cubic functions, all terms significant at 99.99% level. When the effect is plotted
out, Figure 3 indicates that the housing value rises until the percentage of renter occupied housing
reaches 70 to 80 percent. From there, the price falls at a decreasing rate.
Angela Chen
Professor. Charles Becker
Urban Economics
November. 30th, 2015
Table 4: Regression Model Results for All Stations Single Family Housings
Variables
Coef.
Std. Err.
t
P>t
[95% Conf.
Interval]
lnDIST
-0.4302405
0.17912
-2.40
0.016
-0.7814872
-0.0789938
AREA
-0.0005594
0.0000308
-18.16
0
-0.0006198
-0.0004989
AGE
0.1026589
0.0143354
7.16
0
0.0745477
0.1307701
sqrAGE
-0.0003814
0.0000772
-4.94
0
-0.0005328
-0.00023
sqrtMHINCOME
0.0068364
0.000218
31.36
0
0.0064089
0.0072639
PRENT
3.564968
0.4353134
8.19
0
2.711337
4.418599
sqrPRENT
-0.0419341
0.0054123
-7.75
0
-0.0525473
-0.031321
cubePRENT
0.000162
0.0000222
7.28
0
0.0001183
0.0002056
lnDHIGHWAY
0.1085767
0.0139855
7.76
0
0.0811517
0.1360016
lnDAMERTOB
0.1574145
0.0261187
6.03
0
0.1061968
0.2086323
lnDMAIN
-0.6747746
0.1987478
-3.40
0.001
-1.064511
-0.2850386
InmainmINTl~d
0.1152055
0.029159
3.95
0
0.0580259
0.1723851
ageINTlnwal~e
-0.0106868
0.0018261
-5.85
0
-0.0142677
-0.007106
Summary Statistics:
Number of Observations = 2403
R-Squared = 0.4195
Adj R-Squared = 0.4163
Angela Chen
Professor. Charles Becker
Urban Economics
November. 30th, 2015
Figure 2. Relationship between Proximity to Bus Stations and Housing Prices
200
400
600
800
1000
1200
1400
1600
1800
2000
2200
2400
2600
2800
0.1
0
-0.1
-0.2
-0.3
-0.4
-0.5
-0.6
-0.7
-0.8
100m to Main St.
500m to Main St.
1000m to Main St.
2000m to Main St.
Figure 3. Relationship Between Structure Age and Property Value
40 41 42 43 44 45 46 47 48 49 50 51 52 53 54 55 56 57 58 59 60 61 62 63 64 65 66
3000
Angela Chen
Professor. Charles Becker
Urban Economics
November. 30th, 2015
Figure 4. Relationship between Percentage of Renter Occupied Housing and Property Value
65
67
69
71
73
75
77
79
81
83
85
87
89
91
93
95
97
99
Individual Model
Table 5 shows the result of individual regressions done on the seven neighborhoods that
have the highest percentage of residential housings. Listed is the number of observations, median
household income level, and the impact of proximity to bus stations in each neighborhood. It can be
derived from the table that benefits of locating close to bus stations are not felt equally throughout
the bus route.
Six out of the seven station areas are relatively affluent neighborhoods whose average
median income are higher than the mean income level of all the parcels examined in this paper
($46762). Only two of these six neighborhoods have shown a positive relationship between
proximity to bus stops and property values. For the rest, locating closer to bus stops actually
depreciates the price. In contrast, the one lower-income neighborhood – Durham Hosiery Hills,
shows a positive correlation between shorter distance to bus stop and increased housing value. This
finding confirms the assumption that low-income families are willing to pay a higher premium to
live closer to a transit node because they lack alternatives for other modes of transportation. Higher
income families who can afford automobiles are not likely to value the fare free bus service provided
Angela Chen
Professor. Charles Becker
Urban Economics
November. 30th, 2015
by the Bull City Connector, particularly when the bus route is relatively short, only running across
downtown Durham.
Table 5. Regression Results for Individual Station Single Family Housings
Station
Number of
Observation
s
Median
Household
Income
North Pavilion
263
63394.39
Positive(+)/Negative(-)
Relationship Between
Proximity to Closest Bus
Station and Property Value
+
Duke West Campus
440
63887.94
+
590
64691.47
-
Ninth St. District
592
66118.18
-
Duke East Campus
484
61009.52
-
Buchanan Blvd/Brightleaf (West)
523
61988.98
-
Durham Hosiery Mills
803
27852.84
+
Erwin Square/ Duke Central
Campus
Conclusion
This paper confirms that there exists a positive relationship between proximity to the Bull
City Connector bus stations and property values in Durham on an aggregate level. Despite the lack
of infrastructure for bus services when compared with light rail or commuter rails, evidence is found
that in Durham, locations closer to stations accrue sufficient accessibility benefits that are reflected
in the single-family real estate market, though the relationship varies considerably by station areas
and neighborhood income level. The biggest premiums are accrued in lower income neighborhoods.
Few higher income neighborhoods exhibit a similar positive correlation between distance to bus
stop and property value, with some experiencing even property value discounts.
Note that this research does not indicate any causation relationship between transit
investment and property value changes in Durham because no data on the before and after bus
service home sale prices is examined. The hedonic model does suggest an association between
higher property value and proximity to bus stops on an aggregate level. It also suggests evidence of
Angela Chen
Professor. Charles Becker
Urban Economics
November. 30th, 2015
mono-centricity in Durham because bus stations are located on one of the most commercialized
streets that runs across downtown Durham. Also confirmed are some findings in past literature.
Proximity to highway shows disutility effects that depreciate the value of homes close to Durham
Freeway. The assumption that public transit is valued more by lower-income families is also
implicated.
References
Barker, William G. "BUS SERVICE AND REAL ESTATE VALUES." N.p., 1998. trid.trb.org. Web. 2 Nov.
2015.
Cervero, Robert. "Effects of Light and Commuter Rail Transit on Land Prices: Experiences in San Diego
County." Journal of the Transportation Research Forum 43.1 (2010): n. pag. journals.oregondigital.org. Web. 30
Nov. 2015.
Cervero, Robert, and John Landis. "Twenty Years of the Bay Area Rapid Transit System: Land Use and
Development Impacts." Transportation Research Part A: Policy and Practice 31.4 (1997): 309–333.
ScienceDirect. Web.
Chen, Hong, Anthony Rufolo, and Kenneth Dueker. "Measuring the Impact of Light Rail Systems on SingleFamily Home Values: A Hedonic Approach with Geographic Information System Application."
Transportation Research Record: Journal of the Transportation Research Board 1617 (1998): 38–43.
trrjournalonline.trb.org (Atypon). Web.
Gamble, Hays B. et al. "The Influence of Highway Environmental Effects on Residential Property Values."
Penn State Univ Inst for Res on Land and Water Resour Res Publ 78 (1974): n. pag. ProQuest. Web. 1 Dec.
2015.
Giuliano, Genevieve. "Public Transit as a Metropolitan Growth and Development Strategy." Washington DC:
Brookings Institution 3.Urban and Regional Policy and Its Effects (2010): 205–252. Print.
Hess, Daniel Baldwin, and Tangerine Maria Almeida. "Impact of Proximity to Light Rail Rapid Transit on
Station-Area Property Values in Buffalo, New York." Urban Studies 44.5-6 (2007): 1041–1068. Print.
Landis, John et al. "Rail Transit Investments, Real Estate Values, and Land Use Change: A Comparative
Analysis of Five California Rail Transit Systems." eScholarship (1995): n. pag. escholarship.org. Web. 30
Nov. 2015.
Lewis-Workman, Steven, and Daniel Brod. "Measuring the Neighborhood Benefits of Rail Transit
Accessibility." Transportation research record. 1576 (1997): n. pag. Print.
Angela Chen
Professor. Charles Becker
Urban Economics
November. 30th, 2015
"The Bull City Connector." Let's Go Durham-Orange. N.p., n.d. Web. 30 Nov. 2015.
Wardrip, Keith. Public Transit's Impact on Housing Costs: A Review of the Literature. Center for Housing Policy,
2011. Web. 30 Nov. 2015. Insights.