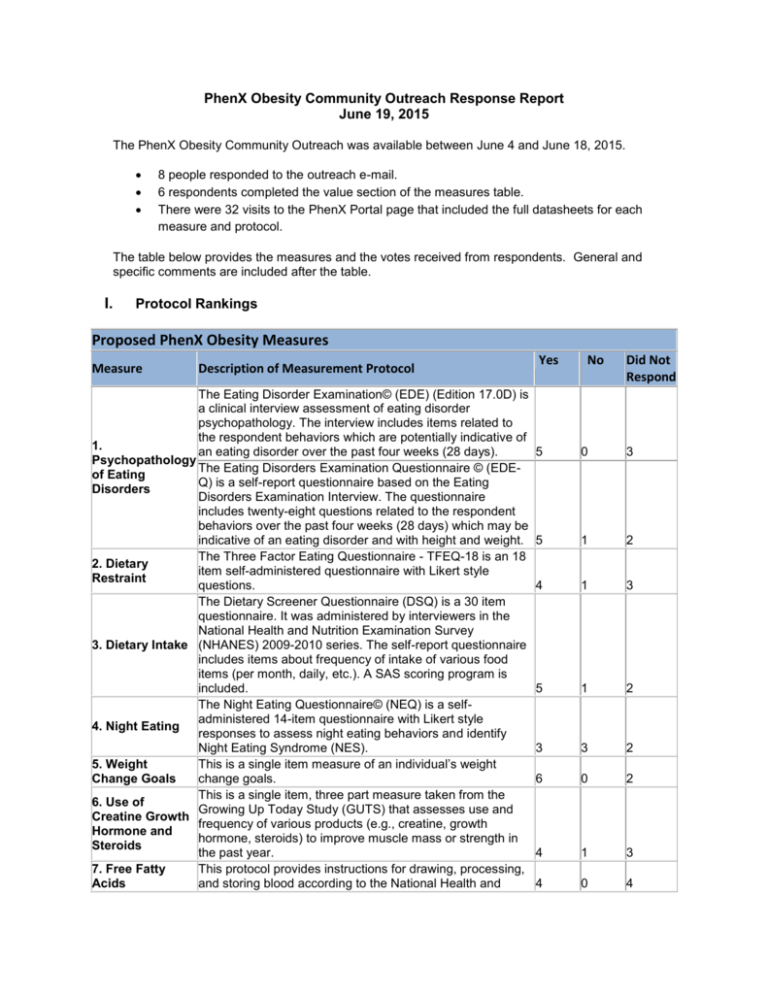 PhenX Obesity Community Outreach Response Report
June 19, 2015
The PhenX Obesity Community Outreach was available between June 4 and June 18, 2015.



8 people responded to the outreach e-mail.
6 respondents completed the value section of the measures table.
There were 32 visits to the PhenX Portal page that included the full datasheets for each
measure and protocol.
The table below provides the measures and the votes received from respondents. General and
specific comments are included after the table.
I.
Protocol Rankings
Proposed PhenX Obesity Measures
Measure
Description of Measurement Protocol
The Eating Disorder Examination© (EDE) (Edition 17.0D) is
a clinical interview assessment of eating disorder
psychopathology. The interview includes items related to
the respondent behaviors which are potentially indicative of
1.
an eating disorder over the past four weeks (28 days).
Psychopathology
The Eating Disorders Examination Questionnaire © (EDEof Eating
Q) is a self-report questionnaire based on the Eating
Disorders
Disorders Examination Interview. The questionnaire
includes twenty-eight questions related to the respondent
behaviors over the past four weeks (28 days) which may be
indicative of an eating disorder and with height and weight.
The Three Factor Eating Questionnaire - TFEQ-18 is an 18
2. Dietary
item self-administered questionnaire with Likert style
Restraint
questions.
The Dietary Screener Questionnaire (DSQ) is a 30 item
questionnaire. It was administered by interviewers in the
National Health and Nutrition Examination Survey
3. Dietary Intake (NHANES) 2009-2010 series. The self-report questionnaire
includes items about frequency of intake of various food
items (per month, daily, etc.). A SAS scoring program is
included.
The Night Eating Questionnaire© (NEQ) is a selfadministered 14-item questionnaire with Likert style
4. Night Eating
responses to assess night eating behaviors and identify
Night Eating Syndrome (NES).
5. Weight
This is a single item measure of an individual's weight
Change Goals
change goals.
This is a single item, three part measure taken from the
6. Use of
Growing Up Today Study (GUTS) that assesses use and
Creatine Growth
frequency of various products (e.g., creatine, growth
Hormone and
hormone, steroids) to improve muscle mass or strength in
Steroids
the past year.
7. Free Fatty
This protocol provides instructions for drawing, processing,
Acids
and storing blood according to the National Health and
Yes
No
Did Not
Respond
5
0
3
5
1
2
4
1
3
5
1
2
3
3
2
6
0
2
4
1
3
4
0
4
Nutrition Examination Survey (NHANES) and uses capillary
gas chromatography with flame ionization or electron
ionization to capture negative chemical ionization mass
spectrometry to measure the plasma sample.
This protocol provides instructions for drawing, processing,
and storing blood from the National Health and Nutrition
8. Gut and
Examination Survey (NHANES) 2007–2008 protocol.
Pancreatic
Analysis of the following gut and pancreatic peptides is
Peptides
recommended: Amylin, Ghrelin, PPY (3-36), PPY (total),
GIP (total), GPL-1 (active), and Pancreatic polypeptide PP. 3
This is a bioassay to measure Leptin and High Molecular
Weight (HMW) Adiponectin (primary bioactive form with
insulin-sensitizing activity whose circulating levels negatively
correlate with obesity, insulin resistance, and coronary
artery disease). This measure utilizes the National Health
9. Adipocytokine
and Nutrition Examination Study (NHANES) protocol
instructions for drawing, processing, and storing blood and
commercial specimen collection kits and ELIZA methods to
quantify protein levels of human leptin in serum, plasma,
supernatant, and other biological fluids.
3
Adult: The Eating Disorder Examination© (EDE) (14th
10.
edition) Version 14.3 – Bariatric Surgery Version (EDE-BSV)
Psychopathology is a clinical interview assessment of eating disorder
of Eating
psychopathology for individuals considering bariatric
Disorders surgery or with a history of bariatric surgery. The interview
Bariatric Surgery includes items related to the respondent behaviors which
- Adult
are potentially indicative of an eating disorder over the past
four weeks (28 days).
2
The protocol requires extracting data for percent free or
reduced price lunch from the Digest of Education Statistics.
11. Free or
Researchers can use these freely available datasets to
Reduced Price
obtain additional information for enhanced analysis and
School Lunch
research on education-related outcomes and treatment
services in specific communities.
4
This Metabolomic Studies protocol provides general sample
collection recommendations for metabolomic studies, giving
12.
input on quantity, preparation and handling of specimens. It
Metabolomics
also includes the general procedure for cell treatment for
metabolomic analysis.
4
This 30-40 minute process (not including the 30-minute rest
period required prior to the start of the measure) for
measuring basal and resting metabolic rates using indirect
13. Basal
calorimetry, a measure of resting energy expenditure. Using
Metabolic and
an indirect calorimeter or similar instrument, investigators
Resting
measure the concentrations of oxygen and carbon dioxide
Metabolic Rate in air streams entering and exiting a clear plastic hood
placed over the participant's head. Oxygen consumption
and carbon dioxide production are calculated from the
change in concentration and flow rate.
4
II.
General Comments

Family history related questions about obesity are also important.
1
4
1
4
1
5
0
4
0
4
0
4


The measures in the table below all seem fine. However, I find it troubling that this is an
"Obesity Research Measures" toolkit, and there are no measures of lifetime physical
activity (recall), enjoyment of physical activity, self-efficacy for physical activity, current
physical activity, or cardiorespiratory fitness. Perhaps these are in a different toolkit, but if
not, I would strongly consider adding them. I as someone who has published a number of
studies using objective physical activity/fitness, and subjective (i.e., self-report) physical
activity its psychosocial correlates, I would be happy to provide suggestions if you're
interested in more input.
I have general feedback:
o
o
o
Distributing CRFs as PDF is good for printing but may not be for importing into
my electronic data capture software that I am using for clinical trials.
For each CRF (questionnaire), some indication of how heavy use there is of that
CRF. E.g., SF36 vs. night eating CRF (case report form).
If a question is using some standard valueset for answers – it would be useful to
know. E.g.:
1 [ ] Yes
2 [ ] No
3 [ ] Refused
4 [ ] Don't Know
III.
Outreach Measure Comments
1. Psychopathology of Eating Disorders: Y/N depends on use; likely a bit burdensome to train
interviewers when most of the information can be obtained in the EDE-Q.
3. Dietary Intake: No, will not provide additional information above that obtained with the EDE
restraint scale
11. Free or Reduced Price School Lunch: Not yet, data are just emerging for this one.