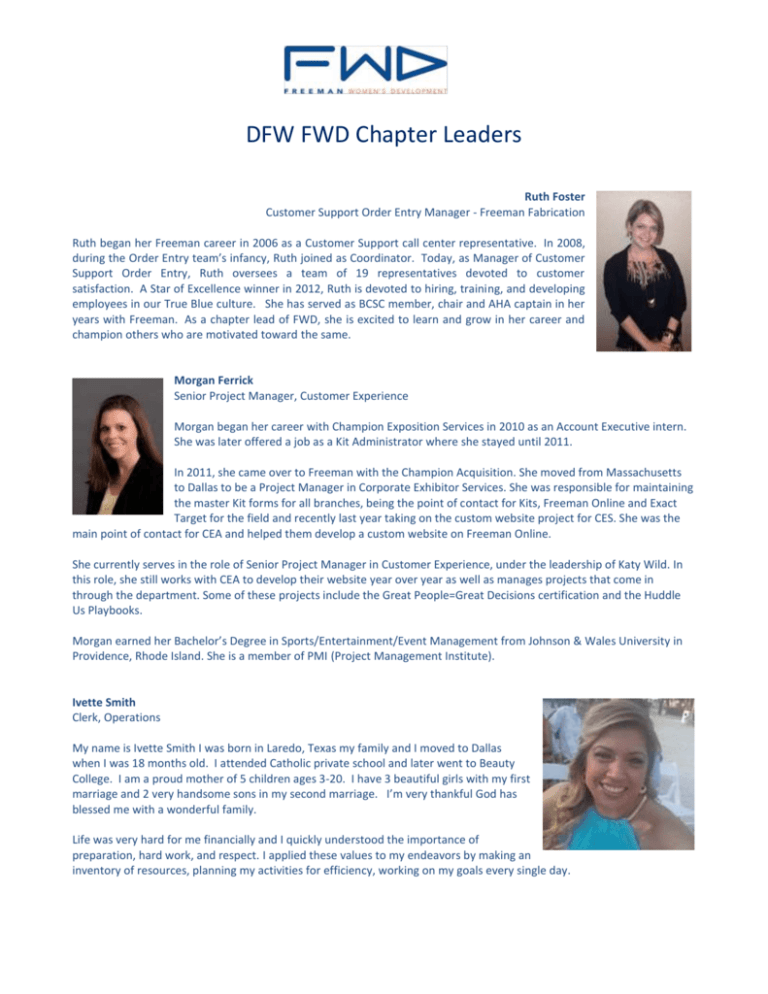 DFW FWD Chapter Leaders
Ruth Foster
Customer Support Order Entry Manager - Freeman Fabrication
Ruth began her Freeman career in 2006 as a Customer Support call center representative. In 2008,
during the Order Entry team's infancy, Ruth joined as Coordinator. Today, as Manager of Customer
Support Order Entry, Ruth oversees a team of 19 representatives devoted to customer
satisfaction. A Star of Excellence winner in 2012, Ruth is devoted to hiring, training, and developing
employees in our True Blue culture. She has served as BCSC member, chair and AHA captain in her
years with Freeman. As a chapter lead of FWD, she is excited to learn and grow in her career and
champion others who are motivated toward the same.
Morgan Ferrick
Senior Project Manager, Customer Experience
Morgan began her career with Champion Exposition Services in 2010 as an Account Executive intern.
She was later offered a job as a Kit Administrator where she stayed until 2011.
In 2011, she came over to Freeman with the Champion Acquisition. She moved from Massachusetts
to Dallas to be a Project Manager in Corporate Exhibitor Services. She was responsible for maintaining
the master Kit forms for all branches, being the point of contact for Kits, Freeman Online and Exact
Target for the field and recently last year taking on the custom website project for CES. She was the
main point of contact for CEA and helped them develop a custom website on Freeman Online.
She currently serves in the role of Senior Project Manager in Customer Experience, under the leadership of Katy Wild. In
this role, she still works with CEA to develop their website year over year as well as manages projects that come in
through the department. Some of these projects include the Great People=Great Decisions certification and the Huddle
Us Playbooks.
Morgan earned her Bachelor's Degree in Sports/Entertainment/Event Management from Johnson & Wales University in
Providence, Rhode Island. She is a member of PMI (Project Management Institute).
Ivette Smith
Clerk, Operations
My name is Ivette Smith I was born in Laredo, Texas my family and I moved to Dallas
when I was 18 months old. I attended Catholic private school and later went to Beauty
College. I am a proud mother of 5 children ages 3-20. I have 3 beautiful girls with my first
marriage and 2 very handsome sons in my second marriage. I'm very thankful God has
blessed me with a wonderful family.
Life was very hard for me financially and I quickly understood the importance of
preparation, hard work, and respect. I applied these values to my endeavors by making an
inventory of resources, planning my activities for efficiency, working on my goals every single day.
DFW FWD Chapter Leaders
Along with working fulltime at Freeman Decorating Company I own my business in tax preparation services. My
upbringing has completely supported my development and I am thankful for it.
Kristine Hartkopf
Customer Support Center Supervisor
Kristine joined Freeman in July 2010 as a part time Customer Support Center representative and
brought with her years of experience in various customer service and sales environments. Since then
Kristine has held both full time representative and team Coordinator positions within CSC. Kristine
became the Supervisor for the Customer Support Center in 2013 and works to create a collaborative
environment for her team that focuses on outstanding service and efficiency for Freeman
customers. In her Freeman career, Kristine was a Service Star and a Star of Excellence nominee (3
years), has helped bring home six JD Power Call Center certifications, was involved in the Grand
Prairie Holiday and CSC Birthday committees, and also co-wrote and co-directed a video that helped
CSC be a semi-finalist in the 2013 ICMI Global Call Center of the Year awards. Kristine is currently
participating in the FWD Mentorship program and is now a second year FWD Chapter Leader for Grand Prairie.
Rhonda Lynn
Senior IT Business Analyst, IT
Rhonda joined Freeman in 2013 as a business analyst in IT, focusing
efforts on designing and building solutions for internal-facing systems.
Starting on an S&OP project designed to improve operational
efficiencies allowed Rhonda to quickly get up-to-speed on Freeman's
business. Soon she was immersed in the worlds of Freight Operations
and Freeman XP, as both groups launched "discovery" projects to
develop systems roadmaps that would support current business
operations as well as growth strategies for the foreseeable future.
Having come to Freeman with extensive business analysis experience
from a Fortune 500 company, Rhonda has been excited to apply her
knowledge and skills in such a vibrant and dynamic company and
industry. In addition to her professional pursuits, Rhonda volunteers
her time with Alpha Kappa Alpha Sorority, Inc., an international
organization of professional women providing service to communities around the globe, with a particular focus on
education for girls and young women.
Rhonda holds a Master's degree in Business Administration from the University of Dallas and a Master of Science degree
in Technical Communication from Colorado State University. She is married to Keith, and has a daughter (Jessica), a son
(Nick), a daughter-in-law (Kala), a granddaughter (Nia), and a stepdaughter (Jordan).
DFW FWD Chapter Leaders
Dee Cousins
Office Manager, South Central and Southeast Regions
Freeman Exposition
Dee Cousins, Office Manager for South Central and Southeast Regions, Freeman Exposition.
She serves as the point person for the two regions for budget related reporting, sales related
tracking, employee administration and company policy and procedure issues.
In 2013, Dee moved to Senior Administrative Assistant for the National Sales Group, Team 2
supporting the team in various functions including, but not limited to, budget review, office
management, and meeting planning.
In 2008, Dee began her career at Freeman as the Administrative Assistant in the Exposition
Sales Department at the corporate office. She currently serves on the American Heart
Committee, Customer Service Committee and is a volunteer for Meals on Wheels. Dee was also the recipient of the Star
of Excellence Award in 2013.
Before her career at Freeman, Dee was employed at Metro Technology Centers in Oklahoma City where she started as the
switchboard operator and was promoted to various levels of administrative positions and later worked as a
trainer/facilitator. After 23 years of service, she moved to Texas with her husband when his company transferred to
Dallas, which ultimately prompted her prosperous career at Freeman.
Dee attended the University of Oklahoma to pursue a Bachelor's Degree in Liberal Arts. She enjoys reading, especially
about customer service and leadership. She also enjoys college football, riding horses, spending time with family and the
outdoors.
Adrienne Sergeant
Senior Product Manager, Freeman Technology Suite
Adrienne Sergeant is a Senior Product Manager for the Freeman Technology Suite Product
Team. In her current role, Adrienne handles creating web solutions and enhancements for
products we offer our customers. She currently manages PlanTour and Concierge Elite.
Adrienne began her career with Freeman 9 years ago in Corporate Events as an Account
Manager. Moving exclusively to product management, Adrienne has supported or been a
part of the several product development projects including PassPort.
Customer Service has always been the common thread throughout her career, including
account management for several Estee Lauder companies as well as the Marketing/Exhibit
Manager for Customer Minded Associates.
Adrienne grew up in Dallas and returned here to start her career with Freeman.
Adrienne lives in the Valley Ranch area of Irving and has many hobbies including interior design and growing roses.
DFW FWD Chapter Leaders
Chakietha Hicks
Administration Supervisor
Chakietha Hicks, Administration Supervisor for the Freeman Dallas branch joined Freeman full
time in June 2004. She attended Panola College, graduated and began her career in the legal
field and began by supporting various Judges and the District Attorney. She then went on to
attend Devry University for Computer Technology and eventually made the permanent move to
Dallas, Texas.
She began work as a legal assistant with a law firm based in Dallas, while still attending school
full time. She eventually made a complete career change and left the legal field. She went to work with VWR Scientific as
a Project Manager within their Furniture Division in Irving, Texas.
She left VWR Scientific and took a temporary position as Sales System Administrator with Freeman Dallas in April 2004. In
June 2004 she became a permanent employee as a Sales System Administrator. After two years, she was promoted to
Sales System Supervisor and in 2009 she won the Star of Excellence award.
Heather Chapman
Director of Sales
Heather joined Freeman in March of 2004 as an Account Executive bringing with
her sales and event experience from ABC / ESPN Radio. Her background and
education includes a BBA in Marketing from the University of North Texas. She was
promoted to Sales Manager in the Dallas branch Expo office in 2006 and became
Director of Sales in July of 2008.
Heather is a proud graduate of the Freeman iLead program and holds her CEM
certification. She is currently serving on the Advisory Committee for the Richland
College T.E.M.M. program as their marketing chair.
She is honored to be a part of Freeman FWD and is looking forward to learning more from the group.
DFW FWD Chapter Leaders
Angie Richard
Office Manager, Freeman Dallas
Angie began her Freeman career in 1991. Prior to coming to Freeman, she received her BBA in
Management and Marketing at Loyola University of New Orleans. After graduating she
worked for a small cruise line based out of New Orleans, first in reservations and eventually as
the administrative assistant coordinating all of their trade show information. This was the
perfect transition into her Freeman career.
Angie started with Freeman New Orleans as an Exhibitor Services Representative and was later
promoted to Exhibitor Services Supervisor. In July 1995, she transferred to the Dallas
Corporate office, starting in Accounts Payable, then transferring to Credit & Collections until
she was approached to start the Freeman Help Desk.
Angie was the Help Desk Supervisor from 1996 until 2005. In 2005, she started the QA and testing group and began
testing all of the internal Freeman applications. In 2008, she moved to her current role as the Office Manager of the
Freeman Dallas office. Being a member of FWD since its first year, she is now looking forward to the additional
responsibilities of being a Chapter Leader.
Angie and her husband Randy are preparing to be empty nesters. Their oldest, Victoria, is already in college in Louisiana.
Their youngest, Nicole is starting her senior year in high school.
Alex Flores
Office Manager
Alex started working for Freeman as the Office Manager in Austin back in
January 1989 when it was known as AVW Audio Visual. She was there for 9
years. Within this time, she was called to assist with problems in the St. Louis
and Chicago Sheraton Hotel offices.
She later transferred to Chicago in the summer of 1998 as the Office
Manager for AVW-TELAV where she remained for seven years. While in
Chicago, she married Alan Flores who worked in our Austin office. They have
two children, Nicholas who is 14 and Samuel who is 13. Both of their children have Autism.
She then transferred back to Dallas in 2005 as the Executive Admin for Craig Smith, Darren Temple, Ed Goodman and Judy
Owen in the Freeman AV corporate office. Later in 2005, she moved with Judy Owen into the Training Department where
she remained for three years as a Training Coordinator.
In 2008, she transferred into the "Atlas" project as the Office Manager. Upon the completion of the SAP implementation,
she became a Project Coordinator in the IT Department. Today, she serves as Office Manager out of the Freeman
Corporate Distribution Center.
DFW FWD Chapter Leaders
Rachel Hollis
Office Manager, Alford Media Services
Rachel joined Alford Media in 2011 as an Administrative Assistant and within a year was
promoted to Office Manager. She quickly became an integral member of Alford's
support team, gaining universal staff recognition by being named Alford's Employee of
the Year for 2012. She earned her Bachelor's Degree in History from the University of
North Texas. Her initial career plan was to be a high school teacher, but she decided to
pursue a career where she could optimize her servant attitude. She comes from a retail
environment where she honed her customer service skills and excelled in numerous
positions. Rachel loves learning about the live events industry and the rapidly changing
technology keeps her intrigued.
Her boundless curiosity has resulted in bookshelves overloaded with biographies. She has been a volunteer for United
Way and KaBOOM!, a non-profit that builds playgrounds for children growing up in poverty. Rachel lives in Melissa, Texas
with her husband Chris. Though the road has taken her many places, Rachel was born in Texas and she is proud to be
back home in the Lone Star State.
Cathy Ives
Director, Operations Freeman Audio Visual, Dallas
Cathy became part of the Freeman family in 2002 when she started with
Freeman Audio Visual (AVW Telav at that time) in Las Vegas as a Production
Manager.
Cathy has been involved in theater and live event production since the age of
15. She graduated from Webster University with a BFA in Stage Management
and Technical Production and has begun working on her Masters of Business
Administration degree at the University of Texas at Arlington.
Before being promoted to Director of Operations in August 2014, Cathy had
served as the Production Services Manager. She is passionate about leading
with Freeman values and is dedicated to ensuring the success of our
employees, our clients, and our events. Cathy is honored to be a Freeman FWD Chapter Leader and looks forward to
encouraging, developing, and supporting FWD members.
In her spare time, Cathy enjoys camping, mountain biking and spending time with her husband Lee, and her son Justin.
Chelsea Dyer
Business Development Manager, FreemanXP
Chelsea joined Freeman in February 2006 as a part-time Customer Support Representative. After
earning her Bachelor's degree from the University of Texas at Arlington, she joined the team fulltime and became the Customer Support Center Manager in March 2010. In this position, she was
proud to lead the team during the Champion acquisition, launch of live web chat and the
Hurricane Sandy initiative. In her Freeman career, Chelsea has been a Star of Excellence nominee
DFW FWD Chapter Leaders
four times and has helped bring home five J.D. Power and Associates certifications for call center excellence.
In April 2013, Chelsea transitioned into the Quality Assurance Supervisor position for the Customer Support Center where
she piloted a quality program for chat and email customer interactions and supported the Customer Support Center in
their continued excellence.
Recently in 2015, she has joined FreemanXP as a Business Development Manager.
Michelle Longoria Young
Designer, SC Regional Design
As Designer/Detailer, Michelle brings over 15 years of industry experience to Freeman's
South Central Regional Design Center. Her aggressive and conscientious work ethic, mastery
of multiple design programs, precise communication skills and visionary concepts make her
a key player in Freeman's creative scene and a valued team member for both the Freeman
Sales Force and our customers. During her tenure at Freeman, Michelle has excelled at
numerous creative positions with emphasis on all facets of the design process, directing
projects from initial concept to final production. She has successfully partnered with clients
such as Alcon, Mc Donald's, National Association of Convenience Stores (NACS), SHRM, BIO,
and SAP.
Michelle earned her professional certification in Advanced Computer‐Aided Design (CAD) from Mountain View College
and has served as an officer for the Dallas Fort Worth AutoCAD Users Group. In addition to her duties as Designer,
Michelle managed the Design Center's detailing section, overseeing the accuracy of production detail drawings.
In her role as Designer, Michelle is committed to listening to your needs and transforming them into functional and
aesthetic three‐dimensional reality. Throughout the process, she will work alongside you to ensure a positive partnership
and delivery of service which meets your expectations and a product which fulfills your business objectives.
Sandra Moreno
Customer Success Manager, Sales Operations Freeman
Sandra is a Customer Success Manager within the Sales Operations Team with
Freeman. Sandra specializes in helping clients become proficient with Freeman
systems such as PassPort and PlanTour. From initial training to ongoing
support, Sandra is their patient and friendly lifeline. Thanks to her efforts,
clients such as the American Academy of Neurology and the Society of
Photographic Instrumentation Engineers have learned that they can count on
Freeman to provide exceptional service and support.
Sandra credits her deep background in customer service for her ability to adjust
her presentation style to the needs of each individual client, providing them
with an informative and non-stressful training experience. Clients gain
important peace of mind, knowing she is a friendly face they can turn to for
assistance long after their initial training is complete. Since joining Freeman in
DFW FWD Chapter Leaders
2009, Sandra worked in the Customer Order Entry Department in Grand Prairie and as a Senior Exhibitor Services
Representative in Chicago.
Sandra was born in Dallas and received her Bachelor of Business Administration Degree in Marketing as well as an MBA
from the University of Texas, Arlington. In her spare time, she enjoys traveling, running, and watching her hometown
sports teams.
Cindy Sharkey
Director of Sales Operations
A 20+-year veteran of the industry, Cindy has honed her event marketing
and exhibitor services skills as a client of Event Management
International and with such major hotel chains as the Ritz-Carlton Hotel
Company and Hilton Worldwide. Joining Freeman in 1997, Cindy has
dedicated herself to becoming a skilled resource who can effectively
match exhibitors' needs with Freeman's extensive services and solutions.
In today's competitive market, Cindy knows the importance of
effectively communicating how Freeman's distinctive customer service culture and innovative solutions can transform
clients' events. She achieves this by creating educational webinars, serving as a subject-matter expert on a wide variety of
Freeman initiatives, and developing and implementing sales programs. Her unique perspective on the industry—and of
Freeman—allows her to be a trusted and valuable resource to both the Freeman sales organization and the clients it
serves.
From show open to close, Cindy's front-line experience lets her cultivate valuable client relationships, ensure clients meet
their show goals and objectives, and educate internal and external customers on Freeman's wide array of exhibitor
solutions. Some of the clients she has worked with on the show floor are the Specialty Equipment Market Association, the
Society for Human Resource Management, and the National Automobile Dealers Association.
Cindy's accomplishments within Freeman include being designated as a certified freight specialist, an iLead graduate, a
Star of Excellence recipient and multi-year nominee, and a Freeman Women's Development chapter leader. Cindy enjoys
spending her free time with the Dallas Toastmasters and as an executive board member for the Flower Mound, Texas
Parent Teacher Association.
Cindy Daniels
Administrative Assistant, Freeman Exposition Sales
Cindy has been an Administrative Assistant with Exposition Sales Dallas office since 2010.
Cindy has worked in the audiovisual and television production industry for over 20 years.
Prior to relocating with her husband to work with a local production and audio visual
company in Dallas, Texas from Florida, she was in the operations division as labor crew chief
for a national television remote truck company in Tampa, FL. While in Florida, Cindy also
worked as an independent producer and production coordinator with various television
production companies and in Operations with a Fox Network television station in Orlando.
DFW FWD Chapter Leaders
Cindy began her career in the entertainment industry in Nashville, Tennessee. She worked with the founding television
production company for CMT "Country Music Television in the technical areas of camera video and editing. Cindy later
joined "The Nashville Network" where she was an integral part of the network launch team and an Associate Producer.
Cindy received her Bachelors of Arts Degree from Western Kentucky University. Cindy enjoys traveling and snow skiing
with her husband Dean, playing with their two wonderful dogs, volunteering with the Humane Society of Flower Mound
as the Spay-Neuter Director and singing in her church choir. In her "spare time," Cindy is an accomplished Yoga
enthusiast and works out regularly at a local gym.