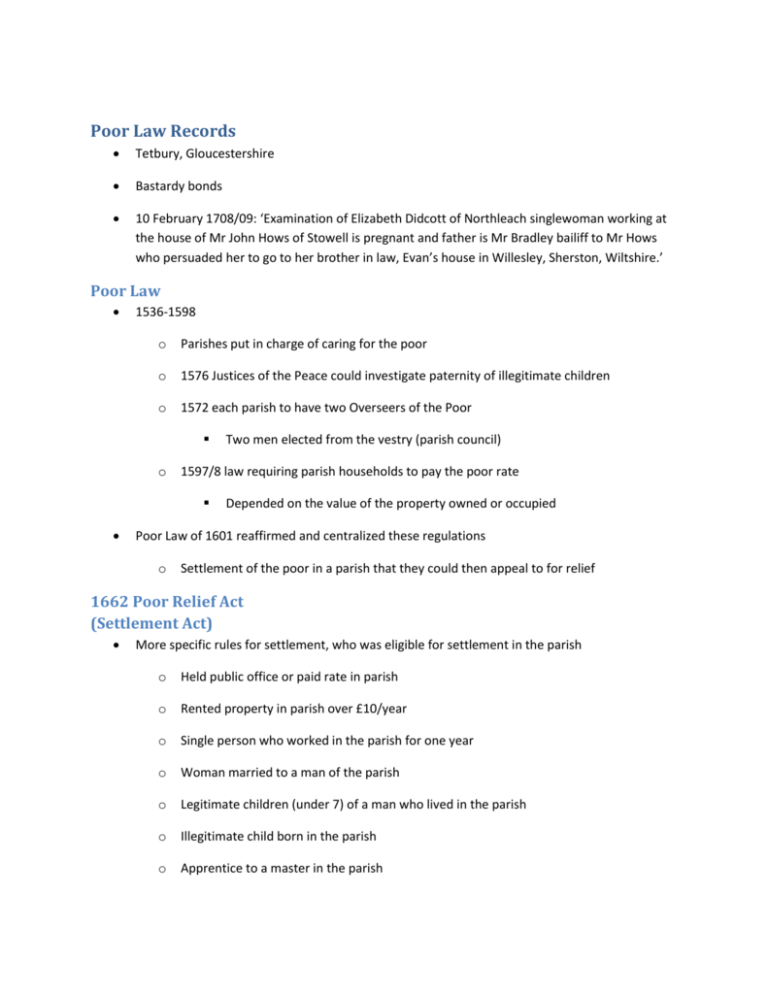 Poor Law Records

Tetbury, Gloucestershire

Bastardy bonds

10 February 1708/09: 'Examination of Elizabeth Didcott of Northleach singlewoman working at
the house of Mr John Hows of Stowell is pregnant and father is Mr Bradley bailiff to Mr Hows
who persuaded her to go to her brother in law, Evan's house in Willesley, Sherston, Wiltshire.'
Poor Law

1536-1598
o
Parishes put in charge of caring for the poor
o
1576 Justices of the Peace could investigate paternity of illegitimate children
o
1572 each parish to have two Overseers of the Poor

o
1597/8 law requiring parish households to pay the poor rate


Two men elected from the vestry (parish council)
Depended on the value of the property owned or occupied
Poor Law of 1601 reaffirmed and centralized these regulations
o
Settlement of the poor in a parish that they could then appeal to for relief
1662 Poor Relief Act
(Settlement Act)

More specific rules for settlement, who was eligible for settlement in the parish
o
Held public office or paid rate in parish
o
Rented property in parish over £10/year
o
Single person who worked in the parish for one year
o
Woman married to a man of the parish
o
Legitimate children (under 7) of a man who lived in the parish
o
Illegitimate child born in the parish
o
Apprentice to a master in the parish
o


Residence for 40 days after written notice
Removal orders (had to be issued by the Justices of the Peace)
o
Passes to ease their migration back to home parish
o
Assizes will sometimes have two parishes disputing the removal/settlement of
individuals
Could make employment-based migration very difficult
Settlement Act of 1697

Overseers would give settlement certificates that people could take with them when they
moved

Illegitimate children remained settled in place of birth

Poor assigned to wear a badge with a "P" and the initial of their parish on it
Later Settlement Acts

1723: allowed the construction of workhouses for poor relief

1733: prohibited removing single pregnant women, or single women for the first month after
giving birth

1744: illegitimate child's settlement same as mothers (not birthplace)

1795: prohibited removing the poor settled in a different parish, unless they applied for relief
Coverage

Rate payers
o

Annual lists of rate-payers, value of property, and amount paid
Recipients
o
Able-bodied poor

Jobs

Rent

Transportation

Apprenticeships for children

Support for illegitimate children and their mothers
o
Elderly

o
o
Money
Ill or disabled

Money

Medical care
Orphans and foundlings

Apprenticeships

Jobs

Transportation
Record Types

Rate books

Apprenticeships

Bastardy bonds (Indemnity)

Removal orders

Settlement papers
o

examinations
Payment books
Settlement and Bastardy Bonds

Chedworth, Gloucestershire,12 June 1761: 'Henry Newman of Chedworth heard his father came
from Coates and after his death his mother received money from Coates. Some years ago his
mother and uncle bought a little house in Chedworth and he now lives in part of this house
which was given him by his mother.'

North Nibley, Gloucestershire, 1685/86: 'Josiah Harrison of North Nibley, husbandman and John
Harrison of North Nibley, rugmaker bound for Sarah daughter of Josiah Harrison and sister of
John Harrison who has given birth to a female bastard child named Hester.'

Cheltenham, Gloucestershire,15 September 1731: 'Amy Wilkes lately gave birth to a male
bastard child and Thomas Riddall stands charged of being the father and John Mayo, cordwainer
son of John Mayo, pinmaker of Gloucester has since married Amy and John Mayo, the elder and
John Mayo, the younger and Richard Wilkes and John Wilkes of Prestbury, father and brother of
Amy, yeomen are bound for the maintenance.'
Finding Poor Law Records

Search both parish and county under poorhouses and under court records in FHLC
o
Overlap with Quarter Sessions and Assize records

Most originals are stored at CROs

workhouses.org.uk

genuki.org.uk

CROs or FHS publications, websites
o

Online Parish Clerk
Pratt guide, TNA guide (information about the laws)
Methodology



When parish registers state that a child was illegitimate
o
Check bastardy bonds
o
Check recipients of poor relief
When parish registers state the burial was for a pauper
o
Check recipients of poor relief
o
Settlement certificates
When you are trying to eliminate duplicates, or determine if your ancestor moved
o

When you have a will stating they owned or occupied land
o

Check annual lists of rate payers
Remember that probate, petty sessions, and quarter sessions could have information about
illegitimacy and settlement
o

Check annual lists of rate payers
Overseers of the Poor (Bastardy Bonds) – Mickleton, Gloucestershire
15 Sep 1761
o
William Goldby of Mickleton, schoolmaster, Melicent Goldby spinster and Susannah
Goldby spinster bound to Mickleton for child lately gotten by Susannah Goldby and
Richard Castle of Mickleton, labourer adjudged the father.
Reminders

Draft of research report due Monday to history413@gmail.com and peer reviewer
Further Reading

Little, James Brooke. The Poor Law Statutes: comprising the statutes in force relating to the
poor; and to guardians, overseers, and other poor law authorities and officers, from Elizabeth to
end of Victoria. With Notes and Cases. 3 volumes. London: Shaw and Sons and Butterworth
and Company, 1901.