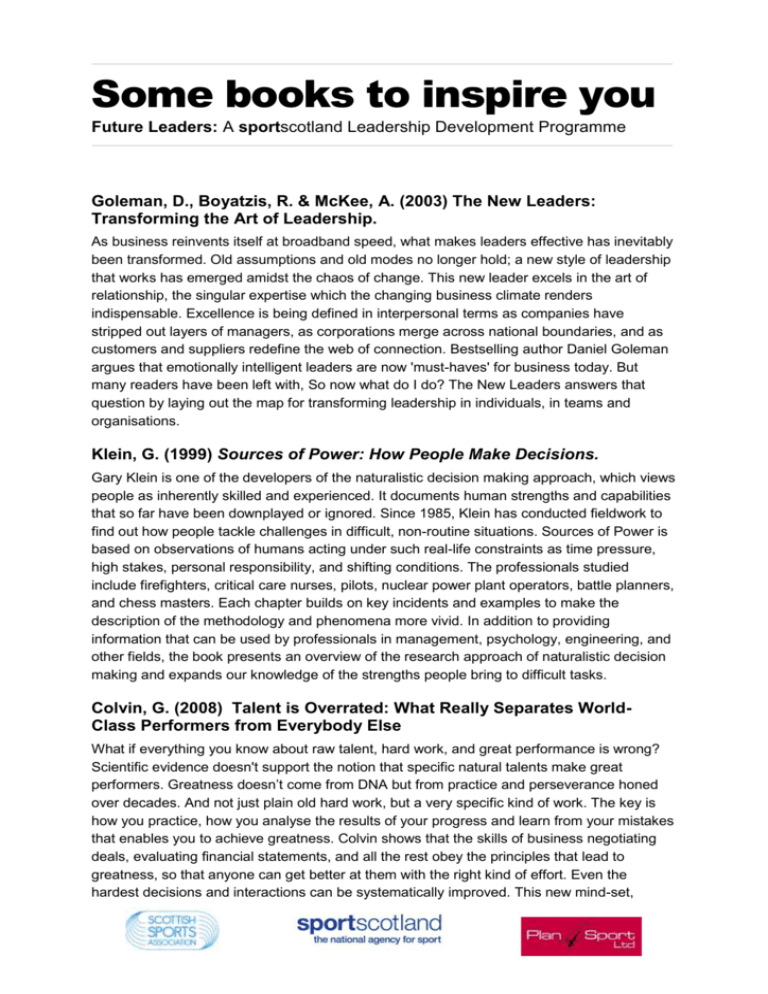 Some books to inspire you
Future Leaders: A sportscotland Leadership Development Programme
Goleman, D., Boyatzis, R. & McKee, A. (2003) The New Leaders:
Transforming the Art of Leadership.
As business reinvents itself at broadband speed, what makes leaders effective has inevitably
been transformed. Old assumptions and old modes no longer hold; a new style of leadership
that works has emerged amidst the chaos of change. This new leader excels in the art of
relationship, the singular expertise which the changing business climate renders
indispensable. Excellence is being defined in interpersonal terms as companies have
stripped out layers of managers, as corporations merge across national boundaries, and as
customers and suppliers redefine the web of connection. Bestselling author Daniel Goleman
argues that emotionally intelligent leaders are now 'must-haves' for business today. But
many readers have been left with, So now what do I do? The New Leaders answers that
question by laying out the map for transforming leadership in individuals, in teams and
organisations.
Klein, G. (1999) Sources of Power: How People Make Decisions.
Gary Klein is one of the developers of the naturalistic decision making approach, which views
people as inherently skilled and experienced. It documents human strengths and capabilities
that so far have been downplayed or ignored. Since 1985, Klein has conducted fieldwork to
find out how people tackle challenges in difficult, non-routine situations. Sources of Power is
based on observations of humans acting under such real-life constraints as time pressure,
high stakes, personal responsibility, and shifting conditions. The professionals studied
include firefighters, critical care nurses, pilots, nuclear power plant operators, battle planners,
and chess masters. Each chapter builds on key incidents and examples to make the
description of the methodology and phenomena more vivid. In addition to providing
information that can be used by professionals in management, psychology, engineering, and
other fields, the book presents an overview of the research approach of naturalistic decision
making and expands our knowledge of the strengths people bring to difficult tasks.
Colvin, G. (2008) Talent is Overrated: What Really Separates WorldClass Performers from Everybody Else
What if everything you know about raw talent, hard work, and great performance is wrong?
Scientific evidence doesn't support the notion that specific natural talents make great
performers. Greatness doesn't come from DNA but from practice and perseverance honed
over decades. And not just plain old hard work, but a very specific kind of work. The key is
how you practice, how you analyse the results of your progress and learn from your mistakes
that enables you to achieve greatness. Colvin shows that the skills of business negotiating
deals, evaluating financial statements, and all the rest obey the principles that lead to
greatness, so that anyone can get better at them with the right kind of effort. Even the
hardest decisions and interactions can be systematically improved. This new mind-set,
combined with Colvin's practical advice, will change the way you think about your job and
career and will inspire you to achieve more in all you do.
Dweck, C. S. (2012). Mindset: How You Can Fulfil Your Potential.
World-renowned Stanford University psychologist Carol Dweck, in decades of research on
achievement and success, has discovered a truly ground-breaking idea-the power of our
mindset. Dweck explains why it's not just our abilities and talent that bring us success-but
whether we approach them with a fixed or growth mindset. She makes clear why praising
intelligence and ability doesn't foster self-esteem and lead to accomplishment, but may
actually jeopardize success. With the right mindset, we can motivate our kids and help them
to raise their grades, as well as reach our own goals-personal and professional. Dweck
reveals what all great parents, teachers, CEOs, and athletes already know: how a simple
idea about the brain can create a love of learning and a resilience that is the basis of great
accomplishment in every area.
Syed, M. (2010) Bounce: The Myth of Talent and the Power of Practice.
Essential reading following an astounding summer of sport; if you've ever wondered what
makes a champion, Bounce has the answer. What are the real secrets of sporting success,
and what lessons do they offer about life? Why doesn't Tiger Woods "choke"? Why are the
best figure skaters those that have fallen over the most and why has one small street in
Reading produced more top table tennis players than the rest of the country put together?
Two-time Olympian and sports writer and broadcaster Matthew Syed draws on the latest in
neuroscience and psychology to uncover the secrets of our top athletes and introduces us to
an extraordinary cast of characters, including the East German athlete who became a man,
and her husband – and the three Hungarian sisters who are all chess grandmasters.
Bourne, M. and Bourne, P. (2009) Achieving High Performance
(Essential Managers).
This is a practical, pocket-sized guide to achieving high performance which will give you the
information and skills to succeed. It helps you find out how to improve your performance and
boost productivity by prioritising tasks and managing your time effectively. You'll learn to
improve your skills, develop drive and lead effectively. Tips, dos and don'ts and 'In focus'
features on what to do in a particular situation, plus real-life case studies demonstrate key
skills such as how to reassess your goals, take the lead and plan ahead. Read it cover to
cover, or dip in and out of topics for quick reference. It offers handy tips in a pocket-sized
format - take it wherever your work takes you.
Matuson, R. (2011) Suddenly in Charge: Managing Up, Managing Down,
Succeeding All Around.
As companies reorganize and reengineer, thousands of people are finding themselves
tossed into management every day. The key to success is managing effectively both up and
down the line of the organization. And Suddenly in Charge provides this unique approach
with two books in one: read it one direction and you'll find all the tips and tools you need to
manage down and establish credibility with your team; flip the book over and you'll find
success strategies for managing up, the key to managing your reputation and your career.
Kline, N. (1998) Time to Think: Listening to Ignite the Human Mind.
The power of effective listening is recognised as the essential tool of good management. In
this book, Kline describes how we can achieve this, and presents a step-by-step guide that
can be used in any situation. Whether you want to have more productive meetings, solve
business problems or build stronger relationships, this book offers you a new world of
possibilities
Kline, N. (2011) More Time To Think: A Way of Being in the World. Fisher
King Publishing.
Does everyone's independent, fresh thinking matter more now than ever? More Time To
Think is a resounding "yes" to this question. In this graceful, sage like book, Nancy Kline will
take you into the heart of the Thinking Environment as it has unfolded over the last decade
since the publication of Time To Think. It will touch you with stories, challenge you with
theory, inspire you with results, stretch you with questions, excite you with practice. And it will
move you with its eloquence and warmth. This book is both a good place to start and a
superb place to continue your understanding of this important theory and process. If you long
for leadership you trust, meetings you love, relationships you cherish, community you know
can work for everyone, or the life you really want, More Time To Think can lead you there.
Stein, J. and Book, H. (2011) The EQ Edge: Emotional Intelligence and
Your Success.
The real key to personal and professional growth is your emotional intelligence quotient,
which you can nurture and develop by learning more about EQ from the international
bestseller The EQ Edge. Authors Steven J. Stein and Howard E. Book show you how the
dynamic of emotional intelligence works. By understanding EQ, you can build more
meaningful relationships, boost your confidence and optimism, and respond to challenges
with enthusiasm–all of which are essential ingredients of success. The EQ Edge offers
fascinating–and sometimes surprising–insights into what it takes to be a top law–
enforcement officer, lawyer, school principal, student, doctor, dentist or CEO. You will learn
what the top EQ factors are across many different kinds of jobs, from business managers
and customer service representatives to HR professionals and public servants.
Kotter, J. (1990) A Force for Change: How Leadership Differs from
Management. The Free Press.
Strong managers produce predictability and order, but leaders create, communicate and
implement visions of the future which enable companies to change themselves in a changing
competitive marketplace. Building upon his landmark analysis of the job of the general
manager and his influential work on leadership, power and influence, John Kotter now
focuses on the human factors which bring change. Using case studies from 11 top
corporations, Kotter unfolds the stories behind the great successes of leaders who propelled
their companies beyond expectations. Through example after example, Kotter identifies the
specific personal attributes of these leaders and illustrates the practices that create
outstanding leadership.
Kotter, J. (2012) Leading Change. Harvard Business Review Press.
In Leading Change, John Kotter examines the efforts of more than 100 companies to remake
themselves into better competitors. He identifies the most common mistakes leaders and
managers make in attempting to create change and offers an eight-step process to
overcome the obstacles and carry out the firm's agenda: establishing a greater sense of
urgency, creating the guiding coalition, developing a vision and strategy, communicating the
change vision, empowering others to act, creating short-term wins, consolidating gains and
producing even more change, and institutionalizing new approaches in the future. This highly
personal book reveals what John Kotter has seen, heard, experienced, and concluded in 25
years of working with companies to create lasting transformation.
Kroegerus, M. and Tschappeler, R. (2011) The Decision Book: Fifty
Models for Strategic Thinking.
Most of us face the same questions every day: What do I want? And how can I get it? How
can I live more happily and work more efficiently? A worldwide bestseller, The Decision Book
distils into a single volume the fifty best decision-making models used on MBA courses and
elsewhere that will help you tackle these important questions - from the well-known (the
Eisenhower matrix for time management) to the less familiar but equally useful (the Swiss
Cheese model). It will even show you how to remember everything you will have learned by
the end of it. Stylish and compact, this little black book is a powerful asset. Whether you
need to plot a presentation, assess someone's business idea or get to know yourself better,
this unique guide will help you simplify any problem and take steps towards the right
decision.
Cope, A. (2012) The Art of Being Brilliant: Transform Your Life By Doing
What Works For You.
A pep talk in your pocket This short, small, highly illustrated book will fill you to the brim with
happiness, positivity, wellbeing and, most importantly, success! Andy Cope and Andy
Whittaker are experts in the art of happiness and positive psychology and The Art of Being
Brilliant is crammed full of good advice, instructive case studies, inspiring quotes, some
funny stuff and important questions to make you think about your work, relationships and life.
You see being brilliant, successful and happy isn't about dramatic change, it's about finding
out what really works for you and doing more of it! The authors lay down their six common–
sense principles that will ensure you focus on what you're good at and become super brilliant
both at work and at home.