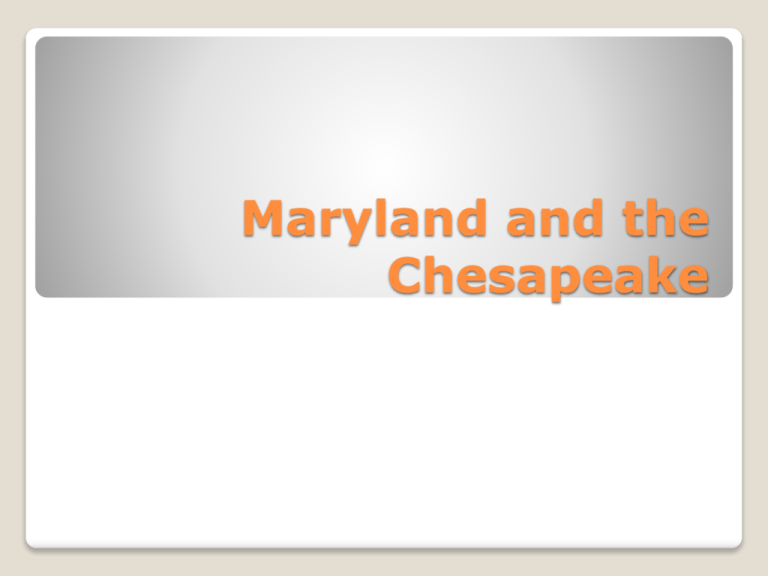 Maryland and the
Chesapeake
The Settlement of Maryland
A royal charter was
granted to George
Calvert, Lord
Baltimore,
in 1632.
A proprietary colony
created in 1634.
A healthier location
than Jamestown.
 Tobacco would be the
main crop.
His plan was to govern as an absentee
proprietor in a feudal relationship.
 Huge tracts of land granted to his Catholic
relatives.
Colonization of Maryland
St Mary's City
(1634)
Currency in Early
Maryland
A Haven for Catholics
Colonists only willing to come to MD if they
received land.
Colonists who did come received modest
farms dispersed around the Chesapeake
area.
 Catholic land barons surrounded by mostly
Protestant small farmers.
 Conflict between barons and farmers led to
Baltimore losing proprietary rights at the
end of the 17c.
In the late 1600s, black slaves began to be
imported.
A Haven for Catholics
Baltimore permitted high degree of
freedom of worship in order to prevent
repeat of persecution of Catholics by
Protestants.
 High number of Protestants threatened
because of overwhelming rights given to
Catholics.
Toleration Act of 1649
 Supported by the Catholics in MD.
 Guaranteed toleration to all CHRISTIANS.
 Decreed death to those who denied the
divinity of Jesus [like Jews, atheists, etc.].
 In one way, it was less tolerant than before
the law was passed!!
MD Toleration Act,
1649
Colonial Slavery
As the number of slaves increased,
white colonists reacted to put down
perceived racial threat.
 Slavery transformed from economic
to economic and racial institution.
 Early 1600s  differences between
slave and servant were unclear.
By the mid-1680s, black slaves
outnumbered white indentured
servants.
Colonial Slavery
Beginning in 1662  "Slave Codes"
 Made blacks [and their children]
property, or chattel for life of white
masters.
 In some colonies, it was a crime to teach
a slave to read or write.
 Conversion to
Christianity did
not qualify the
slave for
freedom.
Frustrated Freemen
Late 1600s  large numbers of
young, poor, discontented men in the
Chesapeake area.
 Little access to land or women for
marriage.
1670  The Virginia Assembly
disenfranchised most landless men!
Nathaniel Bacon's
Rebellion: 1676
Led 1,000 Virginians in
a rebellion against
Governor Berkeley
 Rebels resented
Berkeley's close
relations with Indians.
Nathaniel
Bacon
Governor
William
Berkeley
 Berkeley monopolized
the fur trade with
the Indians in the
area.
 Berkley refused to
retaliate for Indian
attacks on frontier
settlements.
Bacon's Rebellion: 1676
Bacon's Rebellion
Rebels attacked Indians, whether
they were friendly or not to whites.
Governor Berkeley driven from
Jamestown.
They burned the capital.
 Rebels went on a rampage of
plundering.
Bacon suddenly died of fever.
Berkeley brutally crushed the rebellion
and hanged 20 rebels.
Results of Bacon's
Rebellion
It exposed resentments between
inland frontiersmen and landless
former servants against gentry on
coastal plantations.
 Socio-economic class
differences/clashes between rural and
urban communities would continue
throughout American history.
Upper class planters searched for
laborers less likely to rebel  BLACK
SLAVES!!