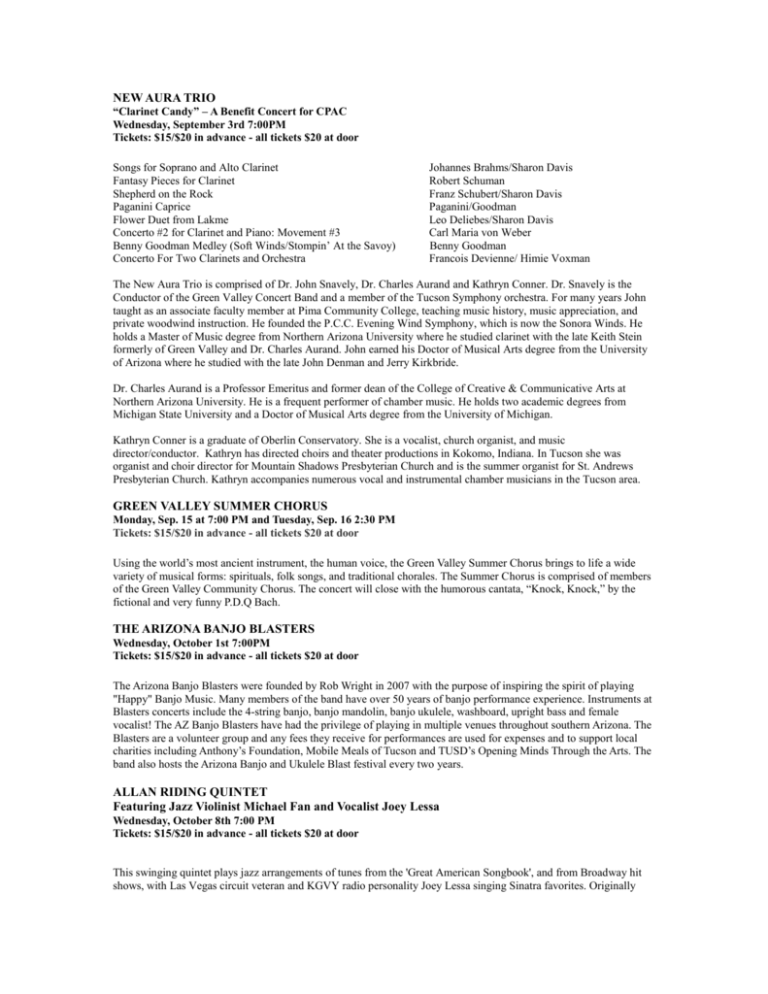 NEW AURA TRIO
"Clarinet Candy" – A Benefit Concert for CPAC
Wednesday, September 3rd 7:00PM
Tickets: $15/$20 in advance - all tickets $20 at door
Songs for Soprano and Alto Clarinet
Fantasy Pieces for Clarinet
Shepherd on the Rock
Paganini Caprice
Flower Duet from Lakme
Concerto #2 for Clarinet and Piano: Movement #3
Benny Goodman Medley (Soft Winds/Stompin' At the Savoy)
Concerto For Two Clarinets and Orchestra
Johannes Brahms/Sharon Davis
Robert Schuman
Franz Schubert/Sharon Davis
Paganini/Goodman
Leo Deliebes/Sharon Davis
Carl Maria von Weber
Benny Goodman
Francois Devienne/ Himie Voxman
The New Aura Trio is comprised of Dr. John Snavely, Dr. Charles Aurand and Kathryn Conner. Dr. Snavely is the
Conductor of the Green Valley Concert Band and a member of the Tucson Symphony orchestra. For many years John
taught as an associate faculty member at Pima Community College, teaching music history, music appreciation, and
private woodwind instruction. He founded the P.C.C. Evening Wind Symphony, which is now the Sonora Winds. He
holds a Master of Music degree from Northern Arizona University where he studied clarinet with the late Keith Stein
formerly of Green Valley and Dr. Charles Aurand. John earned his Doctor of Musical Arts degree from the University
of Arizona where he studied with the late John Denman and Jerry Kirkbride.
Dr. Charles Aurand is a Professor Emeritus and former dean of the College of Creative & Communicative Arts at
Northern Arizona University. He is a frequent performer of chamber music. He holds two academic degrees from
Michigan State University and a Doctor of Musical Arts degree from the University of Michigan.
Kathryn Conner is a graduate of Oberlin Conservatory. She is a vocalist, church organist, and music
director/conductor. Kathryn has directed choirs and theater productions in Kokomo, Indiana. In Tucson she was
organist and choir director for Mountain Shadows Presbyterian Church and is the summer organist for St. Andrews
Presbyterian Church. Kathryn accompanies numerous vocal and instrumental chamber musicians in the Tucson area.
GREEN VALLEY SUMMER CHORUS
Monday, Sep. 15 at 7:00 PM and Tuesday, Sep. 16 2:30 PM
Tickets: $15/$20 in advance - all tickets $20 at door
Using the world's most ancient instrument, the human voice, the Green Valley Summer Chorus brings to life a wide
variety of musical forms: spirituals, folk songs, and traditional chorales. The Summer Chorus is comprised of members
of the Green Valley Community Chorus. The concert will close with the humorous cantata, "Knock, Knock," by the
fictional and very funny P.D.Q Bach. Kathryn has directed choirs and theater events in Kokomo, Indiana choir dector
for Mountain Shadows Presbyterian Church and s the summer organist for St. Andrews Presbyterian
THE ARIZONA BANJO BLASTERS
Wednesday, October 1st 7:00PM
Tickets: $15/$20 in advance - all tickets $20 at door
The Arizona Banjo Blasters were founded by Rob Wright in 2007 with the purpose of inspiring the spirit of playing
"Happy" Banjo Music. Many members of the band have over 50 years of banjo performance experience. Instruments at
Blasters concerts include the 4-string banjo, banjo mandolin, banjo ukulele, washboard, upright bass and female
vocalist! The AZ Banjo Blasters have had the privilege of playing in multiple venues throughout southern Arizona. The
Blasters are a volunteer group and any fees they receive for performances are used for expenses and to support local
charities including Anthony's Foundation, Mobile Meals of Tucson and TUSD's Opening Minds Through the Arts. The
band also hosts the Arizona Banjo and Ukulele Blast festival every two years.
ALLAN RIDING QUINTET
Featuring Jazz Violinist Michael Fan and Vocalist Joey Lessa
Wednesday, October 8th 7:00 PM
Tickets: $15/$20 in advance - all tickets $20 at door
This swinging quintet plays jazz arrangements of tunes from the 'Great American Songbook', and from Broadway hit
shows, with Las Vegas circuit veteran and KGVY radio personality Joey Lessa singing Sinatra favorites. Originally
from England, keyboardist Allan Riding has performed for decades in venues across the globe. Michael Fan is a
longtime member of the Tucson Symphony Orchestra and is well known for his wide variety of styles and
compositions. Don't miss this rare opportunity to hear this special group of musicians in concert.
CIVIC ORCHESTRA OF TUCSON
Sunday, October 12th 3:00 PM
Free Concert! (ticket required for entry)
*unclaimed seats will be released 10 minutes before concert
Overture to La Forza del Destino ~ Giuseppe Verdi
Variations on a Theme by Haydn ~ Johannes Brahms
Symphony No. 7 ~ Sergei Prokofiev
The Civic Orchestra of Tucson (COT) was founded in the spring of 1975 by George Schwartz so that he and his friends
could play classical music together. In1980, Dr. Herschel Kreloff became the orchestra's artistic/musical director, and it
has grown to full symphonic instrumentation. Now in its 37th year, COT enriches the cultural life of southern Arizona
by presenting free concerts at various sites around the region.
OKTOBERFEST AT CPAC
Featuring the Bavarian Brass Band
Saturday, October 18th 5:00 PM
Tickets: $25 in advance - $30 at door
Music, Food & Fun! Come enjoy the music of the Bavarian Brass Band featuring the yodeling talents of Tamara
Kahrimanis. Celebrate Oktoberfest outdoors with authentic German food from Mama's Barbeque, beer, wine and
friends! Price includes brats, schnitzel with gravy, German potato salad, vegetable dish, strudel and two drink tickets!
JACK LASSETER
The Spanish History of Florida and the Gulf Coast
Tuesday, October 21st 7:00 PM
Tickets: $15/$20 in advance - all tickets $20 at door
This is the first installment in a comprehensive six part series detailing the Spanish history of North America. Each
presentation is a complete story in itself. St. Augustine, the oldest continuously occupied city in the U.S. by persons of
European descent (since 1565), predates the founding of Jamestown by some 42 years, and Juan Ponce de León was in
Florida even some 52 years before that, back in 1513. Why did the Spanish come then? Why did Portugal get only
Brazil in the New World, whereas the Spanish got all of the rest of Latin America? How far up the Atlantic coast did
the Spanish go? How did Florida and Key West get their names? What about the French in New Orleans? How did
Florida and the Gulf Coast eventually get into American hands? Come and hear the exciting story of this historic area,
called Florida and the Gulf Coast as only Jack can tell it.
BILL GANZ WESTERN BAND
Wednesday, October 22nd 7:00 PM
Tickets: $15/$20 in advance - all tickets $20 at door
Bill Ganz has performed for more than 30 years. He is a member of the Western Music Association and is a past
member of the Reinsmen, The Desert Sons, and the Sons of the Western Plains among others. The Bill Ganz Band was
founded in 1992 for the purposes of entertaining Tucson vacationers seeking authentic western music. During those
years, the band has recorded several western music CD's, performed at guest ranches and resorts throughout the
southwest and was featured with the Tucson Symphony Orchestra. The band is comprised of Bill Ganz (guitar and
vocals), Rich Brennion (pedal steel guitarist), Ralph Gilmore (drums) and Bill Ronstadt (bass).
JOVERT
Steel Drum Band
Wednesday, October 29th 7:00 PM
Tickets: $15/$20 in advance - all tickets $20 at door
When people hear Jovert, they will hear familiar songs, they just won't hear them in a familiar way. When Jovert plays,
listeners can expect to be surprised, enlightened, and above all, entertained. Movement, theatrics, and choreography are
very much a part of each Jovert performance. Originally started in 1991 as the Tucson High Steel Band, current
director, Khris Dodge, arrived on the scene in 1999 and set a new bar of excellence. Jovert has recorded four criticallyacclaimed CDs over the last eight years, and their music has sold on six continents. Live performances are still the crux
of the group, as they can be seen at numerous venues throughout southern Arizona and on tours throughout the
southwest.
RUN FOR YOUR WIFE by Ray Cooney
The Santa Cruz Shoestring Players
November 7-8 7:00 PM
November 9 3:00 PM
November 13-15 7:00 PM
(Complimentary champagne reception after opening night)
Tickets: $15/$20 in advance - all tickets $20 at door
Directed by Susan Voorhees, Run For Your Wife is a British comedy about a London cab driver, John Smith, who has
two lives, two wives and a very precise schedule for keeping them both in the dark. Trouble brews when Smith ends up
in a hospital and the fun begins when both wives turn in missing person reports to the police. Having upset his
schedule, Smith becomes hopelessly entangled in his attempts to explain himself to his wives and the authorities.
JACK LASSETER
The Spanish History of Santa Fe and New Mexico
Tuesday, November 18th 7:00 PM
Tickets: $15/$20 in advance - all tickets $20 at door
This is the story of Santa Fe, the second oldest city in the U.S. behind only St. Augustine, Florida. It was sitting here on
the very northern edge of Spanish civilization in the New World, the northern rim of Christendom at the time, for some
10 years before the Mayflower even landed at Plymouth Rock. It became the Spanish capital of the Southwest, was the
territorial capital of Tucson and all of the residents up and down the Santa Cruz River Valley, from the time we became
part of the U.S. in 1854 until the Arizona Territory was created in 1863. Come and hear the fascinating stories of
Coronado, Juan de Oñate, Antonio de Espejo, the Pueblo Revolt of 1680, the Franciscans, how Spanish colonization
worked, and how Spain's approach to the Indians differed from that of the Americans. Hear about the Imperial
rivalries of the time, the opening of the Santa Fe Trail that came with Mexican Independence, the South's attempt to
capture New Mexico for the Confederacy, and much more. Everyone living in the Southwest should know this story.
ARTHUR MIGLIAZZA TRIO
Wednesday, November 19th 7:00 PM
Tickets: $20/$25 in advance - all tickets $25 at door
Boogie Woogie wonder, Arthur Migliazza, returns with a special show highlighting the role boogie woogie played in
the development of American music. Fresh from his off Broadway debut of the show "Boogie Stomp," Arthur will
dazzle with his virtuosic skill and knowledge about how boogie woogie shaped American blues, jazz, swing, stride,
rhythm and blues and rock and roll. Performing with him are two of his Tucson based favorite musicians, Doug Davis
on drums and Larry Lee Lerma on bass. Now a resident of Seattle, Arthur played a sold out tour of Russia (including
Tchaikovsky Hall in Moscow) in December, and in 2014 was a finalist at the International Blues Challenge in
Memphis, TN.
SONORAN DOGS
Bluegrass & Americana
Thursday, November 20th 7:00 PM
Tickets: $15/$20 in advance - all tickets $20 at door
Bluegrass music is a form of American roots music initially inspired from Irish, Scottish, English and Welsh traditional
songs and instrumentals by the 18th century Appalachian Settlers. Bill Monroe, the Father of Bluegrass, incorporated
other cultural influences while refining the sounds into a truly American musical form.
Formed in 2011, The Sonoran Dogs have exploded upon the Arizona bluegrass scene, performing at the Sedona,
Wickenburg, Prescott, Tucson, and Tubac bluegrass festivals. They are 2013 Rockygrass band contest finalists. The
group is comprised of seasoned veterans Peter McLaughlin (1988 National Flatpicking Guitar Champion), Tyler James
(2008 Rockygrass Banjo Champion), Mark Miracle on mandolin and vocals (Telluride band contest winner), and Brian
Davies (TAMMIES award winning bassist).
The Sonoran Dogs performance will feature historical reference and anecdotes exploring this musical form. They
perform a collection of traditional bluegrass vocal and instrumental standards, new-grass, Americana, improvisation
and original compositions.
TELLEBRATION
Storytelling Festival
Saturday, November 22nd 7:00 PM
Tickets: $15/$20 in advance - all tickets $20 at door
Tellebration is a worldwide storytelling festival which started in 1988 and takes place annually on the Saturday before
Thanksgiving. Tellers of Tales Inc., a non-profit organization, was founded in 1979 by Sheila Pattison, who believed
that stories and storytellers need nurturing to thrive. The organization exists to preserve oral literature through
promotion of the art of storytelling. Multiple members of Tellers of Tales will perform various folk tales, personal
accounts and other forms of storytelling. This concert is dedicated to the memory of Sheila Pattison.
THE TOM PATRICK BAND
Dixieland
Tuesday, December 2nd 7:00 PM
Tickets: $15/$20 in advance - all tickets $20 at door
Tom Patrick, drummer and founder of Big Band Express (1994) and The Tom Patrick Band (1993), has played
percussion for artists including Bob Crosby, Liberace, Jack Jones and Vicki Carr & Bob Hope. The band features local
legends Lew Lepley on piano, Jack Wood on bass, Glenn Harmon on trumpet, Lanny Webb on trombone and Duanne
Reilley on tenor sax and clarinet. Selections will include Dixieland favorites such as Sweet Georgia Brown, Kansas
City, 12th Street Rag, Georgia On My Mind and a powerful rendition of When the Saints Go Marchin' In.
THE GREEN VALLEY STAGE BAND
Wednesday, December 3rd 7:00 PM
Tickets: $15/$20 in advance - all tickets $20 at door
The Green Valley Stage Band has been delighting audiences throughout southern Arizona since 1990. The 20 piece
band of musicians performs a variety of big band music from the 40's, 50's and up to the present including music from
such artists as Stan Kenton, Glenn Miller, Tommy Dorsey, Benny Goodman, Count Basie, Perez Prado, Hank
Williams, the Beatles, and more.
BRAD ZINN IN "THE GREAT COMEDIANS"
Comedy and Impersonation
Thursday, December 4th 7:00 PM
Tickets: $15/$20 in advance - all tickets $20 at door
Imagine having all these legendary performers together on stage at the same time: Johnny Carson...George
Burns...W.C. Fields...Jack Benny...Will Rogers... Groucho Marx...Jimmy Durante...George Jessel...Ed Sullivan...and
Red Skelton! Brad Zinn's The Great Comedians is a heartfelt salute to his childhood heroes that includes generous
portions of comedy, music, juggling, magic, rope spinning, audience participation, and extended impersonations of the
greatest entertainers in the business. There is simply no other show like this. It's the variety show for all time. Brad
Zinn is one of the most sought after entertainers in his field. Brad is now regularly engaged as a comedian,
impressionist, magician, and Master of Ceremonies. Recent commitments have taken him to England's London
Palladium, the Hollywood Magic Castle and the Las Vegas Strip in addition to regular engagements on multiple cruise
lines. Brad has performed alongside many celebrities including Dick Van Dyke, Shirley Jones, Cliff Robertson, Paul
Rodriguez, Damon Wayans, Will Shriner, Richard Crenna, Justin Wilson (the Cajun Chef), Harry Anderson, and
Lynda Carter, among others.
JACK LASSETER
The Early Spanish in Arizona
Tuesday, December 9th 7:00 PM
Tickets: $15/$20 in advance - all tickets $20 at door
Jack will share with us the exciting story of the Spanish frontier's expansion north up into this very area where we live.
It will include the fascinating stories of Father Kino, Juan Batista de Anza, Hugo O'Conor, and the establishment of the
presidios at Tubac and Tucson; why they were here, how the Spanish dealt with the Apaches, how the Americans
acquired this land, why the Arizona border goes up to Yuma instead of straight to the Gulf of California, how Tucson
and Arizona got their names, why Spanish architecture and Mexican food is different depending on whether it is in
Santa Fe, San Antonio, Tucson, or San Diego, and much more.
THE LARRY REDHOUSE QUARTET
Jazz Fusion
Wednesday, December 10th 7:00 PM
Tickets: $15/$20 in advance - all tickets $20 at door
The Larry Redhouse Quartet is a world class ensemble led by jazz pianist Larry Redhouse. Larry has over 35
years of performing experience and has played at the Kennedy Center for the Performing Arts, The Smithsonian
Museum and at the Grenoble Jazz Festival in Grenoble, France. He has opened for jazz greats Chick Corea and
Terrance Blanchard, and backed popular artists Rick Braun and Euge Groove. The Larry Redhouse Quartet
incorporates straight-ahead jazz, latin, funk, and reggae influences to its exciting repertoire. Their return to
CPAC will include several Larry Redhouse originals in addition to classic jazz standards.
A COUNTRY CHRISTMAS
Forever Young
Thursday, December 11th 7:00 PM
Tickets: $15/$20 in advance - all tickets $20 at door
Join Kip Young (guitar and vocals), Dale Young (bass and vocals) and Larry Conley (banjo) as they share some
Christmas hymns and traditional favorites including Christmas Cookies, Two Step Round the Christmas Tree and
Kip's original Christmas songs, Cowboy Christmas Eve and The Meaning of Christmas.
TRIBUTE TO MARTY ROBBINS
Chris Campbell
Monday, December 15th 7:00 PM
Tickets: $15/$20 in advance - all tickets $20 at door
Marty Robbins was not only an American singer, songwriter, multi-instrumentalist and racecar driver, he was one of the
most successful country and western singers in the world for the greater part of his nearly four-decade career. Robbins
had sixteen number one country hits between 1952 and 1976 and many of his songs also enjoyed great success on the
pop charts. Based in Phoenix, Arizona, Chris Campbell has played dozens of venues across the southwest and has
enjoyed the honor of repeat performances at the Marty Robbins weekend in Wilcox, Arizona. This annual festival,
hosted by the Friends of Marty Robbins Museum, pays tribute to the life and times of this iconic legend. This
performance will feature classic songs such as I'll Go Alone, Among My Souvenirs, El Paso City, Some Memories Just
Won't Die and Don't Worry.
ARVEL BIRD
Celtic Fusion
Wednesday, January 7th 7:00 PM
Tickets: $15/$20 in advance - all tickets $20 at door
International multi-award winner Arvel Bird comes to CPAC with a performance of "One Fire: Many Clans, Many
Tribes." Bird is a "Celtic Indian" whose music creates a powerful tapestry of Celtic, rock, folk and Americana genres.
With violin, Celtic whistles and Native American flutes, his Celtic fusion brand reflects the union of his Native
American (Southern Paiute) soul and Scottish (Clan Kennedy) heart. "Braveheart Meets Last of the Mohicans . . . at
Woodstock" is a colorful description of this versatile artist. Dubbed "Lord of the Strings" by fans and music critics, his
music evokes the soul of North American history and is thoroughly entertaining, but also enlightening and humanizing.
He's the rare performer that appeals to audiences from eight to eighty, as he weaves stories throughout his songs in a
style that is entirely his own. Bird first came to prominence as a four time Indiana State Fiddle Champion and later
during his tours with Glen Campbell, Loretta Lynn, Louise Mandrell and others. Since 2001, when he recorded the first
of 23 CDs, Bird has carved a highly unique career for himself as a concept artist. His emotionally driven music and
stories of animals, historical events and people leave his audiences inspired, transfixed and transformed.
CLASS OF '65 – TOP HITS FROM THE YEAR 1965!
Thursday, January 8th 3:00 PM and 7:00 PM
Tickets: $25 in advance / $30 at door
This concert highlights Billboard's Top 100 from fifty years ago. Class of '65 features a hard-rockin' band performing
such chart-toppers as Downtown, I Can't Help Myself (Sugar Pie Honey Bunch), The Birds and the Bees, I Got You
Babe, For Your Love, What's New Pussycat, King of the Road and many more. There are so many enduring hits from
1965, we might have to do them all!
THE MAGIC OF ROD SPADE
Saturday, January 10th 7:00 PM
Tickets: $15/$20 in advance - all tickets $20 at door
Originally from southern Arizona, Rod Spade is well known for his winning smile, hilarious sense of humor, close-up
magic and stage illusions. After recently closing a production that ran for four years at the White Stallion Ranch in
Arizona entitled "No Camera Tricks," he now lives in Colorado with his wife Kimberlee and three boys. Rod performs
his sought-after award-winning magic all over the country in over 230 shows per year. Audiences young and old have
enjoyed his ability to create wonderful magic not just on stage, but in life as well.
JACK LASSETER
The History of Texas
Tuesday, January 13th 7:00 PM
Tickets: $15/$20 in advance - all tickets $20 at door
The history of Texas is the story of longhorns, trail drives, and barbed wire; of Goliad, the Alamo, and San Jacinto; of
Santa Ana, Sam Houston, and John Chisholm; of the Comanches, the Comancheros, and the Texas Rangers; of slavery,
oil, and even the Stetson hat. It is the only state with the right to divide itself into 5 states, which it will never do
because Texans couldn't agree on which of the five gets the Alamo. It is the only state that owns all of its public land
instead of the Feds owning it; and the only state that had been an independent nation, actually for some 11 years, when
it joined the Union. This is all part of the story of Texas. And what's with this Texas attitude of superiority, or that
bigger is better, or the Friday night high school football games that seem like the Super Bowl. As you'll see, those
attitudes actually have an historical basis in the history of this unique and fascinating place.
JOE BOURNE
The Music of Motown
Wednesday, January 14th 7:00 PM
Tickets: $20/$25 in advance - all tickets $25 at door
Joe Bourne and his dynamic band will perform music that will keep you on the edge of your seat the entire night. This
show will feature the music of The Four Tops, The Temptations, The Supremes, Smokey Robinson, Stevie Wonder,
Lionel Ritchie Marvin Gaye and much more. Come hear such favorites as Baby Love, My Girl, Get Ready, Sugar Pie,
Superstition, Heat Wave, I'll be There, Love Trains, What's Going On and others.
BIG BAND SOUNDS
Friday, January 16th 7:00 PM
Tickets: $15/$20 in advance - all tickets $20 at door
Big Band Sounds is one of the finest, swinging big bands in the greater Tucson area. The band is made up of 17
professional jazz players and a vocalist, who have all had vast experience performing in big bands all over the United
States for many years. These talented musicians combined with their carefully selected and well rehearsed
arrangements will remind you why big band music has continued pleasing and exciting audiences for three quarters of a
century. The band is led by alto saxophonist, Lance Hoopes, who has been a fixture in the Tucson jazz scene his entire
life.
RANDY SPARKS' ONE-MAN SHOW (WITH TWO PEOPLE)
Featuring Randy Sparks and Becky Jo Benson of The New Christy Minstrels
Saturday, January 17th 7:00 PM
Tickets: $25/$30 in advance - all tickets $30 at door
Randy Sparks is one of the most prolific songwriters of the last century and his historical influence on the music
business is unparalleled. He gave John Denver his start in the music business, and also named him, but his best
contribution to Denver's success was inviting him to live with his family during his formative years. Sparks watched
Steve Martin morph from a banjo player and amateur magician to a bona fide stand-up comic on his stage in just 34
weeks. Kenny Rogers at the peak of his fame told his band members, "Boys, we wouldn't be here tonight if it weren't
for Randy." Sparks was discovered as a solo performer by Bob Hope, and later became dear friends with Burl Ives who
was a leading influence. Sparks went on to serve as Burl Ives' writer and opening act in concert for more than thirty
years. Sparks' biggest claim to fame remains the founding of the pioneering folk music ensemble, The New Christy
Minstrels, with whom he still tours today. Now, in his One-Man Show (with two people), he has come full circle,
armed with a lifetime of stories and experiences.
PLAZA SUITE by Neil Simon
The Santa Cruz Shoestring Players
January 23-24 7:00 PM
January 25 3:00 PM
January 29-31 7:00 PM
February 1 3:00 PM
(Complimentary champagne reception after opening night)
Tickets: $15/$20 in advance - all tickets $20 at door
Directed by Susan Ford, Plaza Suite is perhaps Neil Simon's most famous work. The play is composed of three acts,
each involving different characters who face certain challenges during their stay in Suite 719 of New York City's Plaza
Hotel. The characters include a couple revisiting their honeymoon suite in an attempt to bring the love back into their
marriage, a movie producer and his old flame and a married couple on their daughter's wedding day.
AN EVENING OF SONGS FROM BROADWAY
The Divas of the Great American Playhouse
Tuesday, February 3rd 7:00 PM
Tickets: $15/$20 in advance - all tickets $20 at door
Join us for an entertaining evening of glorious songs from Broadway and beyond! Jodi Darling, Colleen Zanderbergen,
April Lisette and Jennifer Ackerley Lawrence are all regular cast members at the Great American Playhouse in Oro
Valley, AZ and have collectively performed at venues across the nation for decades. They will perform selections
including In His Eyes, If I Loved You, Send in the Clowns, Don't Rain on my Parade, Ladies Who Lunch and much
more!
PUTTIN' ON THE RITZ! THE IRVING BERLIN SONGBOOK
Wednesday, February 4th 3:00 PM and 7:00 PM
Tickets: $25 in advance / $30 at door
Irving Berlin's music defined 20th century America. This prolific and Academy Award-winning composer wrote more
than 1,500 songs, including the classic Alexander's Ragtime Band, perennial holiday favorite White Christmas,
Broadway show-stopper There's No Business Like Show Business, and the United States' unofficial national
anthem God Bless America. Join us for an evening of remembrance and reverence - sit Cheek to Cheek with your
sweetie because we'll definitely be Puttin' on the Ritz!
RONSTADT GENERATIONS
Southwestern Folk Fusion
Thursday, February 5th 7:00 PM
Tickets: $15/$20 in advance – all tickets $20 at door
Representing five generations in North America, Ronstadt Generations continues the family's musical traditions
with Michael J. Ronstadt (younger brother of Linda) and his sons, Michael G. and Petie. Multi-instrumentalists and
solo performers in their own right, they present an exciting repertoire that preserves the traditional Southwestern and
Mexican songs of their heritage while offering innovative original material. New compositions place them on the
cutting edge of multiple, blended genres, stretching the boundaries of folk, blues, jazz and beyond. Rich harmonies
sung in English and Spanish are accompanied by outstanding cello and guitars. Individually and together, Stateside and
across the pond, the trio's worldwide touring and recording credits include such diverse artists as Linda Ronstadt, Los
Lobos, Dixie Hummingbirds, David Bromberg, Nydia Rojas, Tish Hinojosa, Muriel Anderson, and Mariachi Vargas. In
2012, the band added three veteran musicians, Alex Flores, Sam Eagon and Aaron Emery, playing tenor saxophone,
bass and drums respectively. They add a colorful dimension to an already powerful presentation that respects tradition
while exploring innovation.
JACK LASSETER
The Spanish History of California
Tuesday, February 10th 7:00 PM
Tickets: $15/$20 in advance - all tickets $20 at door
California, the land of Disneyland, movie stars, freeways, and the ocean, was for some 300 years (from Cabrillo's time
in 1542 to the end of the Mexican War in 1848) part of the Spanish world. Although Cabrillo and other Spanish
mariners sailed along its coast as far back as the 1500s, its first Spanish settlement didn't come until 1769 with the
establishment of presidios at San Diego and Monterey, and in the following year of 1770 with the establishment of the
mission at San Diego, which would be the first of that whole string of California missions along El Camino Real. Jack
will tell us all about those famous missions, their importance to the development of California, their treatment of the
Indians, and the effect of their secularization; as well as the founding of San Francisco in 1776 by a Tucson boy, the
Bear Revolt, the discovery of Gold at Sutter's Mill, its importance in the Civil War, and much more.
DOLAN ELLIS, ARIZONA'S OFFICIAL STATE BALLADEER
Arizona…Lens, Lyrics and Lore
Wednesday, February 11th 7:00 PM
Tickets: $20/$25 in advance – all tickets $25 at door
Dolan Ellis returns to the CPAC with his all new show, "ARIZONA…Lens, Lyrics, and Lore." Dolan will soon be
celebrating 50 years as, "Arizona's Official Balladeer," and his fans say that "he only gets better and better with each
passing year." Recognized by Phoenix Magazine, as one of "Arizona's Top 25 Influential Arizona Musicians", Dolan
Ellis has penned hundreds of ballads about Arizona. His music has been inspired by his personal experiences, while
traveling Arizona's rugged backcountry in his specially equipped Jeeps, and meeting and talking with its old timers and
unique people. He is also an accomplished photographer and incorporates his images into the show. His 12-string guitar
technique, humor and vocal interpretations will captivate you and take you to a special place of enjoyment. The
Musical Instrument Museum (MIM) honored Mr. Ellis in 2013, by including a display of his music and memorabilia in
their "History of Arizona Music" section. Dolan Ellis and his work have been entered into the United States
Congressional Record where he has been recognized as an "Arizona Treasure" by Senator John McCain. Though Dolan
Ellis has been to the top of the show business mountain, winning a Grammy Award and gold records, as an "original
member of The New Christy Minstrels", his work as "Arizona's Balladeer" continues to be the main thrust of his life's
work.
LOVE LETTERS by A.R. Gurney
Saturday, February 14th 7:00 PM
Tickets: $15/$20 in advance – all tickets $20 at door
Love Letters is a play by A. R. Gurney that was a finalist for the Pulitzer Prize for Drama. The play centers on two
characters, Andrew Makepeace Ladd III and Melissa Gardner. During the course of the play, Andrew and Melissa read
the notes, letters and cards they have written to each other over the course of 50 years. The letters provide a heartfelt
account of their hopes and ambitions, dreams and disappointments, and victories and defeats that have passed between
them throughout their two very different lives. The characters are portrayed by Al and Julia Saterbak, who met on stage
playing husband and wife.
RALPH GRASSO
The Hollywood Guitarist You Have Heard For Years But Never Knew
Wednesday, February 18th 7:00 PM
Tickets: $15/$20 in advance – all tickets $20 at door
Ralph Grasso is one of the most prolific guitarists to ever hit Hollywood. Over the years Ralph has played for five U.S.
Presidents, Queen Elizabeth and numerous foreign dignitaries. He has worked with Ed Sullivan, Jimmie Rodgers,
Frank Sinatra, Barbara Streisand, Andy Williams, Nelson Riddle, Tony Bennett, Sammy Davis Jr., Henry Mancini, Liza
Minnelli, Sonny & Cher, John Denver and many more! Ralph has worked on numerous film scores and television
shows including "The Good, the Bad and the Ugly" with Clint Eastwood, "Charro" with Elvis Presley, "I Dream of
Jeannie," "The Love Boat," "Three's Company," "The Golden Globe Awards" and "The Academy Awards." Join him
as he discusses the behind the scenes workings of motion pictures, studio recordings and television. Ralph will share
fascinating first person accounts of some of your favorite stars as well as perform songs from the golden age of the
silver screen.
STRAIT COUNTRY
A Tribute to the Music of George Strait featuring Kevin Sterner
Friday, February 20th 7:00 PM
Tickets: $15/$20 in advance – all tickets $20 at door
"Tribute to the Music of George Strait," has been thrilling audiences and selling out concert venues throughout the
Southwest for the past four years. The group, built around Kevin Sterner's vocal style which is amazingly similar to
George Strait's, features prominently the sounds of Pedal Steel Guitar and Fiddle. These two instruments are key to the
signature sound that has been George's trademark throughout his incredible 30-year career, they are what makes
"Country Music" COUNTRY, and why he has always made them an integral part of his music! This concert showcases
Hit after Hit from an incredible 60 Number One's and 83 Top Ten Hits, spanning the entire 30 years. You will hear all
time favorites, Ocean Front Property, Amarillo By Morning, The Chair, All My Ex's Live in Texas, I Cross My Heart,
Run and Give it Away as well as Hits from George's current CD, "Love is Everything." With Kevin's stories and
anecdotes about the songs and life of this "Living Legend" it often feels throughout the evening, that you are actually at
one of George's shows! Millions, the world over, love him, Arizona loves him, and this group is very privileged and
excited to share his music with all the fans! Join us for this very special evening of Hits by "The King of Country
Music"!
A TRIBUTE TO PATSY CLINE
Forever Young
February 25-26 7:00 PM
Tickets: $15/$20 in advance - all tickets $20 at door
CPAC favorite, Forever Young featuring Kip and Dale Young, present a tribute to country music female legendary
singer, Patsy Cline. This show features some of Patsy's number one hits like ''Crazy", "I Fall To Pieces", "Sweet
Dreams" and crowd favorites such as "Back In Baby's Arms and "Just A Closer Walk With Thee."
DAVE STAMEY
Western
Wednesday, March 4 7:00 PM
Tickets: $20/$25 in advance - all tickets $25 at door
Back by popular request, Dave's stories, songs and humor about living and working in the west continue to mesmerize
audiences across the nation. Dave has been called the "Charlie Russell of Western Music" by Cowboys and Indian
Magazine. In 2010 and 2014 True West Magazine named him the Best Living Western Solo Musician. The Western
Music Association has named Stamey Entertainer of the Year six times, Male Performer of the Year five times, and
Songwriter of the Year five times. He also holds the Will Rogers Award from the Academy of Western Artists. As our
friend Baxter Black says: "California gave us Buck Owen, the condor and Dave Stamey...I'll take Davey any day!"
Dave Stamey has been a cowboy, a mule packer, a dude wrangler and is now one of the most popular Western
entertainers working today. He has delighted audiences in twenty states and finds that he prefers this to being stomped
by angry horses.
GHOST TOWNS OF OLD ARIZONA
A Film by Phil Wenstrand
Thursday, March 5 7:00 PM
Tickets: $7 in advance - all tickets $10 at door
In the 1800's, frontier Arizona was a very hostile place. Forbidding deserts, heat and unfriendly natives made
pioneering here as tough as any place in the west. But still there were those who thought the rewards were worth the
risk. Mostly they dug into the earth in search of riches. As miners dug, others built camps that turned into towns. The
motion picture, "Ghost Towns of Old Arizona," takes you into some of these interesting and often dangerous places.
Question and answer session with Phil Wenstrand to follow the film.
JACK LASSETER
The History of Mexico
Tuesday, March 10th 7:00 PM
Tickets: $15/$20 in advance - all tickets $20 at door
Jack finishes up his six-part series, appropriately so, with the history of Mexico itself, a subject not well known by most
Americans. It is a fascinating story, a knowledge of which gives us a much greater understanding of our neighbor to the
South. He will share with us the story of its early indigenous peoples, the Maya, the Toltecs, the Chichimeca, and the
Aztecs; the capture of Mexico City and the Aztec Empire by Cortés in 1521 and that early conquistador history; the
colonial period under Spanish control, with its exploitation of Indians, the enormous power of the Catholic Church, and
the rigid social classes that lasted until Mexican independence in 1821; the Mexican War for Independence from 1810
to 1821 with names like Hidalgo, Morelos, Guerrero, and Iturbide; the turbulent period of empire and republic with the
famous Santa Ana: the War with the U.S. from 1846-1848; then Juárez and Maximilian; the Díaz dictatorship, followed
by the Revolution, involving famous names like Madero, Zapata, Poncho Villa, and Carranza; and finally more modern
times. It's a big story, as only Jack can tell, but a great conclusion to a wonderful series.
TUCSON BARBERSHOP EXPERIENCE
Wednesday, March 11th 7:00 PM
Tickets: $15/$20 in advance - all tickets $20 at door
Tucson Barbershop eXperience is a 40-man chorus that sings four-part a cappella harmony in the barbershop style. The
chorus and various quartets will feature music from Broadway and the Doo-Wop era of the 1950's-60's including
favorite tunes from the Beach Boys, Neil Sedaka, Cole Porter and Stephen Sondheim. All performers are members of
the Tucson Sunshine Chapter of the Barbershop Harmony Society, which exists to promote and preserve barbershop
music as an art form. Founded by Owen C. Cash in 1938, approximately 30,000 men in the United States and Canada
currently hold membership in the organization. The Tucson Sunshine Chapter has been delighting audiences since
1947. The chorus is the Plateau AA champion of Arizona and its feature quartet, Joint Venture, is a four-time Arizona
Senior Quartet Champion, 2013 Far Western District Senior Champion and 2014 International Mid-Winter Senior
Quartet Champion. Dayle Ann Cook, music director of the Tucson Barbershop eXperience, previously served as
director of the Tucson Desert Harmony Chorus and has performed with champion-level quartets in addition to enjoying
an accomplished solo career.
ACOUSTIC EIDOLON
World Music for the Soul
Thursday, March 12th 7:00 PM
Tickets: $15/$20 in advance - all tickets $20 at door
Acoustic Eidolon was formed in 1998 by Joe Scott and Hannah Alkire. As a Colorado native who grew up near
Boulder, Joe Scott began playing the acoustic guitar at age 12, moving on to 5-string banjo. At age 23, he attended the
Guitar Institute of Technology in Hollywood, CA. There he studied all styles of acoustic and electric guitar and studied
with many of the world's finest guitar players, such as Robin Ford, Tommy Tedesco, Frank Gambale, the late Howard
Roberts and jazz great Joe Pass. Joe toured the country extensively playing guitar, banjo, mandolin and vocals with the
New Christy Minstrels. Joe along with help from Steve Mesple developed the 14-string-double-neck guitjo, a
combination of guitar and banjo. Hannah Alkire started playing the cello at age eight and studied with Gabriel Magyar
of the Hungarian String Quartet. She has played with bluegrass great Alison Krauss and performed in multiple
symphony orchestras. Hannah's expansion to rock, funk, and alternative genres later led to performances at the South
by Southwest festival in Austin, Texas. This performance will include material that spans Acoustic Eidolon's entire
catalog in addition to some covers like Led Zeppelin's Stairway to Heaven and the Beatles' Eleanor Rigby and While
My Guitar Gently Weeps. Many of their originals have, Celtic, Flamenco and Americana influences.
ARIZONA OPERA STUDIO IN CONCERT
Friday, March 13th 7:00 PM
Tickets: $20/$25 in advance - all tickets $25 at door
Andrea Shokery, soprano
Beth Lytwynec, mezzo-soprano
Chris Carr, baritone
Sara Chiesa, pianist
Sarah Tucker, soprano
Andrew Penning, tenor
Calvin Griffin, bass-baritone
Arizona Opera and CPAC present an exciting concert featuring the Marion Roose Pullin Opera Studio. Studio Artists
appear in Arizona Opera's main stage productions and continue their training as they each begin promising operatic
careers. This season's artists come from all over the country and were selected from a highly competitive pool of 650
applicants. Join us for what has become an annual highlight in Green Valley as these talented emerging artists perform
a collection of signature arias, operatic ensembles, and classic musical theater selections.
AMERICAN MADE
A Salute to the Oak Ridge Boys, the Statler Bros. and Country Gospel
Wednesday, March 18th 3:00 PM and 7:00 PM
Tickets: $25 in advance / $30 at door
Nothing rivals the pure sound of a country-gospel quartet, and we¹re bringing you one of the best! This accomplished
group of musicians masterfully recreates the hits of Country and Gospel Music¹s favorite vocal groups including the
Oak Ridge Boys, the Statler Brothers, the Cathedrals and more! American Made brings you the rich harmonies on hits
like Elvira, Bobby Sue, Flowers On The Wall, and Hello Mary Lou to name a few. Come on out and clap your hands
and stomp your feet to best of Country Gospel!
THE LUTHER COLLEGE CONCERT BAND
Saturday, March 21st 7:30 PM
Tickets: $15/$20 in advance - all tickets $20 at door
The Luther College Concert Band was formed in 1878, laying the foundations for what would become the college's
long-standing tradition of musical excellence. Directed by Joan deAlbuquerque, the Concert Band is now one of the
oldest touring organizations in the nation and ranks among the country's most outstanding college bands. From its
beginnings as a student-directed brass and percussion ensemble formed with instruments from a discontinued
community band, the Concert Band rose to its current position of prestige with deAlbuquerque through the influential
directorships of Carlo Sperati (1905-1943), Weston Noble (1948-1973), and Frederick Nyline (1973-2011). The
ensemble is rich in tradition, most apparent through the inclusion of the selections Who Puts His Trust in God Most
Just and Stars and Stripes Forever at the end of almost every concert. Throughout its long history, the Concert Band
has enjoyed unrivaled performance opportunities in the United States, Western Europe, Japan and Scandinavia. The
ensemble tours every year, with international travel every four years.
TUCSON ARIZONA BOYS CHORUS
Pops Concert
Tuesday, March 24th 7:00 PM
Tickets: $20 in advance - all tickets $23 at door
Since its inception in 1939, the Tucson Arizona Boys Chorus has earned the reputation as a premiere music education
and performance organization of both traditional, classic boy choir repertoire as well as representing the diversity of the
American Southwest. Under the direction of Julian Ackerley, the boy choristers will be performing a variety of
repertoire including their signature western selections with a demonstration of fancy trick rodeo roping. The Tucson
Arizona Boys Chorus consistently "wows" audiences, not only with the quality of singing, but the charm of their
animated stage presence. The chorus has performed in numerous countries including China, Italy, Russia, Germany,
Austria, Poland, Australia, New Zealand and South Africa. The chorus has also performed at the White House and on
multiple national television programs.
TOM SHEELEY IN CONCERT
Classical Guitar
Wednesday, March 25th 7:00 PM
Tickets: $15/$20 in advance - all tickets $20 at door
Tom Sheeley has performed hundreds of concerts on three continents in solo recitals as well as with chamber groups,
most notably the Blair Quartet, St Petersburg Quartet, The National Symphony of Ecuador, The Flagstaff Summer
Festival Orchestra, Flagstaff Symphony and The Redlands Bowl Summer Festival Orchestra. He was first place winner
in the first Manuel M. Ponce International Guitar Competition which honors the 100th birthday of the composer whom
Andres Segovia stated was "probably the best composer for guitar." When Arts America opened their international
touring program to the classic guitar, Tom was one of eight guitarists in America that were selected by audition to be an
"Artistic Ambassador" after which he spent a month touring four South American countries performing solos, concerti
and teaching. He currently teaches at Northern Arizona University, where he began in 1974. His courses include guitar
and music literature, as well as philosophy and the exploration of the connections between art and the social fabric.
THE GLASS MENAGERIE by Tennessee Williams
The Santa Cruz Shoestring Players
April 17-18 7:00 PM
April 19 3:00 PM
April 24-25 7:00 PM
(Complimentary champagne reception after opening night)
Tickets: $15/$20 in advance - all tickets $20 at door
Directed by Roberta Konen, The Glass Menagerie is a theater classic which premiered in 1944 and catapulted
Tennessee Williams from obscurity to fame. Amanda Wingfield is a Southern belle past her prime, living with two
grown children in a small apartment in St. Louis. Amanda dreams of a better life for her shy and crippled daughter
Laura, and so she pushes her son, Tom, to find a "gentleman caller" for the girl. However, the arrival of the gentleman
caller sends shockwaves through the family and causes cracks to form in the delicate fantasies that have kept them
going.